For several years now, my son and I have gone to see the Harlem Globetrotters play here in Southern California when their tour comes around. On our first visit, we sat courtside and my son was hooked. He even caught the ball once, got flustered, and handed it to me with this OMG I CAUGHT THEIR BALL look on his face…while quickly tossing it to me to throw back to the team. Bear in mind, I am not an athlete but I managed to actually make it to the team. SCORE! And I was hooked then, too.
After that first game, he really dove into playing basketball, and he proudly displays his autographed Globies ball on a shelf in his room. (That's another perk of going to one of their games: you can purchase a Harlem Globetrotters basketball before the game and up until close to the end, then when the game is complete, the players stand around the court so kids..and adults…can get their ball signed by various players. Our first year, we got all but two players!)
A Globies game is a blast, for many reasons. Not only do you get to see skilled basketball players do their thing on the court, with tricks that have to be seen to be believed, but you'll be entertained all throughout the evening. The mascot, Globie, is hilarious as he dances and plays games with the kids during breaks. The whole stadium is on their feet at times and the funny random things they do will have you laughing the whole time.

This year, the Harlem Globetrotter Amazing Feats of Basketball 2018 World Tour hits the SoCal area on February 17.  Fun fact: in the last nine decades, the Globies have amassed 142 million fans and played in 123 countries in six continents. Watch this compilation video of amazing shots for an idea of some of their antics or check this AMAZING helicopter shot into the hoop!
For some other pictures, check out my posts from a couple of our other visits: 2017 Harlem Globetrotter World Tour show and our 2016 afternoon with the Globies.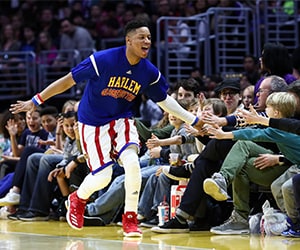 Tickets are available here for the SoCal shows, starting at $13. The entire 2018 Harlem Globetrotter World Tour Southern California schedule is:
Citizens Business Bank Arena in Ontario: Feb. 17, at 2 p.m., and 7 p.m.
Honda Center in Anaheim Feb. 18 at 2 p.m., and Feb. 24 at 1 p.m., and 7 p.m.
UCSB Events Cetner in Santa Barbara Feb. 22 at 7p.m.
STAPLES Center in Los Angeles Feb. 25, at 2p.m.
For $7 off your tickets use the promo code: CALI when you visit: http://www.harlemglobetrotters.com/socal
I'm hosting a giveaway, thanks to the Harlem Globetrotters, which you can enter below. *One prize per household, winner must reside in the United States and be at least 18 years of age, void where prohibited by law.* Enter right away for your chance to win a family-four pack of tickets for your choice of a Southern California venue! (Tickets provided by PR for Globies; winner must provide physical mailing address for me to send them to you via USPS.)
Have a family fun day and get hooked on basketball like we did!