If you like gin, you need a visit with the Hendrick's Grand Garnisher, making cocktails better, one cucumber at a time. How would you feel driving down the road and seeing this in your rearview?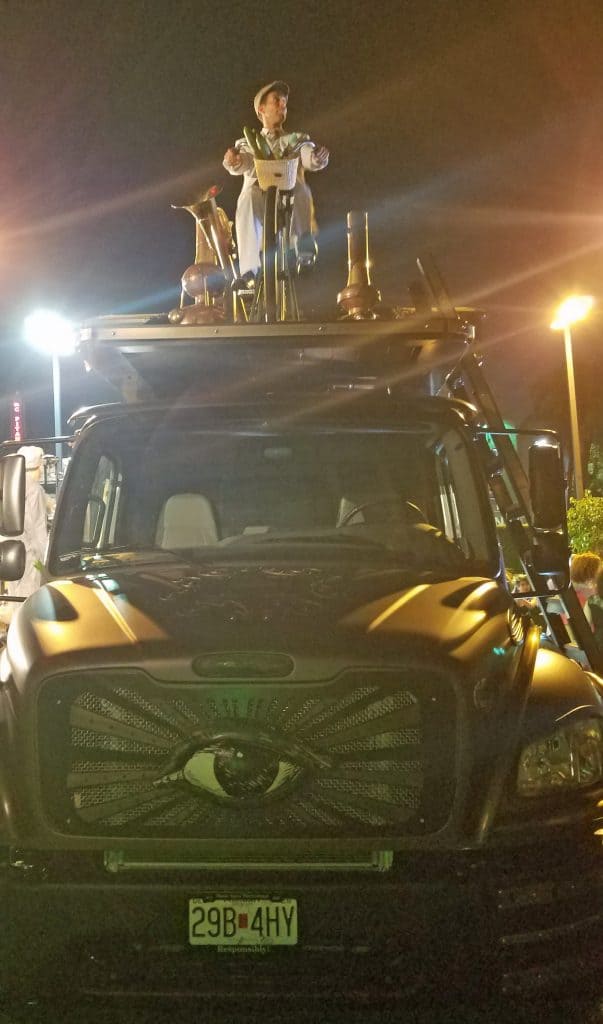 That would be the Hendrick's Grand Garnisher, a 38-foot long cucumber slicer on wheels. It left NYC on June 14th and is making its way around the country. Slicing up to 18 cucumbers per hour, it gets speeds up to 25 mph on the road, but the real cucumber power is made by the man pedaling the large-wheeled bicycle up on the top. You can read more about the trip here, but it ends in Washington D.C. on December 13. Check out the map to see where you can find it!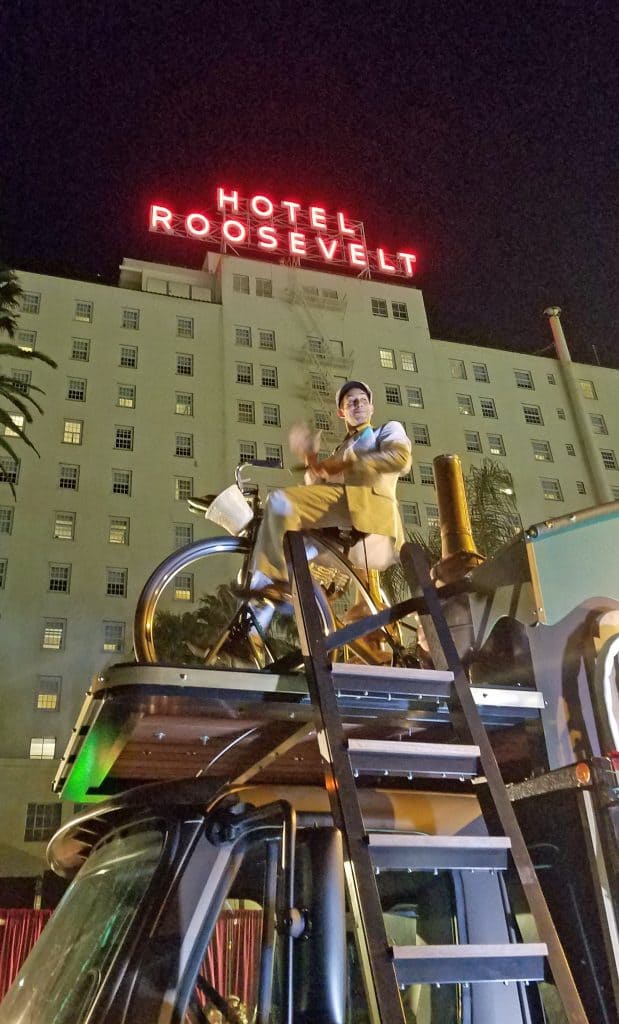 Held at the renowned Roosevelt Hotel on Hollywood Blvd., Hendrick's Gin hosted a media party straight out of a steam punk dream.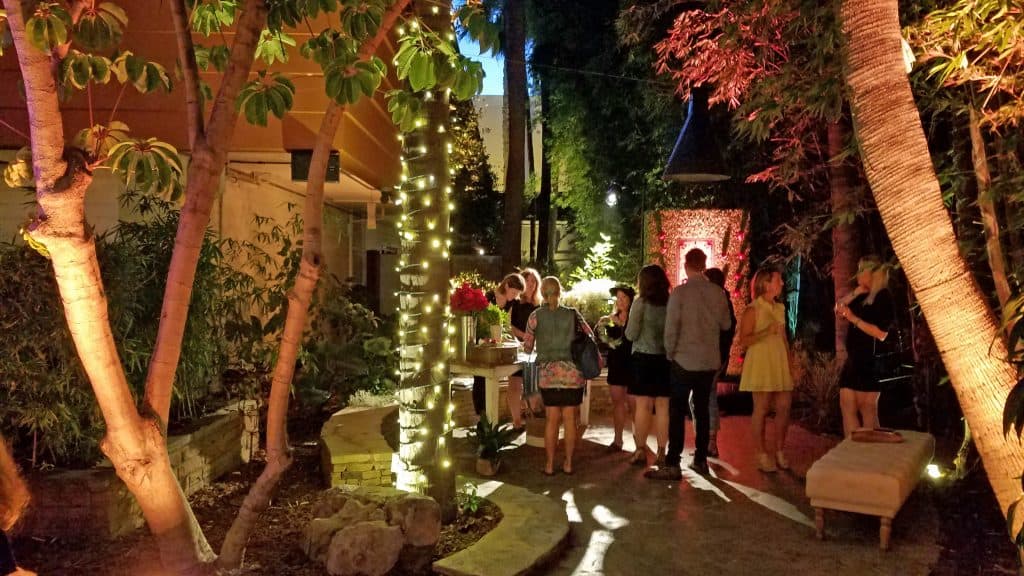 With white lights in the air, actors making an array of gorgeous cocktails and a flower crown station, guests wandered from bar area to bar area, stopping in between to chat and listen to the music.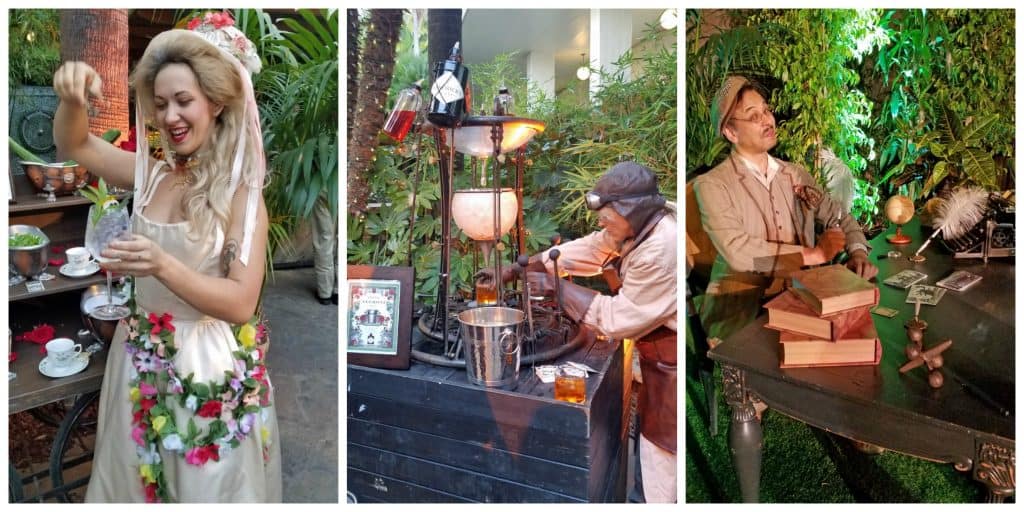 When most people think of gin, they think of the common Gin Fizz or basic Gin and Tonic, but this Grand Garnisher party was far more forward thinking and creative with their drink choices. We started our evening with a Noetic Negrone, a cocktail I'd never had before and made by a woman wearing aviator glasses, pulling levers and turning knobs to mix the alcohols into a drink I never knew I was missing until now. Made with Hendrick's Gin, Aperitivo and Bianco Vermouth, with a twist of orange peel, it smelled as good as it tasted.

Next up was an extremely personalized and beyond ordinary Gin and Tonic with a botanical garnish bar. No plain Gin and Tonic here. Choose your choice of one of four Fever-Tree flavored tonic waters, such as elderflower or mediterranean, and with the help of the beautiful Rosemary, fill your glass with garnishments of choice. I went with a sprig of thyme, a baby cucumber and lemongrass. It was not only gorgeous, but every sip smelled heavenly.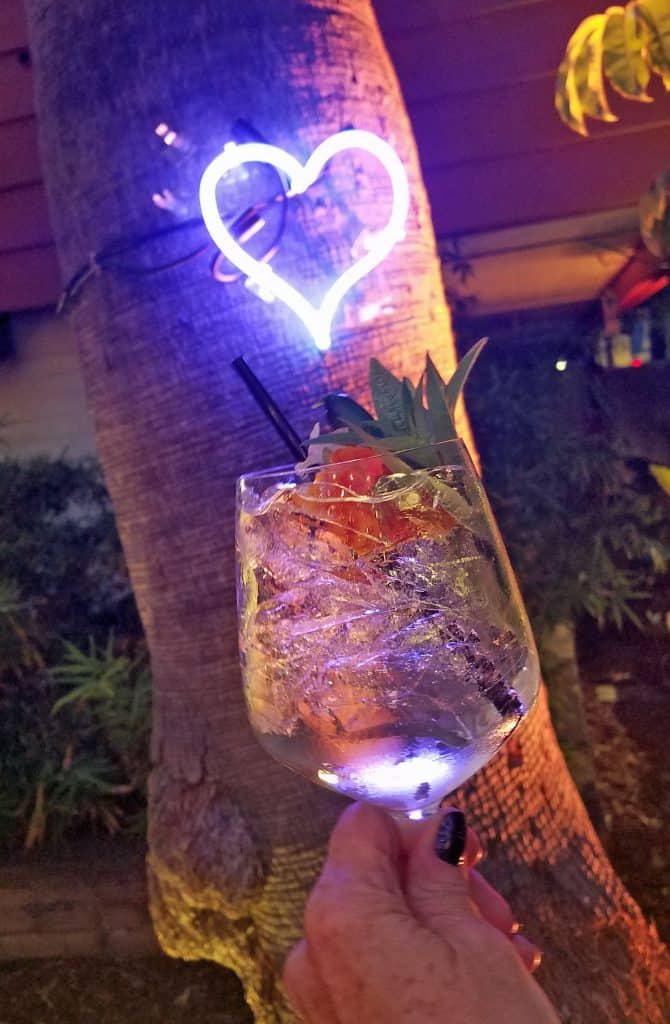 We drank our botanical Gin and Tonics under a group of palm trees, wearing our unique flower crowns and people-watching. Relaxing with a good cocktail, reading our recipe cards and talking about our busy days, it was a fun evening with my oldest daughter and new Hendrick's friends.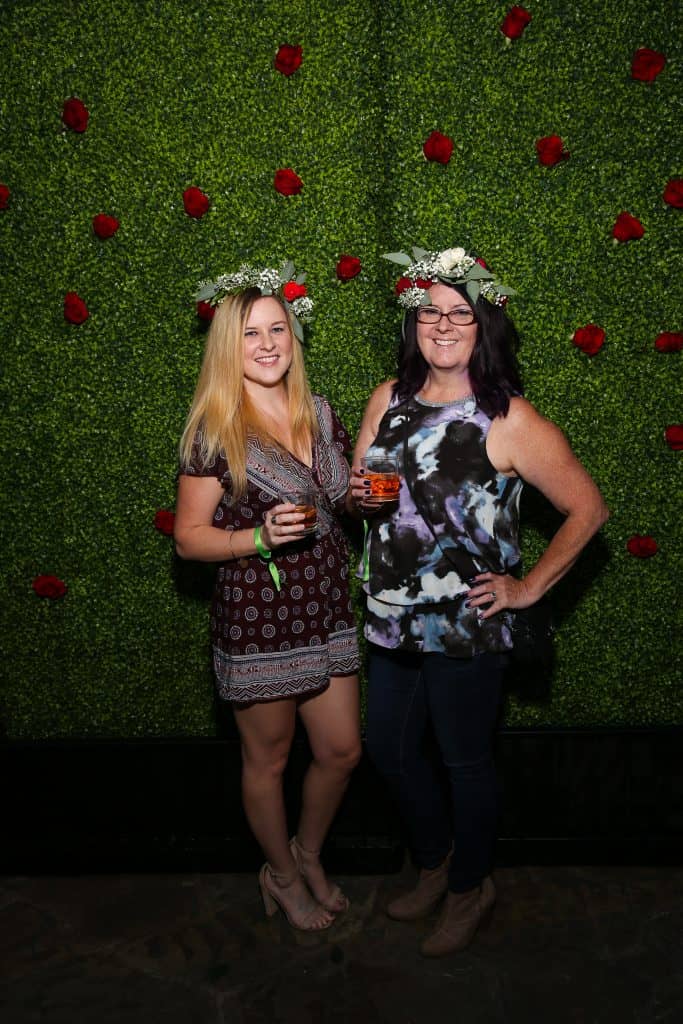 Those flower crowns, right? Hendrick's knows how to throw a party, with plenty of passed appetizers, a good ambiance and of course, new ways to reimagine an alcohol you may have not tried recently. Not only did the drinks taste wonderful, but every station was pretty to look at, even after the party moved outside by the Grand Garnisher itself. Bright colors and decor all around, it was easy to forget that we were in a parking lot.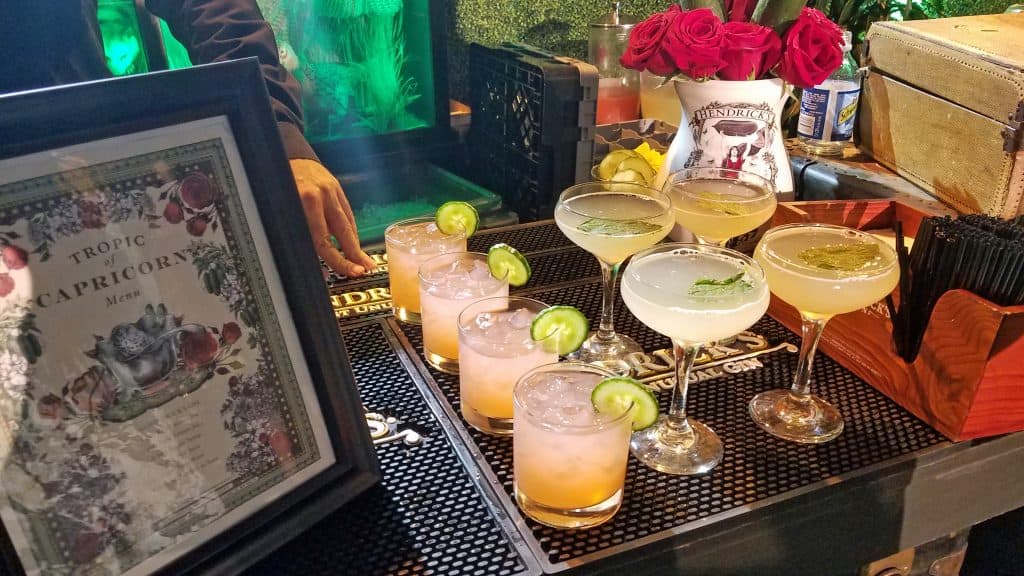 Thanks to the Uber arrangements provided by the hosts, we could imbibe without rushing. With so many drinks to try, choosing just one would have been difficult. My favorite was probably the Gin and Tonic with botanical garnishes, maybe tied with a Cucumber Southside, but they were all fantastic and made me really want to improve my drink building skills. I've always been a free pour kind of person and that has left a lot to be desired if I'm behind the bar. (I do make a mean mojito though.)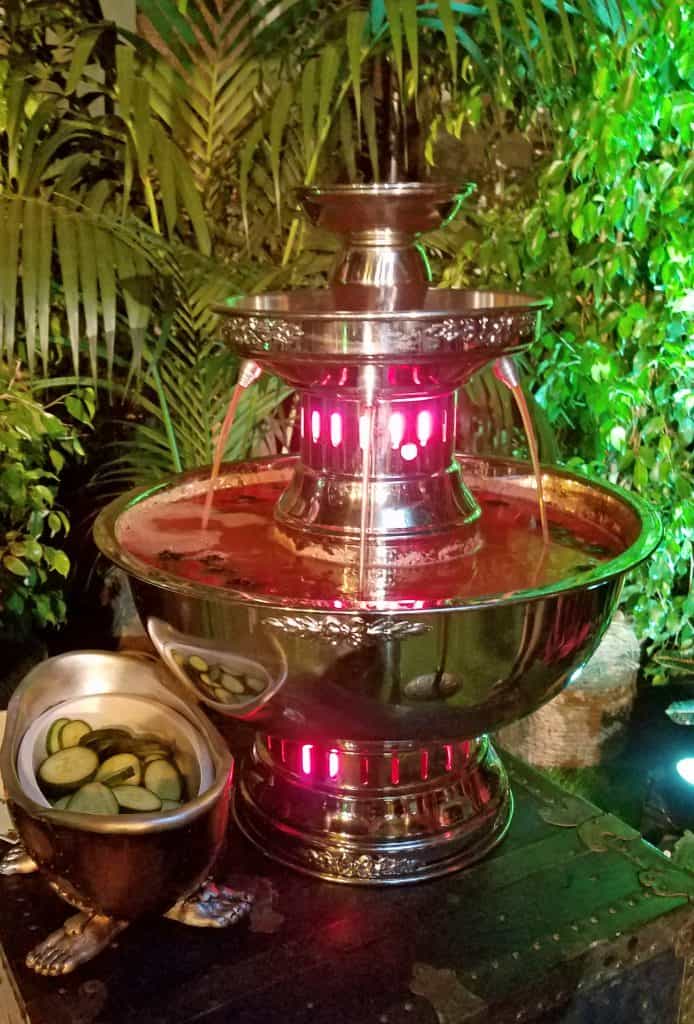 Now that's a really cool pour. I took this drink, Super Bloom Punch over to the Grand Garnisher and let it do its thing. A few seconds later and I had cucumbers straight off the belt. Parties with activities like photo booths, games or a costume theme are always fun, but pull a 38′ foot vehicle into your party and let it garnish your drink? Winner!
We ended the evening with desserts under the stars. Cake pops and key lime pie went perfect with the gin cocktails we'd been enjoying. We'd visited the postcard station, where guests could send a pre-stamped postcard to someone. (I sent it to my son, who just received it today. Postcards are so dated, kids today have missed out on the fun of sending and receiving them. I hope I gave him a fun memory with my goofy message and hearts!)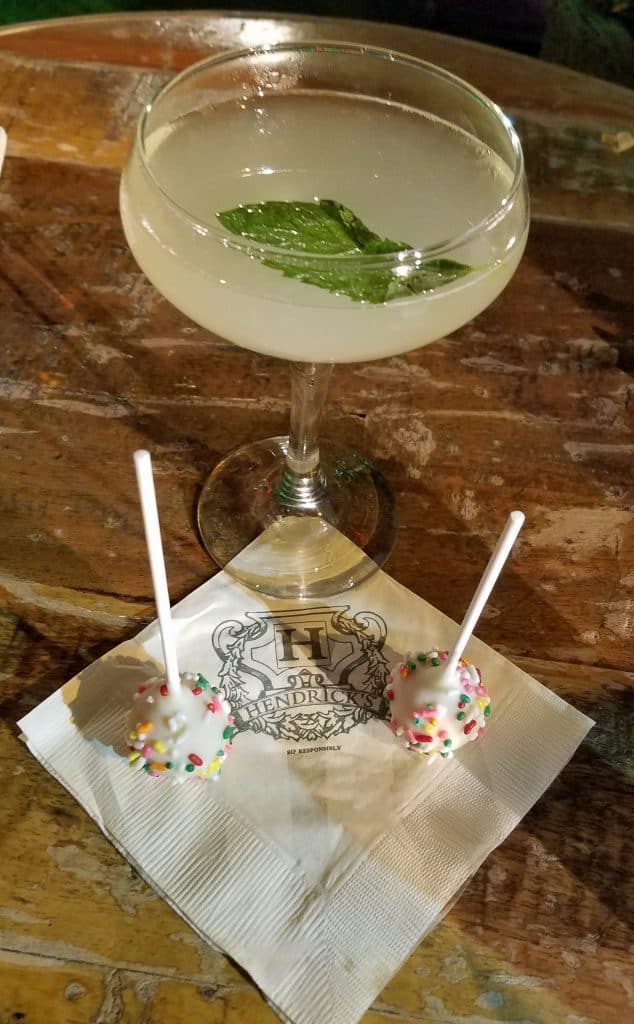 It was such a fun evening! I've got a renewed interest in trying new Hendrick's Gin drinks and I'll never look at a cucumber the same way again. Hendrick's Gin is made a little differently, using two stills to create a smooth gin with character and balance. It's also made in smaller batches that even regular small batches, giving the distiller better control. Did you know what gin is made of? It's a pleasant surprise to know that Hendrick's Gin includes ingredients such as elderflower, juniper, orange peel, yarrow, chamomile and lemon, amongst others.
Thanks, Hendrick's, for the invitation and allowing us to experience the Grand Garnisher, making cocktails better one cucumber at a time!