With the new Loki series hitting Disney+ on June 9, on Wednesdays instead of Fridays, I wanted to add a fun cocktail to my Marvel cocktail recipe series. But how do you make a drink that encapsulates a little good, a little bad, and surprises you? You think outside of the box and get creative! I made a new take on a traditional gin gimlet, using a surprise ingredient and I call it the God of Mischief cocktail!
How to Make a Loki, God of Mischief Cocktail
First, I want to thank Melissa's Produce for sending me a big box of the latest seasonal produce. I used that box to inspire me for quite a few recipes, including this latest Marvel cocktail recipe. But first, be sure to watch the new Loki series, only on Disney+, beginning Wednesday, June 9!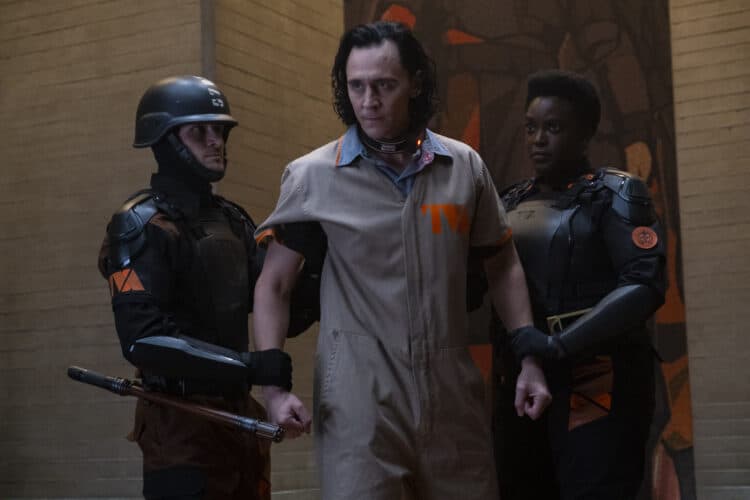 Loki is a beloved villain who has worked his way into the hearts of many, due to, or in spite of, his tortured past and rollercoaster behaviors of helping yet not helping those he should love. Saving Thor at the end of the Dark World left him 'dead,' yet he reappeared later with his infamous "Your savior is here!" line, helping to take the citizens of Asgard away from the exploding planet in Ragnarok. When we learned how he stole the tesseract during Avengers: Endgame, we got excited to know he was still out there somewhere, despite Thanos snapping his neck…and making me miss the first 30 minutes of Infinity War because I was so upset at his immediate death. Ahhh, Loki, you are my favorite villain ever and I can't wait to see where Marvel Studios takes you next.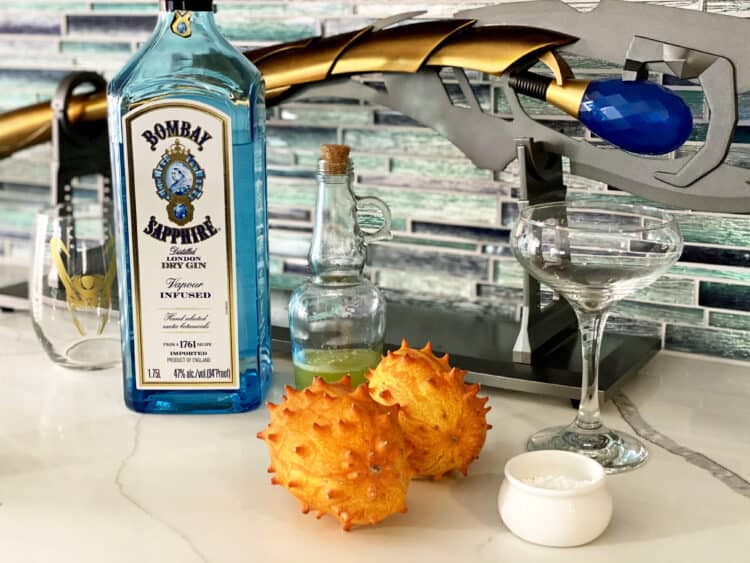 On June 9, we'll be here, gathered around the big screen, ready to begin the latest saga of Loki. We'll have themed food and the adults will be drinking this new God of Mischief cocktail. If you like gin, keep reading for my take on a gin gimlet recipe.
Before we get to the recipe, a little info on why this gin gimlet recipe is different. Gin gimlets are strong on the gin flavor, so if you don't like the taste, you may want to either add more juice or skip it. Gin is delicious but it is distinctive in flavor. I changed this up by using a unique fruit, something you wouldn't necessarily think of when you think 'cocktail.' I used the horned melon, or kiwano melon. Not what you were expecting, right?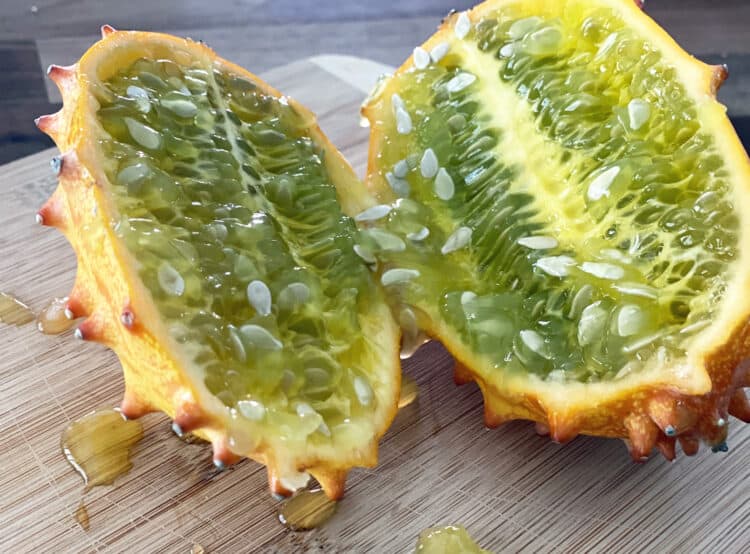 A horned melon is a prickly looking fruit, so you'll want to cut it in half and scoop out the middle. The jelly-is filling can be eaten in its entirety, including the seeds, but for this recipe, I put the filling from one entire melon onto a wire mesh strainer and strained out the juice. One fruit gave me over two ounces of juice!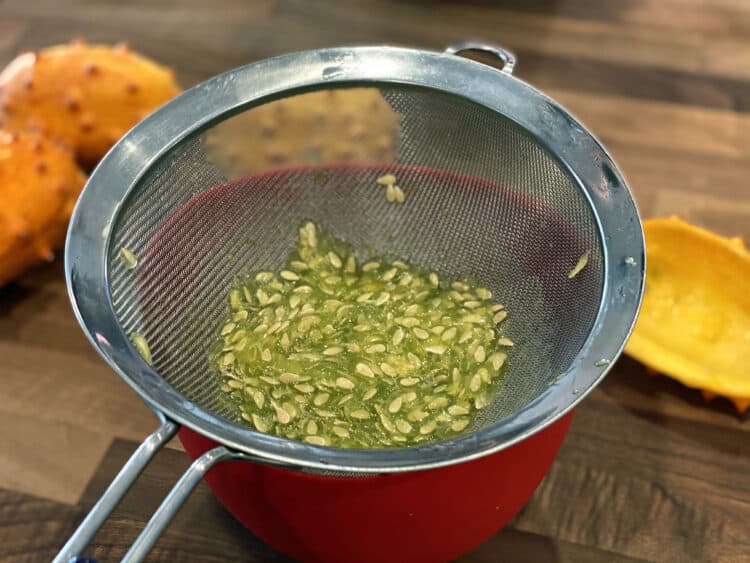 Aren't they pretty? I also made a smoothie out of the filling, because the seeds are easily edible, but that recipe is in another post I'll have up soon. (I'll come back and update this with the link when it's published.) A lot of people have created salsas and salads from the inside of kiwano melons, so a quick Google search will show you how versatile this fun fruit is!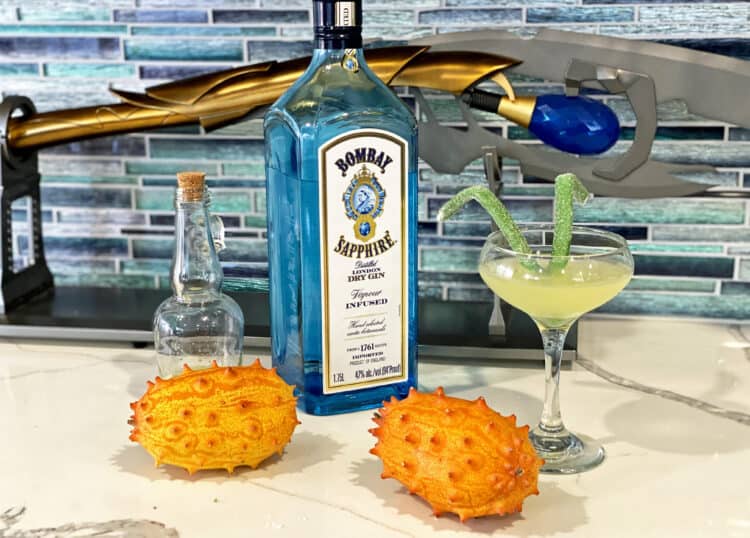 God of Mischief Cocktail: A Gin Gimlet Recipe
God of Mischief Cocktail
Ingredients
2

oz

gin

1/2

oz

lime juice

1

oz

horned melon/kiwano melon juice

1

tbsp

powdered sugar

ice
Instructions
Fill cocktail shaker 1/3 full with ice.

Place all ingredients into shaker.

Pour into a martini glass or coupe glass. Enjoy!
Not only is this cocktail a little sweet, a little sour, but it's green…which suits Loki perfectly. Kiwano melon (another name for the horned melon) juice has a green tint, so it just makes it a little more fun.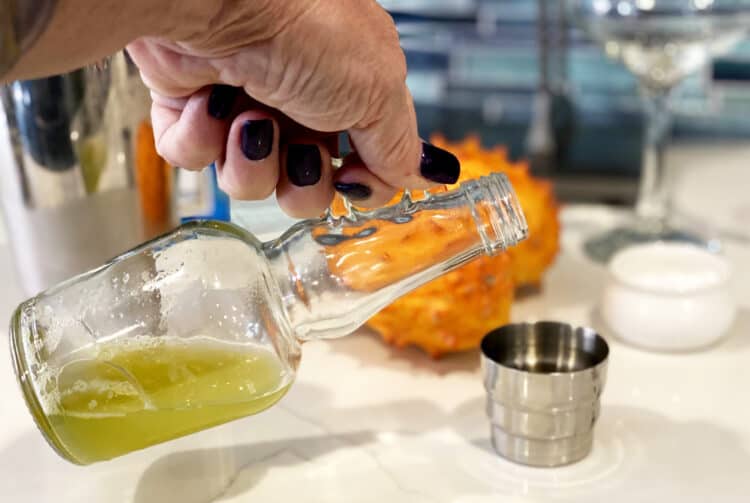 To ramp it up just a bit, I dressed up the cocktail with some green bendy candy. This particular kind I purchased at the candy store in Oak Glen, but I'm sure similar kinds are available in other candy shops, maybe like Pop Sugar?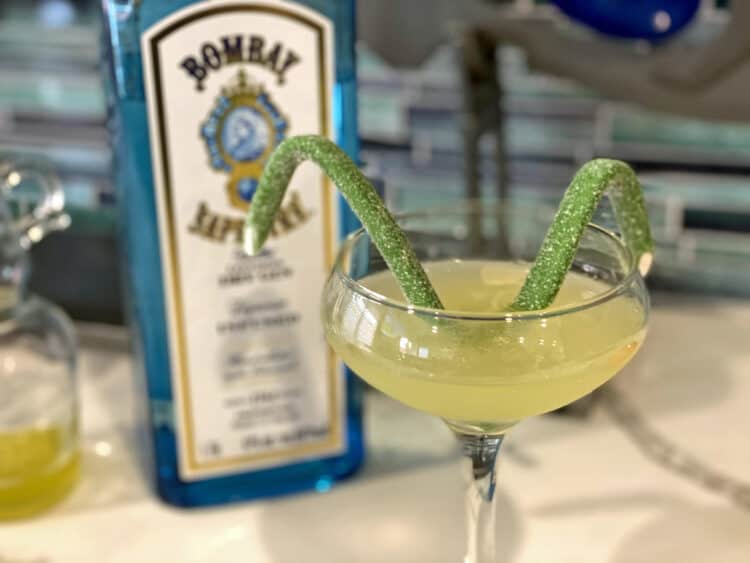 In our house, Marvel gear is everywhere. The scepter you see in the photos was purchased a couple of months ago at Frank and Son Collectibles show, a huge fandom shop in an old Costco in Rowland Heights. You will wait in line, because it's only open now on Wednesdays, Saturdays and Sundays. We got there about 8:10am and when it opened at 9:00am, we were let in with the initial flow. Entry was stopped not far behind us though, in order to keep up with occupancy restrictions. This may change when California reopens next month, but I do not know. Bring your mask, too, you will be in close quarters in the individual booths inside. It is SO worth any wait you may have.
I hope you enjoy my new gin gimlet recipe, the God of Mischief cocktail! It's another in my line of Marvel cocktails; you can find some others here. They make great drinks for movie or Disney+ nights!