I am a huge fan of Shark Week on the Discovery Channel, so much that I created my own Shark Week cocktail. Every year, I plan my schedule around it to watch shows on the first day, and of course, the headliner. This year, it was Phelps vs. Shark, so at 8pm on Sunday evening, I was planted on the couch in front of the big screen, ready to watch it happen. While he didn't actually physically race a great white side-by-side — I mean, sharks don't stay in their lanes, you know? — the science behind the whole episode was fascinating. I found it so interesting that putting a fin on Michael's legs, instead of him swimming like a human normally would, shaved four seconds off of his time. It says a lot for how sharks can manage to swim up to 25 mph typically. (And I say typically because all the testing done for the episode may or may not have pushed that limit a little, but you have to watch it to find out. Repeats are available throughout the week.)
Back to Shark Week overall though. I usually plan at least one shark-themed meal for the first day. This year posed a challenge though, as the husband and our oldest son had spent all weekend, from Friday evening onwards, remodeling our downstairs full bath. It's my younger son's regular bathroom, and our guest bath, so I've had my eye on smashing the shell sink for all four years we've lived here, so I couldn't complain at all that it disrupted our Sunday schedule. What to do though to still have a little fun in honor of Shark Week?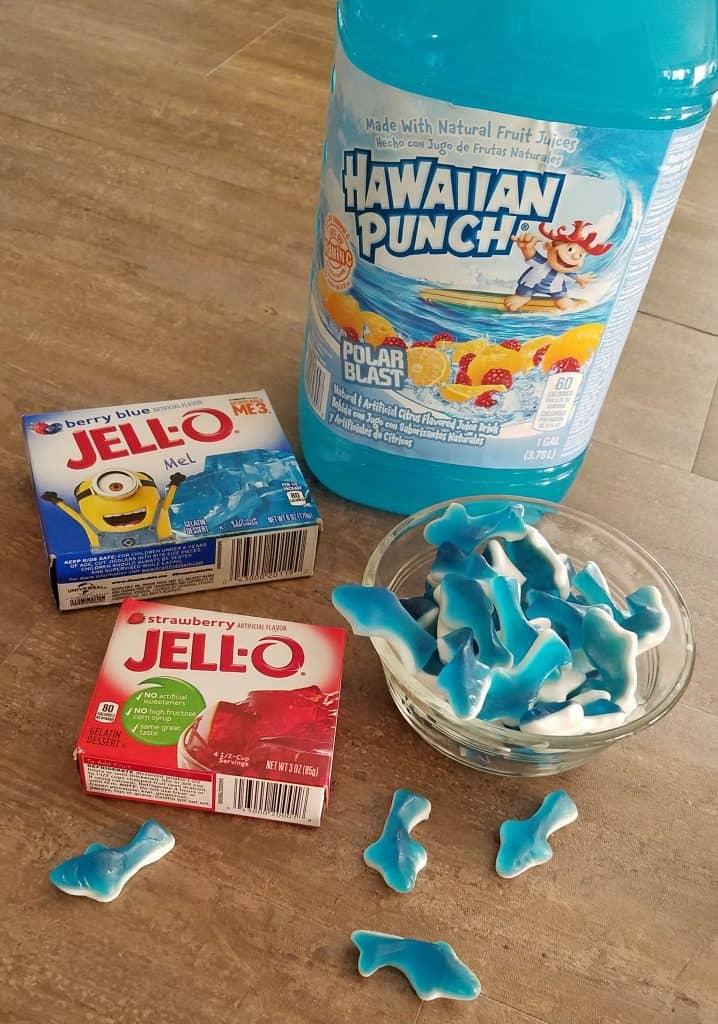 Enter the Shark Week cocktail! Easy to make, simple ingredients and a little silliness, my Shark Week Cocktail is a fun addition to happy hour. Shark Week's already halfway over, so try out my recipe and you can FINish Shark Week off right! (See what I did there?)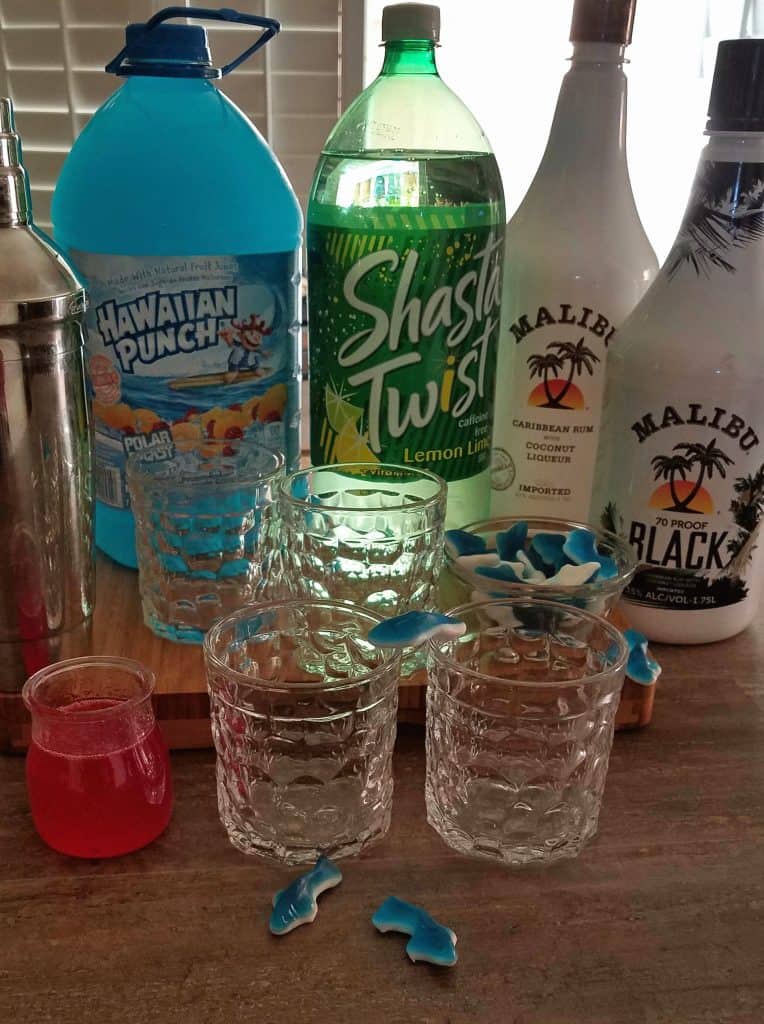 This drink contains just a few things: blue Hawaiian Punch Polar Blast, a small package of any flavor of red Jell-o, Shasta or other lemon-lime soda, Malibu Rum (Malibu Rum Black, which is strong, or regular), and of course, gummy sharks. The sharks aren't critical, but if you can find them, do it, they add just a little bit of silliness to an already ridiculous cocktail!
This Shark Week cocktail comes together quickly, but make the "blood" ahead of time. I combined one cup of sugar and one and one-half cups of water, simmering for several minutes to reduce and thicken. After removing from the stove, I stirred in one-half of a 3 oz. strawberry Jell-o packet, again stirring thoroughly until dissolved. Let it cool completely. (I did test out putting half in the refrigerator, as I knew I wouldn't need it all at once and it crystalized pretty fast. This doesn't mean you can't use it, but it doesn't have the same consistency.) Then it's ready for use.
Using a cocktail shaker, mix together: 2 oz. of Malibu Rum, 1/2 cup Hawaiian Punch and enough ice to make the drink cold. Shake thoroughly, then strain into a glass. Add 1/4-1/3 cup lemon-lime soda, depending on how sweet you want the drink. The more soda you use, the less sweet the drink will be, as the punch is pretty sweet on its own. Drop a gummy shark towards the bottom of the glass, and if you want, stick another on the rim. Tip: use kitchen shears to put a small slice towards the shark's neck to help it adhere to the glass.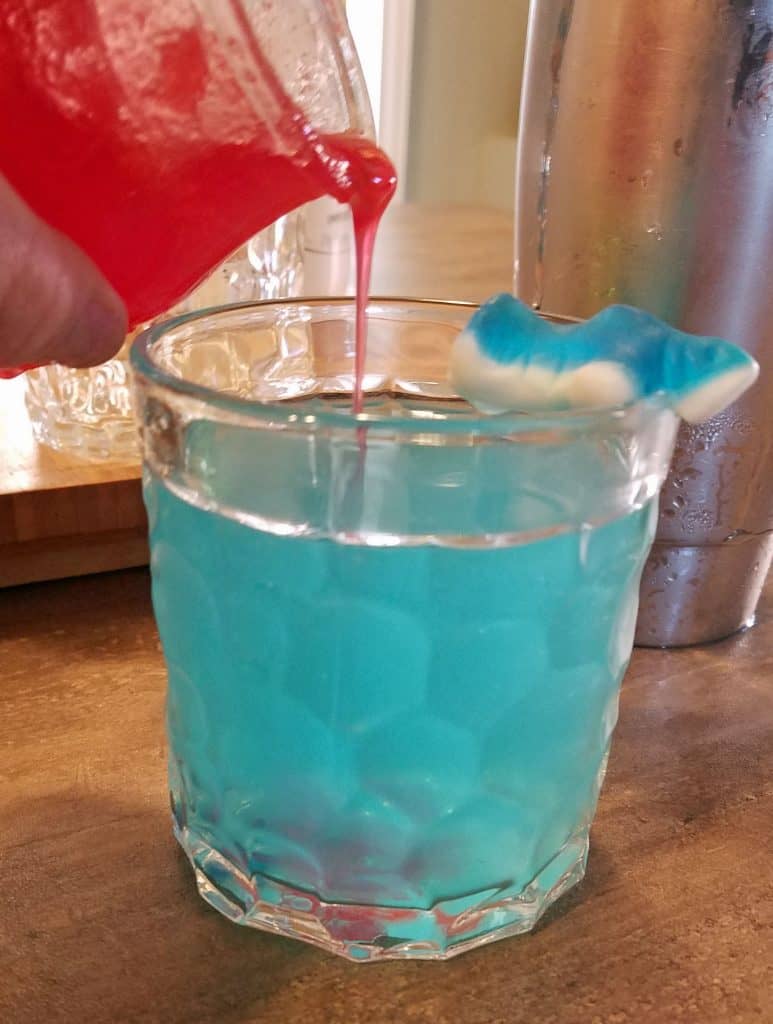 Then the fun begins! The "blood" is much thicker than the rest of the cocktail, so it will settle on the bottom, so the "blood" pools up around the shark as though there was just an attack way below the surface of your "ocean." If you don't stir it, it will remain there while the cocktail is consumed. (And if you stir it, your drink will get a lot sweeter.) Time to enjoy your Shark Week cocktail!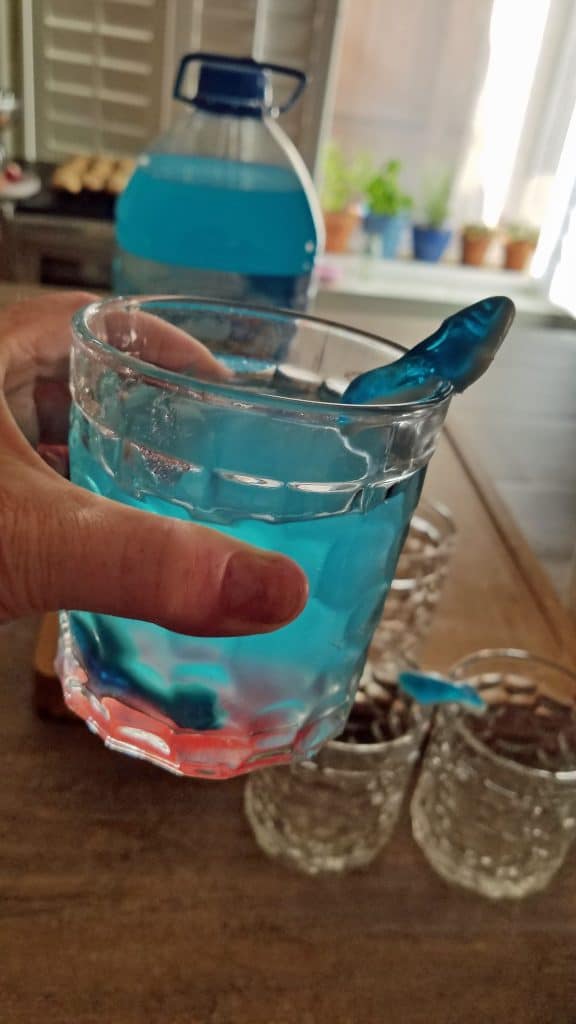 And be sure to enjoy it in front of another one of the Discovery Channel's amazing Shark Week shows! From great whites to hammerheads to studies about shark activity here on the California coast or off of Bimini, you're sure to enjoy learning more about these amazing creatures that are so often in the news. I don't want to necessarily go surfing any time soon now, but I do have a healthy respect for sharks!