Looking for a new Thanksgiving side dish? Consider my Maple Sweet Potato Mousse recipe in place of your traditional sweet potato side.
Thanks to Melissa's Produce, I had two pounds of gorgeous organic Baby Japanese Yams. I was going to roast them and pan fry the skinned chunks as a side dish for dinner this week, topped with cinnamon and a little butter, but then we went out to dinner on Saturday night at one of our favorite restaurants. One of the dishes came with a sweet potato reduction smeared on the plate. It was both visually appealing and delicious, and it inspired me to try my hand at making a sweet potato mousse of my own.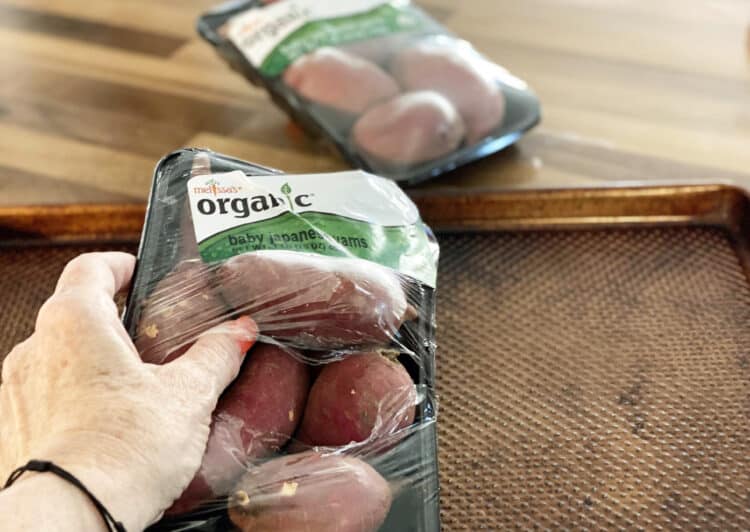 Every year, for as far back as I can remember, our Thanksgiving menu included a casserole pan full of baked sweet potatoes. My recipe had evolved over the years, including evaporated milk, lots of butter, cinnamon and a secret ingredient: 1/2 tsp of chili powder. During its last 10 minutes in the oven, I'd top it with mini-marshmallows, baking until they melted thoroughly and became a little crispy. So good!
But it was time for a change, so my Maple Sweet Potato Mousse is taking its place on the menu this year. It's easy to make, doesn't cost a lot and requires no special ingredients.
This mousse is on the sweet-dish side, so if you prefer it to be more savory, I'd add a little more pepper or a little thyme. Not only does it add more of a fall kick, but it smells fantastic when baking. My kids had fun laughing at the shapes of it on the plate, because it really does retain its shape. It was called anything from "pale poop emoji" to "flat Halloween ghost" and a couple in between. They aren't wrong, it really isn't super photogenic, hence the few pictures here of the process.
One tip: try to time it to be done as close to serving time as possible. If there is extra time between when the potatoes are done being roasted, put the lid on the food processor and keep it tightly closed. The mousse is better when it's warm, so if they get cold, you can place them in a small covered pot and quickly warm them, using a whisk to keep them fluffy.
Maple Sweet Potato Mousse
Ingredients
2

lbs

sweet potatoes

I used Melissa's Produce Baby Japanese Yams.

1/4

cup

butter, room temperature

1/2

cup

heavy cream

1/4

cup

maple syrup

1

tsp

vanilla extract

1/2

tsp

salt

pepper

to taste
Instructions
Preheat the oven to 350 degrees.

Place all the whole sweet potatoes on a cookie sheet.

Roast for 45-60 minutes; they will be done when they are soft when pressed with the back of a fork.

When done, let potatoes cool enough for you to touch them.

Slice the skin down one side and squeeze the potato into the food processor; throw away skins.

Add all the remaining ingredients. Puree until thick and fluffy.
Baby Japanese Yams are white on the inside, so your mousse will be a light creamy color. They are mild in flavor and are the perfect consistency for a mousse, baking and pan frying. Available online at Melissas.com and in stores now!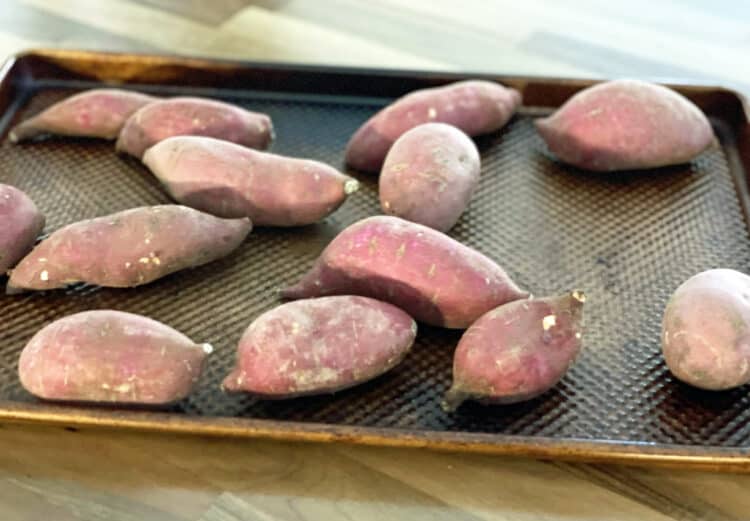 Keep an eye out here on the blog — I've got several other recipes coming that are inspired by Melissa's Produce items I've received recently. Right now, my son says that this sweet potato mousse is his favorite and he wants me to make it every day, but he said that about passionfruit syrup pancakes, too, so who knows…