It's still not fully fall here in Southern California, but I find myself spending more time planning our meals as though it is. Soups, stews, warm foods that fit a traditional fall are slowly overtaking my menu. Now that we have the occasional evening cool enough to barbecue, grilled entrees are back in my weekly food plan. We're mostly a non-beef household, thanks to my longstanding intolerance, so I have to get creative sometimes in order to appease burger-loving kids while still keeping them full. Having a burger alternative also means that I can enjoy a burger along with the family. You can only enjoy chicken so often, right?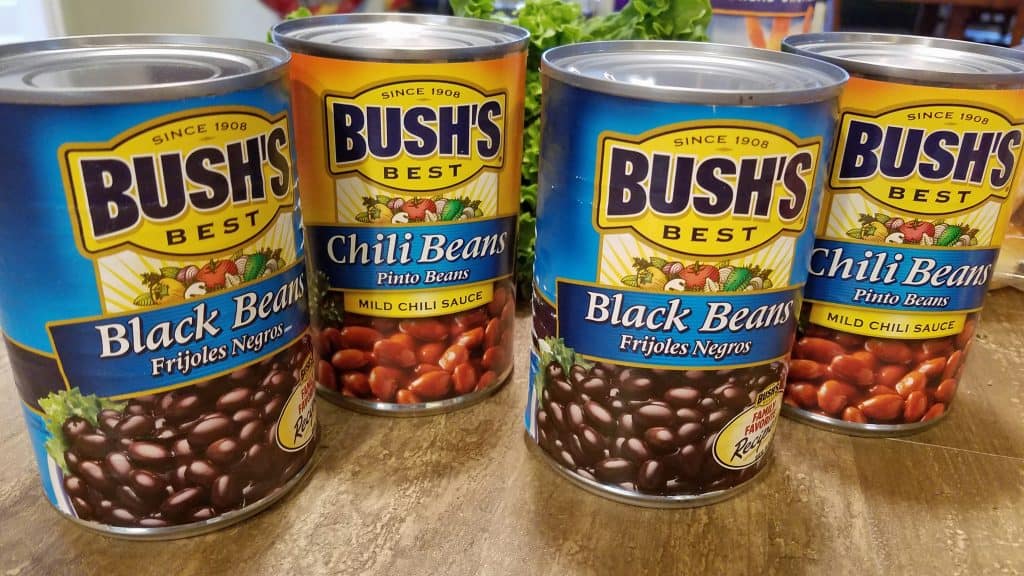 This week, I tried something new. Using Bush Beans, available at Walmart, I developed a new fall burger alternative to spice up the menu. It's healthy, has a lot of flavor and is easy to make — and the whole family loved it! I was compensated for this post, so I could share my Bush Beans Fall recipe with you, but the photos and opinions of my experience are all my own. If you've got any burger lovers in the family who may be hesitant to try a non-meat version of a burger, I think you may be able to sway them with my recipe!
One added bonus to my recipe is it's possible to make it all without dirtying a lot of dishes and pans. The ingredients all come together quickly in a food processor and after being formed into patties, they are fried in one frying pan. Less mess and speedy prep means less time in the kitchen and more time with the family. Serving comes with options: eat them wrapped in lettuce 'buns' or real carb-laden hamburger buns, so you can turn an already healthy recipe into an even more diet-friendly dinner.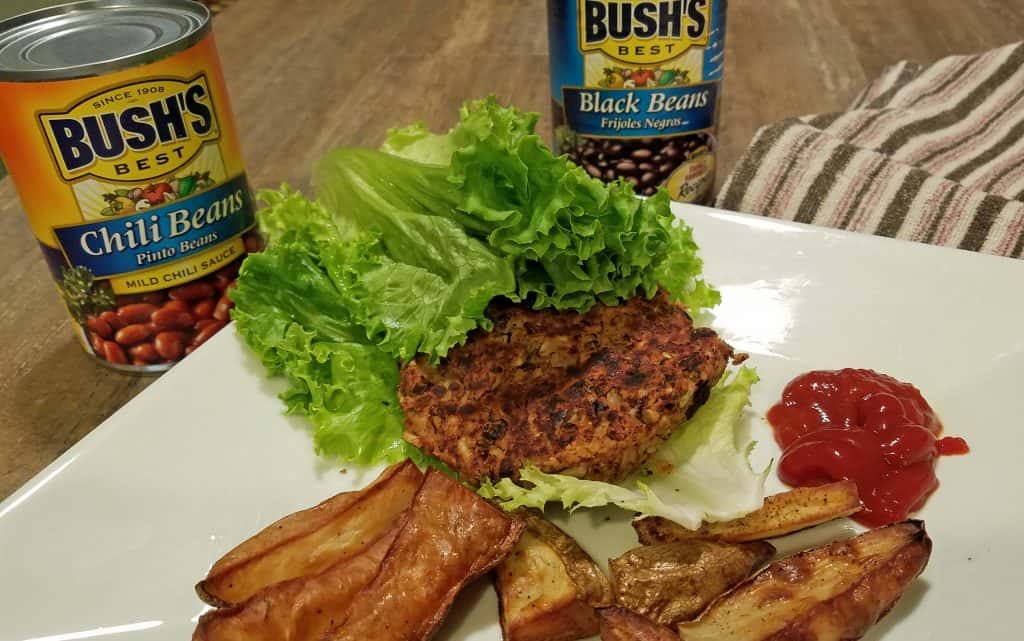 When I put together the recipe, I initially went straight for the black beans. Bush Beans come in so many different options though, so as I reached for the cans at Walmart, I considered my options. I decided to change it up a little bit and mix in one can of mild chili beans. They add moisture to the burger and take the flavor profile up a notch in a completely unique way. Gotta make sure the kids used to a big burger aren't going to have anything to complain about! I served them with baked wedged potatoes drizzled with olive oil, salt and pepper. It was a great meal eaten on one of our chilliest nights yet!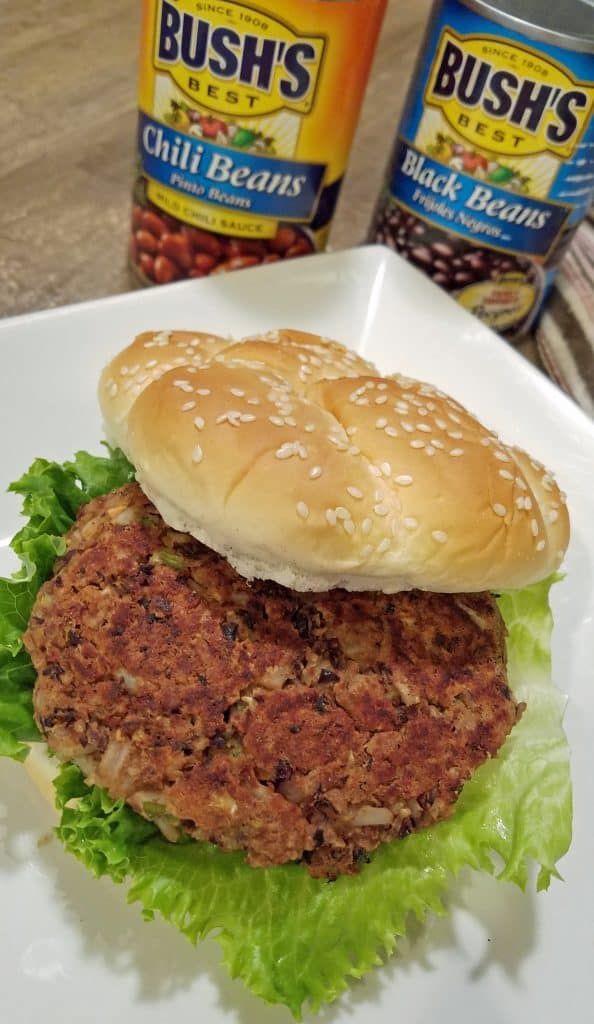 Black Bean Chili Burgers
Serves 8
1 can Bush's Best Black Beans
1 can Bush's Best Chili Beans
1 cup cooked brown rice
2 green onions, slightly chopped
1 tbsp chopped garlic
2 tbsp Sriracha sauce
2 tbsp Greek yogurt
1 egg
1/2 tsp cumin
1 tsp chipotle or other chili powder
Salt and pepper to season
3/4 – 1 cup panko bread crumbs
1 tbsp cooking oil
Lettuce leaves and/or buns
Place all ingredients into food processor, except panko crumbs, lettuce leaves or buns. Process until beans are in small chunks. Remove blade, mix in panko until proper consistency is achieved; you must be able to shape a patty without it falling apart. Shape into approximately 8 patties.
Heat frying pan. (I used cast iron.) Add cooking oil as it heats, then place patties into frying pan. Heat approximately five minutes on each side to ensure egg is heated sufficiently. Serve on lettuce leaves or bun of choice and enjoy!
Just a few photos of the process — keep in mind, it's going to be like the 'meat' so it's not always pretty to look at as it's cooking, but the taste will blow you away!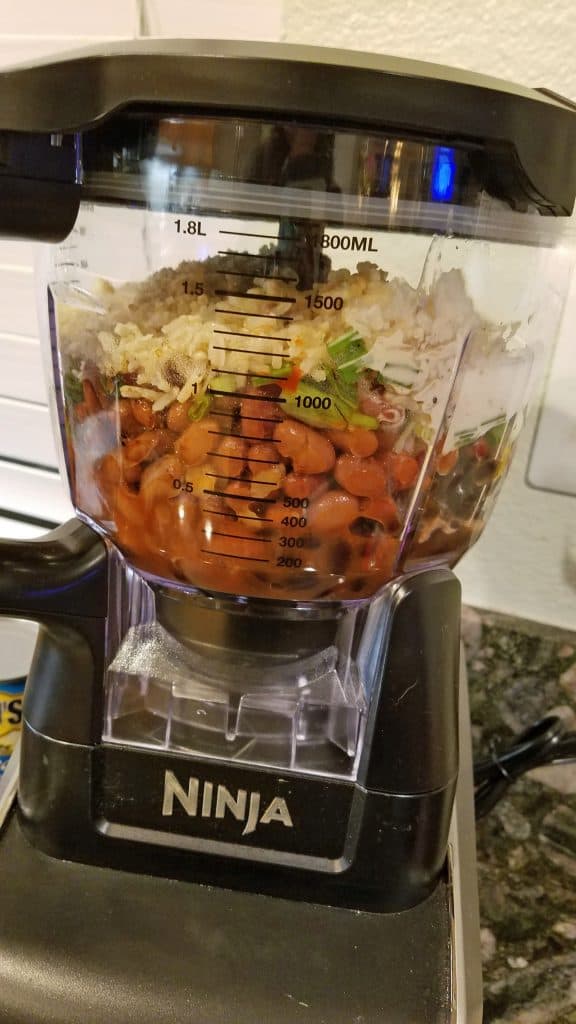 I swear by my Ninja when blending foods. This is the smaller container, so it gives you an idea on how all the ingredients really will all fit. If you wish, when you add the panko crumbs at the end, you can pour it all into a bowl. The Ninja doesn't have a hole for things to fall through, but I know some food processors do.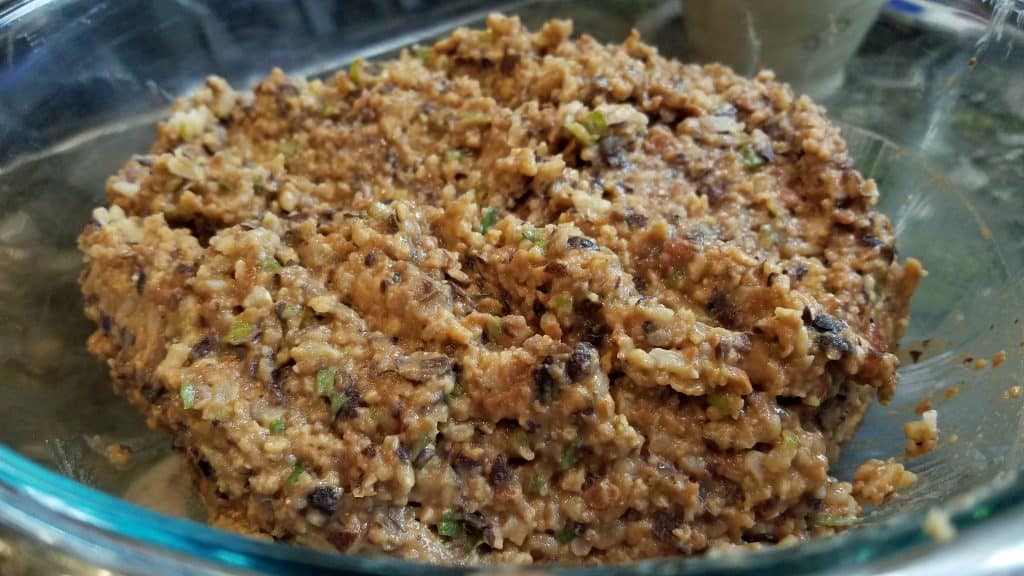 See how moist it is? Even with the addition of a full cup of panko, the patties came together nicely and didn't fall apart at all during the cooking process.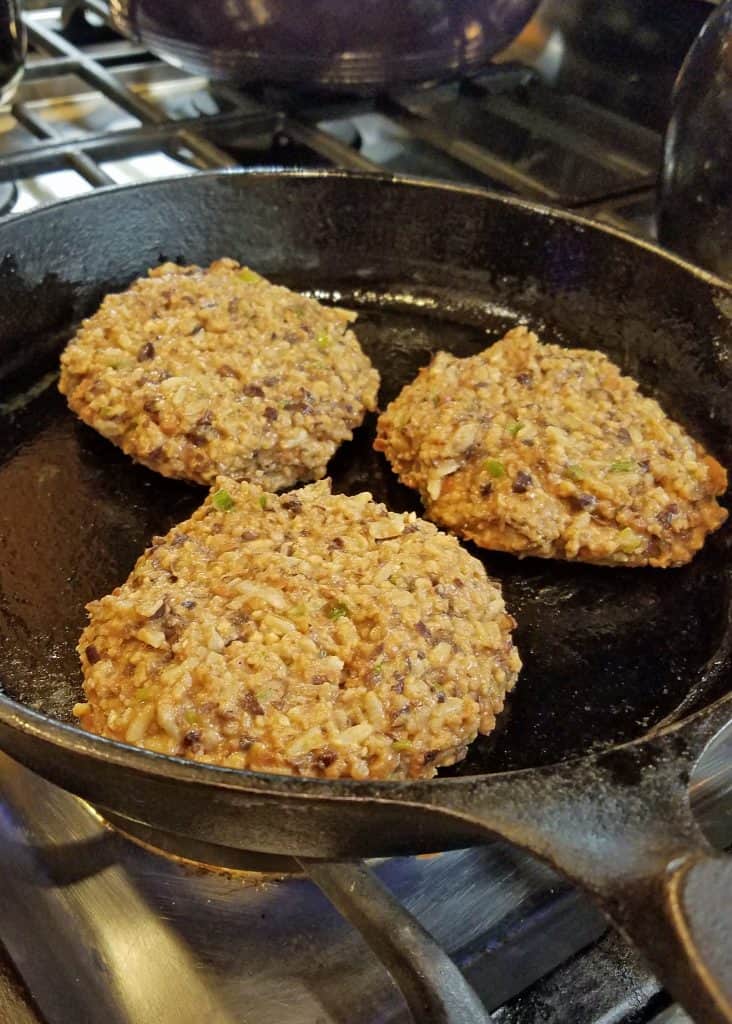 So easy and so good for you! If you wanted to make the patties vegan, there are options you can use instead of the egg and Greek yogurt. We make a lot of vegetarian meals but I'm not a good resource for vegan advice so I don't have specifics on how to make the change as I didn't do it myself.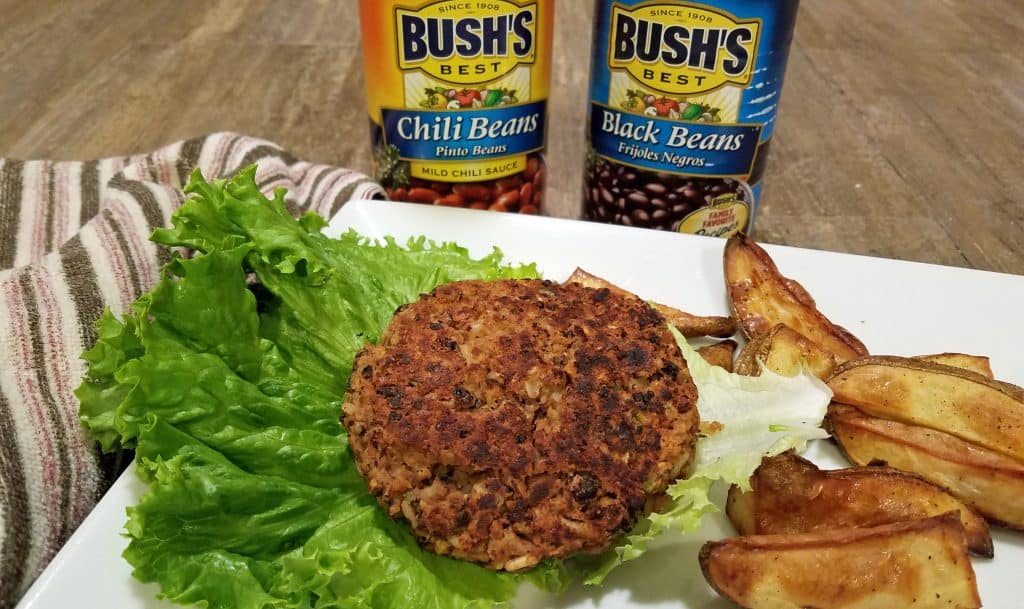 One extra cool thing about these burgers are that you can eat them several ways, too. In a pita bread is how I had my leftovers at lunch the next day, but they are also great on a bed of arugula and fresh spring greens. I make a lot of l0w-fat and low-calorie dresses at home as a great way to shake up the flavor profile. Walmart's selection of Bush's Best beans opens it up to a ton of new ideas for your menu, even if you don't want to try a vegetarian burger. Their versatility alone makes them a constant presence in my pantry because I can always put something together on the fly with them. Get that fall menu moving and be ready for the upcoming holiday season entertaining!