Wings, pizza, fried fish, cold beer….it is all perfect for a date night out in Los Angeles, so the new Rocco's menu in Studio City is going to be popular!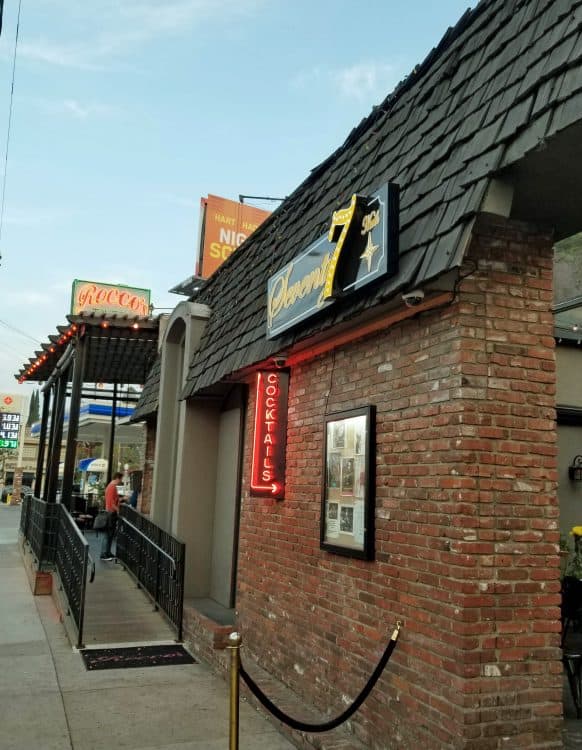 In partnership with Eric Dickerson, Rams Alumni and NFL Hall of Famer, Rocco's Tavern has a new offering sure to please anyone stopping by for a cold beer or to watch the game. Inspired by Eric's grandmother and his childhood spent growing up in Sealy, Texas, the new menu is simple yet tasty. Nothing complicated with these foods, just tasty plates that go perfect with the Rusher, five bottles of Corona chilled in a bucket of ice. (And at $25, it's a pretty good deal!) We attended their recent media night to try all the foods and our first visit to Rocco's was a lot of fun!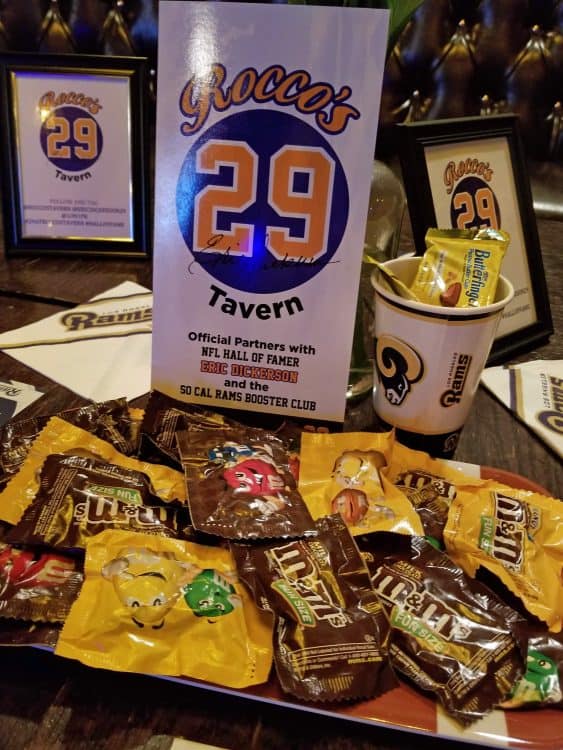 Eric's menu changes things up. The 2105 Wings are Roccos' Famous Style wings, but seasoned with garlic pepper, garnished with sliced fresh jalapenos, served with Texas slaw, a side of 911 sauce and ranch dressing. I am a fan of slaw and there aren't many I like because I am not a fan of mayo, but this slaw passed the test, being both flavorful and not excessively moist. A plate of 10 wings comes in at $14.95 and is a good app plate to share. Bonus points if you can tell me why they are named 2105! (No cheating, but the answer will be below!)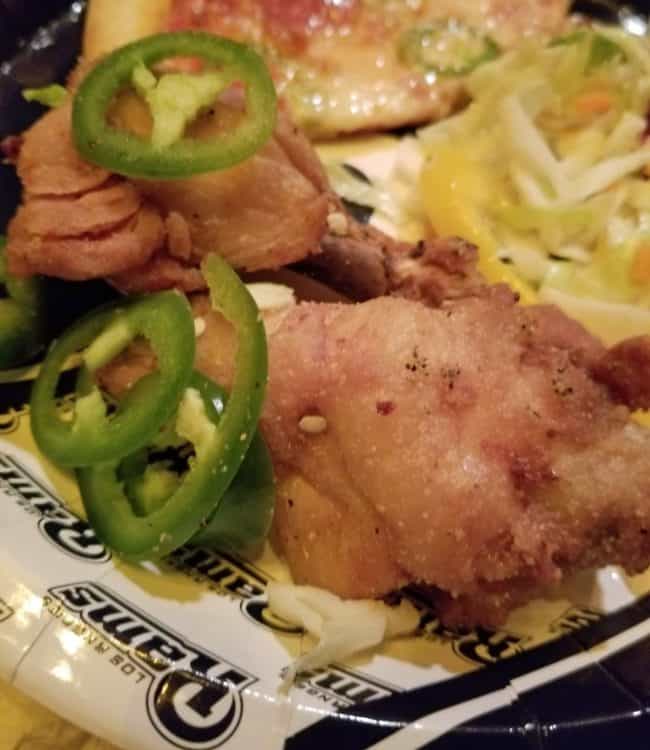 The 29 Burger is a single patty burger, char grilled and topped with red onion, tomato, melted swiss cheese and spicy mustard. It's also served with Texas slaw and fries and goes for $13.95. I loved the bun on this one! (I didn't get to eat the burger, beef hates me, but I ripped apart some of that pretzel bun…..really good.)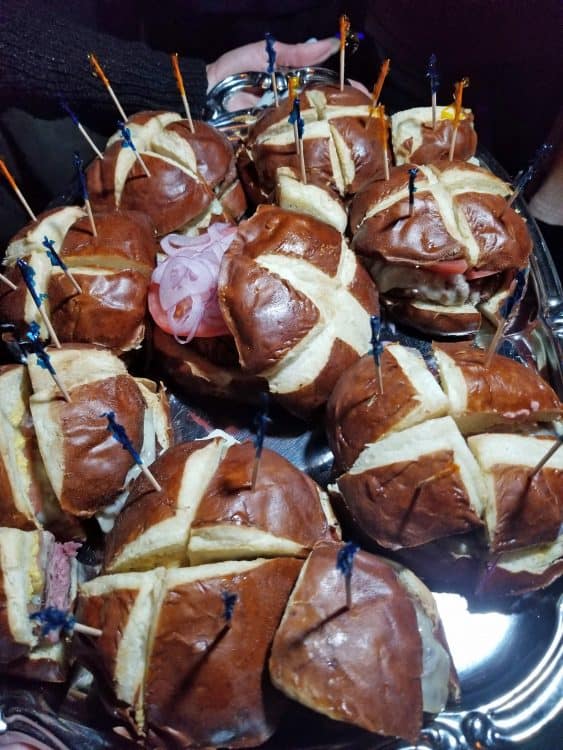 My personal favorite of the evening was the Pony Express Pizza, a 10″ personal pizza topped with fresh jalapeno, sausage and pepperoni. The crust was just soft enough to not make a mess in my lap — because I don't need any help in that regard — and the sauce was flavorful and tasted like true pizza sauce, not just a smear of tomatoes. That's a big deal with any real pizza lover.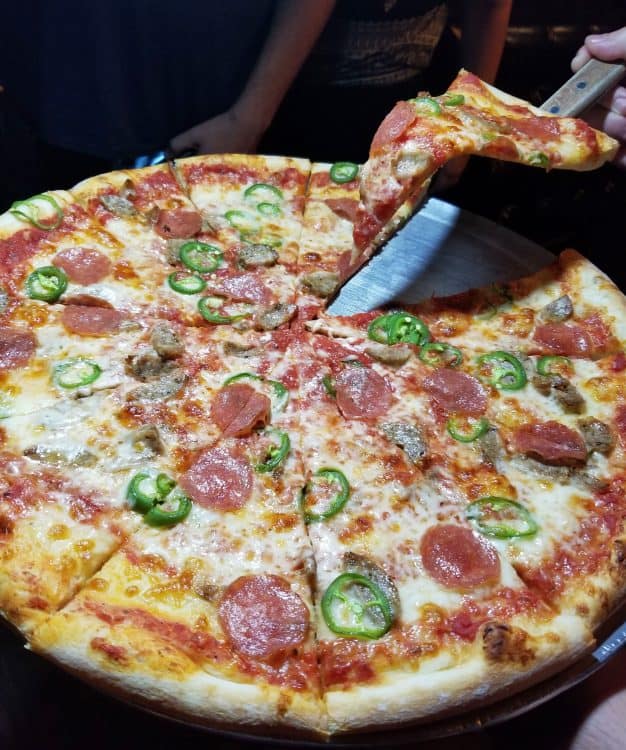 It and the Sealy Texas Shrimp, six large deep-fried cornmeal breaded shrimp served with slaw, fries tartar and cocktail sauces, are both $13.95. The tail is on, so there are easy to dip and enjoy.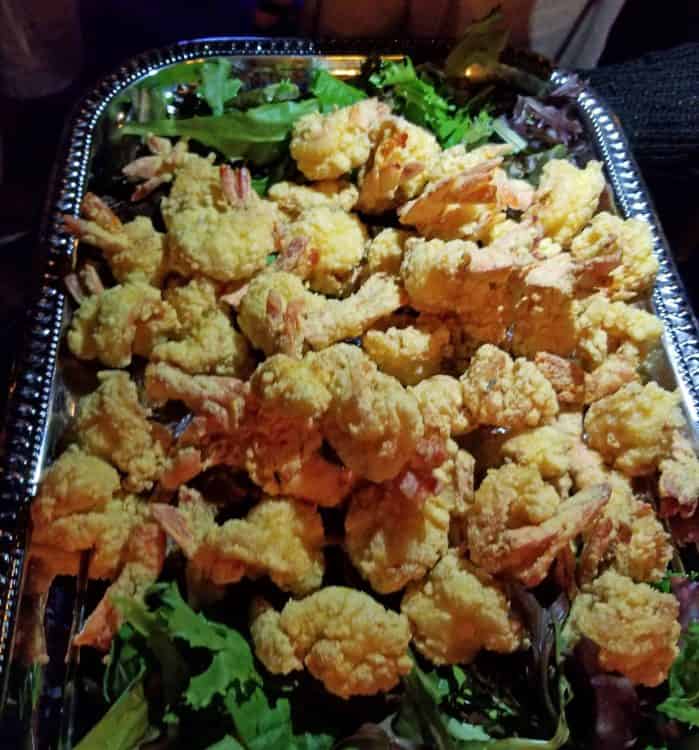 My second favorite was the Sealy Texas Snapper, a six-ounce red snapper cornmeal breaded filet deep-fried served with Texas slaw, fries, tartar and cocktail sauces. This one not only had a good flavor, but you don't see this one nearly enough out here in SoCal. I spent four years in the south years ago, and then another three years later on, and I miss things deep-fried in cornmeal. Kudos to Rocco's Tavern for bringing some of that southern and Texas-style food out to California!
Eric was personable and gracious to everyone, talking about his love of family and Texan food, and of course, his love of the game. His football stats speak for themselves, but every football fan will be familiar with his career and his record-breaking most yards rushed in a single season. Get where the 2105 Wings name comes from yet? Yes, he rushed 2105 yards in that one season of his 11-year NFL career.
Rocco's Tavern is located on Ventura Boulevard in downtown Studio City, not far from busier areas yet on a stretch of the boulevard where parking is easy and plentiful. (Pay attention to your meters though! The husband got a ticket for being five minutes over. Ka-ching.) It shares the building with Seventy7 North, a bar with dark walls and an unusual array of paintings, giving it a really cool vibe where you aren't sure if it's day or night outside.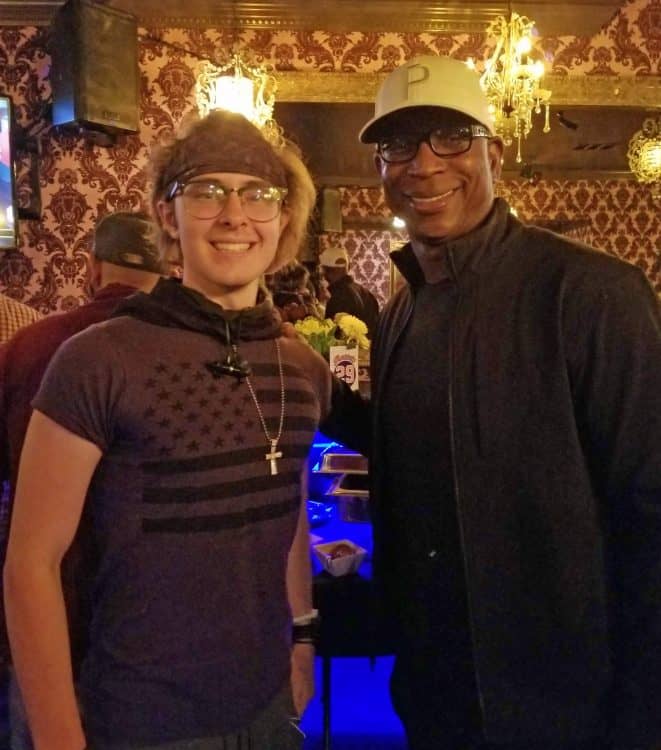 We enjoyed our evening at Rocco's, and my son was beyond thrilled to meet Eric. He was at first nervous to go speak with him, but once he got going, they were talking football, plays, and how to handle goggles under a helmet, as Eric was an original in dealing with them. Before we left, they were chatting it up like buddies!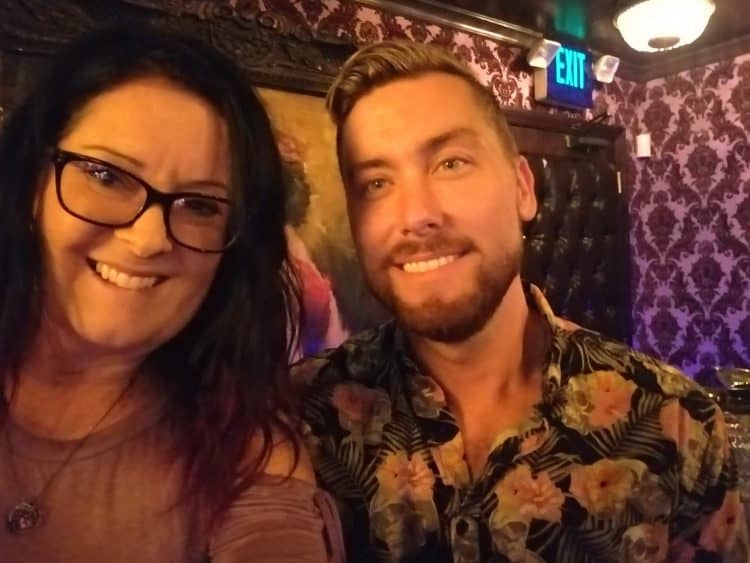 Meanwhile, we'd gotten a selfie with Lance Bass (who has his own menu partnership in the works) and it's definitely not my best selfie, but I'll take it. He was sitting in a dark-ish corner and people had just started to realize he was there, so I rushed a little and may have been fighting a fangirl moment. (Thank you, Lance, for being so cool to take photos with my son and I!)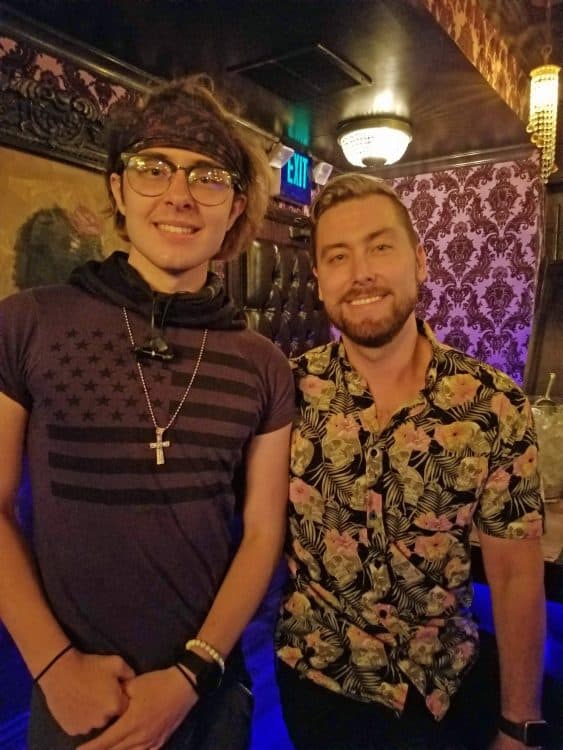 Vince Ferragamo shared his wine with us. (Did you know he has a vineyard in Orange County? We didn't, and the wine was fantastic!) He was also a pleasure to speak with and it was a surprise to get to speak to not just one, but two major football legends.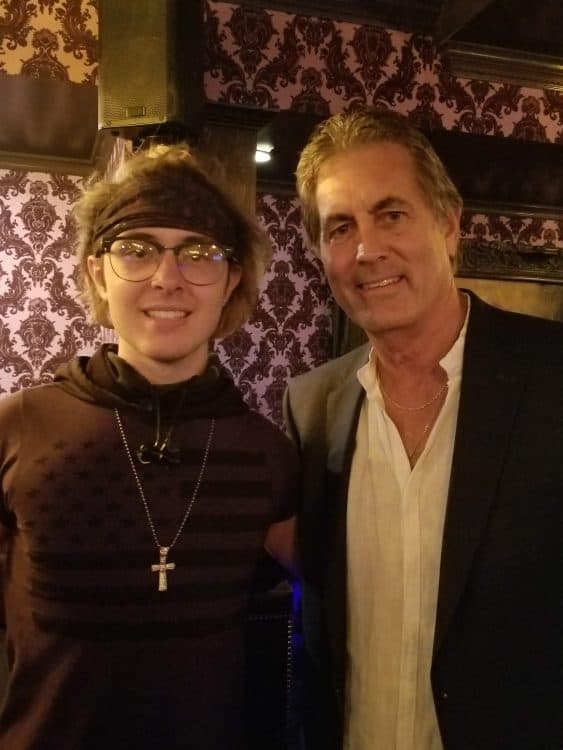 Thanks to Rocco's for the invite for media night. We had a blast and hope to return again! We're out in the area a lot for press events and it's good to have another spot to drop in for food and a cold beer. Try out the new Rocco's menu next time you're in the area!