Fall is on its way and as the temperatures drop, our food preferences change. More comfort food, a different set of spices, more one-pot meals. We want simple snacks that are tasty but don't keep us in the kitchen forever. And if you're like me, you want it to smell like fall, so I'm hosting a Tastefully Simple giveaway so one lucky winner will get the chance to do just that!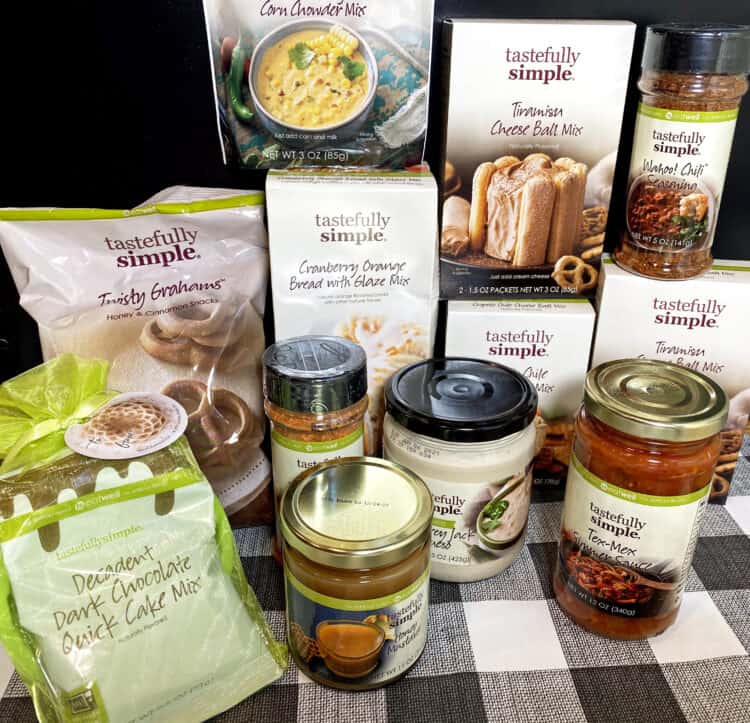 My kitchen is currently under construction for a complete overhaul: new cabinets, new counter tops, new paint, new appliances, new everything. It can impede how fancy our meals are right now, so these Tastefully Simple products helped me simplify while keeping everyone happy!
Here's what Tastefully Simple sent me (for the purposes of this post) and what the winner of my Tastefully Simple giveaway will receive. It's over $100 worth of gourmet food ingredients, designed to spice up your menus and add new options for your fall menu. (And check out this mini-bundt Decadent Dark Chocolate Quick Cake Mix! You even get the pan to make it in, a piece of silicone bakeware you can use again and again.)
If you're not familiar with Tastefully Simple, it is a company that originally started as a party-based system where a host held a party and guests could order. The host earned product and everyone had a good time with new things. Over time, products became available to order on the internet, so everyone could enjoy, even without a party. The party plan program is still their biggest seller, with thousands of consultants available throughout the United States. If you're interested in hosting a party, you can find a consultant here.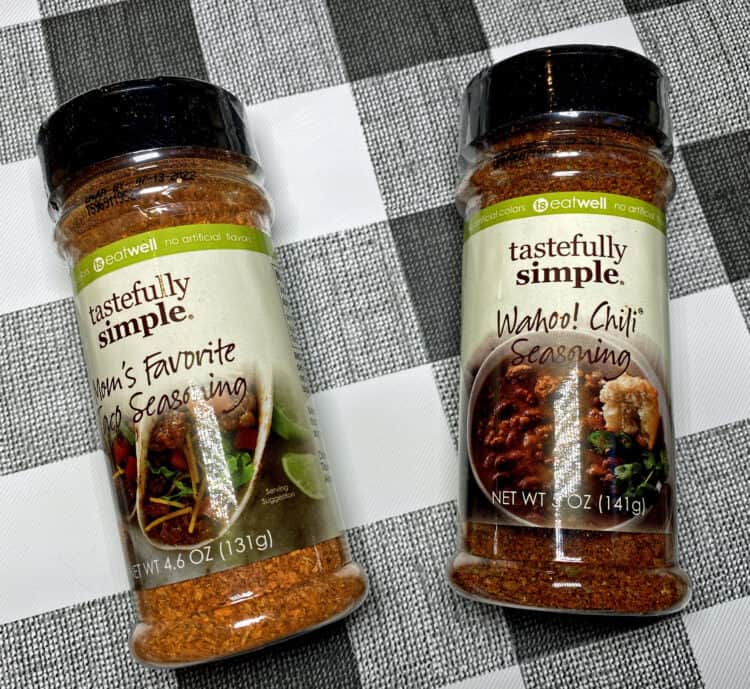 These two seasonings will become a pantry staple. No more grabbing numerous bottles and taking the time to create the perfect combo. Grab this Taco Seasoning or Wahoo! Chili Seasoning and knock your main dish out of the park in a lot less time.
Want to place an order and save 10%? Use code DCLTS between now and September 20! Tastefully Simple products are so delicious and varied, there's something for everyone. Everyone loves their top-selling product, Bountiful Beer Bread Mix®, so if you haven't tried it yet, throw one in your cart! The line includes signature seasonings, sauces and baking mixes, requiring the addition of only two products, ensuring that meal prep is as fast and easy as possible while still providing high-quality flavor for your family and friends.
One added bonus? 85% of their products are part of the EatWell brand, meaning they have no artificial colors, flavors or preservatives. This removes the common struggle of feeling safe with what you feed your growing kids, and you know you're only giving them the best!
So what is in this Tastefully Simple giveaway prize package?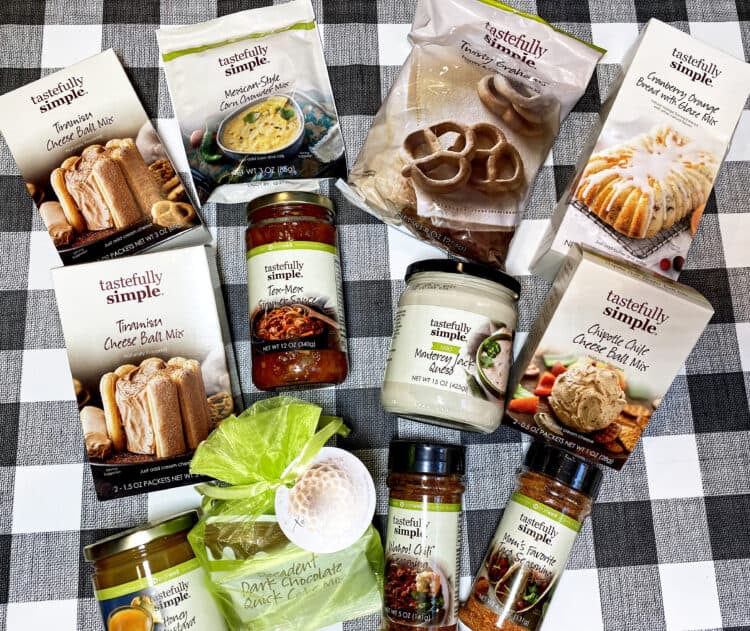 30-Minute Meal Kit
Chipotle Chile Cheese Ball Mix
Honey Mustard
Mexican-Style Corn Chowder
Mom's Favorite Taco Seasoning
Monterey Jack Queso
Tex-Mex Simmer Sauce
Wahoo Chili Seasoning
Recipe Booklet
You'll also get:
Cranberry Orange Bread & Glaze Mix
Tiramisu Cheese Ball Mix
Twisty Grahams
Baby Bundt Dark Chocolate Quick Cake
Let's be honest. We all need to splurge now and then. These quick prep treats are just enough to satisfy a craving for a few people and they're all delicious. The Cranberry Orange Bread with Glaze Mix will make your house smell like you lit a holiday candle, and the Twisty Grahams will go perfect with a seasonal coffee. And the Honey Mustard? My kids immediately started dipping pita chips into it.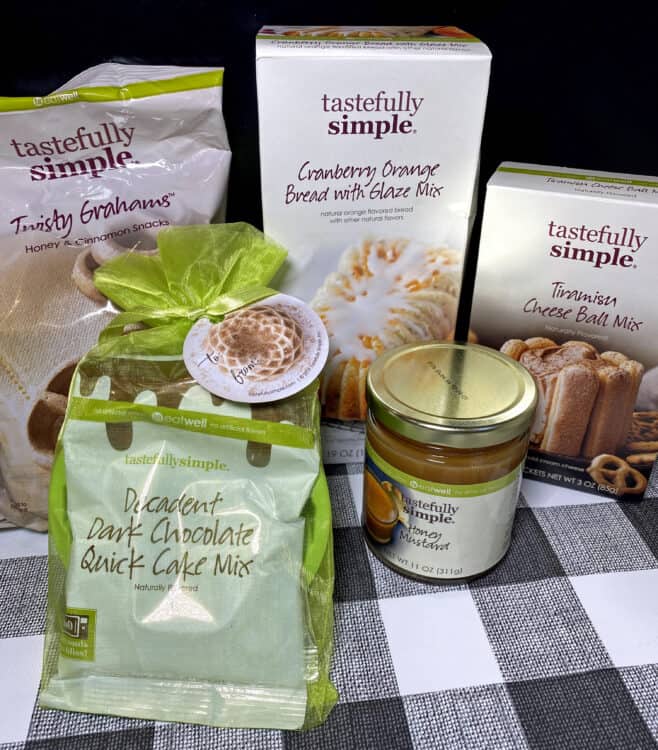 Entering the Tastefully Simple giveaway is easy! There are several options in the widget below; there are also ways to earn additional entries.
Giveaway rules are simple: one winner per household, winner must be at least 18 years of age and winner must reside in the United States. No purchase necessary to win. Void where prohibited by law. Winner will be randomly chosen and must respond to notification email within 48 hours or prize will be forfeited and a new winner will be drawn. Winner will be required to provide a physical mailing address and phone number, along with complete name and email address; prize will be fulfilled by Tastefully Simple.
Enter for your chance to win a prize pack like the food and goodies I shared above, and don't forget to use discount code DCLTS to save 10% on your online order before September 20!
a Rafflecopter giveaway