Have you heard about Moana yet? If not, keep reading — you'll see why I'm so excited about this new Disney movie that comes out on November 23, just in time for Thanksgiving. I'll post a review on Wednesday, but today I'm sharing with you insider details from the cast during the Moana press junket.
In attendance at the Moana press junket, which was held in Santa Monica's gorgeous Fairmont Miramont Hotel and Bungalows, were:
Dwayne Johnson (voice of "Maui")
Auli'i Cravalho (voice of "Moana")
Lin-Manuel Miranda (Music by)
Opetaia Foa'i (Music by)
Directors Ron Clements & John Musker
Producer Osnat Shurer
Lighting wasn't the greatest so my full-table photo isn't the best but it gives you an idea of the setting and what everyone looks like.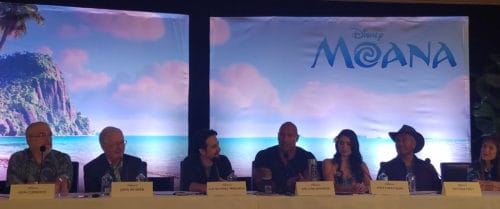 As always, with any Disney press junket, there is so much more information than I can fit into one post, but here are some great highlights. Moderated by Tiffany Smith from Fandango, this talented panel offered so much candid insight, I hope to do it justice here with my summary!
Ron Clements answered the first question, the one that always gets asked: what inspired this movie? It was actually in the works for five years, and the idea belonged to John Musker. John wanted to create a movie based on the Polynesian islands and the surrounding mythology. (Once you see it, you'll be able to agree that they succeeded.) They traveled to Fiji, Samoa and Tahiti for their first research trip, learning about the connection to ancestry, respect for nature and to create a list for future research needs. Can you imagine all the details a project of this size would encompass?
That trip led to a second trip with the music team, including Lin-Manuel, who had just taken the job. That trip to the Pacifica Music Festival in Auckland, New Zealand, allowed them the opportunity to learn, then get into the studio and bang on the drums to experiment with the unique musical heritage and beats offered by the Pacific Islands. He also ended up winning a dance contest! "Puerto Ricans can shake their hips, too!"

Auli'i is new to the movie industry, but this is just the beginning for this amazing and beautiful young actress. She has lived in Hawaii her whole life and is deeply immersed in the culture, sharing that she grew up with chickens and pigs. (Hei Hei and Pua are such fun characters from Moana!) She attends an all-Hawaiian school where the culture is part of the education and the study the mythology and folklore of Maui, also called the "Aloha spirit." It's interesting to learn, from someone not schooled on the culture at all, that the stories of Maui aren't something created for this movie; they are real and Auli'i grew up hearing them at bedtime. In the movie, Moana's grandmother shares them with Moana and other small children in a very funny scene. (As a parent, it's one of those situations where you're happy to have your child relate with her grandmother but you want your child to sleep at night, too!)

There's a song called "You're Welcome" in the movie. Maui, Dwayne Johnson's character, is part of the song, and there was a big discussion apparently about what Dwayne's vocal range was. Lin-Manuel channeled him for just a moment, when talking about the Rock's prior days in wrestling and how he'd watch his YouTube videos. "I can't do the eyebrow!"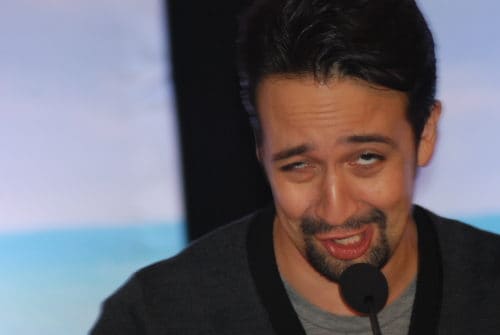 An adorable student asked a question of Lin-Manuel — in rap version, no less — about the secret of being successful and moving forward when writing music. While he felt she answered her own question with her creative question-asking approach, he told her to keep writing and don't stop. He used an analogy of a faucet. You turn the faucet on and the water may be brown because it's clogged up, but you keep it on until the water runs clear. Same goes for writing. Pretty cool way of looking at it, right?
I loved that they were all so comfortable being themselves and being silly for us, yet being so honest and open about their feelings in bringing the story of Moana and Maui to life. Lin-Manuel used a ten-minute video supercut to get an idea of Dwayne's singing abilities, and Dwayne ended up being very comfortable with it. "It was an opportunity to…challenge myself." He also shared that it was one of his favorite gigs ever because he loves challenges and it's an incredibly high bar to sing successfully in a Disney movie. (Dwayne, you rocked it….see what I did there?)

When it came to discussing the deeper parts of the movie, the things that the audience sees but isn't focusing on due to being fully immersed in the story, John, Ron and Osnat all shared their vairous input. One question that arose was how Moana's hair was so realistic. The answer was easy: technology has changed so much since the creation of the Little Mermaid, where Ariel's hair also posed a big challenge.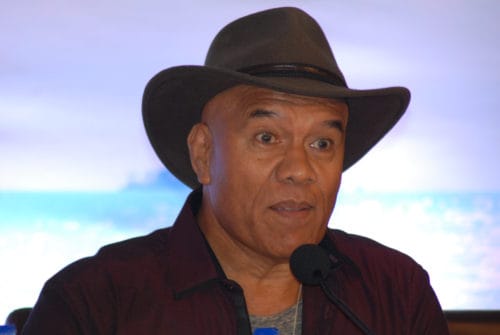 Opetaia Foa'i is amazing, let me start with that. We attended a post-screening reception and watched his band, Te Vaca, perform. What a show! The dancing, the beats, the scenery — it all comes together to make you feel like you are not in Hollywood, but on an island. He faced challenges with his family, because "in my culture, music is like breathing air and they can't understand why somebody would make a career out of playing music." He was born and raised in a thatched roof hut, so he still feels the amazement of being part of that cast full of talent. We're not surprised, Opetaia. You've earned every single second of this!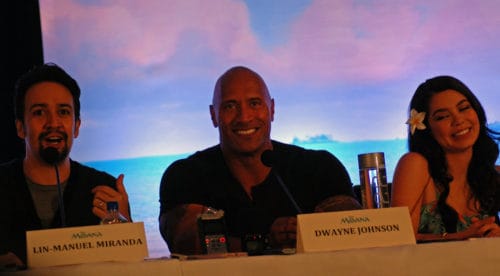 And that photo is simply a gratuitous shot of the Rock smiling at me. AT ME. I die. I'd had a bit of a hard time getting a good shot at the beginning of the junket, and I had to lean out for a clear view without shoulder or ear cutting in. Whether he saw that or not, or he just happened to give me a smile at the right time, but WOW. Ahhhhhh…..
Moana's an amazing movie with a cast full of so much more than I can share here. It will take me 3-4 more posts to really cover it all fairly, but for now, read these tidbits, watch the trailer below, and go buy your tickets. I'm taking the family again next week and can't wait to dance along to the soundtrack until then. (Give it a listen, it's emotional and beautiful and will have your toes tapping.)