Have you bought your Incredibles 2 tickets yet? Well, if not: engage, readers, engage!
That's probably my most favorite line from Disney Pixar's first Incredibles move: Engage, Bob, engage! Elastigirl is yelling at Mr. Incredible to make him involved enough to help her parent because he's focused on something else as she's trying to manage the home.
Engage, Bob, engage! 
And he does, but life soon pulls him away to be a superhero to help save the world. Elastigirl and the family ends up helping and all's well that ends well, right?
Except Bob Parr, aka Mr. Incredible, doesn't want to go back to work at the insurance agency and the world has deemed it illegal to be a superhero. Syndrome is handled but we're left hanging at the end of the movie: what next?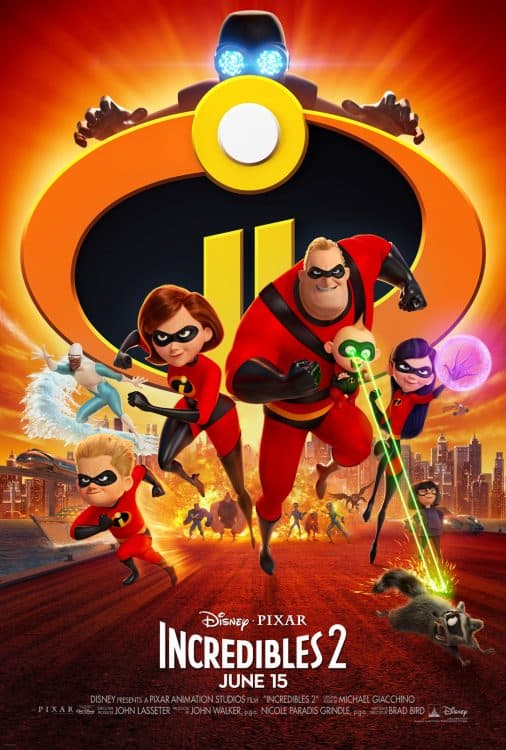 Incredibles 2 goes on from there. Despite 14 years having gone by since the first Incredibles movie having premiered, this next movie takes place immediately after the first movie ends. Jack Jack is still a baby, Dash is still learning to be a kid while having this incredible speed, and Violet is "having adolescence." Frozone meets someone, Mr. Deavor,who wants to help superheroes come out of the darkness to help the world again, and eventually, Elastigirl is taking on a new role: modeling how superheroes can truly be worth it.
Meanwhile, Mr. Incredible is dealing with some resentment issues from being left at home and seeing his wife on the news, saving people from out of control trains and other crimes. His envy grows as he realizes that Jack Jack isn't "just" a baby. As Elastigirl continues to bring the positive side of being a superhero to light, Mr. Deavor and his sister continue to develop their plan of creating a better world with the superheroes, together.
But is it really that simple?
Disney Pixar's newest movie shows that all members of a family are important. Women can be important at home but saving the world from nine-to-five. Dads don't have to be out in the workforce to be vital and the family can come together in ways that we 'normal' people can't imagine.
Buy your Incredibles 2 tickets now. The movie will have you laughing, in suspense, wanting to hug someone and then cheering them on. I took my 17-year-old son with me to the early screening for press, and he literally laughed the entire way through. He hugged me — a lot — and was so excited about this movie from the time he found out he was seeing it with me until he fell asleep after our drive home that evening. Usually the husband attends pre-screenings with me but this one was all about my son and I'm so glad to have experienced it with him! Kids grow too quickly and to laugh and enjoy moments with him like this? Priceless.
Go see Incredibles 2. Laugh as the Parrs — mainly Bob — get to see everything Jack Jack can do, and commiserate with Violet as she worries about fitting in and being accepted as any teen would. And be ready, as the infamous Edna Mode leaves her mark on the family and steps up in a way that will surprise you. Edna? Children? You have to watch it to understand.
The movie hits the big screen today, but in case you haven't seen it, here's the official trailer. Every time I see this, I laugh at Frozone's wife saying "ASAP." What's your favorite part of Incredibles?