It just hit me as I started writing this post. I learned to surf. I LEARNED TO SURF. With the help of the Fender and Hurley Surf Club, in honor of their new clothing line collaboration, I got to check something off of my bucket list and I stepped out of my comfort zone to try something entirely new.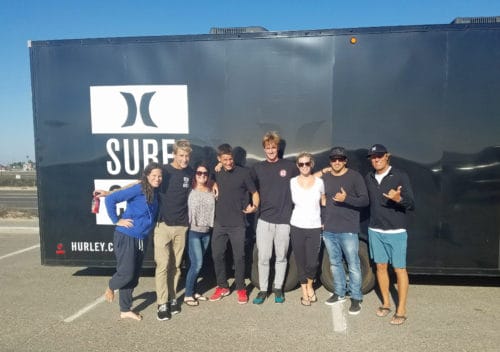 Thank you, Fender and Hurley Surf Club, for inviting me to this day at the beach, where I, along with several other writers, was given a one-on-one coaching lesson with a Hurley athlete, lunch while viewing our videos for some tips on our technique, and a whole lot of cool Hurley gear.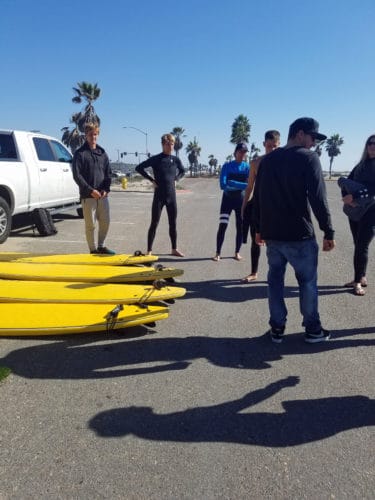 In honor of the Hurley x Fender limited edition men's clothing capsule collection, we all met at Huntington Beach at the Hurley Surf Club trailer. This was already an adventurous day for me, but it turned out even moreso when my new car started beeping frantically about 1/2 mile up the road. I could smell the ocean and I could see the seagulls…and the psi in that tire dropping on my digital dash screen. Inside of 30 seconds, the tire was on zero and I was stuck alongside the road, with a large chunk of sharp metal sticking out of a hole in the tire. Thankfully, AAA was fast and the driver got me to the beach in time to start with everyone, along with a promise to come back and get me when I was done. (This guy is on my "things I'm thankful for" list this year; he went above and beyond and saved the day. Nice people are out there!)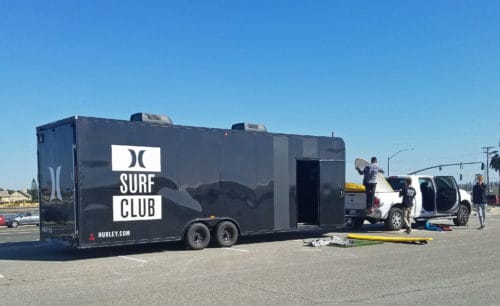 After making an entrance with the flatbed unloading my car next to the trailer, I got to meet the Hurley and Fender gang. Then us ladies gathered inside to tug and pull on our wet suits — which is definitely a learned skill, it took us forever and we needed to be in the water by the time we were done — then headed out to the shore to begin our surf lessons. I do yoga so I was a little over-confident about the balance part of surfing. I quickly learned it's far harder than it looks as you're armchair surfing from the shoreline. Choosing when to hop on the board, then when to stand up, and how to do it … so many things! Little did I know then that the hardest part was yet to begin: wrangling the unwieldy surfboard through the water. They are a lot heavier and awkward than they look!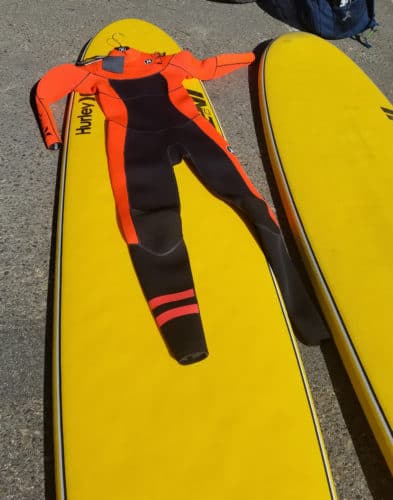 Beyond how silly I'm sure I looked, I took a few practice runs laying on the board. Remembering to not take my hands off the sides was tough, but I learned fast that the board gets away quickly if you aren't in control of it. Yet, you can't control the water so this is where the phrase, "go with the flow" takes on a new meaning. Then it was time to actually stand. I tried the 1-2-3 way of standing: back foot goes on, other foot next, in front of the back foot and then arms up. But fast, way faster than that. Like boom. Except it didn't come as natural to me as I'd hoped. I found myself worrying about which of my feet was prominent, starting with the goofy foot (right foot in front) and then trying my left foot in front. Goofy worked out best for me, but I only stood a total of three times, with only one of them lasting more than a second or two.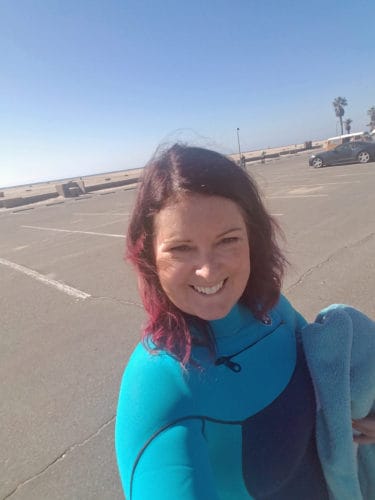 Hopping onto the board got harder as my arms got more tired, and my very patient instructor towed me out the second-half of our lesson. Thank God. My arms were burning and surprisingly, I was getting out of breath. I'd gone underwater a few times but never got hit with the board. I was surprised because I mistakenly thought running had given me enough stamina and lung capacity, but not so much… I finished the class feeling like I was covered in salt, a little waterlogged and breathing ragged, but I'm so glad I tried it!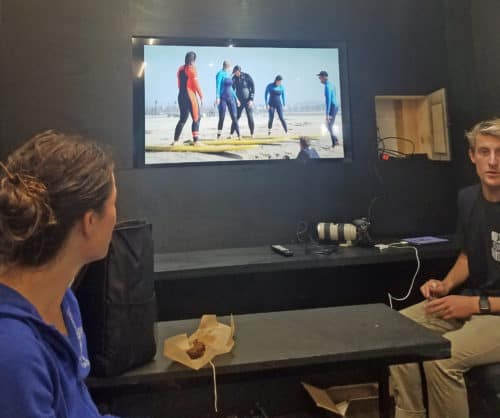 I have to give it to my instructor as he went through the video. It had to be incredibly hard to give tips on technique if you really didn't have a technique, like in my case where I barely stood up. Still, I learned a lot and enjoyed the lunch that was handcrafted for each of our dietary needs or differences. We were given our Hurley clothing and lunch bag and on our way all too soon. My Fender and Hurley Surf Club beach day was a blast!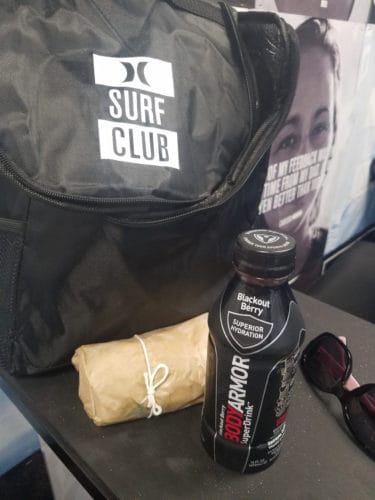 The Hurley x Fender clothing line is influenced by the California lifestyle of surfing and rock and roll. Hurley x Fender's patterns and designs are inspired by the iconic tweed print of Fender's amplifiers from the mid-fifties as well as the music and surf culture stemmed from both brands' Southern California roots. It's a blend of two amazing brands that come together perfectly in a line that's going to be a big hit. The seven-piece collection includes Hurley's signature boardshorts with Phantom innovation as well as tees, a zip-up hoodie, flannel and beanie.  A highlight is the SRFGTR tee which pays homage to artist Bob Perine's "You Won't Part With Yours Either" campaign, which inspired Southern California youth to perform wild surf stunts with their Fender guitars and amplifiers in hand or slung around their neck while riding waves.
The Hurley Surf Club offers up other surfing events throughout the year. Check out their site for further information, and follow along at #HurleySurfClub on Twitter for more info and photos of our day and others' experiences in the water with Hurley, too!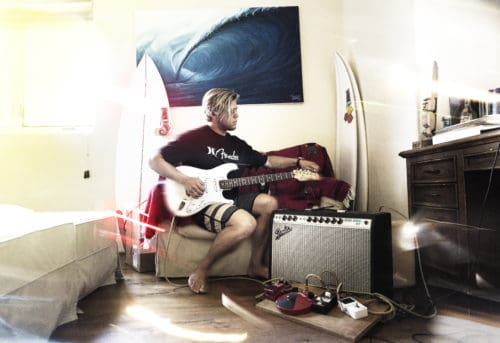 Follow Fender on Facebook, Twitter and Instagram and visit their website to learn more. Fender started back in 1946 and a quick look at the website will suck you in to read about their history as well as review the products that you'll see helped inspire the Hurley x Fender clothing line.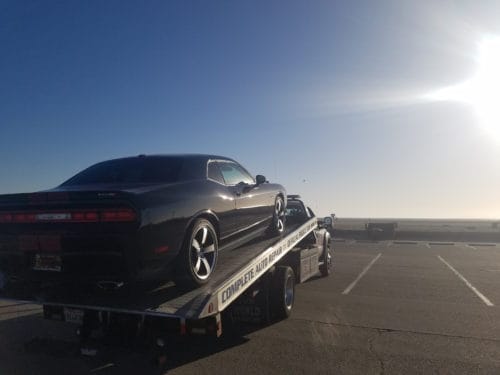 Yep, so that happened…but look at that view! You can't have a bad day at the beach. What is is that the say? "A bad day at the beach is better than a good day at work." When you can work at the beach..what's better than that, right?