The catamaran is sideways and the island is unknown but the blue ocean is calling and Moana is not wavering in completing her mission: catching Maui and getting him to Te Feti to return the heart of the island.
"Maui, shapeshifter, demigod of the wind and the sea, let's save the world!"
A young girl who just happens to be the daughter of the chief and a once-mighty demigod aren't a duo you'd expect to save the world, yet that's exactly the goal. Moana's island, as long as she can remember and back through the stories of her ancestors that her grandmother shares, has been lush and beautiful. But now it's beginning to show signs of death. Coconuts are rotting on the trees. Plants aren't blooming. The island is growing dark. While Moana's father forbids her from listening to the call of the ocean and the pull of her ancestry, Moana knows it's the only way to save them all.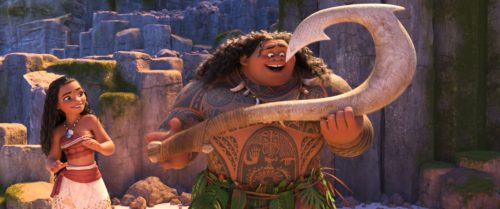 Many years ago, Maui, demigod of the wind and the sea, attempted to steal the heart of Te Fiti. However, as he was getting away in what seemed like an unhindered escape, Pele, a seemingly villainous character, stops him. The heart is lost and Maui disappears. Moana's grandmother knows just what is needed to save them all and quietly provides the encouragement Moana needs to listen to her heart. To see what happens, you'll need to buy Moana tickets and get into the theater.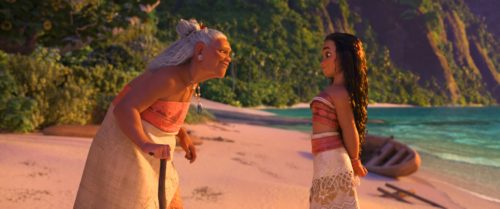 Moana comes out on Thanksgiving, with some theaters opening this evening as sanctuaries for you to escape the holiday rush. Hide out and go watch the unlikely partnership of Moana and the demigod of the sea as they adventure together to return the heart of Te Fiti. Casted with amazing talent, such as Dwayne "The Rock" Johnson as Maui and Auli'i Cravalho as Moana, you'll laugh, you'll move to the music and kids will love this new version of a Disney princess. (Read more about the casting and my press junket interviews here.) Moana gear is already in stores, so your favorite little princess can buy Moana shows and clothing or miniature kakamoras, my personal favorite, along with Pua and Hei Hei.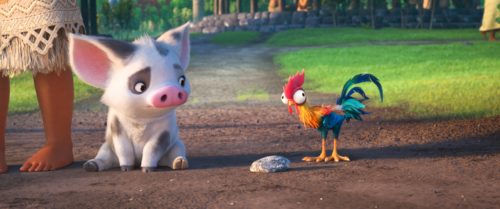 The movie's good for all ages. One thing you'll notice is that there is no love interest in this Disney movie. Instead, it's all about someone listening to their intuition, following their heart and working together — against all odds — to make their world a better place. Moana's grit and relationship with the ocean allows her to overcome obstacles with confidence, and when that confidence waivers, she leans on the love of her grandmother, Tala. This movie will bring up memories of loving family members who have your back and encourage you to not give up when you are so close to the goal posts.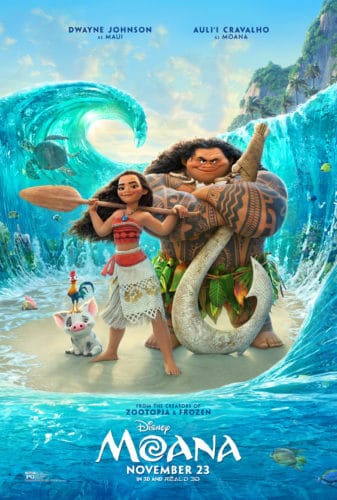 While many are listening to Christmas carols already, the soundtrack of Moana is a worthy listen whether you're on the road trip for Thanksgiving dinner or just out to the store for that missing ingredient. It's available for purchase now on iTunes.
Trailer #3 is below — enjoy and happy Thanksgiving!