Have you heard about the new Six Flags Magic Mountain ride? Opened on July 14, Justice League: Battle for Metropolis is the first dark ride in the park and is nothing short of amazing.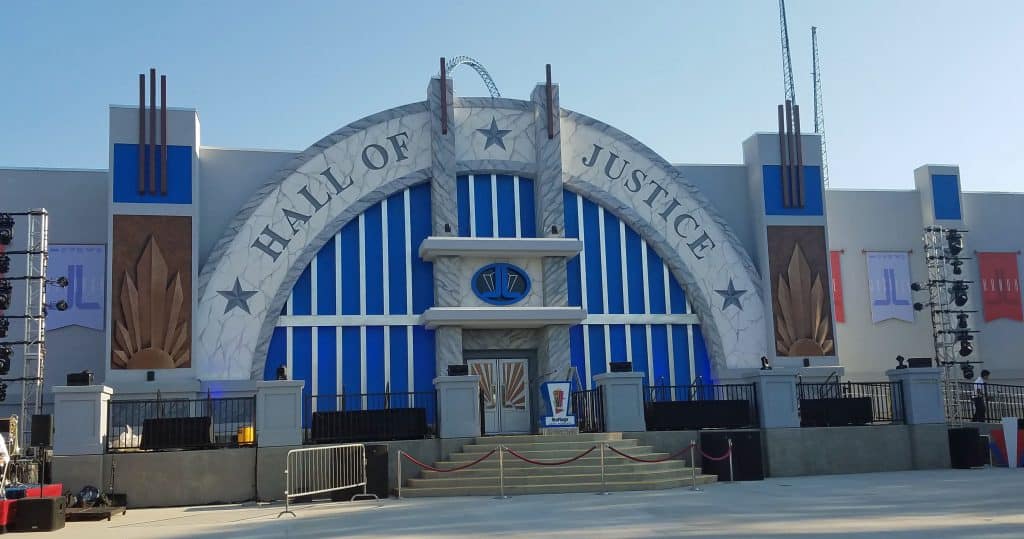 Based on the battle between good — Batman, Superman, Wonder Woman — and evil — the Joker, Harley Quinn, Lex Luthor — plays out on a four-minute 4-D experience that fills all the senses. Much more than just a static ride, you'll deal with wind, fire, fog, sounds and lights, interactive laser shooting and a car that moves all around as you attempt to escape Metropolis before the villains unleash poisonous gas on its citizens. At the end, you've survived virtual loops and inversions and you get to see who got the highest score in your car. (I'm just a little competitive so I was slightly excited, much to the surprise of the person in the front seat of our car, to see that I won with a whopping 130k+ points!)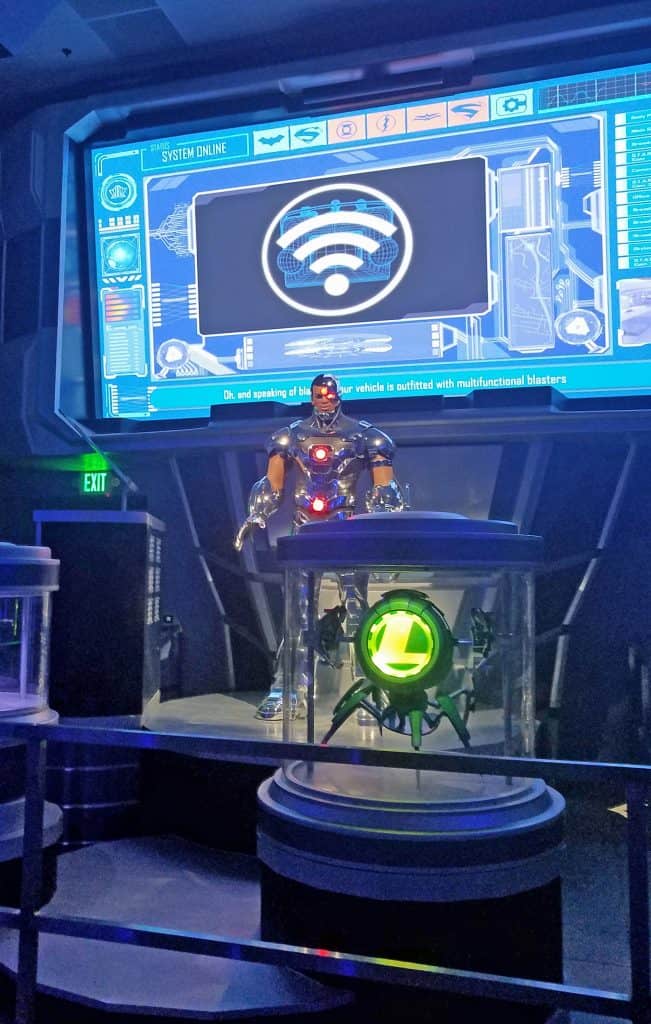 The new ride was created by a team consisting of Magic Mountain, DC Comics, Sally Corp. and Warner Bros. Riders are given the lay of the land by a lifelike animatronic robot before being escorted to your two-row, six-seater vehicle. Grab your weapon and start shooting at the Lex-bots, doing your part to save Metropolis while the superheroes attempt to put the villains in their place. You'll wear your 3-D glasses to best see the bots, which come out of nowhere, and to enjoy the visuals sometimes displayed on the fog or other moving targets.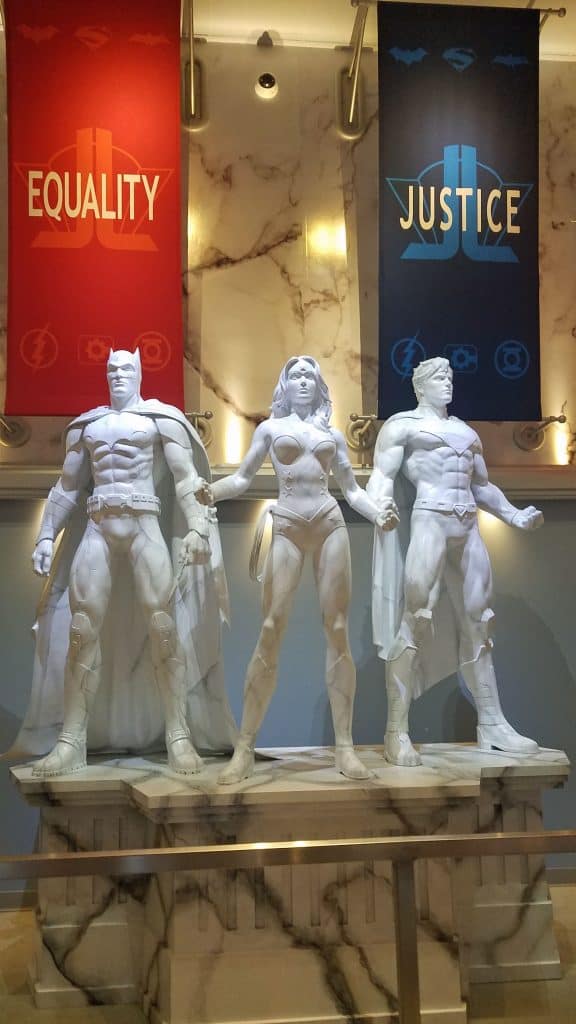 It's a ride for all ages, though small children may not enjoy the volume and some of the character appearances may be a little frightening. Harley Quinn's gas gun and the joker's motorcycle are pretty realistic, which just adds to the overall affects of the ride and definitely puts it in competition with other top dark rides at other parks, such as Toy Story's Midway Mania at Disney's California Adventure and Transformers 3-D at Universal Studios.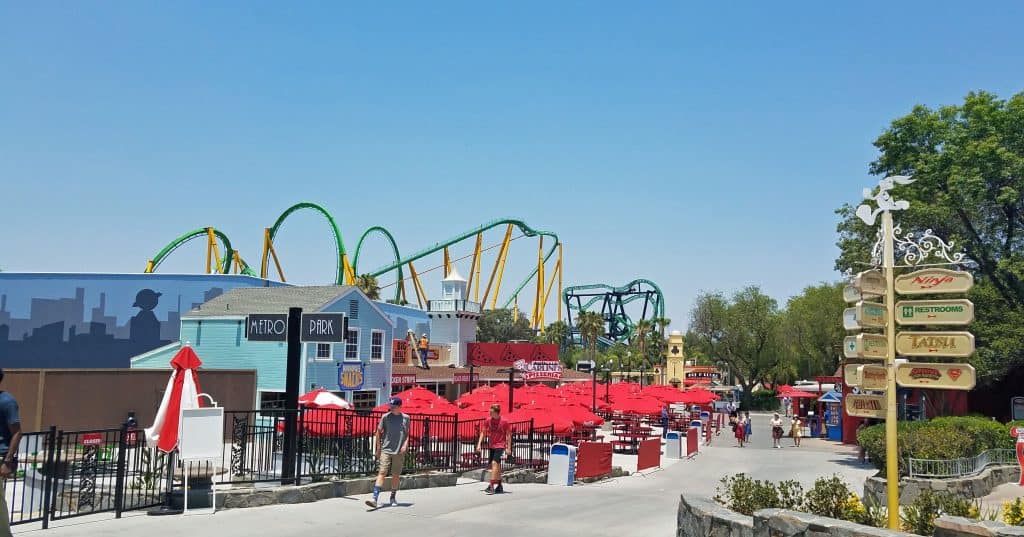 Six Flags Magic Mountain is known as the thrill capital of the world due to the predominant coasters everywhere you look in the park. Smaller rides can enjoy Bugs Bunny land and major thrill seekers can drop 255-feet straight down on Goliath or hang face-first on Tatsu, the world's longest, fastest and highest flying coaster. This visit to the park was the first time I rode Tatsu. I love a good coaster but I have to admit, it took me more than a few seconds to adjust to the feeling of face-down flight — what a total rush! We rode quite a few of the coasters, ate orange chicken over at Chop Six and stayed hydrated with the all-day-refillable cup for $14.99. (It was in the mid-90s while we were at the park, so hydration was really important. If you send kids unsupervised, be sure to give them money for the cup so you know they're drinking enough! It's good for use all of 2017, with each subsequent visit after day of purchase costing only $.99 to refill.)
They've also added more fun to the city of Metropolis, located not far from Gotham, with a new beer garden area in the Metro Park Pub and the new Ace O'Clubs restaurant across from the Hall of Justice. Metropolis characters will be available throughout the day for photo opportunities, and if you want to buy superhero gear, you'll love the new DC Superhero gift shop. Who doesn't need a Wonder Woman cape or a new mug for their character collection? I came home with a Superman cape, given to all media guests, and a Wonder Woman hairbrush. My daughter and I had ridden the rapids ride earlier in the day and got soaked from head to toe. (Bag up your electronics before you ride!) I'd remembered everything I needed….and didn't need…in my backpack for the day, except for a hairbrush. Rookie mistake, but now I can sport this sparkly brush and show my inner superhero at any given moment.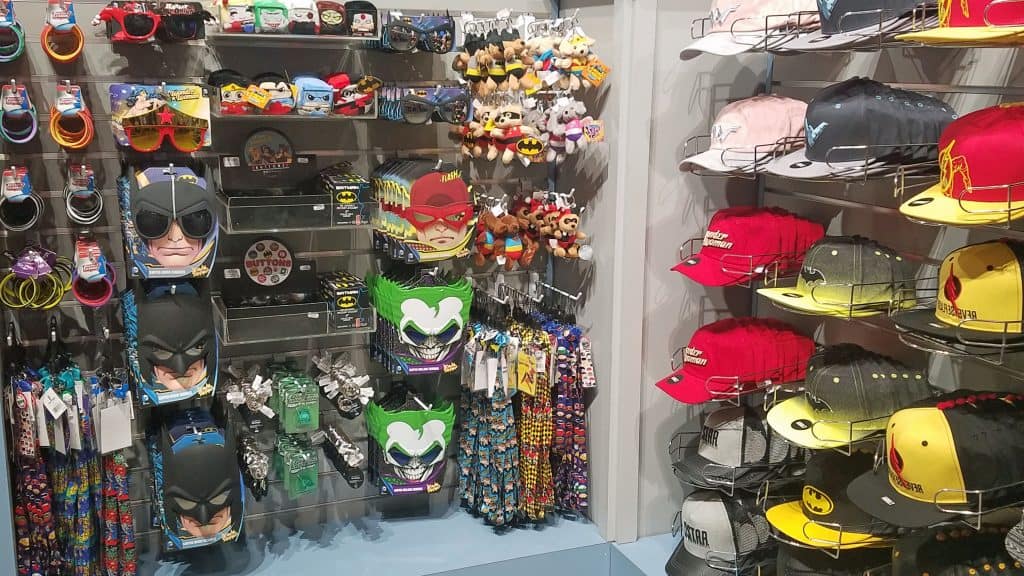 Six Flags and its partners put on one amazing show for the media guests that evening, complete with roaming food bites from the new restaurants, dueling piano and orchestral band entertainment and it was all capped off with a fireworks show beyond compare, set to music and narration of various DC characters. See my video below for a few minutes of the fun!
Thank you, Six Flags, for treating my daughter and I to an amazing day. We were appropriately thrilled and scared, got to laugh with various character meet-and-greets, and we had a blast on your spectacular new ride! I think you've surpassed your goal to amaze your guests and people will line up to ride again and again!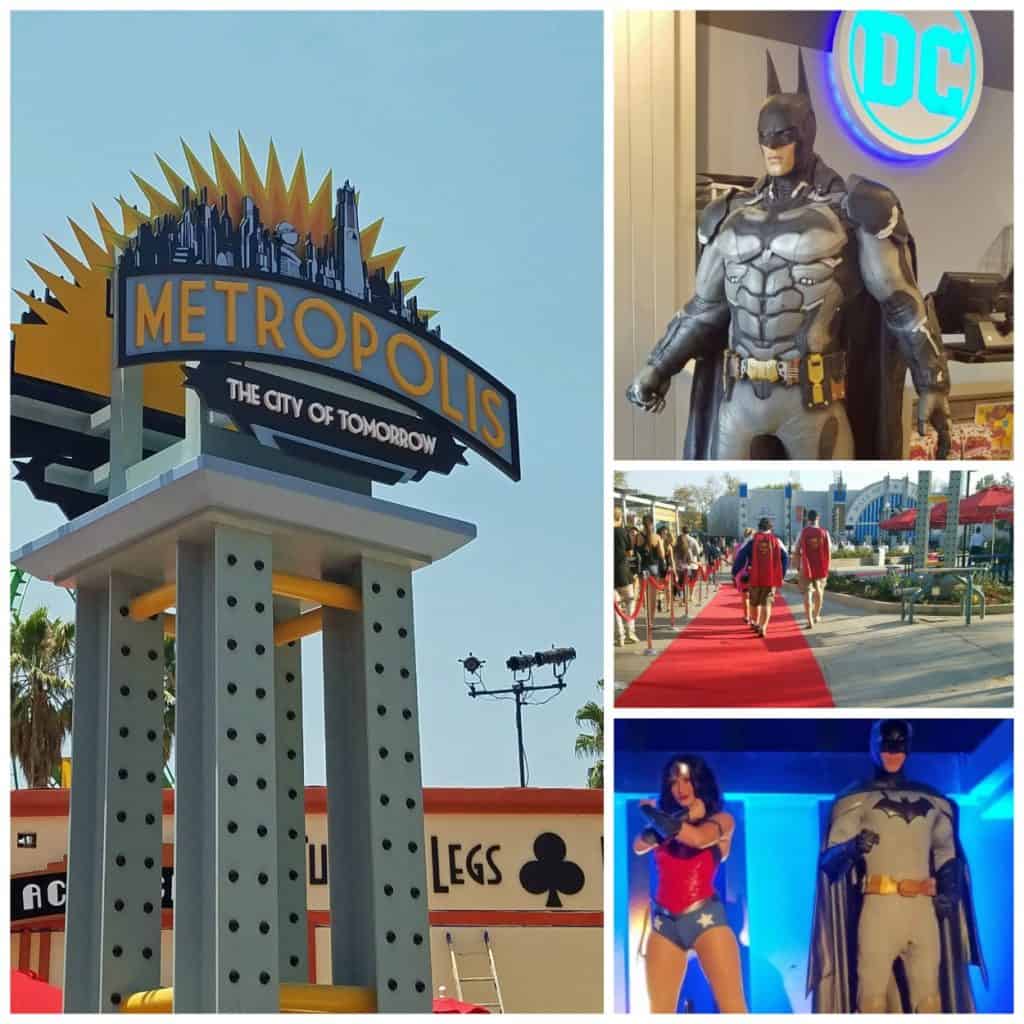 Next time, I'm going to put my hair up BEFORE we get on the water rides. It was so refreshing on a hot day but my hair looked so much better earlier. So worth it though! The ride was a fun experience and sometimes you just gotta do it. Lasso of truth!