As I'm sitting here this afternoon, resting my foot after another busy weekend, I was about to blog about how we're finally getting back further into our healthy living groove. (If you aren't a regular reader of my blog, we are a large family and we try our best to live a natural, healthy lifestyle while still enjoying life; in short, this means we don't use pesticides or anti-bacterial products, we bake and cook 90+% of our food from scratch, without dyes, additives and preservatives, we garden organically, preserve food and get regular exercise, with a cupcake or cookie or a bag of french fries thrown in now and then. We want to be healthy and illness-free, but we don't believe in deprivation. Life should be fun. 90/10 rule — it works for us!)
I downloaded some pictures of what we've made over the weekend, then saw the infamous Lulu's San Antonio pictures.
I took them back in April. APRIL. And I still haven't shared them!
When we lived in South Carolina, we were either watching Nascar or Food Network, and since Nascar's primarily a weekend sport, we saw a LOT of Food Network and the Travel Channel. When we ran out of shows there, we switched to the Cooking Channel, and any other food broadcasting we could find. We learned a lot about food, and routinely kept notes on places to visit. Knowing we'd be traveling across the country, a lot of our restaurants were places along the route, and one week before we left, we watched an episode of Man vs. Food, with Adam Richman hosting an episode that included Lulu's San Antonio, Texas, a cafe known for it's three-pound cinnamon roll.
THREE POUND CINNAMON ROLL.
We had to go. It was destiny that we already had reservations to stay overnight in San Antonio, like a sign that we were meant to visit Lulu's and indulge in three pounds of yumminess.
We were staying at the KOA on the edge of town, and they offered bus service in and out of downtown San Antonio, down by the Alamo and the Riverwalk, for free all day long. We skipped breakfast in the RV…but not the coffee, we have a Keurig that is well-loved…and headed downtown. It was the first bus trip for the two younger kids, and I think that was a big highlight of the day. (Moral of story: expensive field trips and parks? Not necessary. Like babies and boxes…) It dropped us a little over 1/2 mile from Lulu's, so we made the walk quickly; it's not as downtown as we had hoped, but most of the walk is along the riverwalk and amongst the tourists. The last part, not so much, as you go under a freeway overpass and over a freeway bridge. Interesting.
There were six of us, but we were easily sat immediately and had an entertaining, engaging waitress. My husband loves to ask goofy questions and she didn't miss a beat in responding back in kind. Then the food came, and all talking stopped.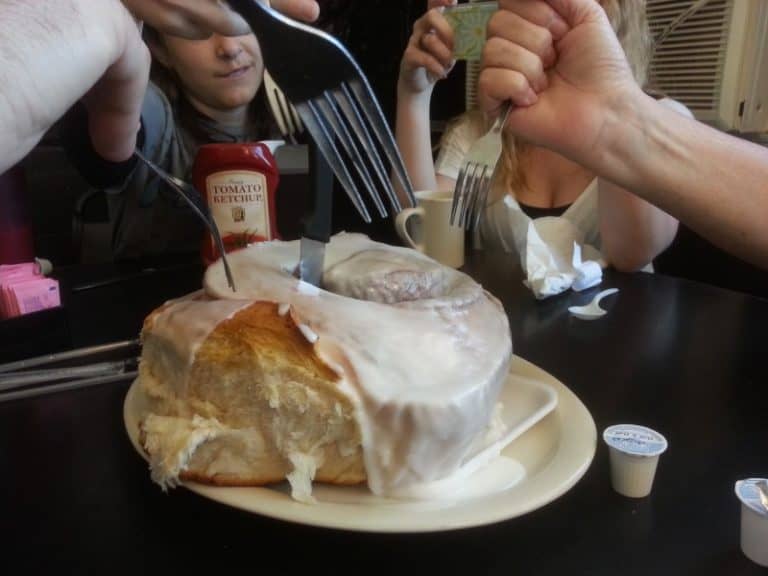 Yes, that's really three pounds.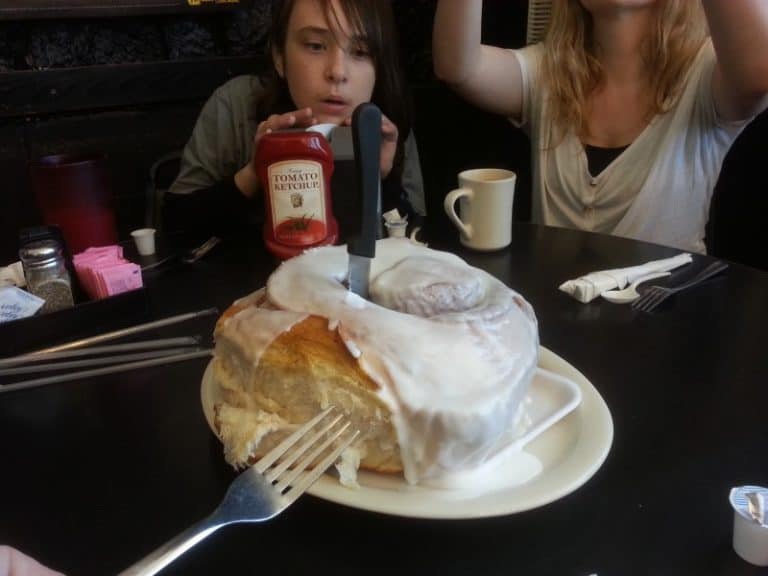 My son's face says it all!
We attacked.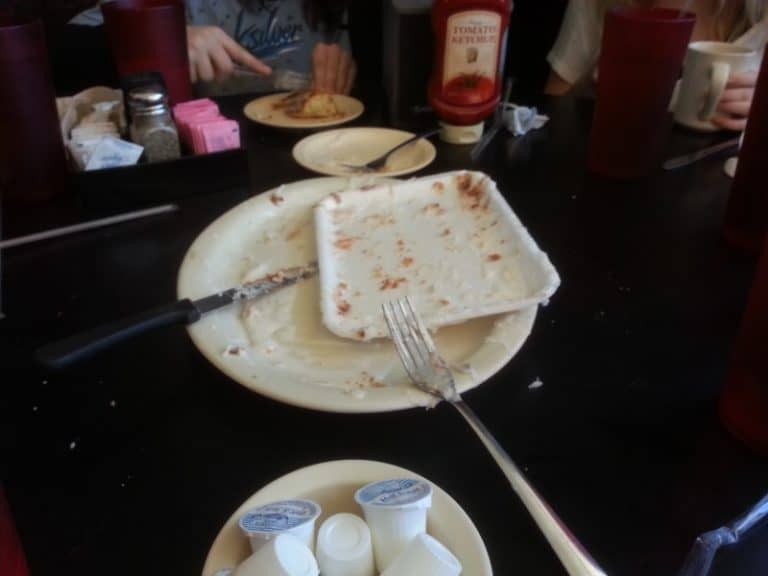 Adam Richman's note was still on the wall.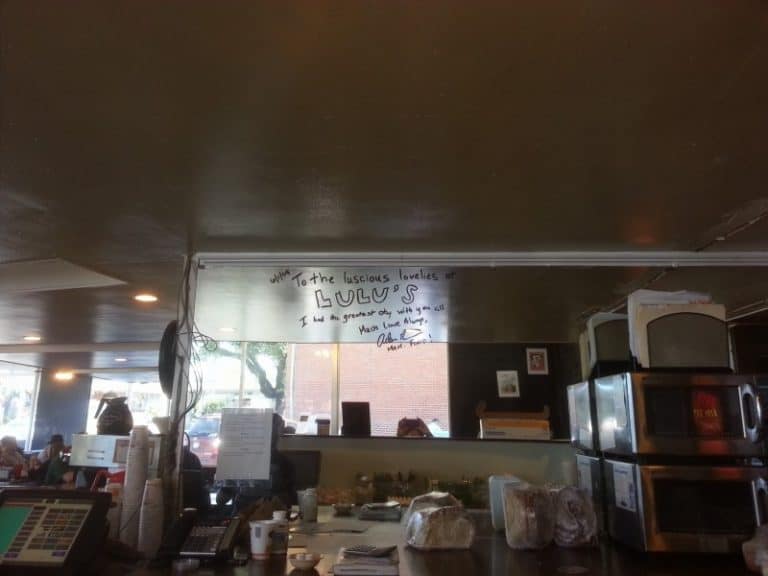 And the menu mentions its appearance on the show. (I considered taking the menu…is that a bad thing to admit to here? I left it…really.)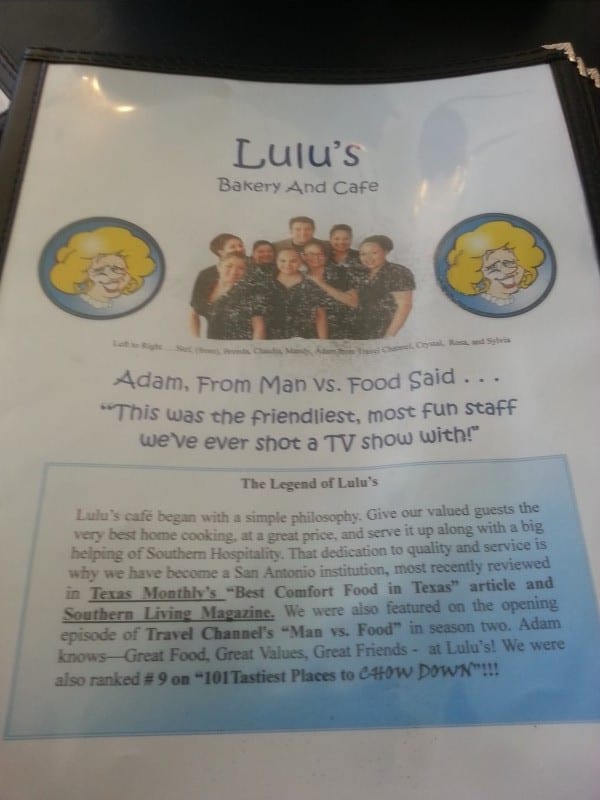 The fam at Lulu's…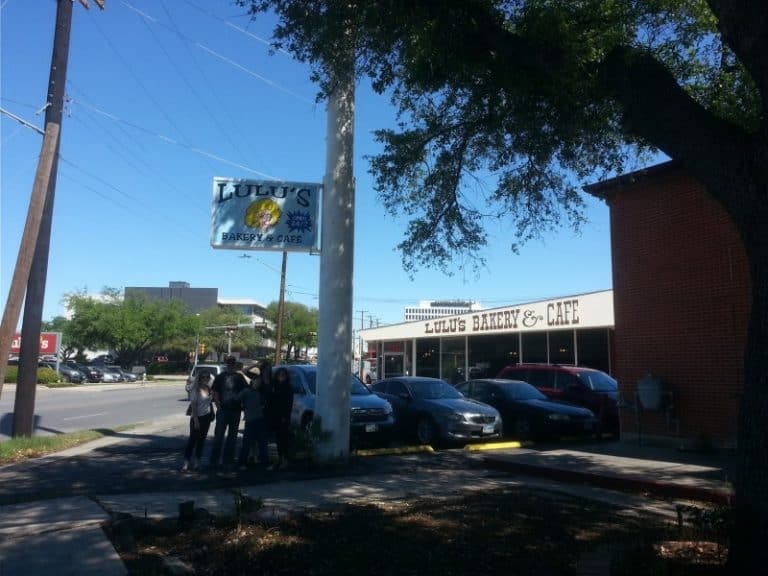 We loved it. We were sugared-up, full and ready to take a nap…instead, we headed to the Alamo.
Lulu's San Antonio is a foodie Heaven pit-stop on any trip across Texas!