Looking for a simple hash brown potatoes recipe to add to your weekly menu? Keep reading!
Feeding a large family has sometimes been a challenge over the years. Coming up with side dishes and entrees that everyone likes and don't break the weekly food budget can be difficult. Go-to produce that can stretch to feed a lot of people and offer diverse uses can be a lifesaver. Enter the potato, an item that can be repurposed in so many ways, in its original form or even once you've baked it, cooked it, or fried it.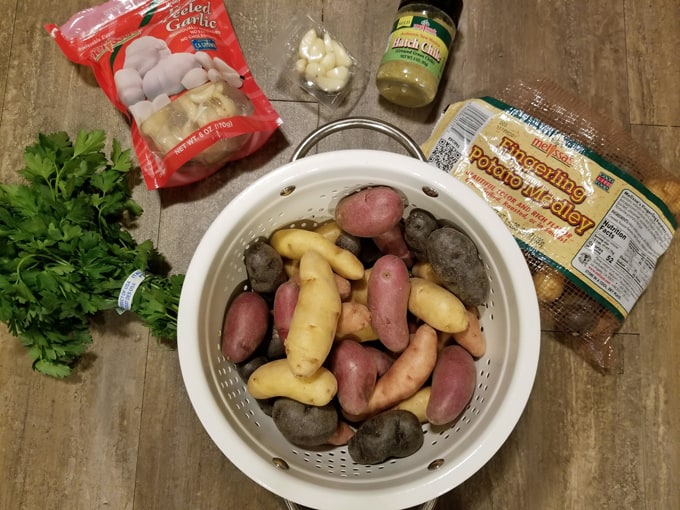 Thanks to Melissa's Produce, I was gifted a couple of bags of fingerling potato medley, essentially a beautiful selection of a few kinds of these colorful potatoes. Fingerling potatoes tend to be very tuberous in shape and on the small side. The colors are vibrant and we do lure people to the table with their eyes, so I enjoy cooking with them.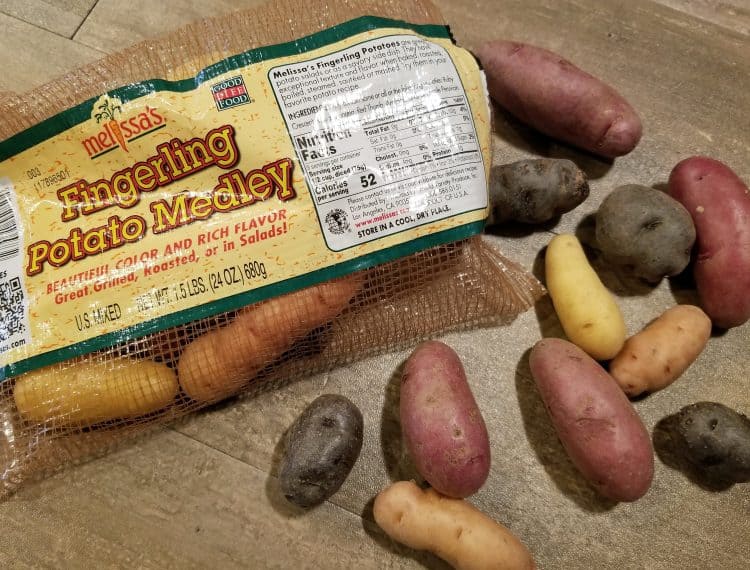 They are even prettier when you wash them off in preparation for shredding. True foodies appreciate the beauty of our foods, especially the simplicity of basic potatoes!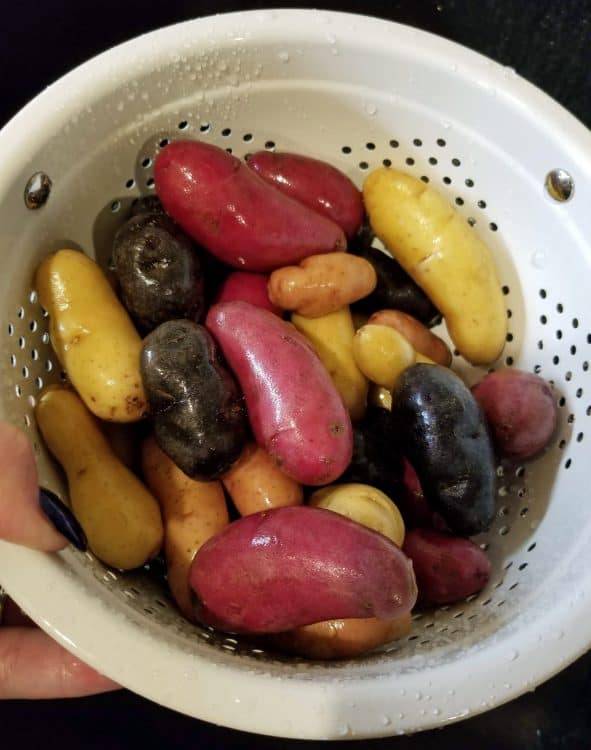 I'm part of a group of several other fabulous food bloggers who are all completing the same challenge this month: creating a new recipe with one of their favorite potatoes. I chose the fingerlings because of their colors and how many different things they can be used in. It's really cold here in Southern California right now…aka, below 55 degrees…so I'm happily in the kitchen more often. It's warm in there. I also want to fill the family with warm, healthy food to help avoid illness, and more of us are hanging out at home instead of going out in the rain.
Fingerling potatoes are perfect for a sheet pan meal, where you bake the potatoes at the same time as your vegetables (like carrots, peppers, onions, etc.) and your protein, like chicken breasts or sausage. They also make wonderful warm German potato salad, but I wanted to think outside the box a little bit. My son loves waffles and the husband makes hash browns a lot on Sunday breakfast, so I decided to finally try putting something new in the waffle maker. From there, I came up with my Spicy Hash Brown Potato Waffle recipe!
Hash brown potatoes recipes are all over the internet, and I've made them a few times before in the frying pan, so creating a version for the waffle maker didn't take too much more work.  One thing to keep in mind when shredding your own potatoes is that it can take a little bit of time, so plan ahead. Potatoes can discolor somewhat and they also contain a lot of liquid, so when you finish shredding, you'll need to allow for a few minutes (at least) where you can press the water out. I put mine in a colander, set a few paper towels on top of the potatoes, then set a bowl full of water on top.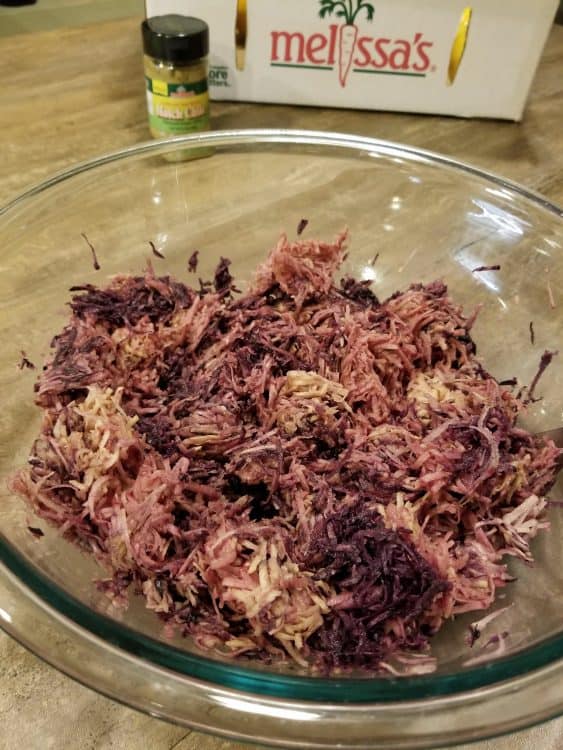 This squeezed out almost all of the liquid while I got the waffle iron heating and I assembled the rest of the ingredients. It's really simple from then on out!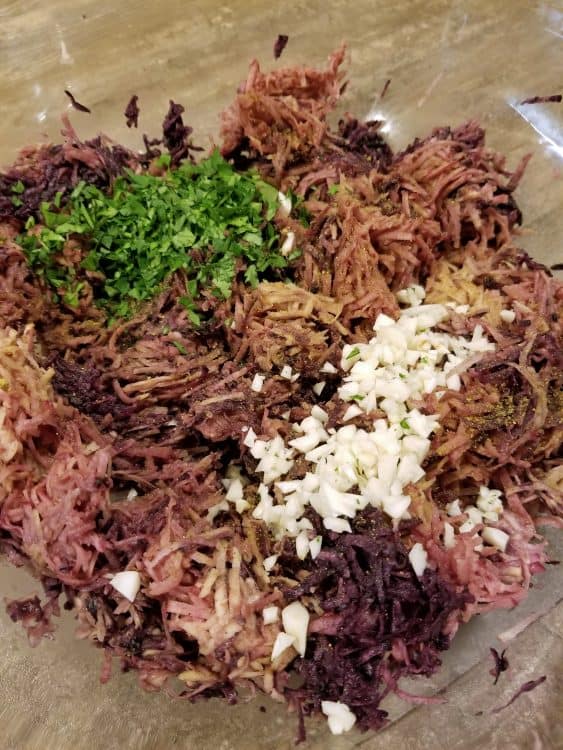 The purple potatoes took over in the end, and the whole mixture ended up being an odd shade of eggplant with some white stripes from the yellow fingerlings. That's one reason I added the parsley, because I wanted the color to be more varied; if you don't like parsley, you can add in chopped cilantro, or even some chopped jalapenos, depending on your spice preference.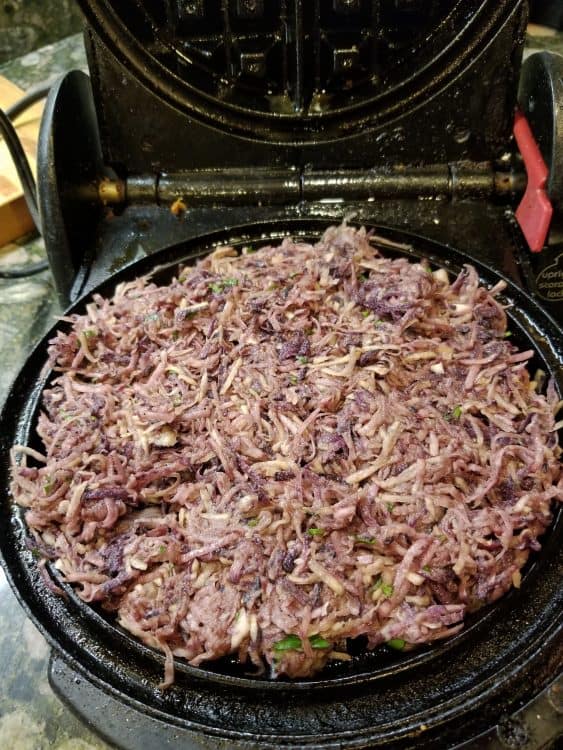 My waffle maker has seen a lot of use. It's probably about three years old now, and it's used on almost a daily basis to make my son's waffles. It may be time to get a new one that gets hotter, as it took about 20 minutes per hash brown waffle. The butter you use to coat the inside can be a little messy, which I didn't think about ahead of time; I should have placed the waffle maker on top of paper towels, so plan ahead better than I did!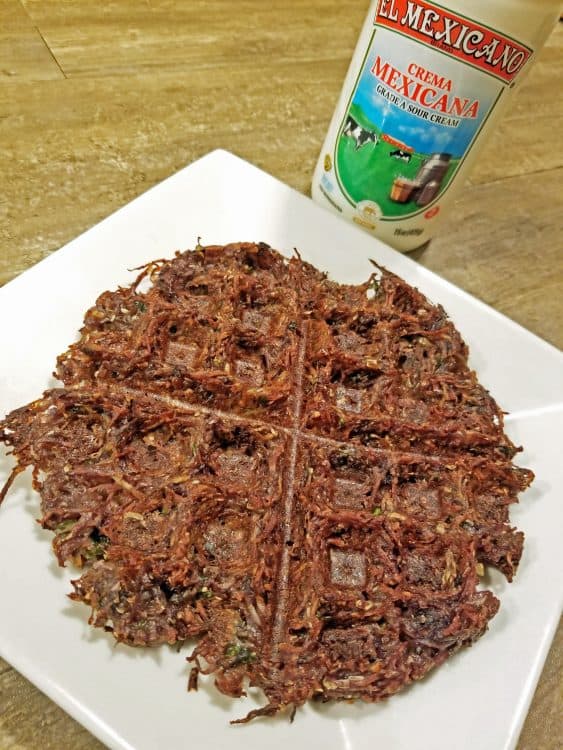 They turned out great! I served them with Chicken Picado, leftover from my daughter's baby shower that we hosted here the day before. I put the waffles in the warming drawer until I had two ready. They turned out thick enough to feed two people per waffle, and the recipe below makes three waffles, depending on the size of your waffle iron. We drizzled on Mexican Crema and a little Tapatio, and winnahhhh, we have a new side dish that's easy on the budget!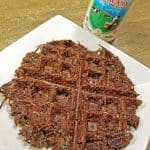 Spicy Hash Brown Potato Waffles
Ingredients
2.5

pounds

Fingerling Potatoes, Shredded

2

tbsp

Hatch Chile Powder

6

cloves

Fresh Garlic, Chopped

2

tbsp

Fresh Parsley, Chopped

Salt and Pepper

Melted Butter for Waffle Maker
Instructions
Coat inside panels with melted butter.

Fill waffle maker with hash brown potatoes mixture.

Close waffle maker and allow to cook for approximately 12-18 minutes. This will depend on the heat of your waffle maker, how much butter you use to coat inside of machine, and how much moisture remains in your shredded potatoes.

When waffle has reached desired level of crispiness, remove. Set aside, cover with foil or place in warming drawer.

Continue process until done.

Serve with crema, chopped cilantro or even ketchup or hot sauce!
Thanks again to Melissa's Produce! They provided the potatoes, the fresh garlic and the parsley, and I used their green hatch chile powder that they'd given me a couple of months ago. That stuff comes in SO handy and is used in a lot, especially in things like homemade quesadillas, scrambled eggs, on baked chicken breasts — basically anything you want to spice up. Get a hold of some (you can buy online from Melissa's Produce here) and I bet you'll find it's a new favorite seasoning! Learn more about Melissa's Produce in these posts: Laura Bashar's new cookbook and Meeting Nathan Turner . They are my go-to place for quality and affordable produce, cookbooks and seasonings.
Enjoy the side dish  and let me know if you try it. Also, check out the recipe posts from the other bloggers who completed this potato challenge with me! You've got to see Marta's fab Crispy Leaf Potatoes, Melissa's Garlic Herbed and Parmesan Roasted Potatoes and Tee's Easy Baked Sweet Potato Fries. They all look delicious and are simple additions to your family meals!