**Disclaimer: I was provided with samples of the product for the purpose of this review, but the photographs and opinions are completely my own.**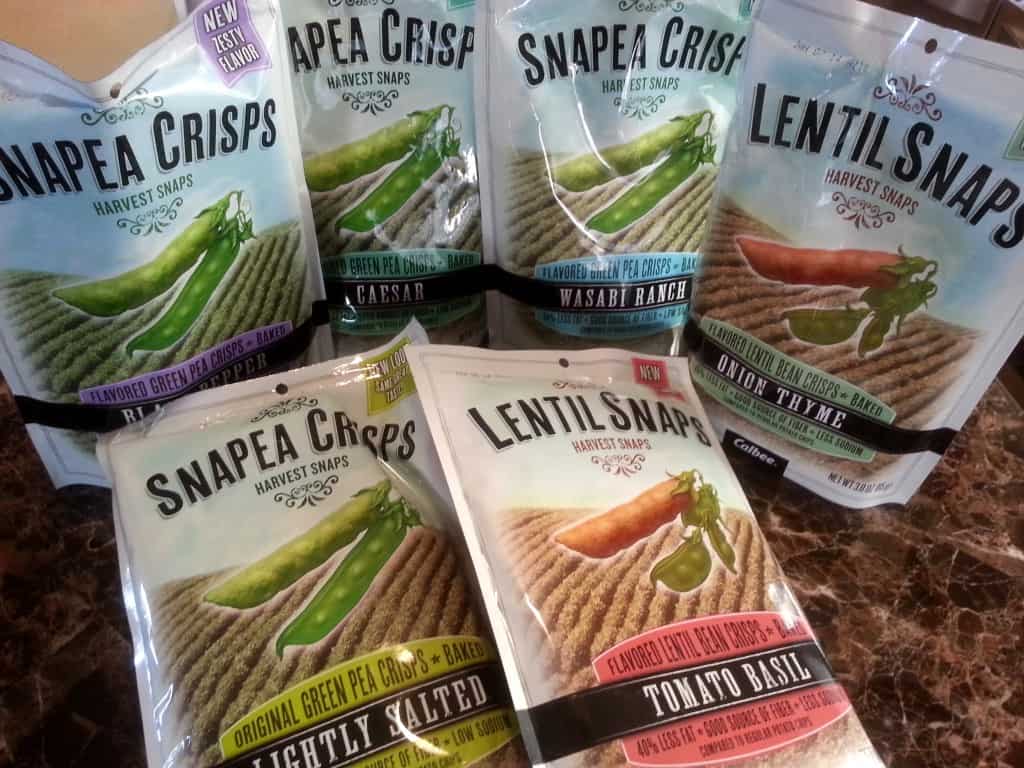 As much as I am a baker and cupcake lover, when it comes to snacks, they are typically salty, crispy, crunchy and/or savory.  I like snacks that are easy to eat, and that means I don't need utensils, they are portable and I don't end up wearing them. Even better, they don't need refrigeration, don't smash in a purse or backpack and don't cost a lot. Harvest Snaps healthy snacks fit the bill in all regards!
I'm a busy mom, and I frequently eat on the run. Many days, I'll look up and realize it's 4pm and I haven't eaten lunch; I'm hungry but don't want to ruin dinner, so I look for a snack. I'm also a fitness and health freak so I don't want to grab for a Twix bar. (Well, sometimes, I want to…but I don't, though I'd be lying if I said I didn't have a few minis at Halloween.) Because Harvest Snaps are lower in sodium than most snacks and they have less fat, I don't feel like I've ruined the results of my workout either.
Harvest Snaps are available in two vegetable types, Snapea Crisps and Lentil Snaps.  The Snapea Crisps are made 70% from naturally dried peas, while Lentil Snaps are made from 65% lentil. They're baked, not fried, and available in a wide variety of flavors so that no matter what flavors you like, you're sure to find one you want to munch on. The Snapea Crisps flavors are Lightly Salted, Caesar, Black Pepper and Wasabi Ranch. The Lentil Snaps are available in Tomato Basil and Onion Thyme.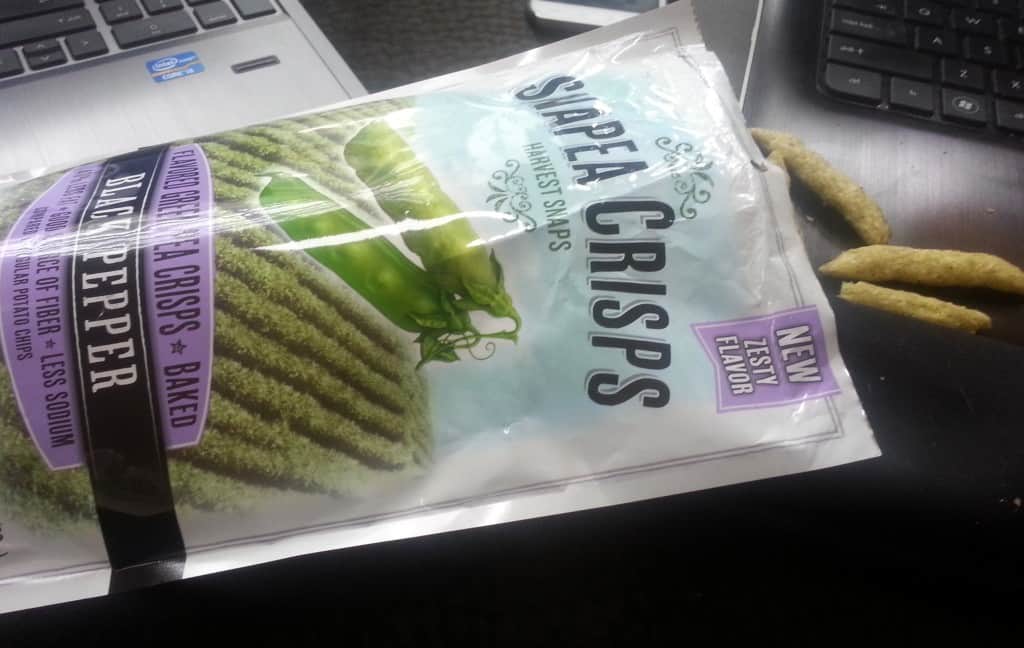 As the name implies, they snap when you eat them. This makes them even more appealing to the kids, as kids can smell a healthy snack a mile away and the "snap" when you bite makes it a fun food. Having them crunchy and come in so many options makes it easy to find something kids will enjoy. (I had to hide my Wasabi Ranch; they are my favorite and as spicy as they are – which isn't overwhelming, it's just a perfect touch of heat – the kids wanted to steal them anyway.) I feel good giving them something that's unique and knowing they are eating good, quality food without unnecessary additives.
With Thanksgiving being a day of indulgence – which I think is a perfectly fine thing to do now and then, as you know as long as you're mindful – healthy snacks are a good thing to have on hand before and after. I plan on keeping some in my car on Black Friday, so not only is it easy to toss into my purse but I know I'm not overindulging and can feel good if I eat a few too many!
Harvest Snaps healthy snacks, made by Calbee North America, are sold at retail locations throughout the U.S., including Whole Foods, Costco, Sprouts, Walmart, Safeway and many others. You can visit their website at http://www.harvestsnaps.com or "Like" them on Facebook. They are also on Instagram and Twitter.