Earlier this week, I was trying to figure out what I was going to make for dinner but feeling really uninspired. A long, drawn-out exploration through our industrial-sized garage freezer yielded a fatty pack of fresh, thick boneless pork chops, hence my Spicy Stuffed Pork Chops recipe was born!
We tend to gravitate towards spicy foods, but we realize not everyone may have the same interest in spices that we do, so you can omit the chipotle pepper (adobo) sauce if you'd like. It's literally straight from the chipotle pepper can and may not be something in everyone's pantry. If not, and you'd still like some spicy, a little sriracha or a dash of Tobasco would add some heat without overwhelming the remaining ingredients.
Spinach-Feta Spicy Stuffed Pork Chops
four boneless pork chops
1/2 cup Feta cheese
1/4 cup sour cream (I used Breakstone's Greek Yogurt sour cream)
1/2 cup chopped fresh spinach (you could use frozen but you'd need to drain and dry it thoroughly)
1/4 chopped sun-dried tomatoes
1 chipotle pepper, finely chopped
1 tbsp chipotle pepper sauce
salt and pepper
Heat oven to 375 degrees.
Lightly oil an 8 x 8 baking pan.
Cut a pocket into each pork chop, making a slot just big enough to insert the filling but be sure to not cut it all the way through.
Mix the Feta, sour cream, spinach, tomatoes, pepper and sauce and salt and pepper to personal preference in a bowl.
Fill each pork chop pocket with the filling.
Bake for approximately 45 minutes. Check your chops as they may take more or less time; I used the convection option.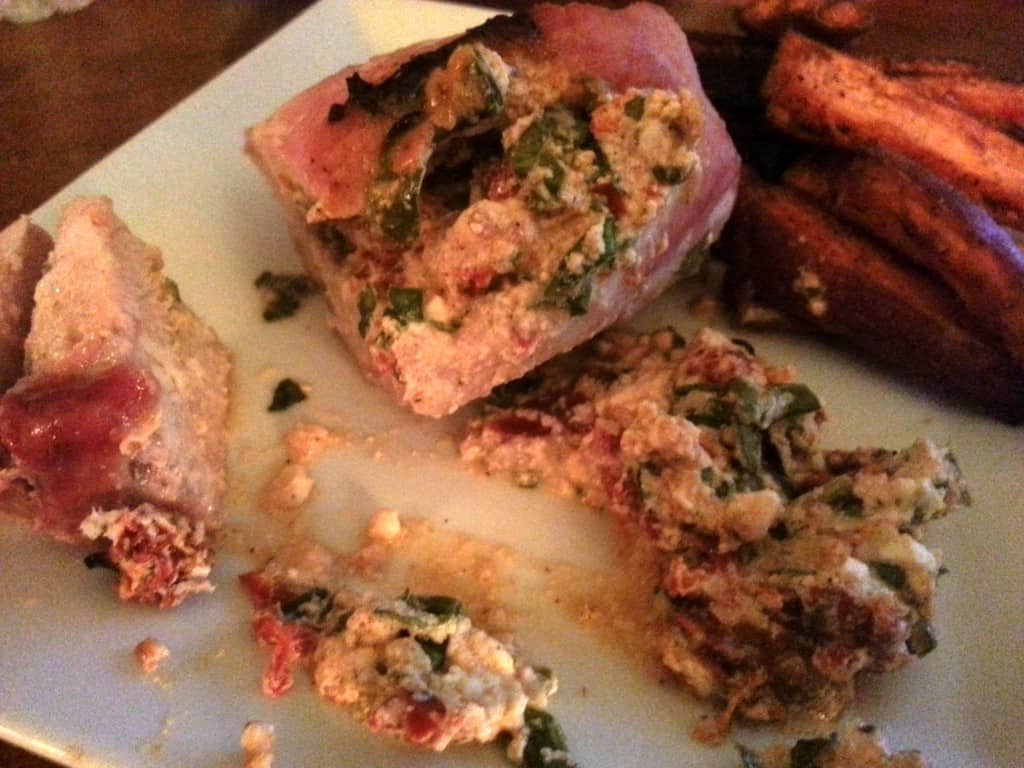 Enjoy! I served this with roast sweet potato wedges, drizzled with olive oil, salt and pepper. It's a quick healthy meal that everyone loved! This picture is horrible, but it's the only one that remained after a phone kerfuffle. (Fun word I never get to use.) One day I'll remake the recipe and I'll update the above unflattering but somewhat descriptive photo…if anything, it does accurately display that it can be a messy dish to eat if you're not careful!