At last week's Disney and ABC TV event, we got to meet the real life inspirations for Queen of Katwe: Phiona Mutesi and Robert Katende. Out of all the interviews and events scheduled, this was a high point for me. It's not every day you get to meet the people whose lives were the reason that a Disney movie are made, especially ones with such incredible, indelible stories.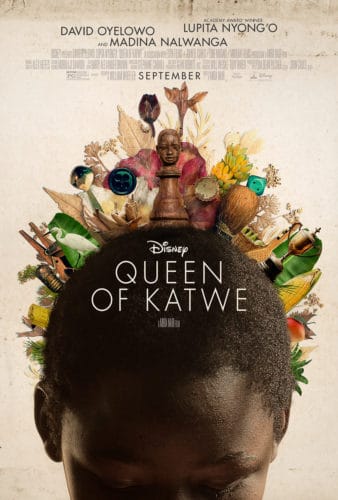 Phiona and Robert entered the room together. Any time the talent enters a room for a round table or press interview, it typically gets quiet, but these two entered to spinning chairs and an absolute hush. Completely without any pretense, they both sit down in their chairs at the middle of one side of the table, looking around quietly at the 27 sets of eyes all focused on them. No pressure at all, right? Except it's got to be and they handled it with professional demeanors that spoke volumes about their maturity, maturity that comes from their life in Uganda that plays out on the screen in Queen of Katwe.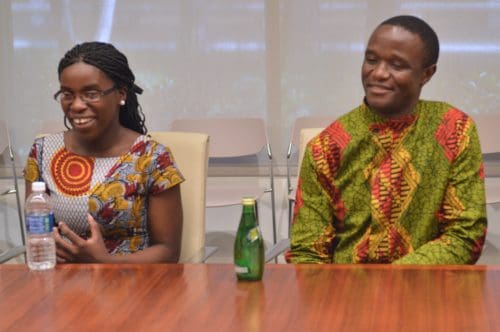 The first question fired at Phiona was what it was like seeing the movie. (I learned after this interview that Queen of Katwe was the first full-length movie she'd seen in a theater. Doesn't that just amaze you? Oh, how spoiled we are.) She shook her head and with a quiet small laugh said that she couldn't believe it was her on the screen. Can you imagine what that has to be like?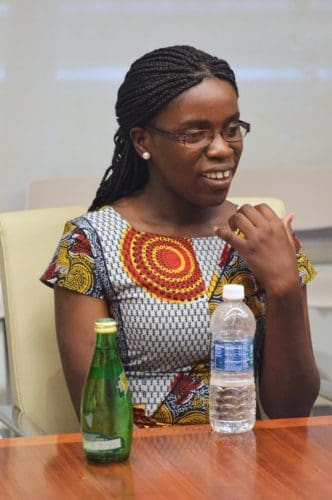 Phiona shared a lot with us. Here are a few key take-aways:
Not only did she have a moment of "I can't believe that's me," but she even thought that maybe she shouldn't be there. (We reassured her, no, that is NOT the case. She very, very much belongs there.)
She is not a Grand Master yet. She is a Candidate Master.
There are many things children can learn about life from chess: abstractive thinking, problem solving, decision making, weighing options.
She would cry the most from the pressure of a game.
The thing she liked most about her visit to the United States for the premiere was walking on the red carpet. She hadn't yet found a dress at the time of our interview.
What would she tell a young girl just stepping out? Work hard, have a dream and approve of yourself. (Wise words, Phiona, wise words.)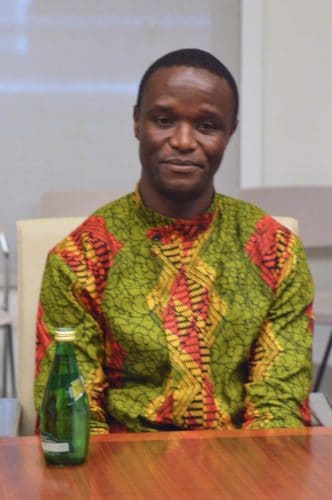 Robert was equally striking and compelling to listen to. As you'll see in the movie, he's such a giving, dedicated and compassionate man. His wisdom comes across in so many ways, and he's torn between the life he wants to give his wife and child and the lives he wants to help within his academy students. He's clearly a man using his gifts as they were meant to be used, but that doesn't mean it's easy. We asked him a lot of questions, and here are a few things he shared that are very much worth knowing:
Being a mentor to the kids helped teach him tolerance, patience, and embracing one's ability. It also helped him learn about being a father.
You have to look at each child as an individual with individual abilities and different perspectives on life.
When dealing with each child, he had to consider what each child was going through at home. One child dealt with an uncle who would drink and come home and break his chess board. Truly eye-opening. You can't address the child without addressing the symptoms that go on in his life.
Mentorship is an ongoing process. You allow the kids to learn your weaknesses, how you face difficulties, and how you respond to them.
Robert started the chess academy in 2002, it became stabilized in 2004 and now he's got students who years later are still around, yet young adults.
He was orphaned at a young age. He had to grow up trying, failing and trying again. As he says in the movie, if he'd given up, he'd not have his son, had his life and met Phiona. (That scene is a tear-jerker, as Phiona, whose dad passed, realizes she has others in her life who love her and that she's important.)
These two…I can't impress enough how much their story will impact you. He puts the meaning behind being a mentor like no one I've ever seen. When you see the movie, stay for the credits. The real-life photos and then-and-now comparisons will have you shaking your head and thinking even more what amazing people they are. I will never think of the word "courage" in the same way again. Courage, stepping out and never giving up have taken on all new meanings.
In case you haven't seen it yet, here's a trailer. Now go buy your tickets!
Save