Two weeks ago, I got an invite I'd really been hoping for: to attend the press junket for Disney Pixar's newest animated movie, Coco, headed to theaters this Thanksgiving. I was excited for many reasons, not to mention just this stellar Coco cast listed below. (But Benjamin Bratt…..I've been a fan forever!) I'd seen the trailer a couple of times and didn't know a lot about the movie other than it was going to highlight the importance of family and tradition. Little did I know how very emotional the movie is and how it would make us all feel!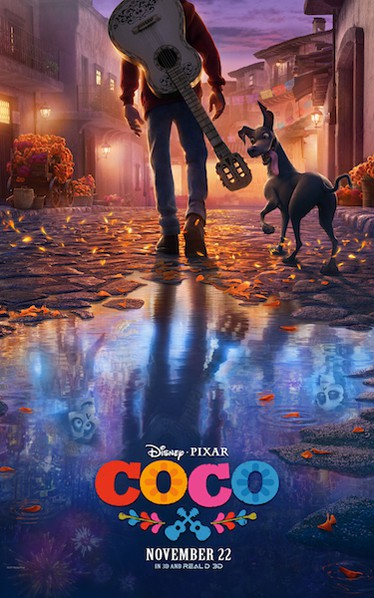 Coco is the story of a young boy named Miguel who loves music but is forbidden to play it or listen to it. He doesn't know the whole story, but as he learns — in a way I can't reveal since I don't want to spoil it — about his family's history, he begins to grow closer to his ancestors gone long before him. You'll fall in love with so many characters in this movie, and when you're done wiping away the tears, you'll want to go home and talk with your kids about their ancestry! (And with the help of Ancestry.com, who provided us all with a one-year membership and a DNA kit, we get to learn a lot more!)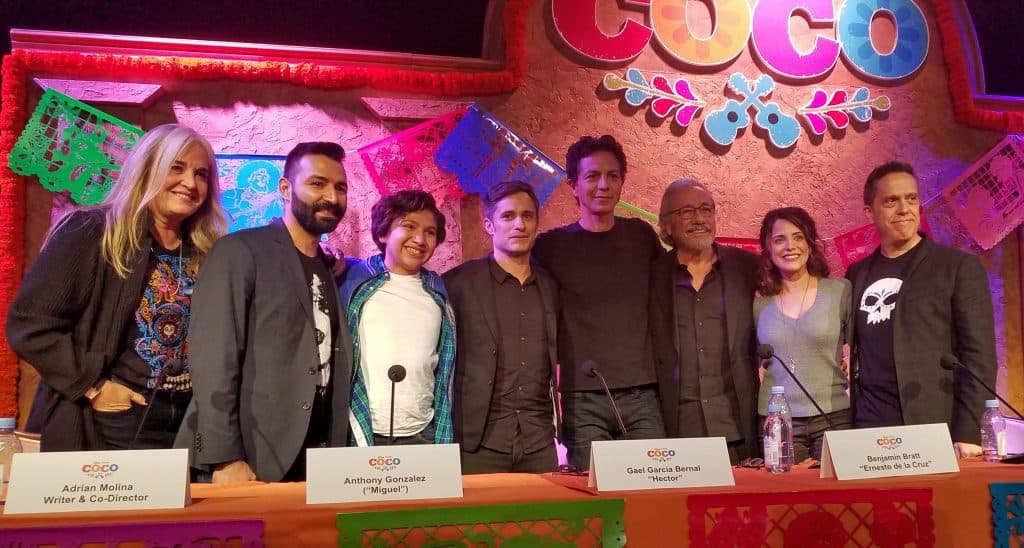 The Coco cast in attendance was:
Benjamin Bratt (voice of "Ernesto de la Cruz")
Gael Garcia Bernal (voice of "Hector")
Anthony Gonzalez (voice of "Miguel")
Edward James Olmos (voice of "Chicharron")
Alanna Ubach (voice of "Mama Imelda")
Director Lee Unkrich
Co-Director Adrian Molina
Producer Darla K. Anderson
A lot of questions were thrown towards the cast regarding the importance of tradition in their own lives and their feelings towards making this movie. In today's political climate, this movie hits something that we ALL need to see. I don't know my ancestry well enough, but I know that if we don't talk about our history, we eventually forget it and we can't do that if we need to learn from it. Coco brings this home and that's a fact that all the cast knew from the moment they agreed to play their roles.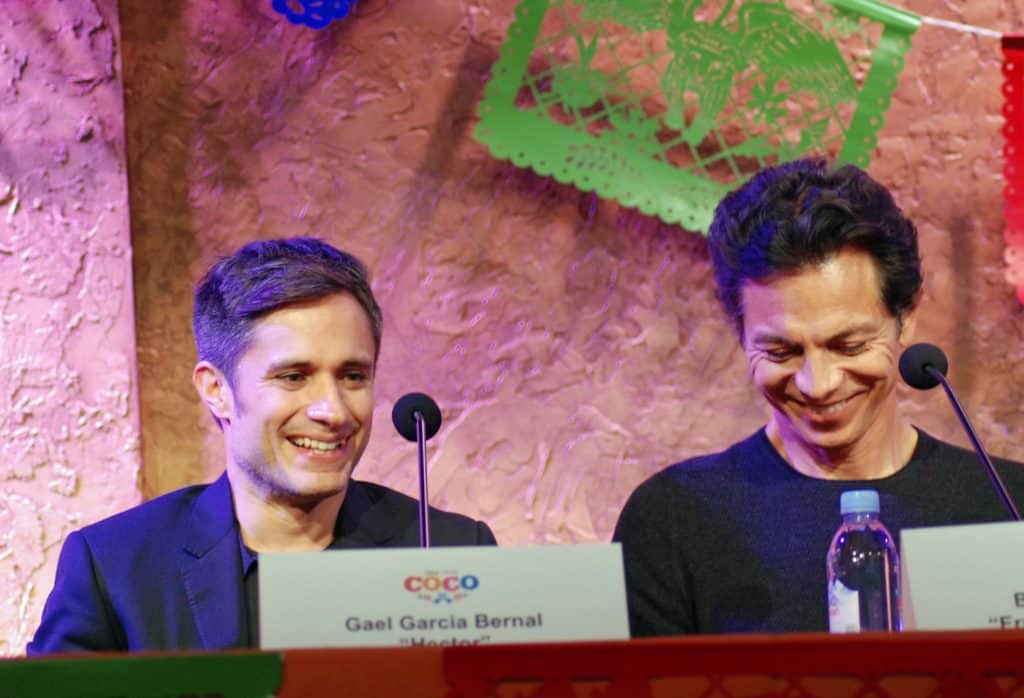 As in most Disney movies, there is a lot of music – joyous music that fits all the feels and brings home the point. Anthony Gonzalez as Miguel sings in the movie, but one of the funniest things we learned in the press interview was that his audition wasn't necessarily about him being able to sing. It wasn't even a sure thing that the then 10-year-old was going to perform, but when he offered up a song, they were all shocked. Once you see the movie, you'll know why. He's now 13, a critical part of the Coco cast, and I think we'll be seeing a lot more of him!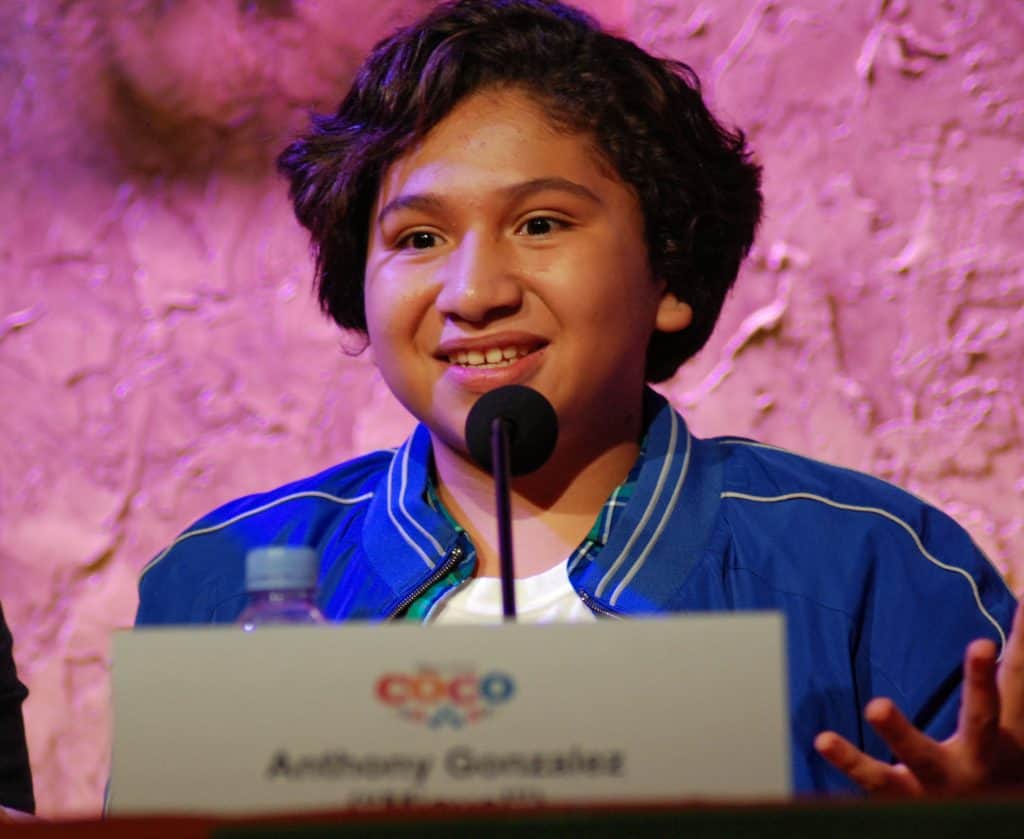 At every press conference, there is always at least one comment that stands out to me. The Coco cast shared a lot of emotions about their honor in being selected to portray characters that are so important in educating us about the Day of the Dead (amongst other things) in such a respectful way. One question to Benjamin allowed him to expand on a personal memory and his candid answer about the relationship with his father before he passed made me love him even more. Whether or not our familial relationships are what we'd hope they are, we still have memories. To hear how Benjamin still remembered his father, who he was estranged from, as being larger than life — we all need to remember what we can regardless of where our relationships go.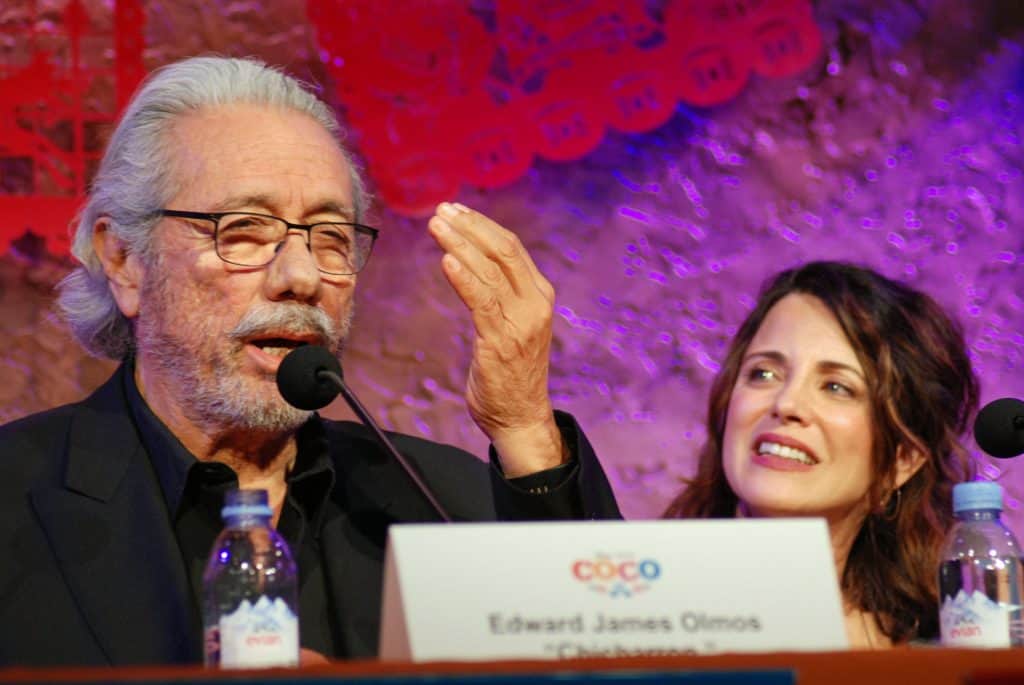 Edward James Olmos is just what you'd expect. When he speaks, you listen. His role in Coco is fairly small but large in a way that really drives home a post to little Miguel. He plays Chicharron, and he explained to us that he said yes before seeing the script. However, once he read the script, he realized that within just a few minutes of air time in the movie, Chicharron becomes such a huge part of the story line. You will remember this part of the movie and understand quickly why it was so paramount to include him, and why it needed someone like Olmos to play him, who also pointed out that we can all relate to Chicharron. Oh, get the tissues again… You will want to make sure your kids know about their ancestors, and you'll want to head to the cemetery to pay your respects more frequently. He also reminds us: celebrate life. We all need to do that. It's short and Chicharron will resonate with us all.

A little more about the junket itself, because this was such a special one — we not only were fed by a full taco buffet with the world's best chocolate-filled mini-churros, but we also got to take a guitar lesson and play a song from Coco!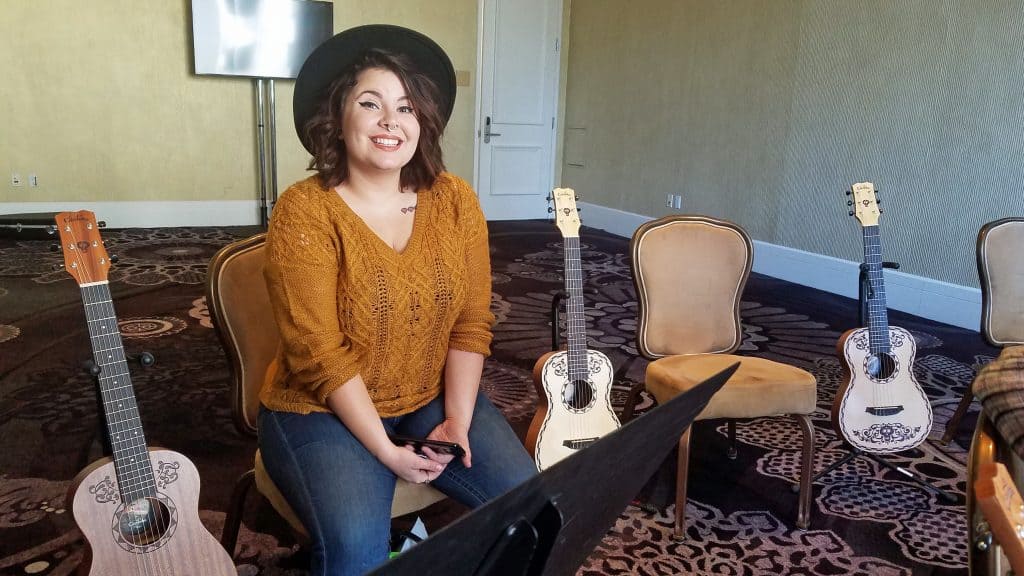 I haven't ever played guitar, so this was a big deal for me. It was such a simple song in theory, but the instructor team from Guitar Center made it possible for us to play the song as back-up in under 15 minutes!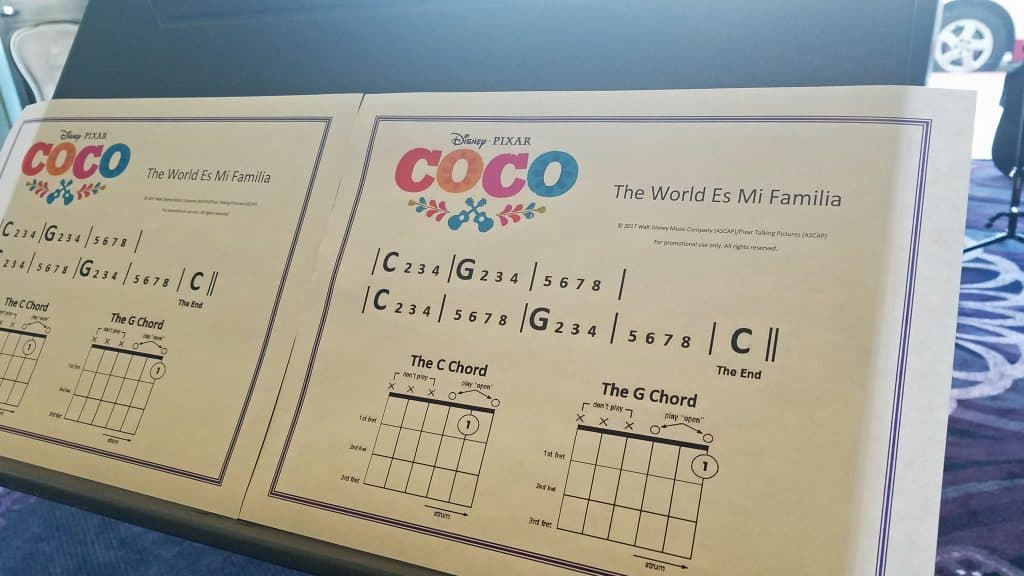 (As our instructor said, we played our first gig and it was in Beverly Hills, no less!)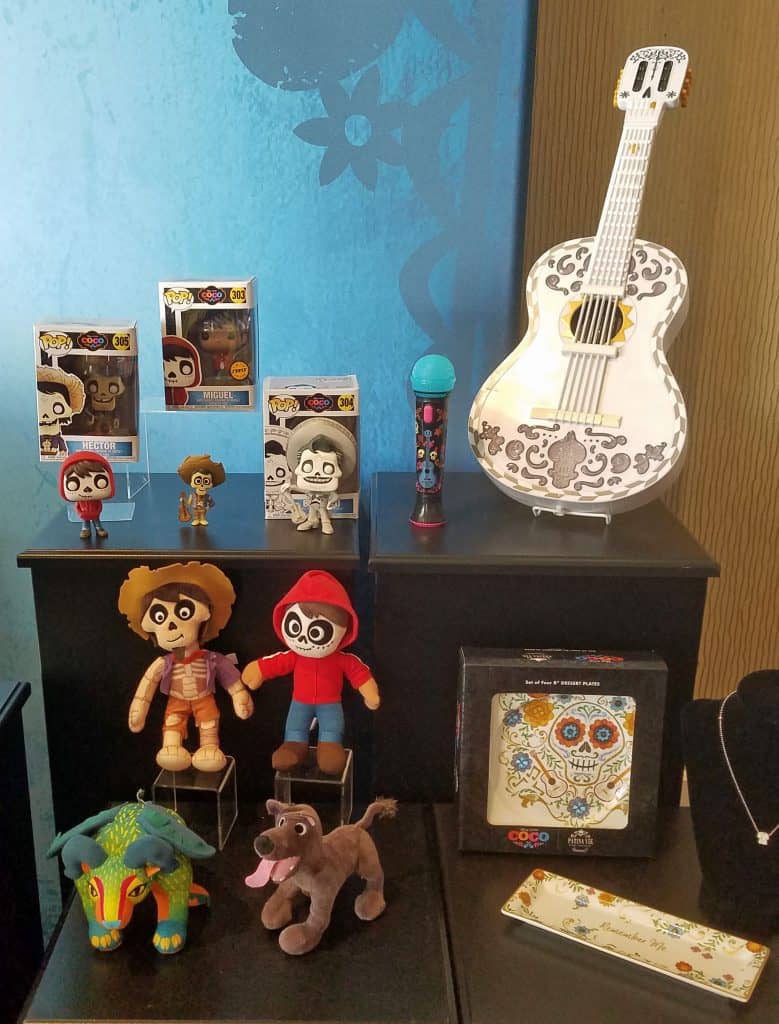 The Coco gear was on display, so keep an eye out for a few of these things below. I want to get one of the hoodies in my size!
We also were treated to a very special dance performance before the interviews began. Sitting front row, we were raptly watching; the dresses swirled so strongly, our hair blew in the breeze. It was amazing!
Coco will have you cheering and crying and all things in-between, from Mama Imelda's rendition of "La Llorona" and Ernesto de la Cruz's "Remember Me," to Grandma Coco's smile. Go see it with your family, enjoy the very talented Coco cast and then make more family memories! Out in theaters on November 22, it's one more thing to be thankful about this Thanksgiving weekend!