Devon here!
Solo: A Star Wars Story by Lucasfilm was a 2018 summer hit, starring a young Han Solo (played by Alden Ehrenreich) and following him into a deep and risky adventure into a criminal organization. Later on, he meets the same Chewbacca we all know and love, which begins a long partnership between the two as co-pilots.
Solo comes out in an in-home release on Blu-ray on September 25th, after releasing digitally on September 14th. To celebrate the release, we were invited to a special bonus showcase and press day!
When we first arrived to the press day, our first destination was a group lightsaber demonstration and interview with Ray Park, who reprises his role as Darth Maul (with Sam Witwer providing the character's voice). The first thing I noticed when he entered the room was how incredibly humble and genuinely kind he was – he made his way around the room, individually shaking hands with every single one of us and introducing himself to us. Ray talked to us for several minutes, telling us all about his martial arts skills, and even showing us some of his moves. Each of us even got our own lightsaber to practice with, and you already know I had to choose Kylo Ren's. In case you were wondering, I was not very skilled with a lightsaber but I sure felt cool trying! Especially at the end of the demo and interview and we all got photos with Ray! He was absolutely hilarious and I might have gotten a little carried away feeling like I was actually in a fight with lightsabers. I loved lightsaber training!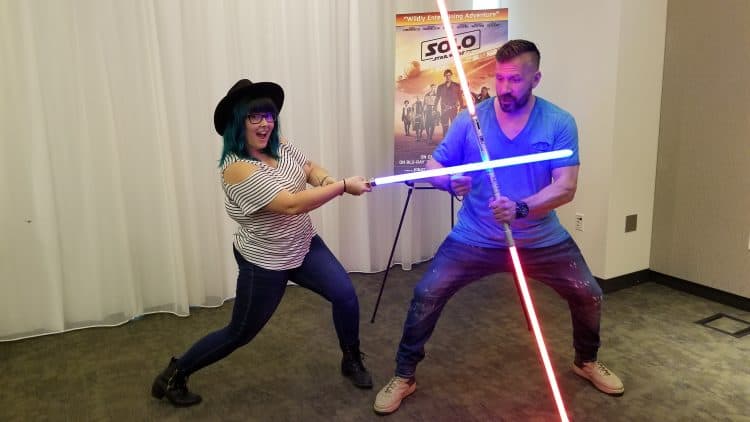 After all that, the excitement continued when we got to see some behind the scenes bonus content. One of the videos was a discussion including the cast of Solo and the screenwriters, Jonathan Kasdan and Lawrence Kasdan. Another was checking out the original Millennium Falcon, which was my personal favorite. I've always thought scenes like that were always so interesting! The next was about Chewie and Han Solo's friendship and how exactly it was depicted throughout the movie and how they expanded on it compared to previous movies. We didn't see all of the features in their entirety, as we wanted to leave some mystery for later, and now I can't wait to get my hands on the Blu-ray so I can finish them all!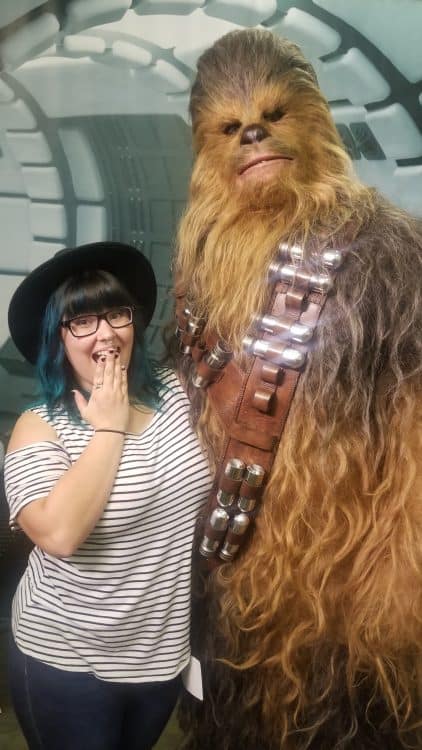 Last but most certainly not least, we got a photo opportunity with the one and only Chewbacca! Talk about a fangirl's dream! As we were talking and taking the photos, two things specifically came to mind: 1. "He's really tall," and 2. "I was just watching a feature of him running around in mud for a scene in the movie, and now that I see this fur, I can see how much work this entails." It's really, really crazy, but provides such an amazing perspective.
Overall, this was such a cool experience, and I can officially say that I'm pretty much…almost…well, mostly a professional with a lightsaber. And I'm best friends with Chewbacca. That's a pretty amazing day, I must gladly admit.
The Blu-ray release for Solo: A Star Wars Story is September 25th, so it's coming up fast! Make sure you run to the stores and take this movie home as soon as possible and let me know what you think!