Dogs. Racing. A good romance. I'm all in. When I was invited to attend the red carpet premiere and the Art of Racing in the Rain cast interview, it was an easy yes.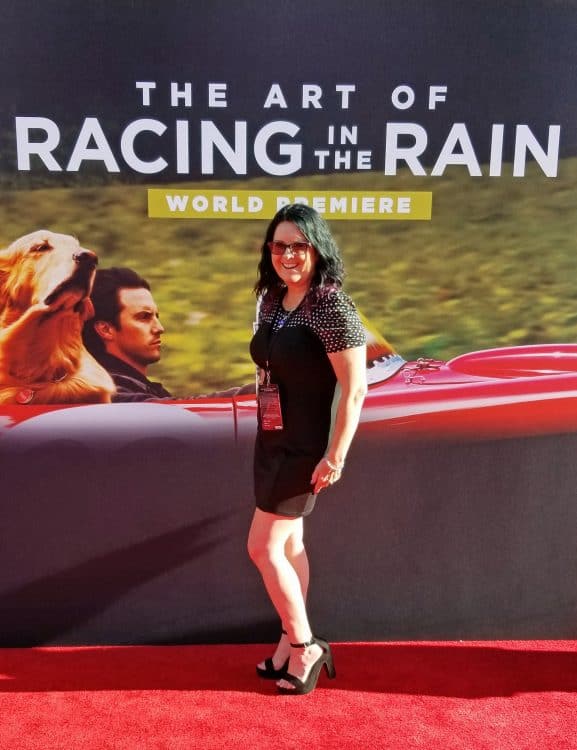 The movie, directed by Simon Curtis and co-produced by actor/racecar driver Patrick Dempsey, stars Milo Ventimiglia, Amanda Seyfried and Kevin Costner. It's a heartwarming yet tearjerker of a movie that will make you laugh, cry and want to go home and hug your dog.
Hitting theaters today, August 9th, this 20th Century Fox movie is based on the book by the same name, written by Garth Stein. I hadn't read the book before, and I was entirely unprepared for the emotional ride. And what a ride it was, as we're sucked into the story of Denny Swift, an aspiring Formula One race car driver and new owner to Enzo, a Golden Retriever voiced by the incomparable Kevin Costner. Denny meets Eve, and the rest is history.
Fast-forward and Denny and Eve are raising their beautiful little daughter, Zoe, played by Ryan Kiera Armstrong. (That little girl has big things ahead!) Enzo is enamored of Zoe and the family is enjoying life. However, as in any good dog movie, life takes some twists and Denny is put through the wringer. I won't spoil any of it for you, but Milo's portrayal of Denny, a man who refuses to let life break him, is spot on. If you're a fan of This is Us, you'll understand what I mean when I say Milo's made for this role. Take a peek at the trailer.
Amanda and Milo's chemistry is apparent and the message of love, family and devotion is strong. Kevin Costner as Enzo is icing on the cake, as Enzo is a philosophical dog wise beyond his years, and as he says early on in the movie, he was born to be Denny's dog. Being a dog lover, I like to think all dogs have the same intellect and wisdom of Enzo. Despite the sadness in the movie, I left the theater smiling at the idea of dogs not only knowing our massive love and devotion to them, but they hold no grudges and live in the present.
If you take away anything from the Art of Racing in the Rain, it's that: live in the present. Take the hot lap and go faster. Enjoy it all, no matter what you know your future will hold. (And if you watch documentaries, maybe you'll have a clue what miracles are ahead for you!)
Kathy Baker puts in an amazing performance as Amanda's mom and Martin Donovan plays her untrusting and stubborn dad (and he plays him so well, you really want to dislike him). You'll also enjoy Gary Cole's quiet calmness as Don Kitch, Denny's racing manager.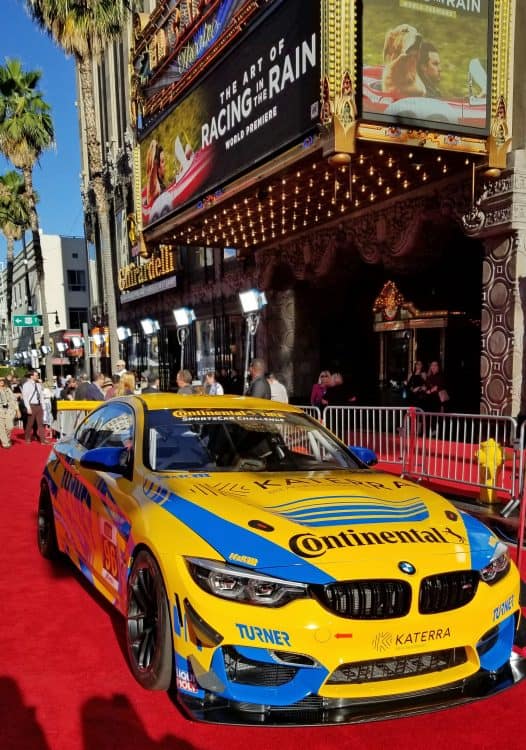 The premiere was a star-studded, fun evening. We watched some of the cast arrive on the red carpet, got to see one of the Turner Motorsports cars from the movie, and sat amongst various cast members up front in the El Capitan Theater.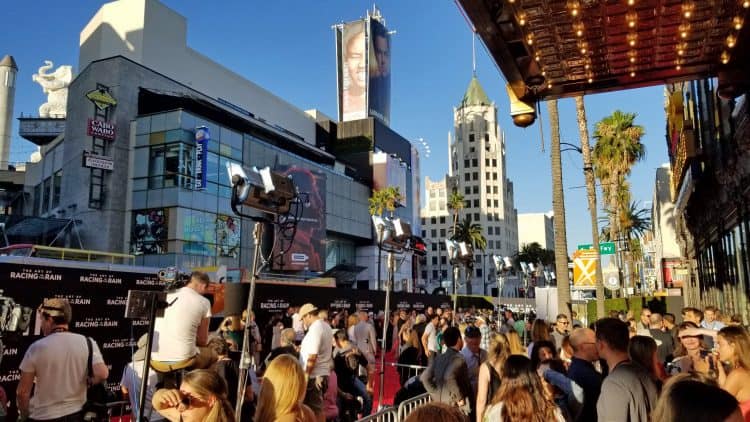 There was a quick cast intro and then the movie began. It goes quickly and you won't want it to end when it does, though there were a couple of parts I knew what was coming and was getting emotional ahead of time. (Seeing a dog movie the same week that your own dog passes is tough, but this movie gives you hope, so don't let that stop you! I honestly am so glad I watched it.) Bring the tissues.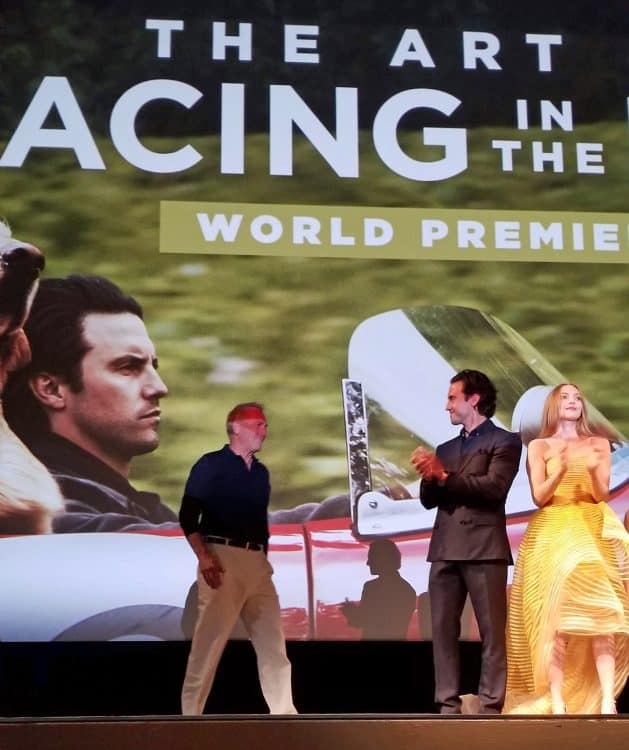 We then got to attend a cast interview two days later, interviewing first the director, Simon Curtis, then Milo and Amanda. Simon was very wonderful to speak with, and I got a chance to ask him if Kevin was his first choice for Enzo. Without a doubt, yes. I also took a second to tell him that the movie was uplifting even for those of us in a grieving stage, and he said that he was glad to hear they'd achieved what they hoped for. When so much of a movie is shot from the perspective of the dog, it posed some unique challenges with the camera angles, as well as directing actors who had no idea what the dog was saying in their scenes as his lines were shot separately, with them unknowing what he was thinking. That adds to the movie's overall charm.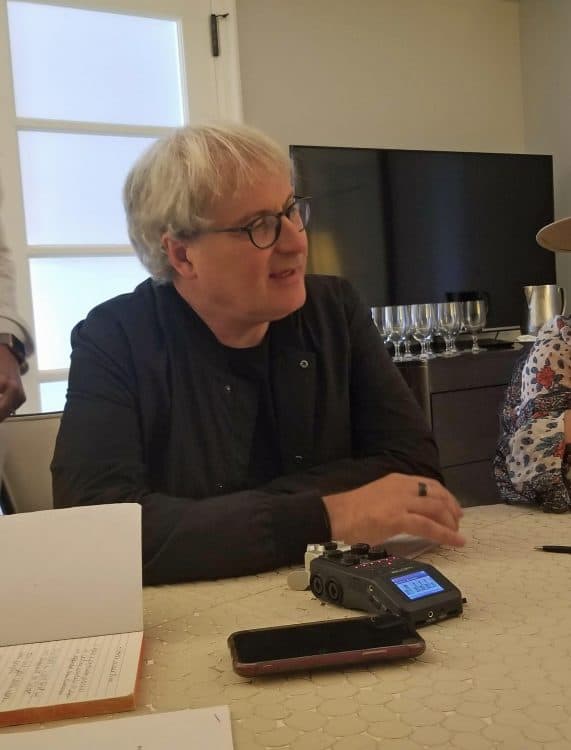 Simon also shared with us why they chose to use a Golden Retriever, and the reason was that while they considered a mixed breed rescue, it would be hard to properly age one of those. Finding two or three dogs that looked enough alike to still be Enzo was difficult, so a Golden gave them the opportunity to age Enzo without any question. Simon's message: cherish what you have.
Milo and Amanda were both so genuine, they made a fun duo to interview. Both answered openly and candidly, with no air of rush or celebrity whatsoever. My first thought of Milo was how engaging he was. He looked fully around the table when he spoke, making eye contact, smiling and giving thought to each question posed towards him. Amanda is a ball of energy who also seemed so happy to be able to talk about the movie, and she was so sweet and energetic, I could have talked to her for a long time.
I asked if they were dog people, and while Milo doesn't currently have a dog, he does love them. He talked about the natural rapport developed with the dogs who played Enzo (Parker and Butler were two of the three) during filming. Amanda rescued her dog, and she and her family live on a farm where the dog has plenty of space to roam. It's also a Golden Retriever like Enzo.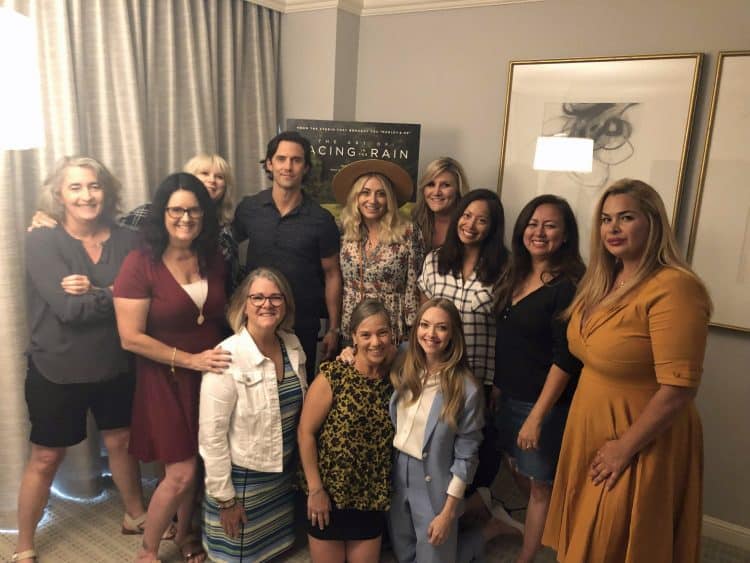 Speaking of Parker, we had the pleasure of getting to briefly meet him for a photo opp. He is nothing short of sleek and beautiful. As I went towards him to say hello, before I could turn around for the camera, he began to sniff my face. Before I knew what was happening, he gave me a solid kiss on my cheek. His paw then came up for a shake, and when I moved to his side, wiping away a tear from the show of love from this dog, he put his paw up again. The photography crew told me I could keep holding his hand and that he must have known I needed it. I looked at him as he turned towards me, and I could swear he was speaking to me with his gaze. I had a hard time pulling myself away from Parker, but it completely made my day. Meeting Simon, Milo and Amanda was spectacular but Parker got to my heart.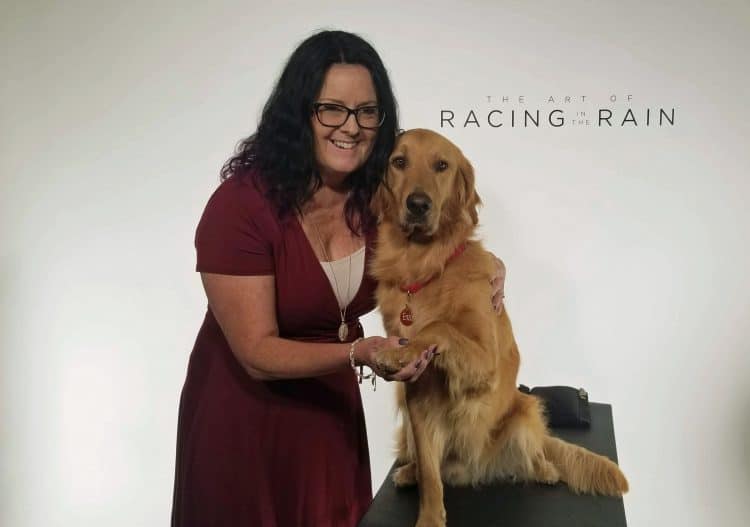 As I'm writing this, I've seen the trailer twice and each time, it gets to me. Denny's strength in all that he goes through is unwaivering, but when he takes Enzo in that hot lap in the Ferrari, I lose it every single time. "I bark to let him know one more lap." Oh, Enzo, you are one special animal.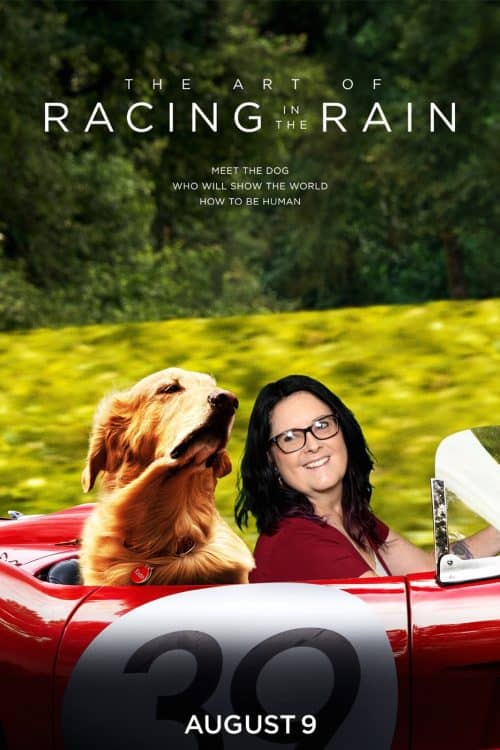 Take the family to see the Art of Racing in the Rain. It also makes a great date movie that's appropriate for all ages. Just don't forget the tissues.