You're going to love Arlo the good dinosaur, the lead character in Disney-Pixar's newest animated movie, The Good Dinosaur, which hits theaters today.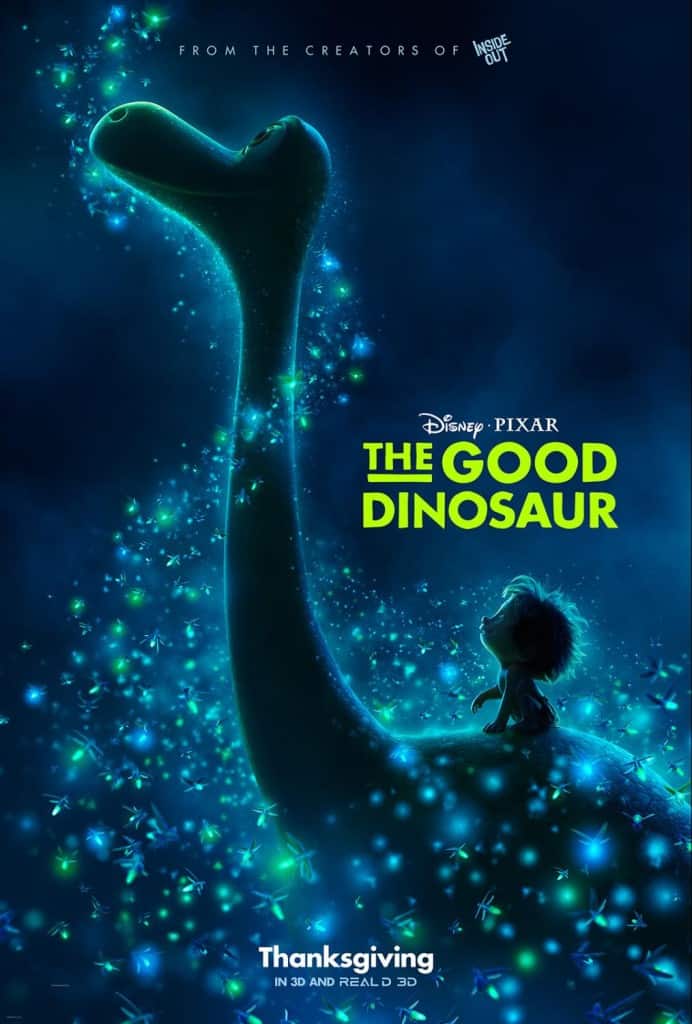 Some of my favorite memories with my kids are special moments of time spent together watching a movie. Disney movies have been a huge part of our lives for the last 27 years, and with each movie, I can tell you something about the first time we watched it. Something about Disney movies — they stick in your head and pop up time to time, when you least expect it. Someone picks up their baby and holds it up to see? Lion King. Pour a cup of tea? Chip from Beauty in the Beast. Buy a bunch of balloons? The iconic Up.
The Good Dinosaur is going to be the same way. Set in a beautiful world untouched by a meteor and extinction, an apatosaurus couple celebrates the cracking of three eggs, one of whom is a bit of a runt of the litter. Little Arlo can be seen as the one whose needs are a little different, maybe a little special and he needs to learn to get over fears that get in the way of living life as he should. Dad tries to help him but tragedy strikes and Arlo has to find his own way home. Aided by a scrappy little human named Spot, also on his own, Arlo is faced with challenge after challenge, and we get to go along for the ride.
Bring your tissues. Like any Disney movie, there is at least one point where you will look around and even those people sitting in the reserved seats as part of cast/crew and/or family, have their tissues in hand, too.
It's a familiar story overall, but Disney-Pixar puts their special spin on it, making it unique and believable in a way only they can. The graphics bring the dinosaur landscape to life, based on real life scenery in Jackson Hole, Wyoming. Dinosaurs are living a life we humans can understand — sibling squabbles, chores and teaching our kids how to grow into happy adults. Dad's love for each of his children is visible but his heart is worried over Arlo, and their nighttime visit to a field full of lightning bugs is a memorable scene. Who doesn't remember that first special outing with Dad?
The movie has several messages, at least for me. One is that family isn't just who you are born with, but it's who you make it with. Spot and Arlo's relationship starts out rocky but is forged as they travel, with Arlo ultimately realizing what love and responsibility is. Arlo's knobby knees and fearful approach to things also show us that being different isn't wrong, just different, and success comes at different times but is no less successful. As the mom of a kid who has faced special issues in life, and has had to be helped in different ways, this party of the story is something many parents will be able to relate to. And family — family is far more important than you realize until you're forced to face life without them.
The Good Dinosaur's cast voices their characters, some that look a little like their real-life faces, perfectly to suit the demeanors. Sam Elliott's Buck, a t-rex with a scar and a story, benefits from Sam's deep voice to make his feisty herd leader role spot-on. Raymond Ochoa's big eyes may not be deliberately portrayed in Arlo, but Arlo's eyes, like Poppa's eyes, speak volumes. With an animated movie, emotions probably pose an additional hurdle but Disney rocks it with these dinosaurs.
Paired with the Good Dinosaur is Sanjay's Super Team, a movie short about the relationship of a father and son and dad's insistence on teaching his son their culture, while the son's resistant behavior is pretty typical for a kid who just wants to play. You don't go into a movie theater thinking you'll learn something from an animated film, but this one changes that. In a world with so many wonderful cultures, it's a treat to be given an opportunity to understand something different, and get a little giggle over a son's experience that changes his perspective, all courtesy of a superhero toy.
The Good Dinosaur opens tonight. It makes a great family movie but I saw it with my husband and we both thoroughly enjoyed it. Don't be afraid to be the adult there alone! Enjoy the story of Arlo and his adventure and give your family a tight hug.
Arlo the good dinosaur will stick in your heart and you'll be watching this new Disney-Pixar movie years from now!