Life is short. It's an adventure and just like Ferris Bueller said, if you don't slow down once in a while, you could miss it. As we get older, we realize what a true statement that is, and while there are always excuses to say no to adventures, why don't we say yes more? A few weeks ago I said yes to attending a race at the Atlanta Motor Speedway NASCAR races!
The husband had an amazing opportunity to head to Atlanta and he said yes. It meant I had to juggle some scheduling, but I couldn't fault his excitement about putting together a surprise of that magnitude: a four-day trip to Atlanta to stay literally at the race track in a penthouse suite to watch the races all weekend. (We even mixed in a little work and stopped by his HQ.) I really couldn't say no, given that he'd already purchased airline tickets, but I ended up being really glad. It was quite a weekend away and were so glad we pulled it off.
As you've seen in some of my prior NASCAR posts, we've been following the sport since 2005. That's a lot of races, and that weekend would be the 47th we've seen in person. (This past weekend in Vegas was race #48, but more on that in another post.) We've gone from one end of the country to the other, north to south, and seen tracks of all configurations. We've been to Atlanta before, on another whirlwind of flying in, heading to the track and flying back out right away. What memories we're making!
This year's trip to Atlanta was a blast. We took our first Lyft from the Atlanta Airport straight to Tara Place, the condos overlooking the track. We were on the top in a penthouse with views for miles, our own room and the ability to grab food from our own kitchen, head to the wall of windows to watch or head up the interior spiral staircase to enjoy the private rooftop patio.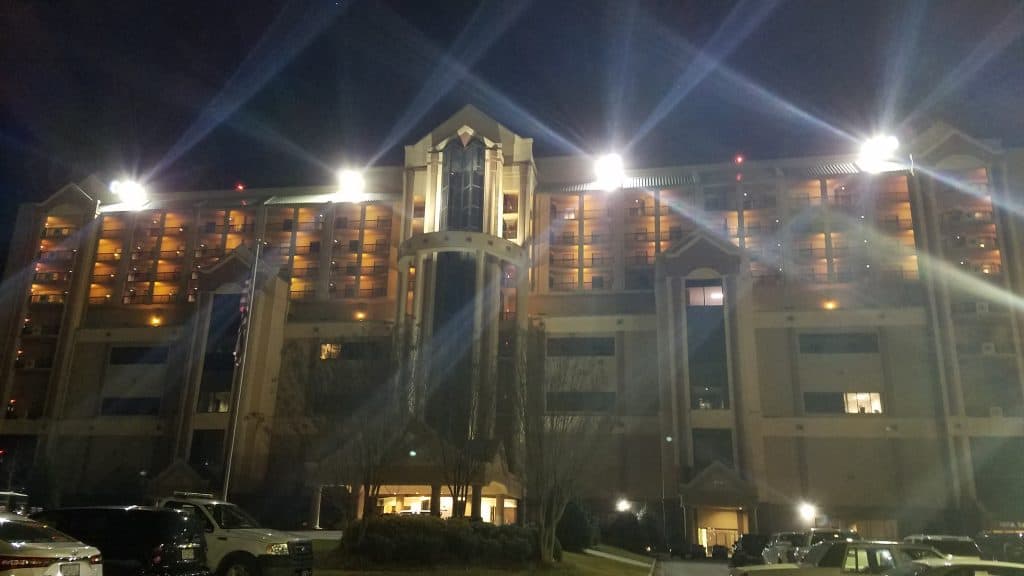 Pretty spiffy digs, right?
We arrived Friday evening, tired, hungry but oh so excited. Our very gracious host had made dinner, but because we didn't do our due diligence and inform him I can't eat beef, we ended up running out to grab some food. It was like the lights shone down, because the first place we saw from that front balcony above was the Waffle House.
Ahhhhhhhhh….
It's not gourmet food and it's certainly not fancy, but there's something about good, fast, affordable food in a fun place known for its 24-hour availability. For us, it's memories of heading home from other races in the south, grabbing a very early morning breakfast before we finished the ride home. If you haven't had it smothered, covered and peppered, you need to stop by for a visit. Two meals, on the table in 10 minutes and out there door for under $15.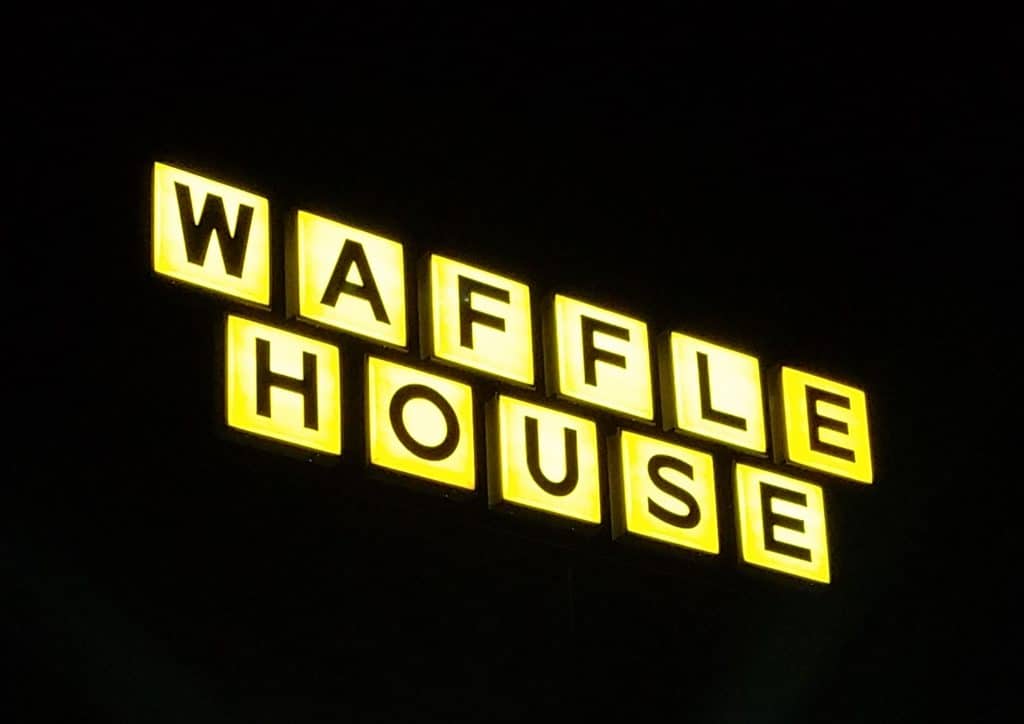 Atlanta Motor Speedway NASCAR weekend is a busy one. Qualifying was on Friday afternoon, and we arrived just in time to watch. On Saturday, we watched the Xfinity cars race, and then the Camping World Truck series started after. So.Much.Noise. And we loved every second of it.
We spent a couple of hours wandering the pits. You never know who you may run into.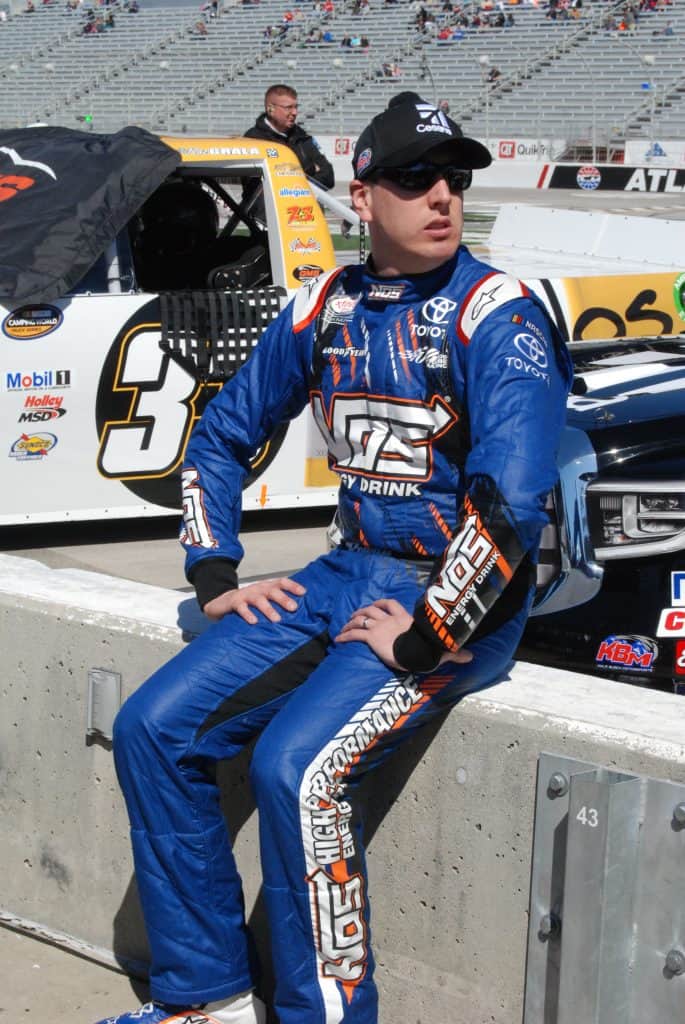 We even ran into Mike Helton a little later, who took time out of his brisk walk to get to a meeting to say hello.
Watching the Monster Energy (aka Sprint Cup) cars go on and off the field for practice is a highlight. If you get to score an autograph, cool, but we've got such an array of those that this visit we focused on just experiencing the Atlanta Motor Speedway NASCAR environment infield. We got some great car photos along the way.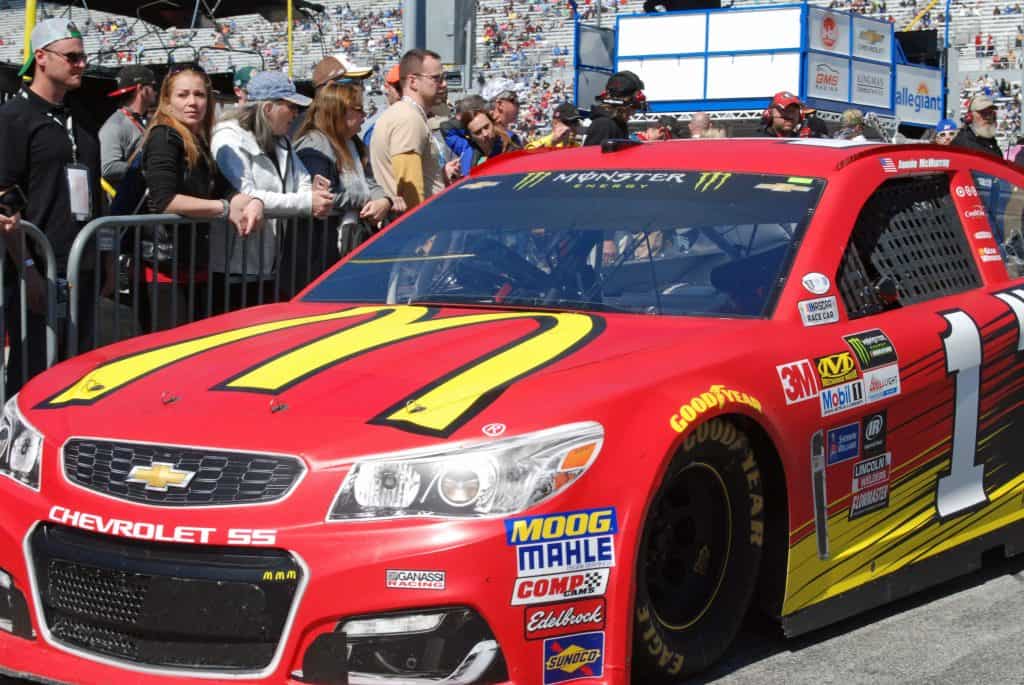 And…who knew he'd end up being the next day's winner.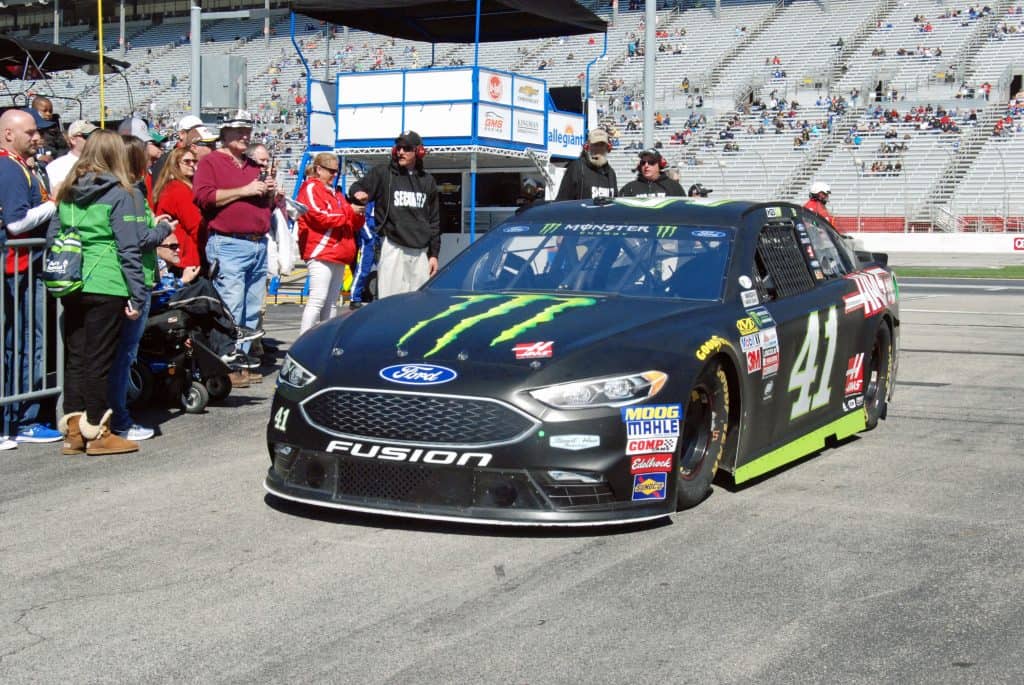 We tried to find a way to get into the garage but without a Hot Pass? Denied.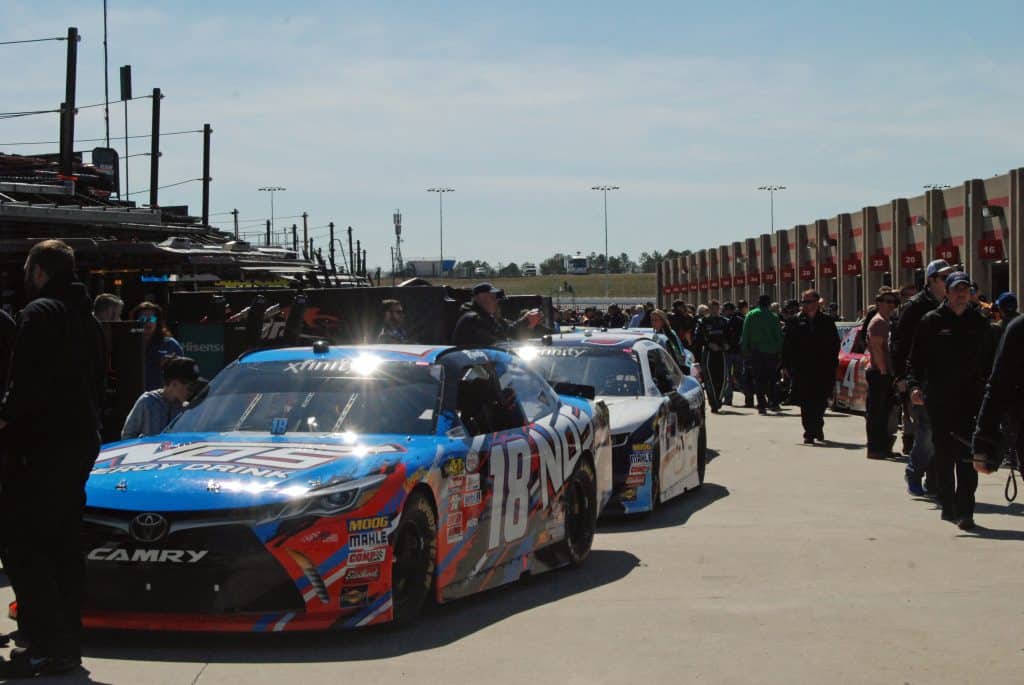 The track itself is just beautiful, both day and night.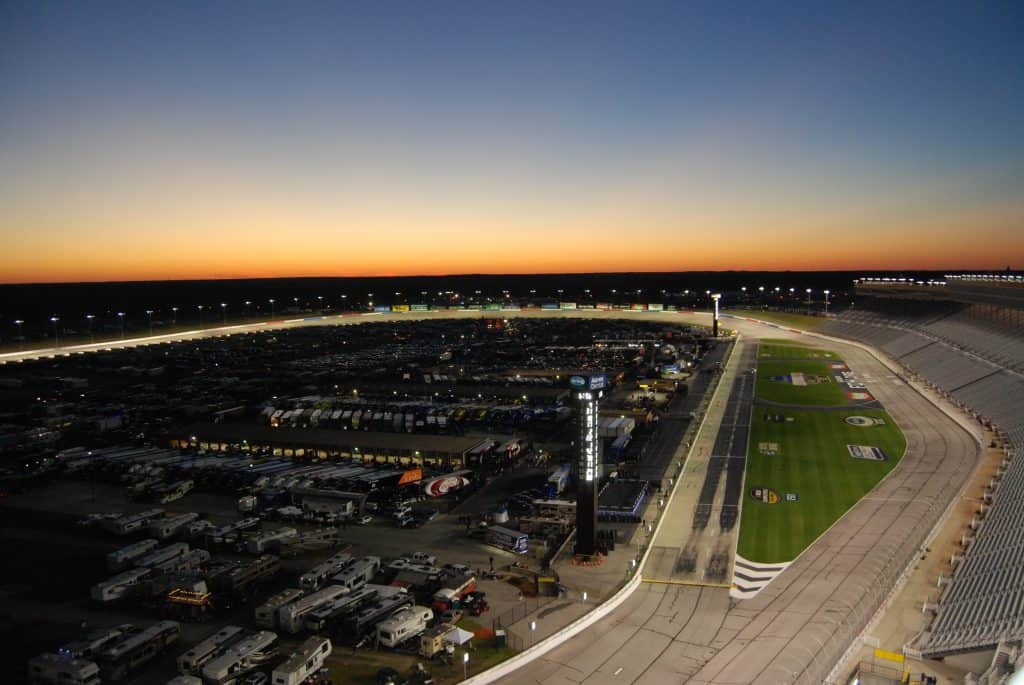 I love watching the crews line up before the start of the race. Not only does it make for a colorful, cool photo, but there's just something regal about watching them await the performance of the National Anthem and the prayer.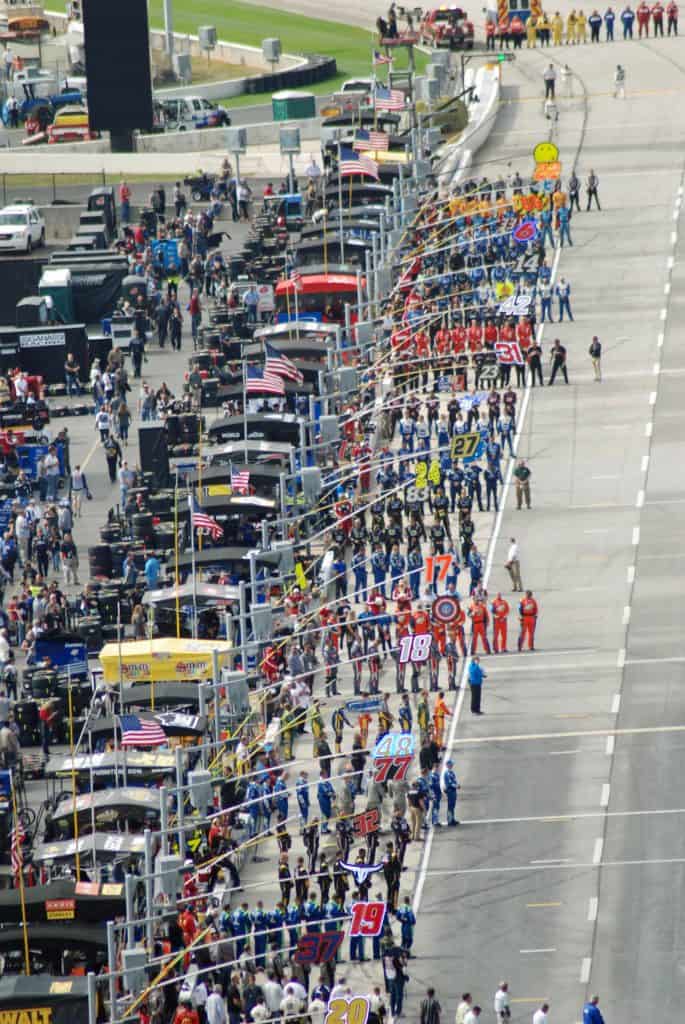 It gets pretty crowded throughout the day down there, before race time.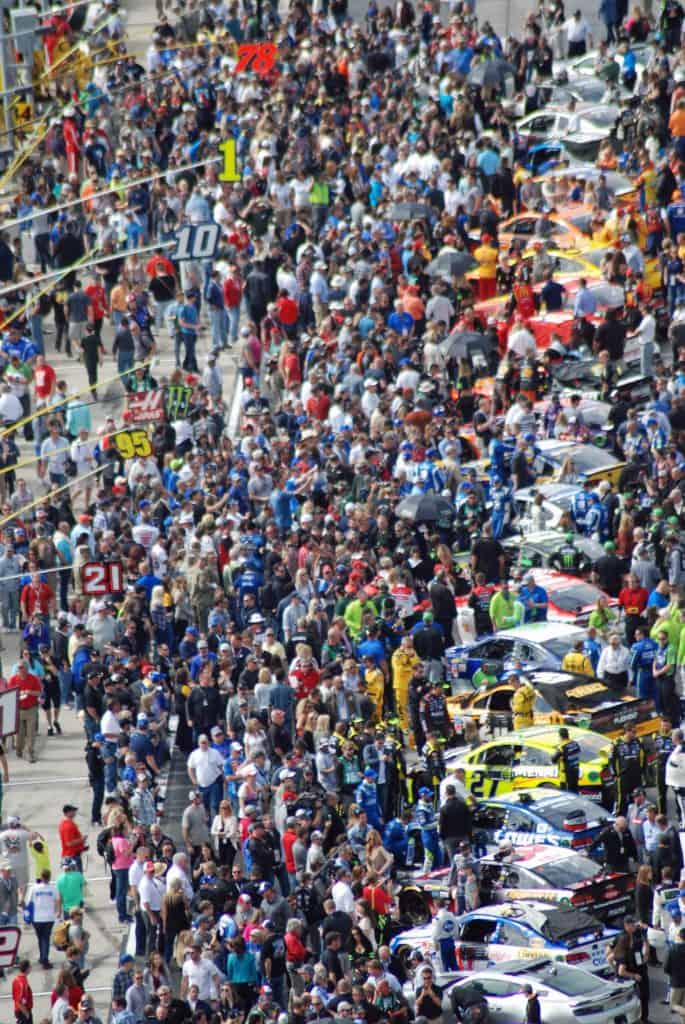 It's run like a fine-tuned machine and security is pretty tight. Wristbands get you in and out, but carry your ticket..just in case.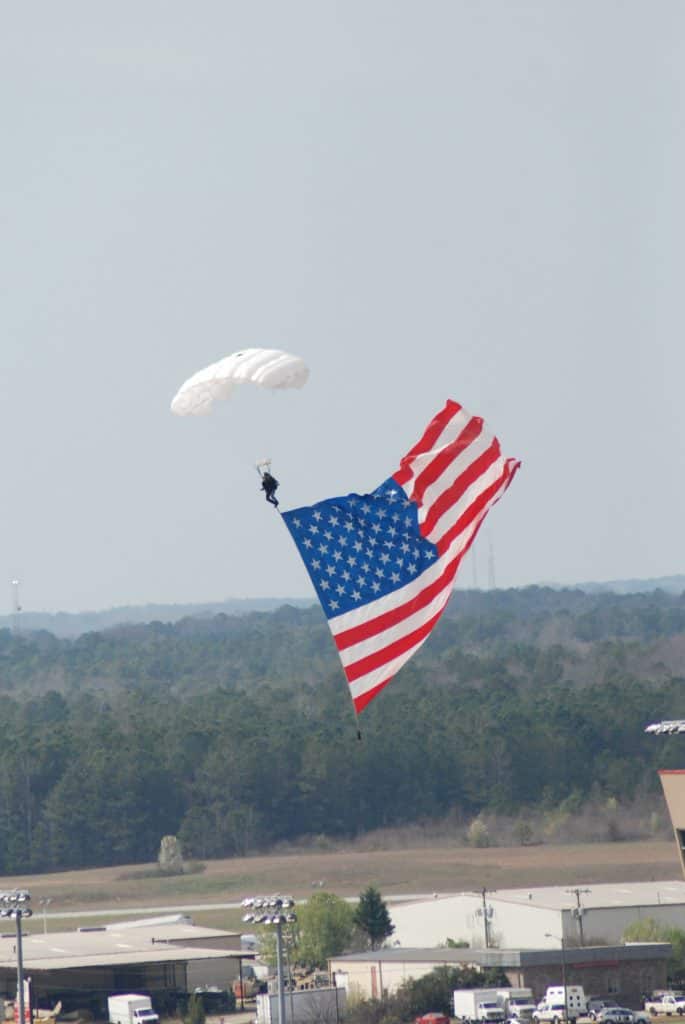 This pre-race jumper was so cool to watch. The flyover in Atlanta was a slew of helicopters. Each race has a different type of show, from concert to jumpers to flyover, so you never know much in advance what you'll be seeing.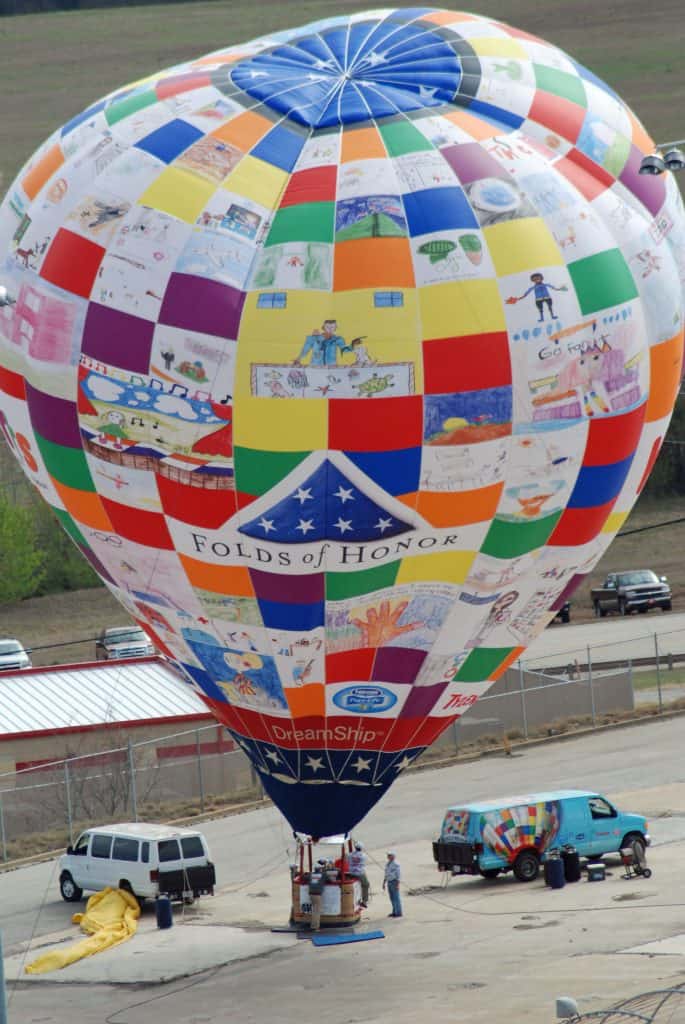 Like this gorgeous hot air balloon — which couldn't take off due to its location and the insane winds that kicked up that day. Very cool charity though and I'm glad we got to see it up close.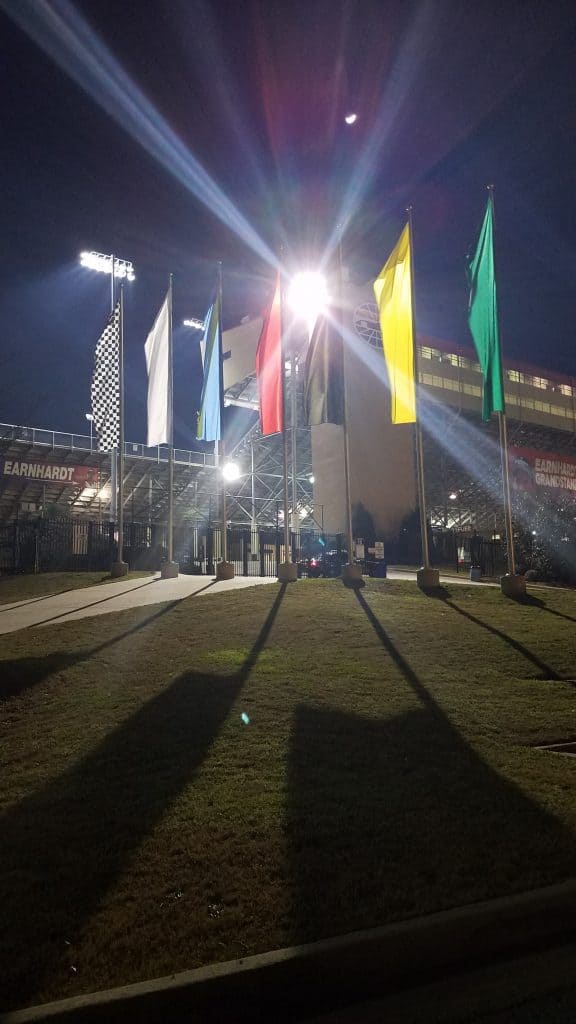 The shadows got my attention, as we wandered back from Waffle House.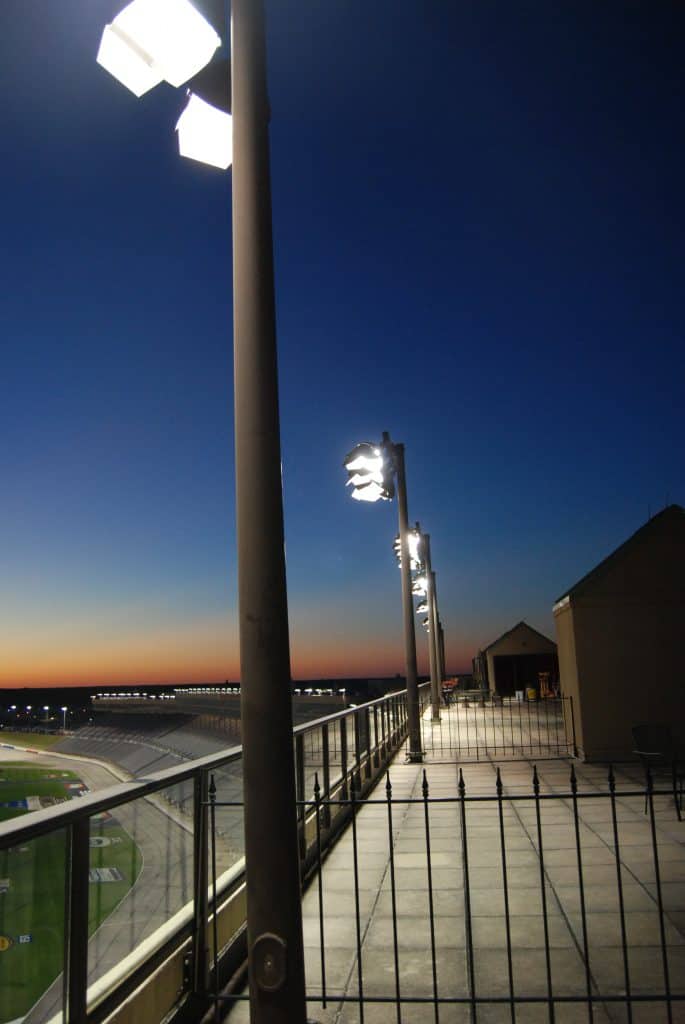 And I loved the lights on this, taken late Sunday night after everyone went home. The silence was deafening after the weekend of so many sounds.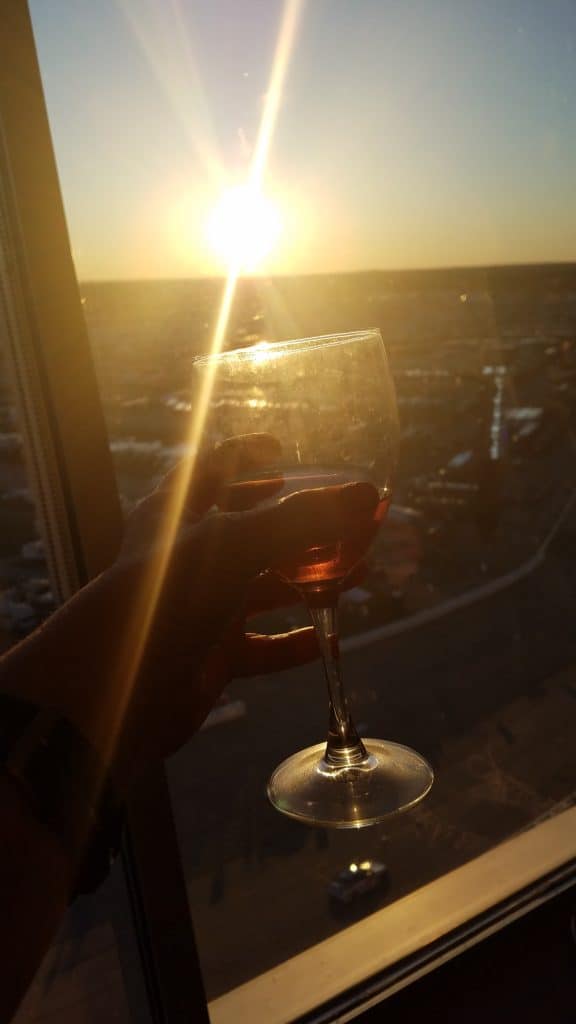 Cheers, my fellow NASCAR fans…life's short everyone, take more adventures! That weekend went way too quick, but our flights home on Monday night went fairly smoothly and we were glad to get back, just in time for a couple of days to get caught up before we hit the road again, Vegas bound.