Whenever I talk to a client about social media, one of the first things I tell them is this: social media is a two-way street.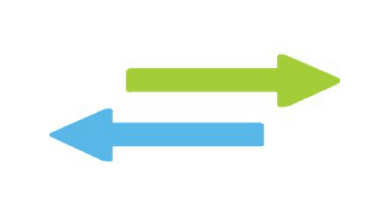 I've always been a two-way kind of person – I like my relationships to be give-and-take and I like conversations to be back-and-forth. (And I obviously like words with dashes.)
So, it's no surprise that I expect the same in social media. Shouldn't we all?
Social media works solely on the basis of interaction.
If a person stands at a podium to give a speech and the three people there aren't looking at him, don't applaud, ask questions or say thank you, did the speaker change anything? Teach anything? Gain anything?
Maybe, maybe not. Maybe they were looking at their phones, listening to their iPod or talking amongst each other. Either way, if they don't acknowledge his speech at all, he's never going to know, and who wants to spend time talking to others if you never know if they're listening or that it matters?
I've written about this before. It's something I strongly believe in. I believe in social media being the new way of marketing, an additional way of communicating and a healthy way to build relationships, if it's used properly and in conjunction with traditional face-to-face discussions.
A friend of mine who is building a new blog asked me recently how she should build traffic. My best advice? Create good content, design a clean site and get out there amongst people. That doesn't mean just plugging your blog wherever you can, but being part of it all. In three words: build your community.
Too many people overlook this anymore. Likes and followers and shares, those are all good, but if you build a true, real community, everyone wins. Preaching to the choir isn't making a difference in the world (though it may be what I'm doing now?). You need to face the rest of the people. You need to smile at them, shake your head when they talk, acknowledge that they're talking. Facial expressions, body cues, your stance – it all matters, and since you can't convey those on the computer, you have to use your keyboard.
Too many people focus on the numbers. They want to get to their goal of <arbitrary number> Likes and <arbitrary number> Followers. While those are important, I'd rather have 50 engaged members of my community than 500 Likes. Sure, maybe a brand considering me for a campaign won't be as impressed but if someone has me review a product solely because I have 500 Likes, without considering to see if those 500 people are even visiting my blog/page, have they helped themselves at all? Out of those 500 people, I may have seven that will see my review, but if I have focused on building a rapport, building relationships with people, than I have those 50 people who saw the review, and 50 people who will take what I say much more assuredly than the seven who barely know me.
To build your community, you have to become a part of others' communities. If someone comes to your page and Likes something, respond. Don't take it for granted and move on. It doesn't matter if it's your friend, your neighbor, your grandma or a co-worker who you'll never speak to again. Acknowledge them. (And if they are someone that helped you build your own blog? Definitely acknowledge. Don't forget the 'little people' that helped you get where you are today.)
If someone follows you, consider following them back. Ratios do matter but I still follow a good number of people who don't follow me back. Seriously, like Guy Fieri cares about my cupcakes or closet organization? We're all going to have people like that on our lists, and I'd miss out on some great tweets if I didn't keep them on my list. Don't want to follow someone? Thank them for the follow at least. I'm not nearly as diligent on this as I could be, but as I was handling something for a client recently, I realized that it was on my radar, as seen from the other side, and that got me thinking that I need to make it a priority.
Just as important – thank those who RT your stuff, especially if it's organic, not something via an amplification program like Triberr.
Let your followers, your fans, your friends, your Likers and your sharers know you appreciate them. And I think if most people think about it, they'll admit that there's been a time when they've Liked someone's page or responded and been ignored and been a little resentful. Or you see them respond to others' comments and not their own, as though they don't matter. Think your 'regulars' will still be there while you only welcome newbies? I wouldn't bet the farm on that.
On a personal Facebook page, it's okay to unfriend those who you don't want interacting on your wall. That prevents you from having to deal with those you no longer wish to talk to or read about, but if you're building a business, you have to interact with people regardless of whether or not they're your friend, and unless they're abusive or disruptive or outright nasty (including profanity) you likely won't want to block them. You'll still need to engage – otherwise, you're sending the wrong message. "Visit me, click my links, read my stuff, help me pay my mortgage…but don't expect anything in return."
I'll be honest – I routinely Like quite a few Facebook pages or reply to blogs and get nothing in return, and it can make you sting sometimes, mainly because I know it's avoidable. Yes, if someone's got five zillion responses to a post, they aren't going to be able to acknowledge everyone. There are a lot of busy bloggers out there who truly can't do it, there's just no time or way. However, those people typically mention their followers or their Likers in a blanket statement and remember that if it wasn't for those followers, fans or Likers, they'd not be able to sell those ads or bring in any money. If you're not doing it, ask yourself why? If it's an oversight, there's time to fix it. If you're unsure it's important, I'm here telling you it is.
If you were a cashier and someone bought a product in your store, you'd thank them, right? Is money the only thing that makes a thank you required? I'd argue a hearty no.
Don't just assume it's okay to crank out content and plug your page/blog and forget the underpinnings of it all. It's still your page and your blog, but interaction matters. Being on the same playing field with those who you want to follow or like you matters. It helps you to be relatable, to be real, and to be kind. And that matters.
A lot.
Don't be a one-way Facebooker. Don't use your wall as a bully pulpit, a place to vent, share how bad your day is even, or sell a product and then walk away when people respond. It really isn't all about you…it's about everyone. It's a community. Would you have a party, yell your news, then ignore everyone? No. (But I'd pay to go to a party like that and watch happens!) Give back. Interact. Engage. Retweet others' tweets. Respond to them. Follow them. Want traffic to your blog post? Give traffic…maybe even pay it forward. Make your conversations two-way. When I run into a client that wants to turn off the option to comment on their threads, my first question is why? If they don't want the negative feedback they may get, I ask them to reconsider their product/service then and then decide if they really want representation, as social media isn't going to be successful if they don't allow people to respond. If it's because they don't have time or want to respond, I tell them that maybe they should stick to a different medium. I believe in it that strongly.
Social media isn't flat. It's multi-dimensional. You don't need to be everywhere to be good at it, but you have to be good at it everywhere you are.
Social media – it's not "social" if it's not, well, social.