This last week was crazy busy, but it was all full of good stuff, including a day of fun with the husband, when we got to visit Hogsmeade and celebrate merry Grinchmas at Universal Studios Hollywood. If you haven't been yet, now is the time to go!
This year at Universal Studios Hollywood, there is so much to do! The biggest problem we had was where to start our day and what foods to eat…and that was indeed a problem, because I wanted to try the Grinch donuts and the new special holiday egg nog milkshake (available at the Plaza Grill), eat a full lunch at Three Broomsticks, my favorite park restaurant….and still have room for the mandatory hot butter beer.
Sadly, I became full long before I could complete that mission, but I did everything else on the list!
We started with the studio backlot tour! Our tickets were courtesy of Universal Studios (so I could tell you all about the holiday offerings) and they included the Express Pass access, where we could step into the shorter line. Even on a busy day right before the holidays, our longest wait was only about five minutes! I think Express Passes, available for purchase, are definitely worth it, especially if you've only got one day and you want to see and do everything available.
The husband hadn't been to Universal Studios Hollywood in several years, so it was fun watching it through his eyes. There have been a lot of changes, so while you're on the tour, you get to experience Kong: Skill Island, the Fast and the Furious, underground special effects, Whoville and more…but the favorite of many is this guy.
Come on, admit it, you hear the Jaws theme song in your head now, right?
Then we worked our way through Hogsmeade, visiting Hogwart's, riding the two rides but first…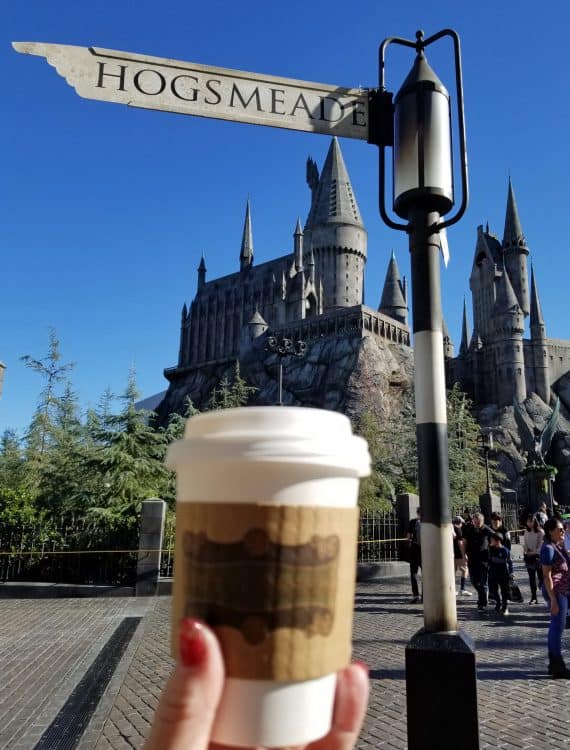 The cold butter beer is delicious, but something about the hot…it reminds me of liquid butterscotch and it's a highlight of every visit.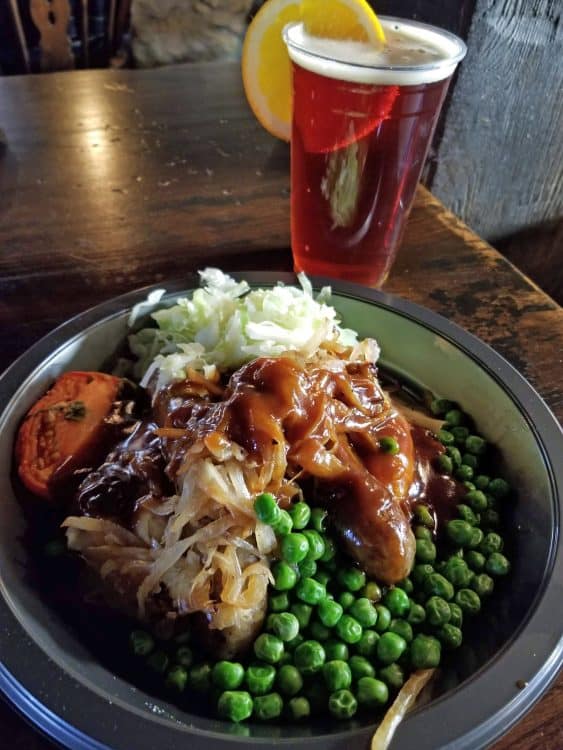 So is this Bangers and Mash plate from Three Broomsticks…and that citrus-y ale is pretty good, too. You have to drink the ale when in a castle, you know.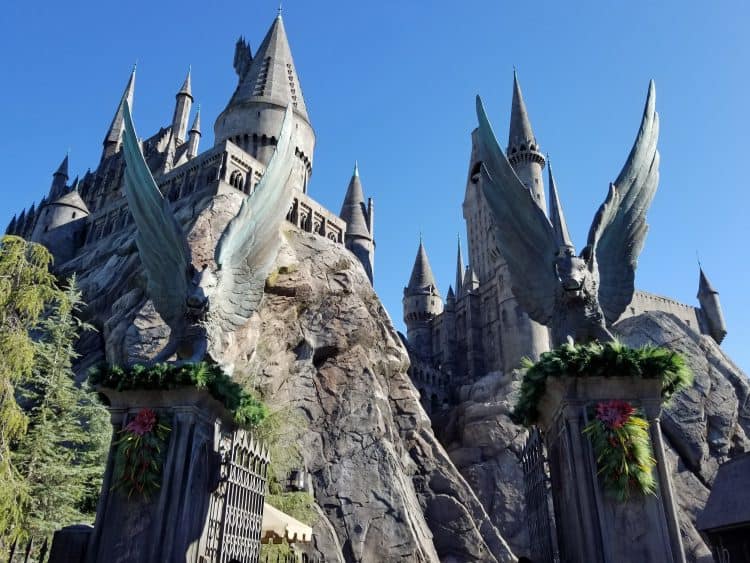 This view never gets old. This gets lit up at night with digital effects that will blow your mind, and it also snows! On the day we went, the park closed early so we didn't witness it firsthand, but I did see it a couple of other times now and we thoroughly enjoyed it. There's nothing like it! It ends on January 6, so it won't be around for too much longer.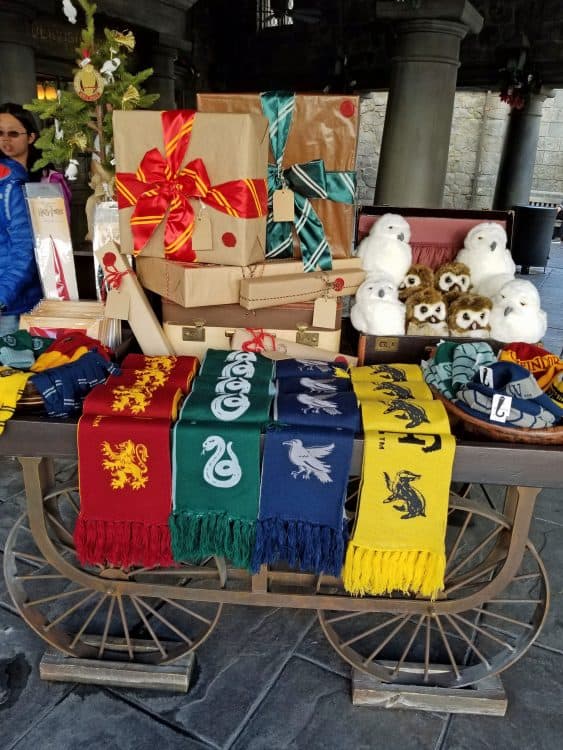 The Harry Potter accessories, clothing and gear is readily available all throughout the Wizarding World of Harry Potter. I loved the bright colors of these scarves, and given that it got chilly towards evening, I wish I'd bought one!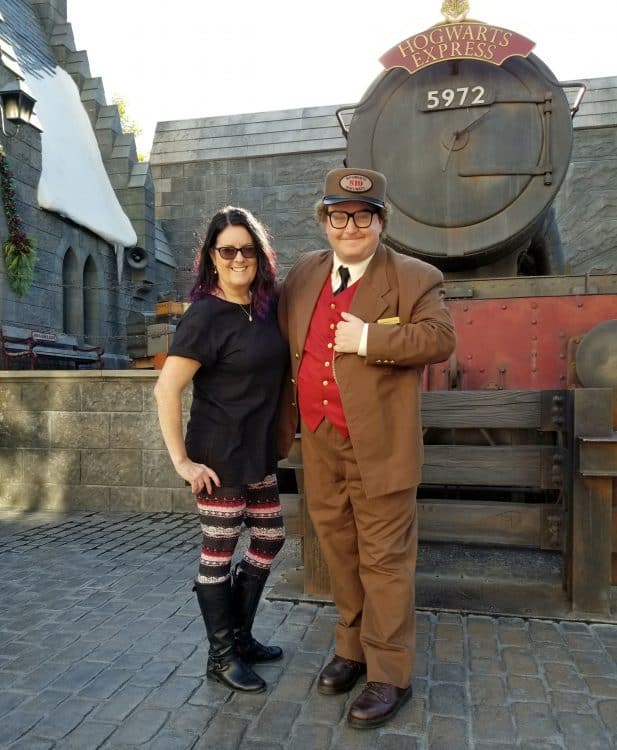 This is the photo opp of all photo opps while in this area of the park. The kids always get their pictures taken with him, but it was just the husband and I, so I got my picture instead. It brings out the kid in you, be sure to try it!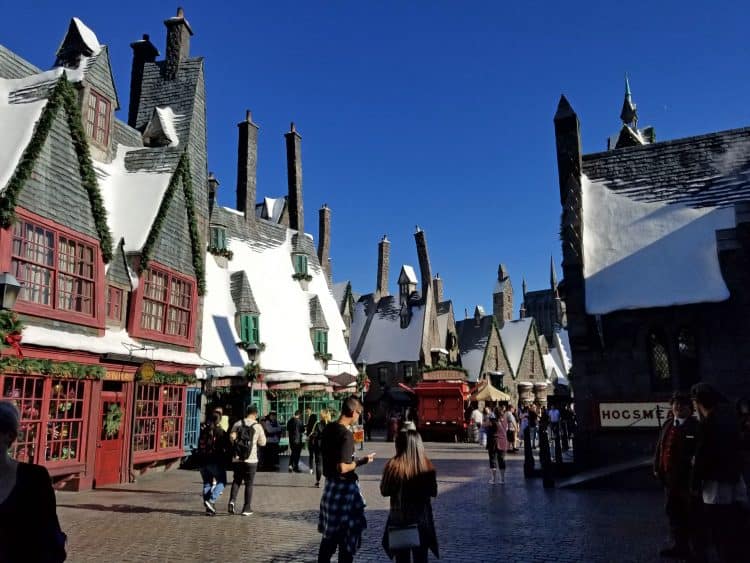 After looking at all the spells in the windows, watching kids' faces light up as they waved their magic wands, we headed down to the lower lot to ride the Mummy and Transformers rides. But first, pit stop to see Blue, the raptor from Jurassic World.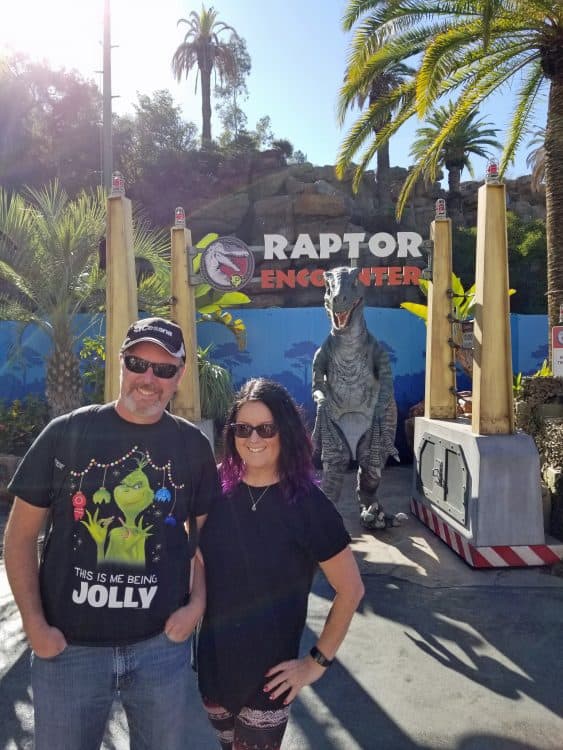 Owen Grady trained her pretty well, don't you think? What you don't see is that she snarled at me as soon as we took our picture. She's go an attitude!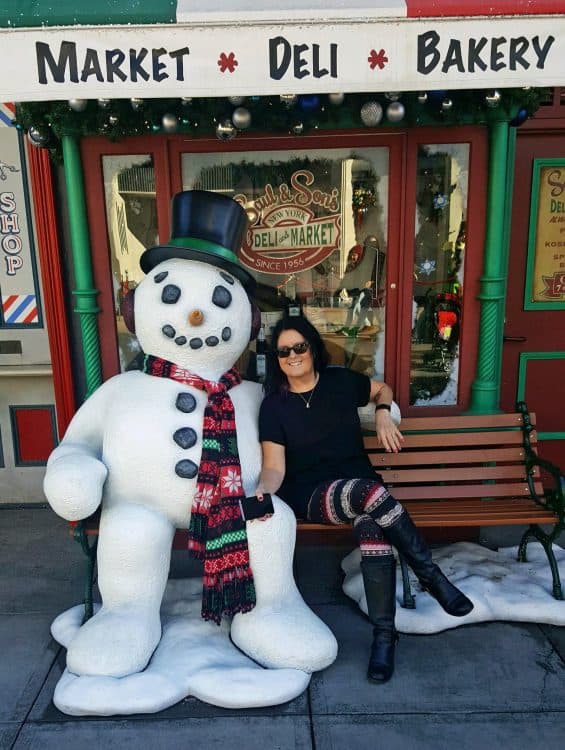 Speaking of attitude, this guy had none. He was as sweet as could be. I'm not usually a selfie person, but I feel like that day was game-on for getting my picture taken with every character that I love. Dracula, Frankenstein, Lucy Ricardo, Hello Kitty and more, I did them all.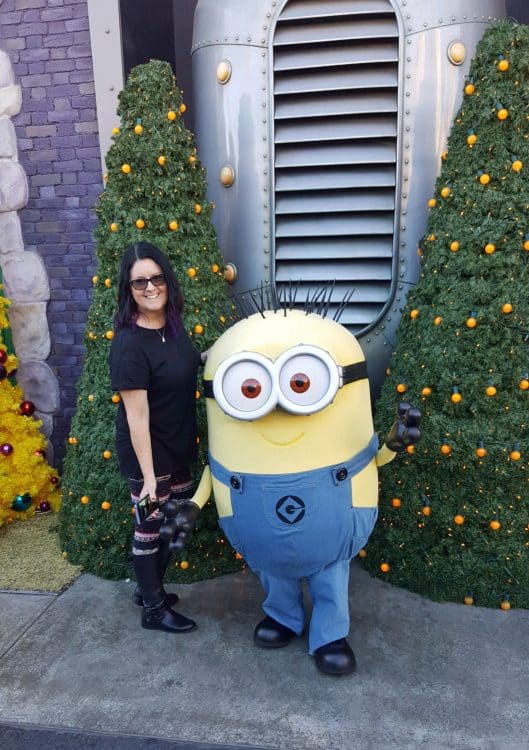 This guy has always been a favorite. Bob? Stewart? I don't know his name, but the Minions always make me laugh. Ba-na-na!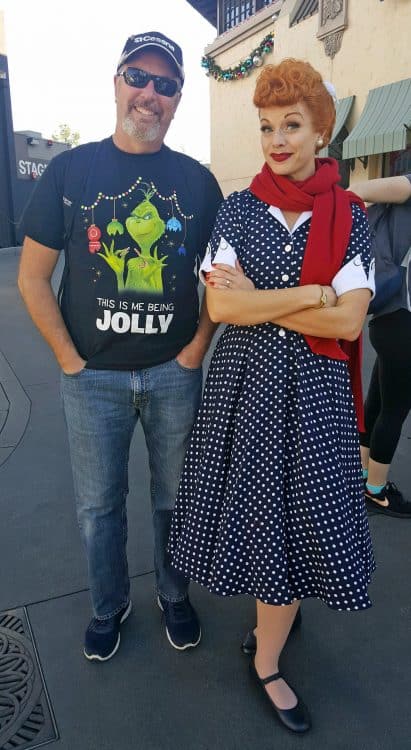 This lady has made me laugh for years now — I even watched their holiday special on TV the other night — and we loved the chance to get to meet her. She complimented me on my hair, then said if she hadn't been born a ginger, she would be a plum like me!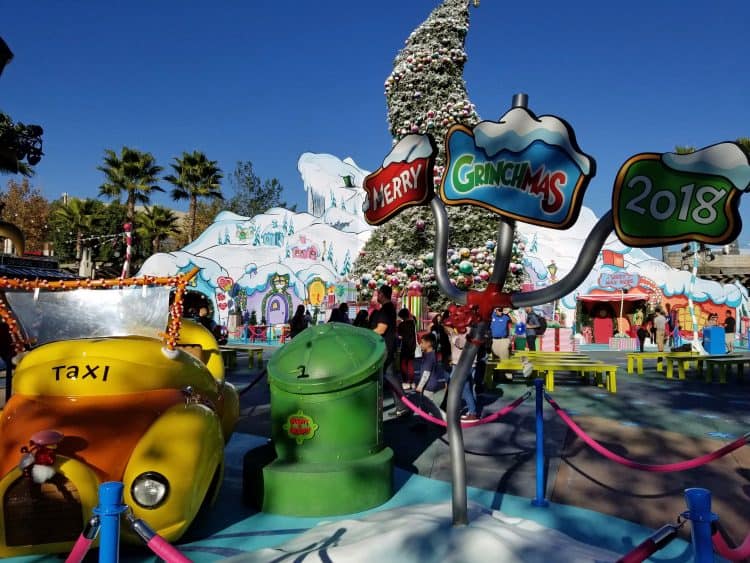 Now through December 30, visit Whoville and celebrate merry Grinchmas at Universal Studios Hollywood! The Grinch is available throughout the day to take photo opps with guests, and you can also meet his devoted dog, Max. (Pick up a schedule as you pass through the main gates.)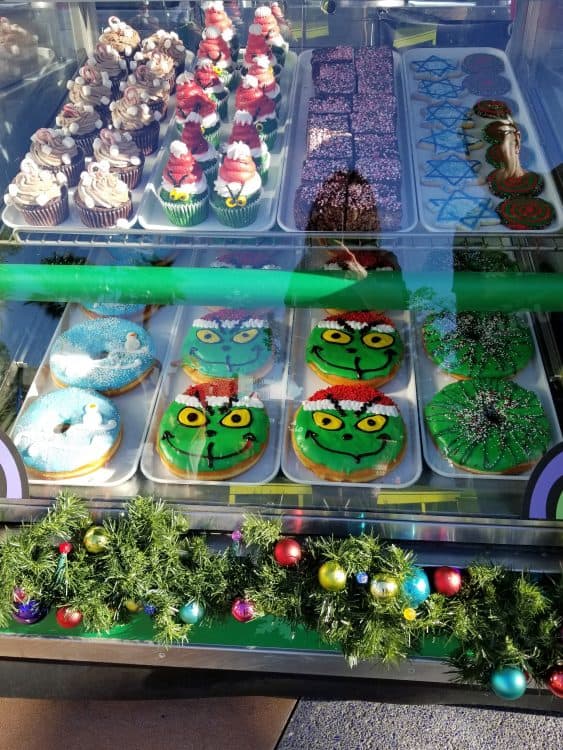 The merry Grinchmas foods are so much fun! I am not a huge donut eater — I buy only a few special ones throughout the year — but I really wanted all three of those on the bottom rack. Isn't that Grinch face one just the best?
In lieu of getting our picture taken with the Grinch, as our short-hours day fit our personal schedule the best but not that of Whoville, we took it with this Grinch stand-in. Merry Grinchmas! Be sure to head over to see the tree light up and enjoy the festive environment. The park is full of Christmas decor, but Whoville's got crooked trees everywhere that make it extra special.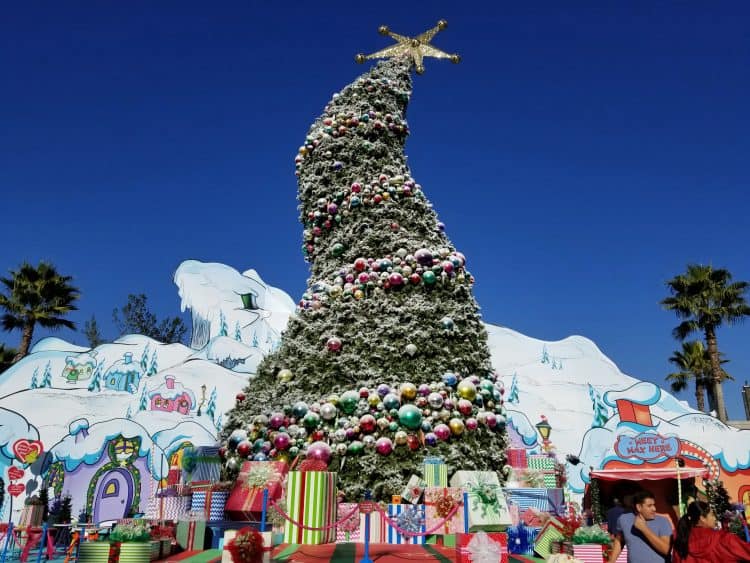 The entry and exits both are decorate with strings of beautiful lights, greenery and ornaments that glitter when they spin in the light.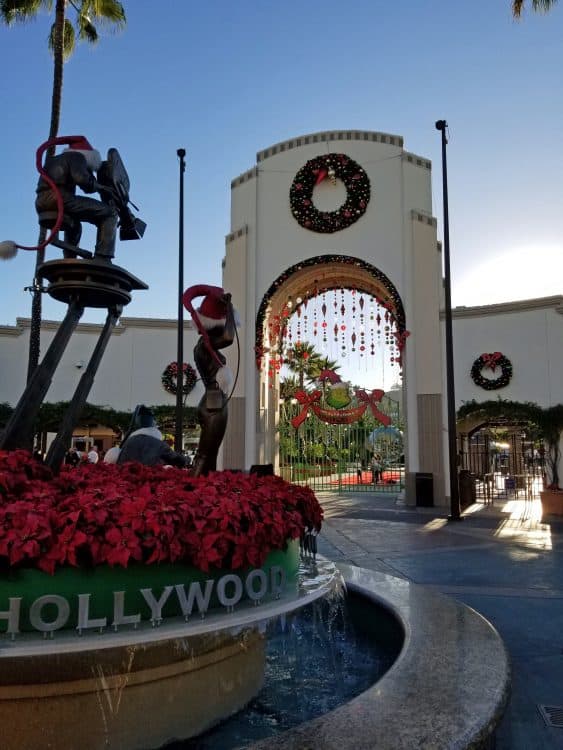 And the poinsettias are just one of my live floral additions that brighten up the park's seasonal feels. I still like this front gate view though!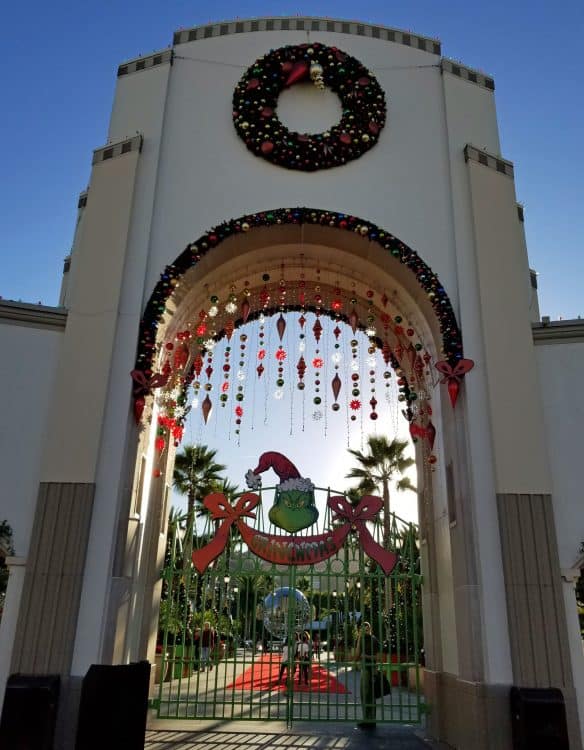 From the husband and I…and Shrek and Fiona, merry Grinchmas to all, and to all a good night! Head over to Universal Studios Hollywood website for information on park hours, schedules and how to buy tickets. Walk the red carpet into the world of movies and make it a special part of your family holiday or visit to Southern California!