When we planned our recent trip, the first thing we researched was the best place to stay in Paris. The Pullman Paris Tour Eiffel hotel was the first one our travel agent recommended, but when we looked further and saw a lot of blogs and travel sites mention Pullman Paris, we knew we had found our hotel.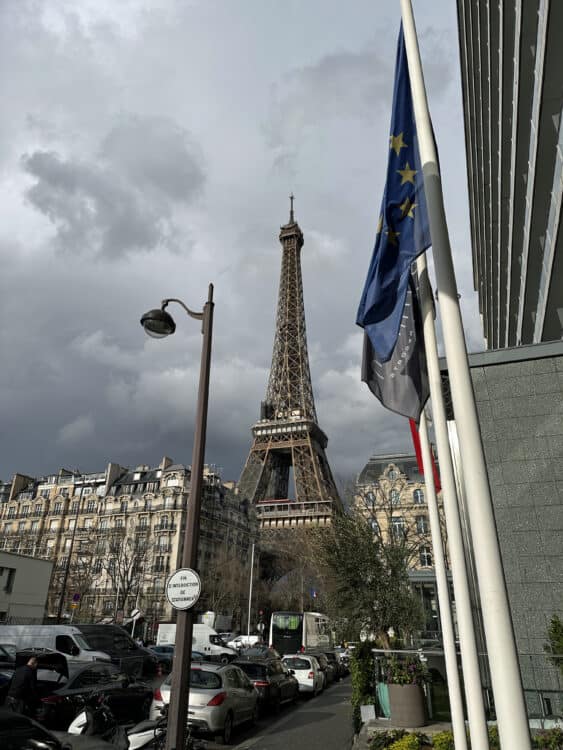 The Pullman Paris Tour Eiffel is one of two Pullman hotels in Paris. The other is located in the Montparnasse region, a popular place to stay in the city, but we wanted a hotel that was most convenient to the things we wanted to see and do, so we chose the Paris Pullman. Here's our review of the hotel in general, and the pros and cons we found about staying there.
What are the pros about staying at the Pullman Paris Tour Eiffel?
Location: It is literally in the shadow of the Eiffel Tower. The tower is a beautiful sight at night, and since seeing it was a huge highlight for me, I enjoyed the nightly light show. (Did you know that it lights up for five minutes every night on the hour, beginning at 7pm? It's a sparkly show you cannot miss!) It is also right next to the River Seine and a lot of popular photo locations and bridges, so you're within walking distance for those as well as a lot of restaurants, or brasseries.
Pick-up convenience: Many tours and shuttle services, including Disneyland Paris shuttles, use it as a pick-up location. This meant you don't have to take a taxi to get to a meeting place, not only a nice thing at the end of a long busy day, but this means you don't have to worry about public transportation in the mornings when finding taxis is HARD. (Trust me on this. I'll be posting about our Louvre trip and how we almost missed our private tour soon.)
Onsite restaurant and bar: The Frame Restaurant is on the first floor of the Pullman Paris, and the food is spectacular. They also have a daily all-you-can-eat breakfast buffet that is truly top-notch. This came with our travel package, saving us a lot of time and money. Whatever you like to eat — from pancakes to eggs to fruit to croissants, pastries, omelettes, yogurt and more, it's available. It's not just French food, which is a little different than American breakfasts, but you can also enjoy the detox water bar, fresh-squeezed juice (that you juice yourself) and meat. Vegetarian, vegan, carnivore, you'll find it all, and it's also kid-friendly.
Clean and safe: The hotel was very clean and we felt entirely safe coming in and out of the hotel 24/7.
Staff: Hotel staff are friendly, helpful and everyone we interacted with spoke English. They treated us kindly and did their best to answer any questions we had. (Shoutout especially to the concierge team. We stopped by there several times and they had a fun sense of humor.)
Public Transportation: Taxis line up in front of the hotel, as it's right next to another major hotel, so other than rush hour, you'll have easy access to getting a hotel. Staff is helpful. (Well, except for one on the day of our Louvre trip, when he said "you'll just have to stand there." I'd really have paid for a private car but he wouldn't help.)
In-room Refrigerator: Not all hotels offer these, and this had a large one. It also came stocked with several free drinks and water.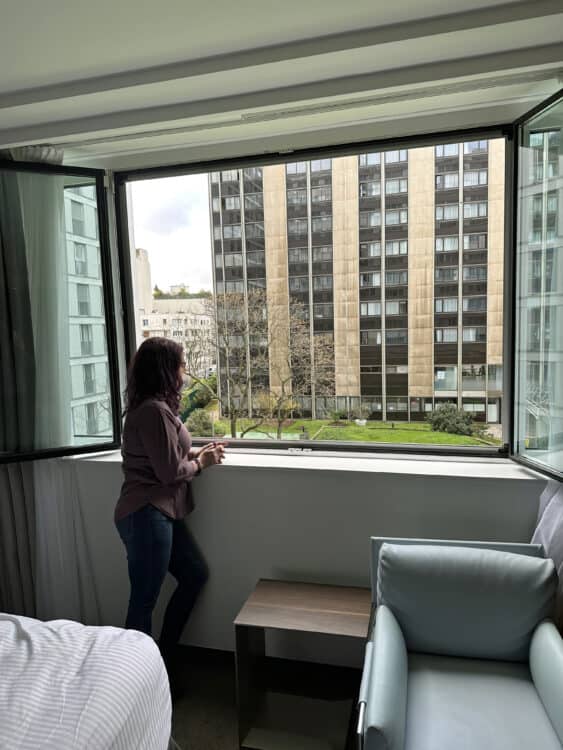 Cons to Our Pullman Paris Tour Eiffel Experience
Amenities: The in-room amenities were a popular quality brand, with in-shower refillable dispensers, That's a pro, but we ran out of soap on day three. It took two phone calls, two visits to the service desk, and finally a third to just go get our own bottle so we could have soap. They apologized, but they seemed overworked due to the current conference taking place in the hotel, which leads me to my next con. We also ran out of TP on day three; took two phone calls to get it replaced. AND, they forgot to clean our room on day two. We reuse our towels but if they'd come in, they'd have seen, perhaps, the emptying TP and soap. (What hotel doesn't leave an extra roll or two? It was weird. We hate being a pest and asking, but these are basic things.) The front desk apologized for all of these things, many times, saying they had a new crew.
Conference Prioritization: Our entire stay, there were ongoing conferences taking place in the hotel. That's not a problem, but we had a few interactions that seemed those guests were prioritized over actual hotel guests there on vacation. We'd wait for a long time while the elevators emptied and filled back up again with conference guests going to various sessions. (See my below comments about the elevators and more info on why this was a problem.) The conference guests also made it difficult at times to get to the bar or other amenities. Maybe some weeks, this is less of a problem but it was definitely a detriment during our week.
Elevators: There are only two main elevators, and they aren't big ones, so only a few people can fit in comfortably, particularly with luggage. The weight limit isn't high, so after 4-5 people got in, the alarm would frequently go off, prohibiting anyone else getting in even if there was room. Given the conference attendance, this was a real problem. Walking up and down the stairs, after a fun day of walking everywhere else, was difficult. Perhaps using the side elevator, which seemed to be more used by staff, for conference guests could resolve this? Some of the conference guests were rather "ha, ha, ha, too bad!" and it was so weird. (They were actually Americans, which made it somewhat sad. Almost every French person we engaged with was wonderful and apologetic when people couldn't get in or had to step out due to weight limits.)
Elevator Bonus Note: As with many hotels, you have to use your room key to activate the elevator. Some of the top floors of the Pullman Paris are full-time rentals for citizens of France. We got in the elevator once with a couple who apparently lived in the Penthouse. They demanded to see our key before we got in the elevator with them, as we're standing there with bags. Maybe they have people who try to sneak in, but there's really nothing to sneak into on the floor we were on, so it was strange.
Unfortunate Frame Restaurant Experience: We had Frame reservations our first night in Paris. The manager was wonderful and the staff was so attentive. And the food! You really need to try the lamb shank. On our last night, we were exhausted from a long (and harrowing) day on a private tour in the wine country, where our driver kept falling asleep. We'd come home a bit early and skipped the last winery, where we would have had dinner. We stopped into the Frame to inquire about dinner. The hostess on duty was apparently a manager at some level, one we had not seen the whole week prior; she gave me a head-to-toe look, and back up — you know the one, the one that is assessing your attire. (We were dressed nice, fwiw.) She shook her head and said, hmmm, I can't seat you. I said, it's wide open, not at all? When COULD you? Hmmm, at…9:15. It was 6:25. I pointed out the empty tables, and she said no, I have to seat these people first, and she pointed at some conference guests in the attire of the company hosting the event. There was nowhere near enough people to need all the tables, but she brushed me off. We ended up going around the corner to a bistro, one that turned out to be an amazing meal and fun experience, and when we came back probably about 75 minutes later, the tables were still empty. It definitely gave us the feeling that she simply did not want to seat us. (And the tables were still empty an hour later when we walked down to visit the bar for some wine. There was ample space and time.) Really disappointing, because we actually tipped (despite it not being a thing in France) and we'd struck up great conversations with the bartenders and staff on prior visits.
Mattress: It was SO HARD. Pillows were great, we loved the room itself but if we hadn't been so tired, we'd have had a hard time sleeping.
Closet: it was large, but had six hangers. We were staying for a week. 75% of our stuff didn't get hung up. I had 12 shirts and dresses of my own! (They dress nicely for dinners there, and we had some fancy plans. I didn't want to have to iron things, who has the time?)
Overall, would we stay at the Pullman Paris Tour Eiffel again? Yes, but we'd do it a little differently. We'd ask immediately for more hangers, check the soap and TP levels, and maybe talk with a manager in advance about alternate elevators, as well as tips on how to get a table without a reservation if something happens where we're back early. We appreciated the convenience and location a lot, but I also think a Pullman Montparnasse stay would allow us to explore a different part of the city on foot. We really enjoyed the breakfast buffet each morning; it not only saved a lot of money and time, but the food was fantastic.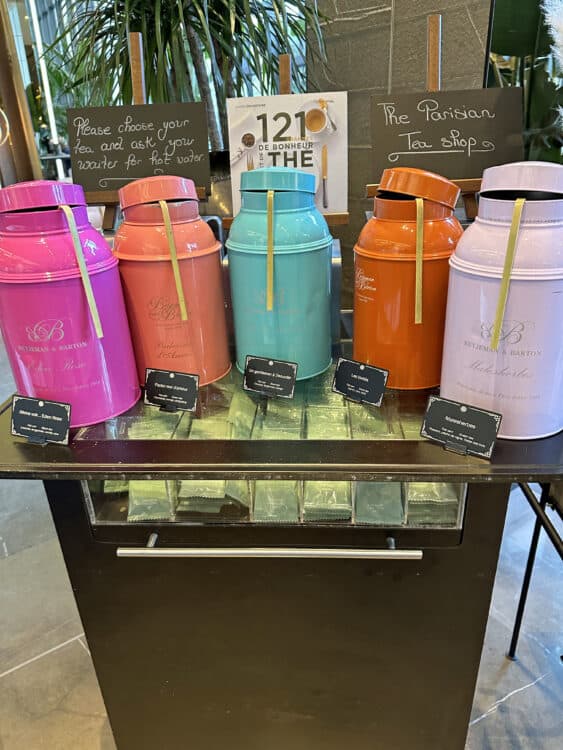 And other than the experience where we weren't given a table, the Frame restaurant was delicious. Eating with a view of the Eiffel Tower? You can't beat it. (And the tower lights up every hour for five minutes, sparkling white lights.) One thing we really enjoyed is that whenever you visit, even if you are just there for drinks, they provide this tray with olives and housemade potato chips.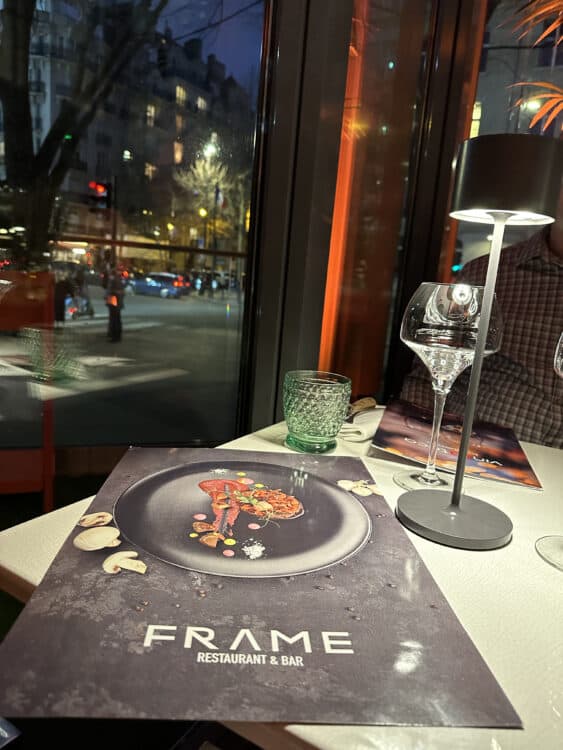 I also can't forget this burrata salad appetizer. I love a good burrata but this one was next level.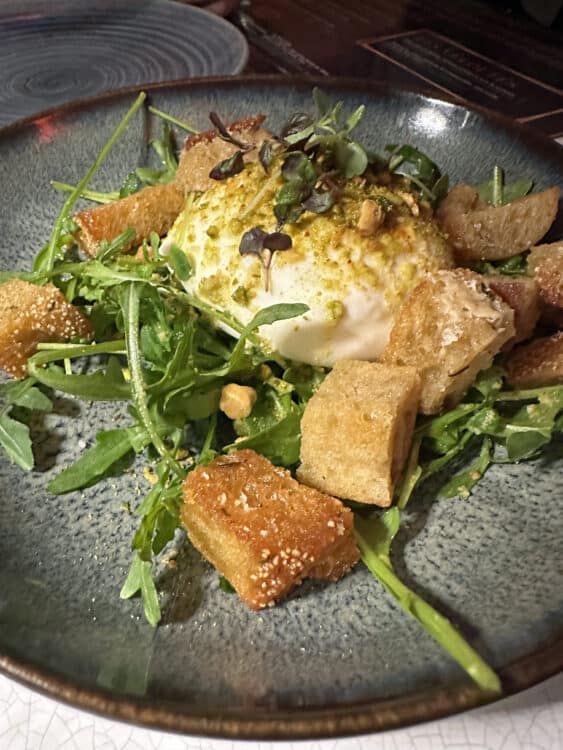 Would I call it the best place to stay in Paris? It really depends on what your budget is, what part of Paris you want to stay in, and if you're able to trek up stairs easily enough. I'm hoping our amenities situation was just due to a transition of the room crew, and that the restaurant experience was someone having a bad day. I don't really understand why that happened; I do feel like we were judged or that we weren't part of the conference, but all guests need to be treated equitably. I would also ask in advance if they're aware of another conference taking place at that time.
Fun side note: we were there during the confidence vote regarding President Macron. When we came down to the breakfast buffet for two mornings, we'd find ourselves seated near various military presences and people of position to make the votes. It was a bit surreal to be so close to a hugely historical moment. (And we believe in the people of Paris — you can't just raise retirement from 62 to 64 so close to when people were preparing to retire. They need time to plan and save and get ready for two more years of work. We also love that the people of Paris stick together. If only we could do that in America more often, maybe we'd make change.)
The Pullman Paris Tour Eiffel experience was overall a good one. I'd give it four stars out of five, despite the list of cons. I want to be fully transparent so anyone traveling to Paris has truthful reviews to help make a big decision! Vive le France!