A few weeks ago, my husband and I celebrated our 25th wedding anniversary. (You can read about our 20th wedding anniversary trip here, another California vacation.) We were going to do some international travel, but with a new grand baby and our son graduating from high school, the timing wasn't right. Instead, we decided to stick close to home and stay in a Santa Barbara RV resort just a couple of hours away. Best decision we could have made!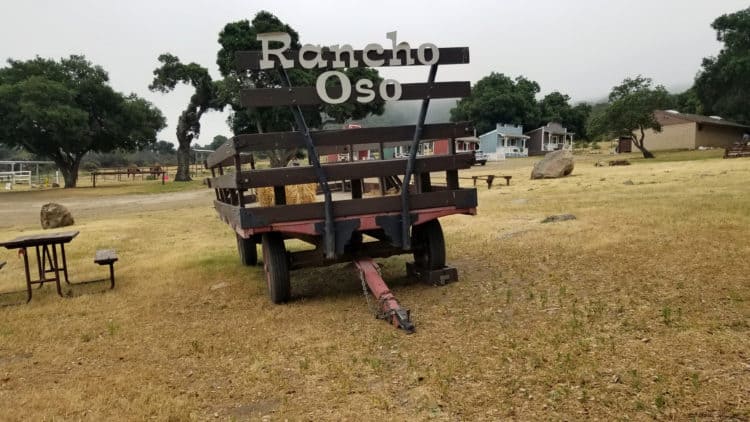 The Thousand Trails Rancho Oso RV Resort in the hills about Santa Barbara had reached out to me a couple of months ago, and they offered us a complimentary four-night stay. That was the perfect length of time to enjoy our getaway and fully explore the resort so I could share it here with you!
We travel a lot, but it's either with the family or for just the weekend. This trip was going to be different, and not just because it was going to be longer, but because we had one big goal in mind.
To relax.
A place in downtown Santa Barbara has its perks, but a quiet, serene place up in the mountains was exactly what we needed. Our first time taking the drive away from the city, leaving the crowds behind, we were stunned by the views of the valleys. A mere 25 minutes later and we were turning onto the driveway into Rancho Oso, but it felt like a world apart.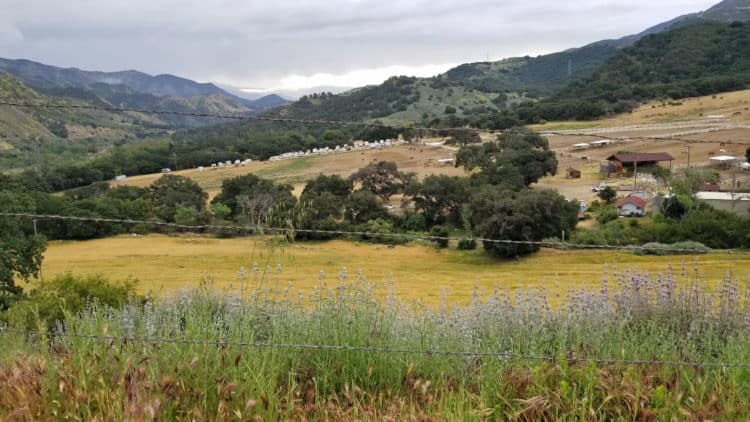 Rancho Oso is a Thousand Trails property, one of 190 locations in the nationwide chain of membership resorts, though membership is not required to stay in the park. It is a 310-acre resort with a western theme, including an equestrian arena, stables and trails. While we were there, we were lucky enough to see quite a few horses in the paddocks and some coming in and out of the park in trailers.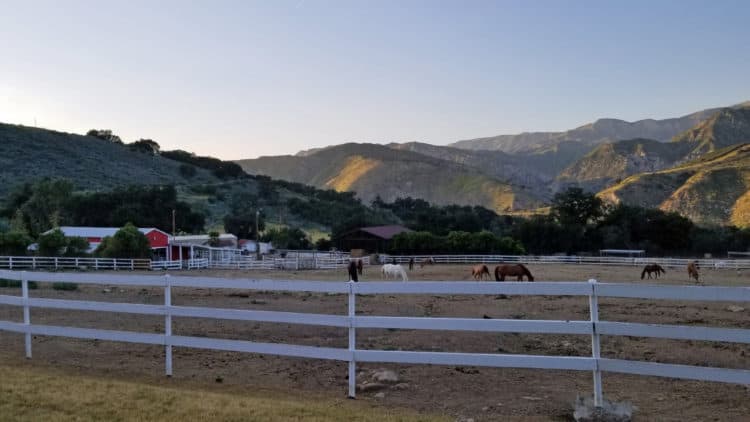 We stayed in a TT 6 cottage, which sleeps six — two in the bedroom (queen bed), two in the bunks and two on the pull-out couch. There are a number of different styles and layouts of cabins and cottages, as well as RV sites (full hook-ups), tipis and covered wagons.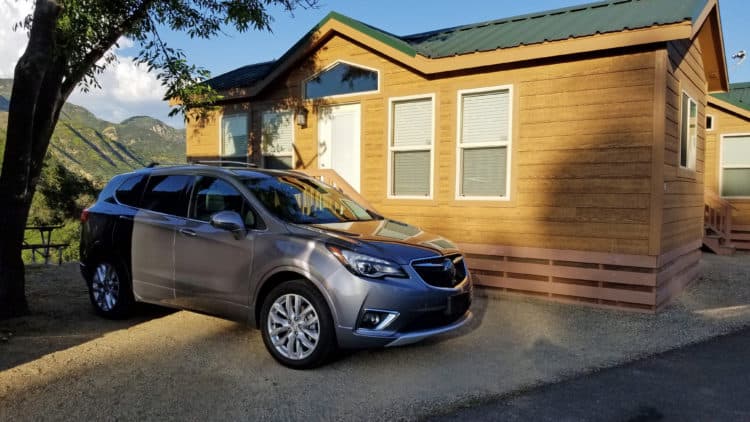 The Thousand Trails Rancho Oso Santa Barbara RV resort is nestled in a valley off of Paradise Road, several miles from Highway 154, which takes you into Santa Ynez if you continue. We took the 101 north from the Inland Empire and it took us less than two hours. The 154 is mostly a two-lane highway, with turnouts for slower vehicles, as is Paradise Road.
When you turn onto the Rancho Oso driveway, bear in mind it is a very tight two-lane road, so drive slowly and use the mirrors placed in the turns so you can hug the side if/when you come upon another vehicle entering or exiting. (We did witness two trailers coming from opposite directions who had a difficulty, but one driver had never towed an RV before. With a little guidance from my husband, who has been towing our RV for many years now, she was able to maneuver around the other, so it's entirely doable. The front gate will also stop traffic temporarily if someone's having a hard time, so traffic jams are minimized.)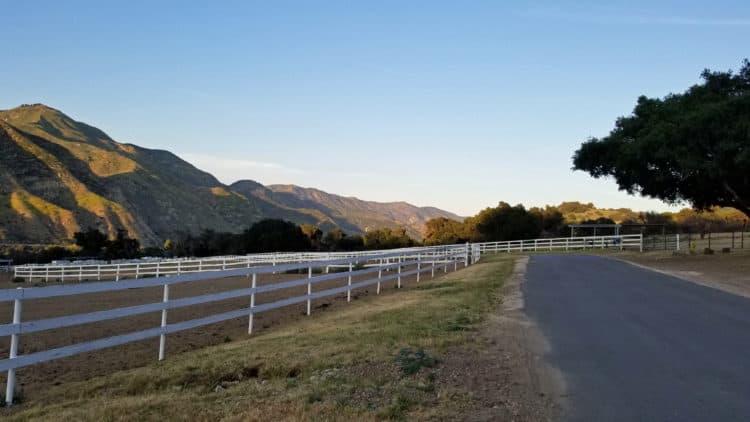 Immediately upon entering the resort, you are greeted by friendly staff at the gate. They look up your reservation, provide you with a gate entry code and send you on your way. In our case, we simply needed to pick up the key for our cottage. We were near the far end in a row of similar cottages, and there was nearly no traffic on our lane during our entire stay. In fact, on day four, we set up our cornhole set in the road and in the two hours we played, the only person we saw was a child riding by on a bicycle. It was heavenly to be surrounded by mountains, blue skies, hearing the chirping birds and having zero outside interruptions.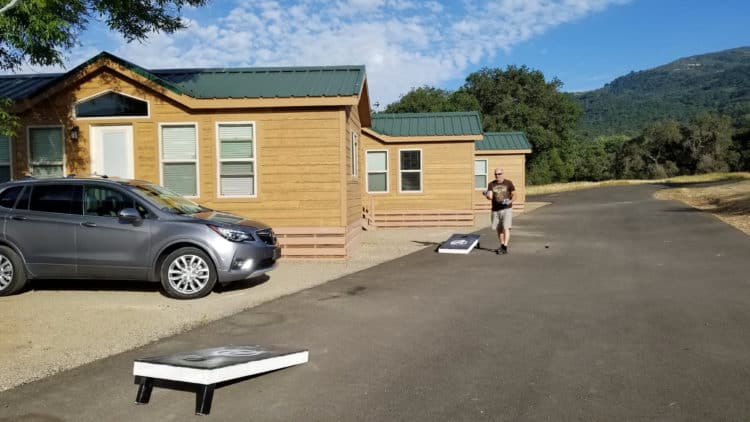 Our cottage was well-equipped, so we literally only had to bring our clothes, personal items and the food/beverages we needed. Cooking equipment is provided, as is a coffee maker and coffee. (We stopped in town on the way up and bought creamer, eggs, bacon, etc., for our breakfast the next day.)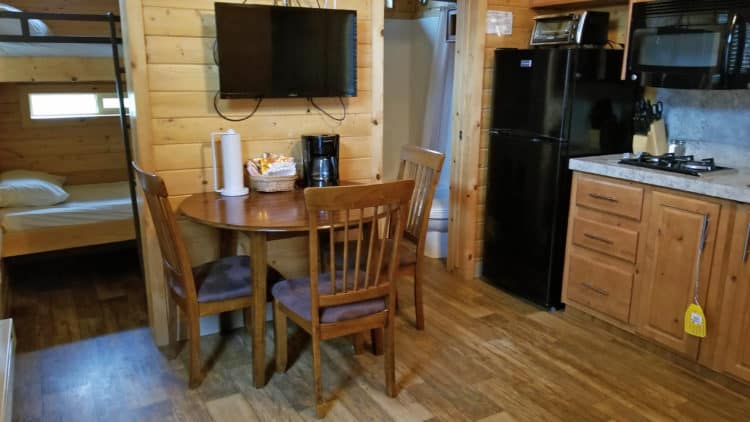 Cleaning supplies are also available under the sink, as you are required to leave the residence in a condition similar to when you entered. It's so easy though to just wipe down the bathroom and kitchen counters, ensure all dishes and utensils are washed and put away, and to sweep the floor on your way out. Linens were left in a pile for the staff to pick up and replace.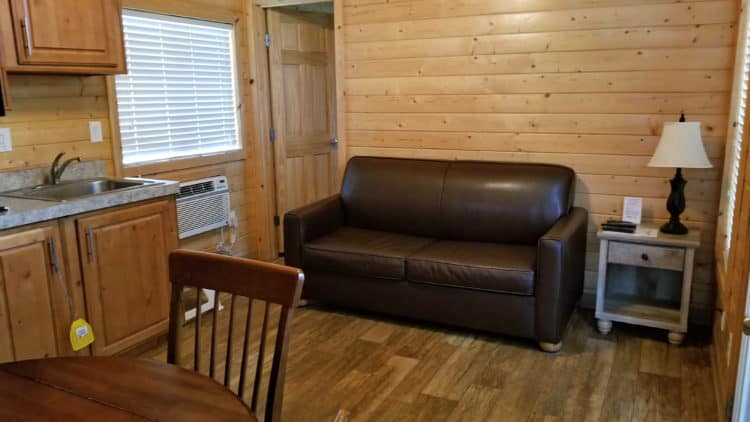 While we didn't plan on sitting around and watching TV daily, it was very nice to have two flat-panel televisions: one in the main living space, and the other in the master bedroom. Both came with Dish Network basic programming, so on Sunday, when we had planned to sleep in, lounge around, drink some wine and play cornhole, we were also able to watch the Marvel movie marathon. We also went to sleep with the TV on, after long days of playing and walking in Santa Barbara.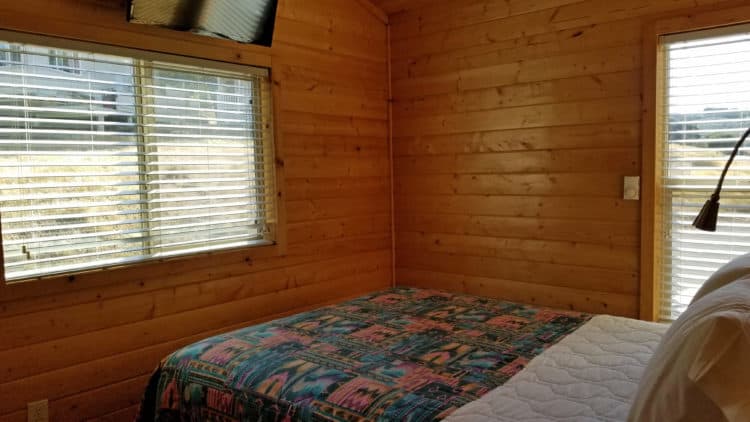 Keep in mind that due to the location in the valley, your cell reception may be affected. We had little-to-no reception until we got partially back up the driveway out of the park, and the only wifi is in the stone lodge, where there is a game room and picnic tables and food is available to order within certain hours. (The website refers to this as a restaurant, but it is not open every day so plan accordingly with your food purchases. There is a very cool store in Santa Ynez, only about 20-25 minutes away, and the Cold Spring Tavern is about 15 minutes away from the resort if you want to go get a meal. Reservations are recommended.)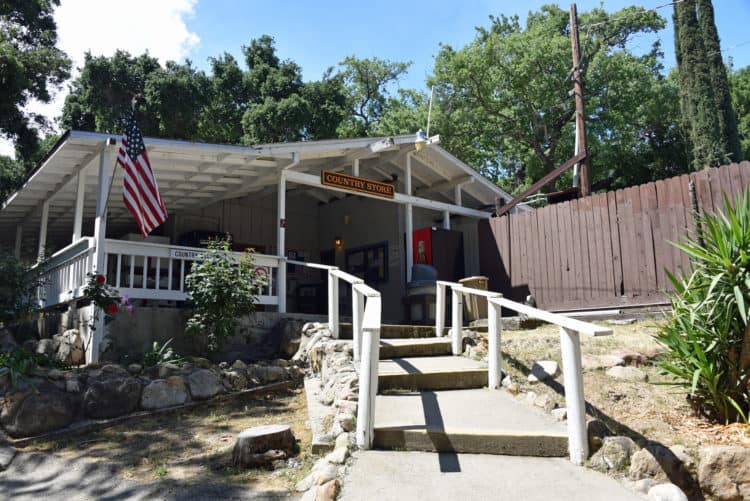 In the event you are in a pinch, there is a Country Store in the park as well. It has a big selection of camping gear, convenience foods, toys and outdoor attire, as well as local souvenirs. It closes at 4pm some days, and check-in is not until 4pm, so check before you walk down. It is not a long hike at all, and the park is very pretty for strolling. Ice is available at the store and after-hours up front at the Welcome Center/Ranger Station.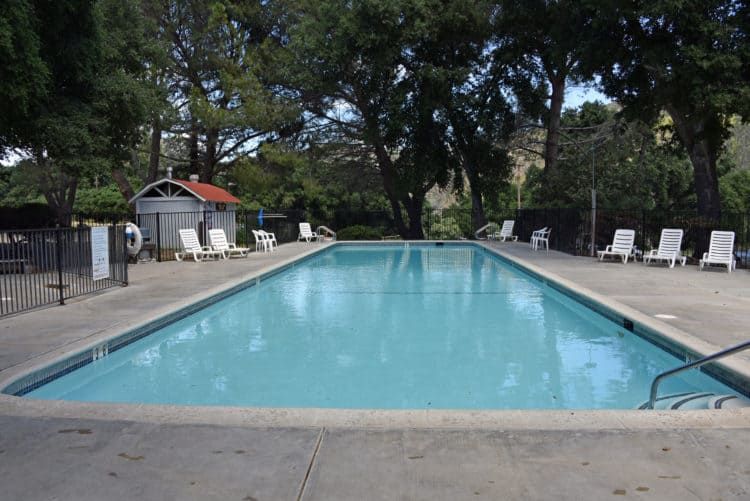 While it was a little too cold for a swim when we visited, Rancho Oso has two swimming pools and a hot tub. One pool is long and narrow, perfect for swimming laps.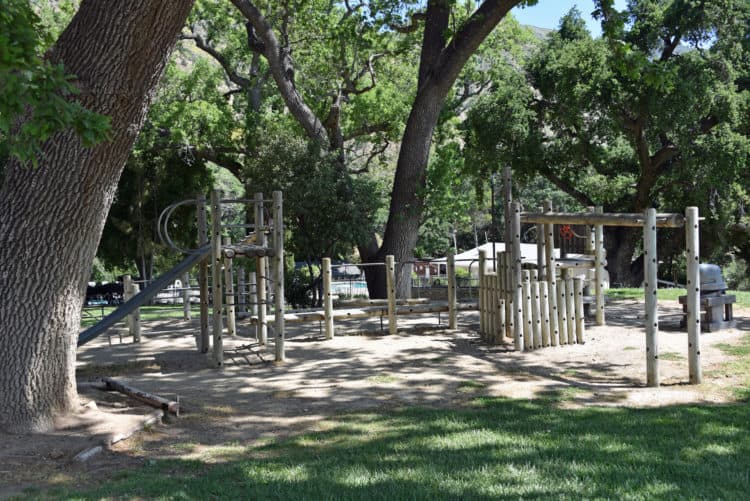 There is also a mini-golf course, horseshoe pits and a nice children's playground with climbing equipment and swings.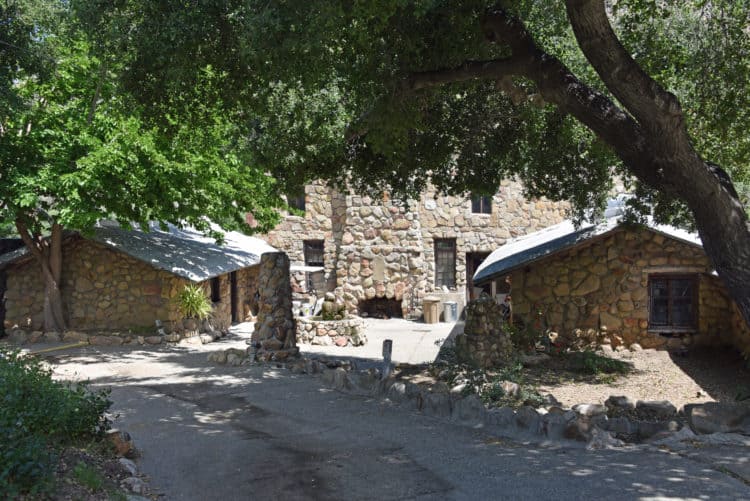 If you want to hike around the area, visit the Stone Lodge and see the staff, who will provide maps, recommendations on where to hike, how to see the beautiful waterfall that's not far away, and you can obtain the history of the resort as well.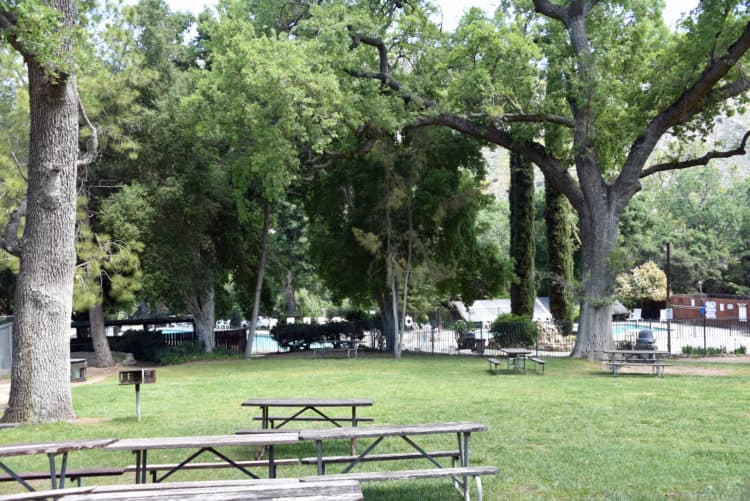 If you're tent camping or just don't want to use the facilities in your RV, there is a large restroom available for campers, along with a laundry room. We didn't have to use it while there but it's nice to know there is the option if you spill red wine down your shirt while paying cornhole…not that either of us did that or anything.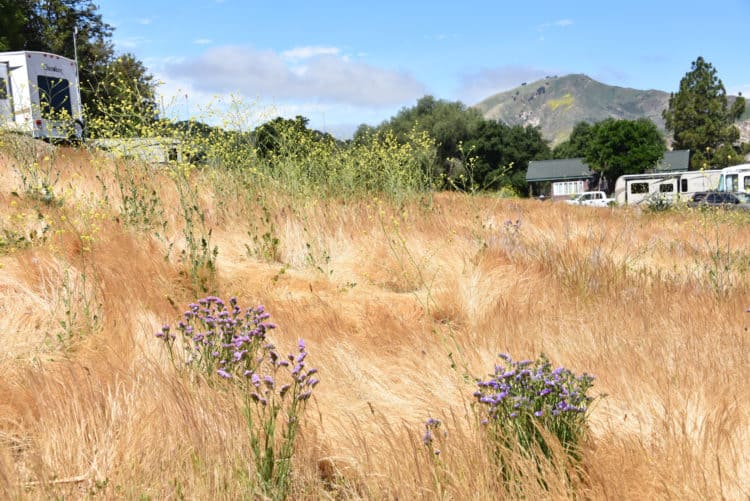 The cabin is both heated and air-conditioned, but we chose to open our windows and enjoy the night air as well as hearing the sounds of wildlife. That is probably one of our favorite memories actually, waking on Sunday morning to the sound of wild turkeys outside our door. Being from the 'burbs, this is a big deal, so of course we stepped onto our porch and took photos. It appeared to be a family, and two of them had their feathers tufted up while they all talked. We had a laugh when what appeared to be a baby was separated from the rest of the group. It peeked around our car, leaned its head out as if to look for the others and made a very timid sound. I imagined it was "Mom? Mom!" and very quickly, one of the larger turkeys responded, loudly, from the other side of our cabin, resulting in the baby turning and running towards the sound. It was something we just don't experience at home, where our most exotic visitors are hummingbirds.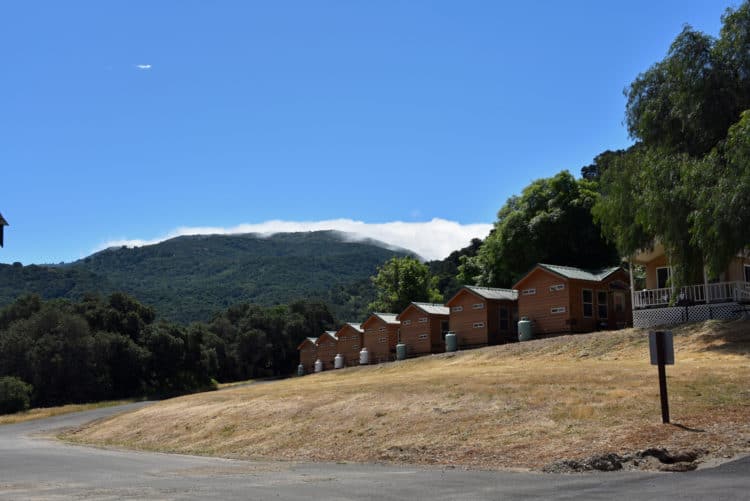 Each cabin has an outdoor picnic table and a barbecue, but check with staff regarding fire pits. Those rules change depending on environmental concerns, and permits are required, which you can obtain at the ranger station.
There's adequate space between cottages to park your vehicle so loading/unloading is easy. There's also plenty of space indoors to cook, though there is no oven beyond a toaster oven so don't get crazy with baking plans. There is a two-burner stove top, a full-sized refrigerator (though not a regular kitchen size, though who needs it when camping) and a toaster, so it was easy to cook breakfast, put together a killer charcuterie tray or make salmon and veggies for dinner.
And there are wine glasses in the cabinet, right next to the coffee mugs. Priorities, right? There is also the very important corkscrew…if you're not like me, carrying one around in your purse.
Clean linens, towels, extra blankets and pillows are plentiful, all designed to up the cozy ante. A nice hot shower at the end of a day full of exploring is exactly what you'll get.
Monthly menu selections change for weekend prepared meal choices. When we were there, we could order hamburgers or hot dogs, breakfast (eggs, bacon, meats, biscuits and gravy, hash browns, pancakes) or a BBQ dinner. Prices start at $2 per item for food, and $1.25 for beverages.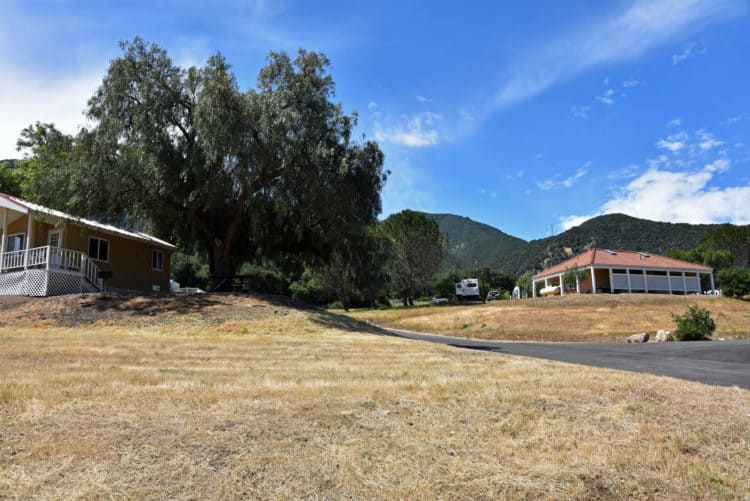 There are also weekly events every Friday. Our weekend, there was a rodeo event, wagon rides, a camp cookout and games by the chapel. Adult wine tasting occurred on Saturday afternoon, and there are various crafts, games and movies scattered throughout the weekend.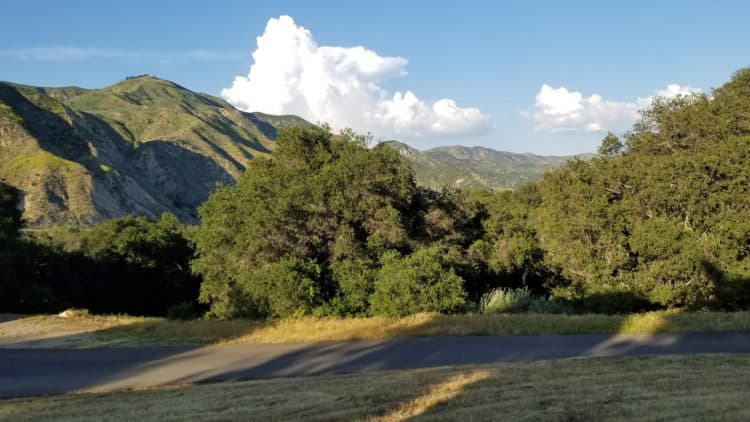 The camping environment was peaceful, largely in part to resort guidelines requiring no outdoor music, no scooters and basically, being respectful towards other guests. We barely heard anything our entire time, and it was so nice.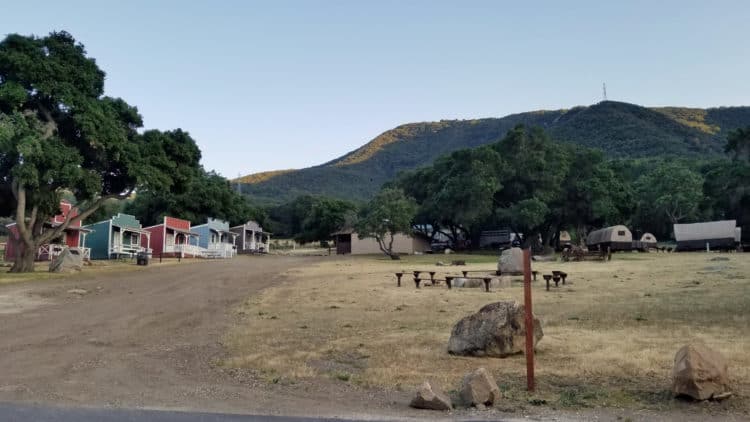 Checking out was easy. We went through the list of cleaning requirements, and it took all of 15 minutes. We took the trash out, dropped the key in the box by the gate, and we were on our way. (There is a $150 cleaning fee if you do not clean your residence when you leave.)
A yearly membership costs $585 for one zone (there are five zones in the United States) and you get an additional 100+ locations for $214, with monthly payment options available. A membership means no nightly rate for camping! (There are a few that still require a $20 per night fee.) You can find out more about a Thousand Trails membership here.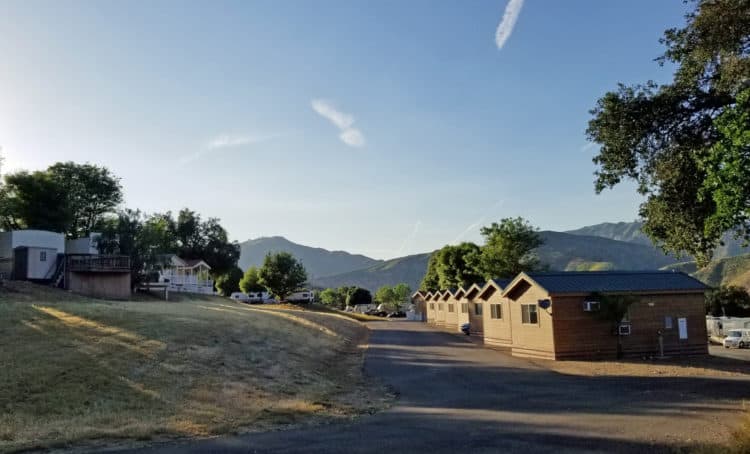 Staying at a Santa Barbara RV resort is a wonderful option for a getaway or vacation. You are close enough to downtown of Santa Barbara and the coastline to enjoy everything the beautiful city has to offer, and still have your tranquility and independence. If you want to stay away from the city the whole time,you'll have plenty of things to do and you'll wake up to views you won't get anywhere else.
Don't let the drive worry you, as it's an easy climb up the mountain. We did it after-dark twice, and never had an issue. We did run into some fog a couple of times, but the flow of traffic slowed down safely and posed no issues. There are some signs to watch for wildlife, but we saw none other than some jaywalking turkeys. (And they just turned and looked at us like WE were the problem.)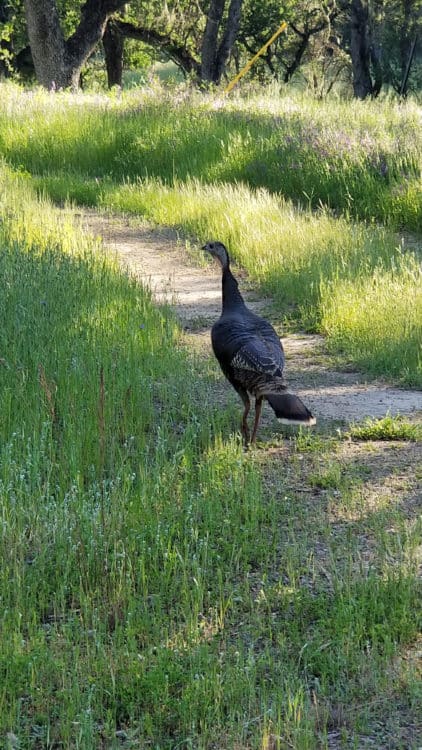 And then there was this guy waiting to say hello to us when we arrived.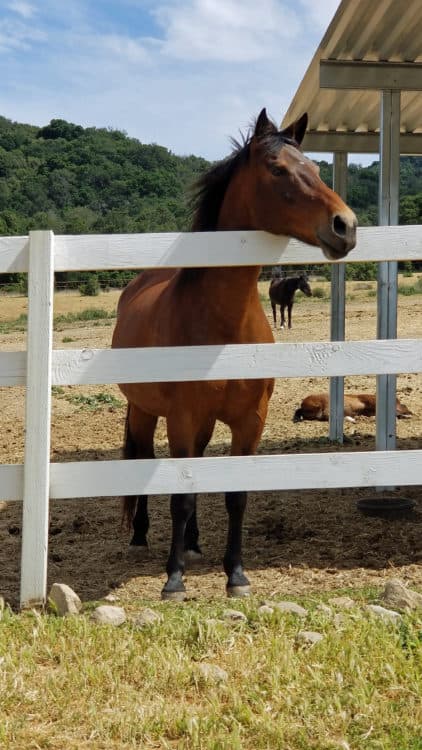 We thoroughly enjoyed our vacation in Santa Barbara. Thank you, Thousand Trails Rancho Oso RV resort and staff. You keep a clean park that's comfortable and peaceful, and when our coffeemaker didn't work that first morning, you immediately brought us a new one, saving the day! We'd come back and stay again, I think the husband wants another chance to beat me at cornhole!
If you're interested, here's a very brief (just barely a minute) video tour of our accommodations. Enjoy!
If you like the Santa Barbara area, you will also like visiting Paso Robles, another wine country part of California. We spent a few days there and you will love it!