It's the time of year here in Southern California where we're all a little tired of the constant heat. The temperatures are over 100, it's humid and we may get a little cranky. Making dinner gets more challenging because no one wants to be in a hot kitchen. In fact, the term "stir crazy" may just have been inspired by someone in SoCal in August, a mom faced with a hungry family and no desire to cook. If we can get a healthy meal on the table without a lot of prep time, everyone's happier. Today was one of those days, so I came up with a simple yet delicious summer salad recipe that your whole family will love.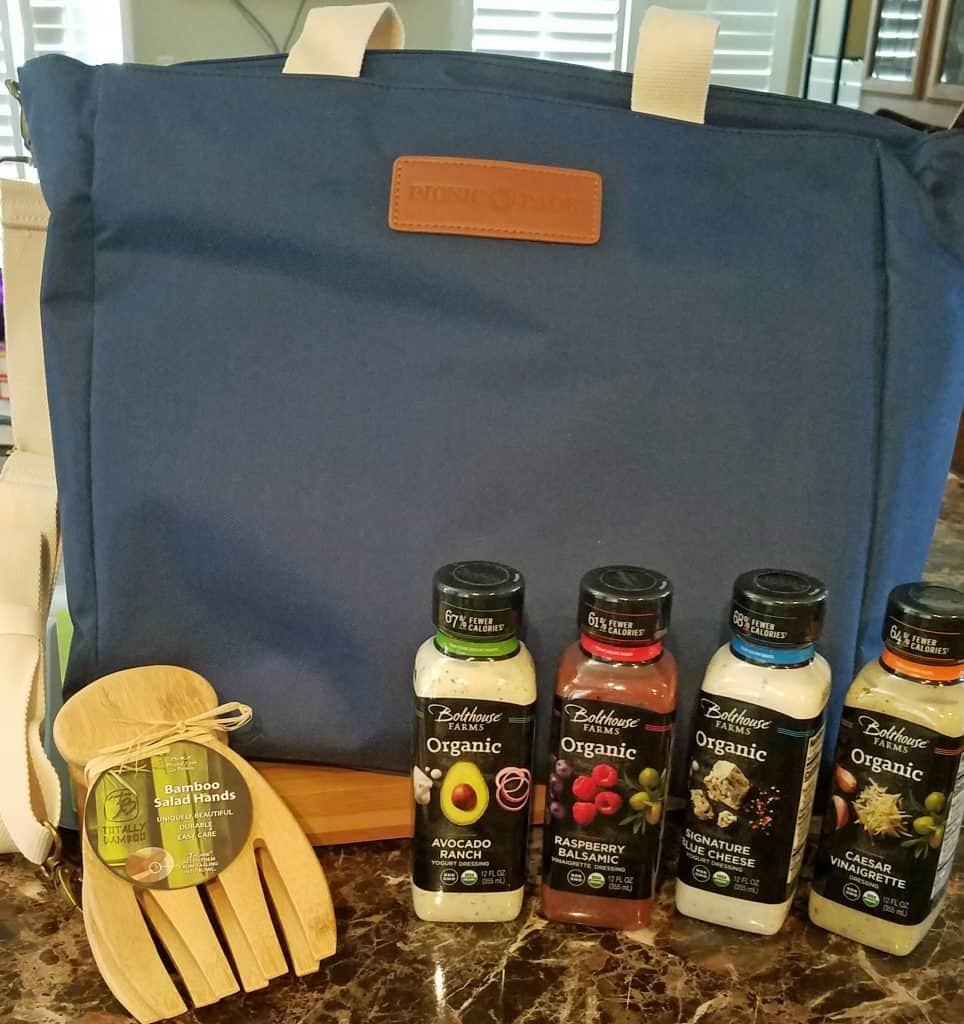 This quick recipe was inspired by the new organic line of refrigerated dressings from Bolthouse Farms. As an ambassador, they send me complimentary product and compensation so I can experiment with the products and come up with new ways to use them. Their products are so tasty and of such high quality, it's a really easy ask! This month, they sent me a box with several of the new dressings and picnic goodies. Initially, I was going to make a fancy salad for our family beach picnic this past weekend, but let's just say that the dressings and ingredients looked so good, someone else got to them first. Darn, now I have to make something else and I don't have to share it!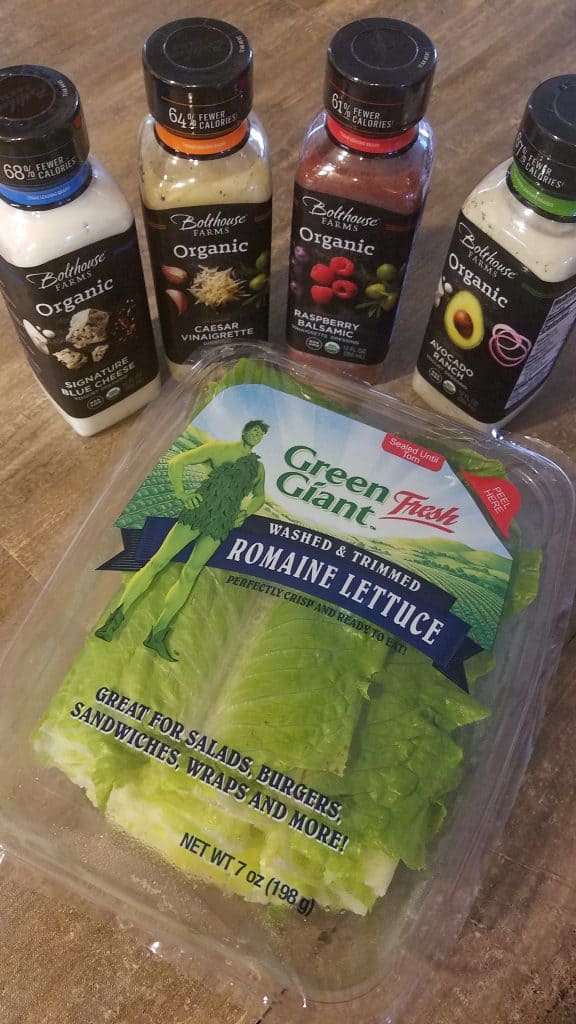 Using just a few simple fresh produce items, a quality cheese and some shredded crab meat — and of course, one of the Bolthouse Farms dressings — I made my summer salad recipe that is done in under 15 minutes from start to finish. It feeds several people and can be modified depending on your preferences. It also has bacon in it. Everything's better with bacon, right? (And a little bit of bacon won't make it unhealthy, especially if you microwave or bake it so the grease does not remain on it.)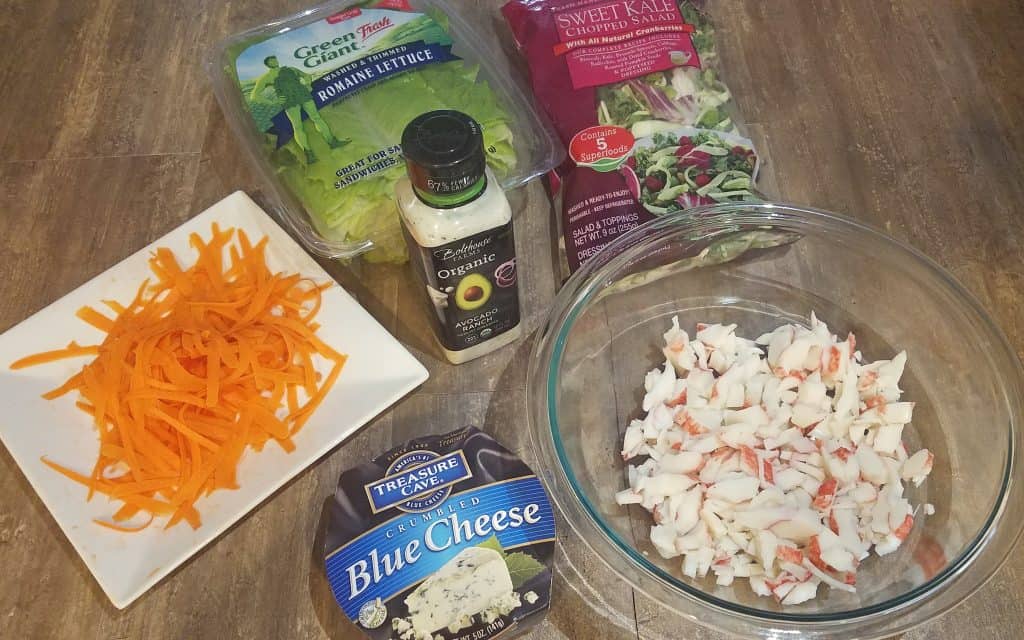 There aren't many ingredients: 2 carrots, one bag of kale and/or cabbage bagged salad mix, whole romaine or butter leave leaves, your favorite crumbly cheese, 12 oz. of crab meat, three strips of quality bacon, 2 green onions/scallions, and your choice of Bolthouse Farms Organic Salad Dressing. (I chose Avocado Cilantro.)
Prep is easy. Fry/bake/microwave the bacon until crispy and set aside to cool. Finely chop the green onions and peel the carrots into strips or shred them. Set them all aside along with your cheese. I chose blue cheese, but goat or feta would be great, too.
Shred the crab meat into a medium bowl. Crumble the bacon into the bowl and add the green onions. Season to taste. I used some Spike, salt and pepper. Pour approximately one tablespoon of dressing and mix all the ingredients to combine. If you feel it's too dry, add a little more dressing until you like the consistency.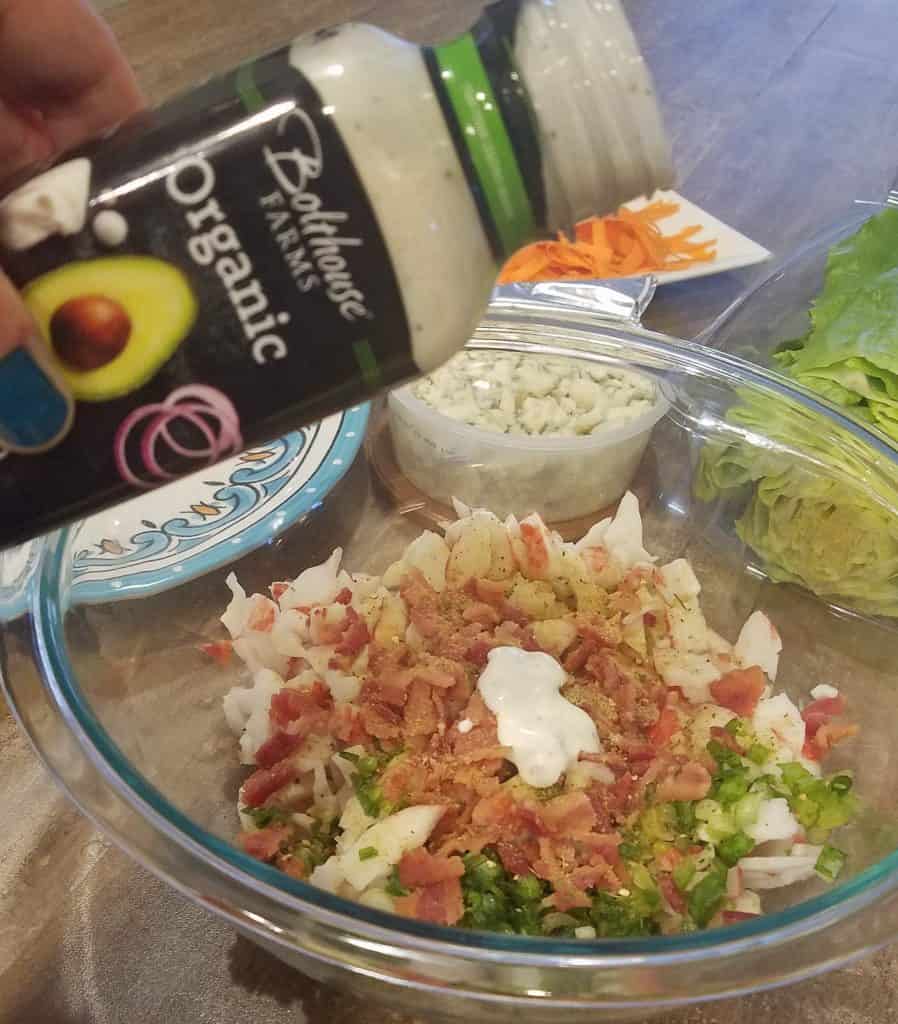 Next up is assembly and it couldn't be easier! Lay down a large leaf of lettuce, covering the center with several spoons of the crab salad mix. Top with carrots, some sprinkles of the bagged salad to your liking, and add the cheese. That's all there is to it!
The beauty of a recipe like this — other than it's taste — is that you can easily double it if you want to feed more people and you can assemble as you eat, so if you're like me and think, hmmm, I do want another, it takes less than a minute before you're back at your seat enjoying your food.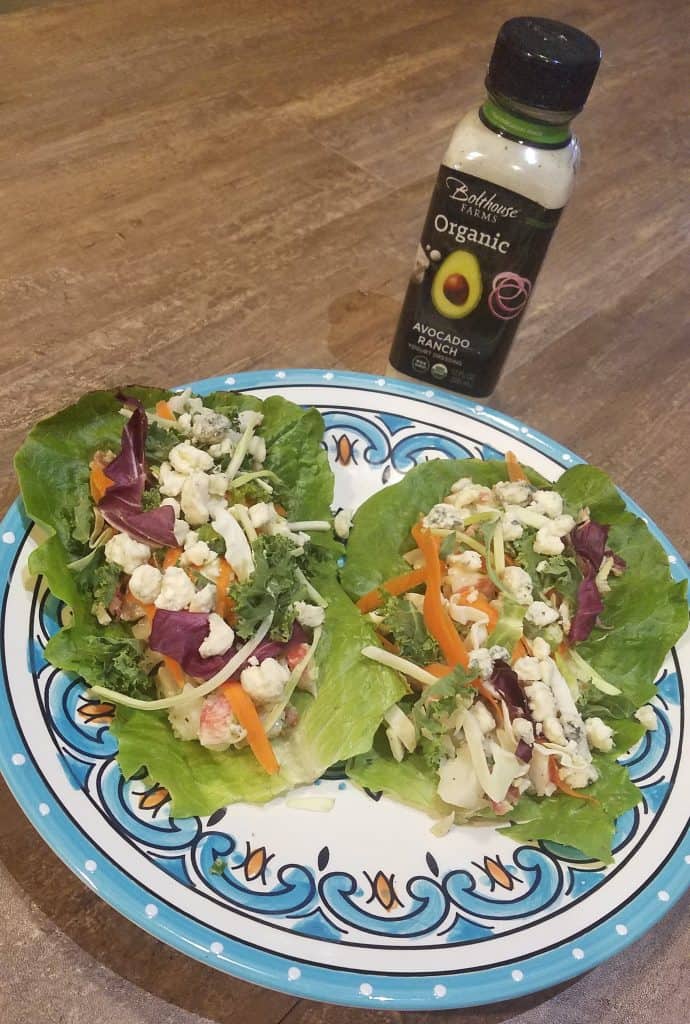 Bolthouse Farms' products all use only the best ingredients, and the dressings all vary in flavor so everyone is sure to find something that fits their taste preferences. The Raspberry Balsamic may not go with crab salad, but it's going to make a great topper for the leftover romaine lettuce leaves and shredded carrots turned into a salad tomorrow for lunch. You can find out more about all the products at their website, but I recommend you follow along using the hashtag #BHFHarvestNetwork and #NoMoreDressingOnTheSide to see what others do with these delish dressings. They also are sharing recipes and ideas on their Instagram, Twitter, Facebook and Pinterest profiles. It's great inspiration when you look into your fridge and have no idea what to make for dinner!
I hope you give my summer salad recipe a try! Let me know what you think of it and what flavor combinations you come up with if you modify it. Salads are easily personalized and make it easy to meet daily nutritional requirements without a lot of expense and time.  Simple, healthy and delicious is just what you need for summer cooking!