We were invited to a media tasting at Blue C Sushi Newport Beach, so this means our meal was complimentary; the photos and opinions are all my own though!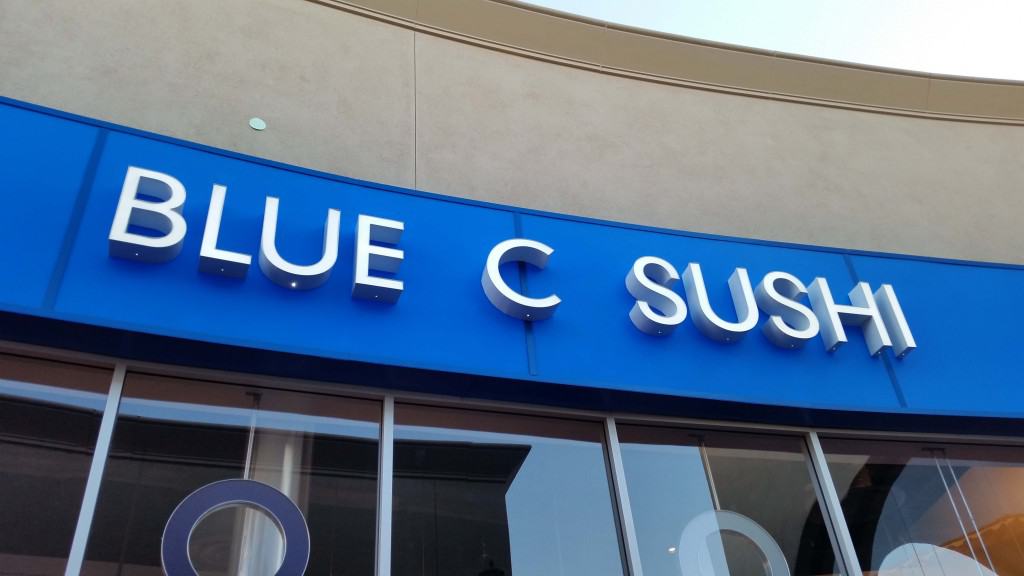 Blue C Sushi is unique — while there are a few sushi restaurants out there with the conveyor belt system (where you grab a tray of sushi/sashimi, each priced by an obvious color band), Blue C stands above the rest by several things: colorful, playful atmosphere, friendly, fun, knowledgeable staff and customized food in addition to the items on the conveyor belt.
Looking for a fun, affordable evening for your family? You need to visit Blue C. There are other locations, with the closest being in Hollywood, but this Newport Beach location is the newest. Located in Fashion Island, you can do your shopping or see a movie and then grab a meal and continue the fun. There is also a bar area.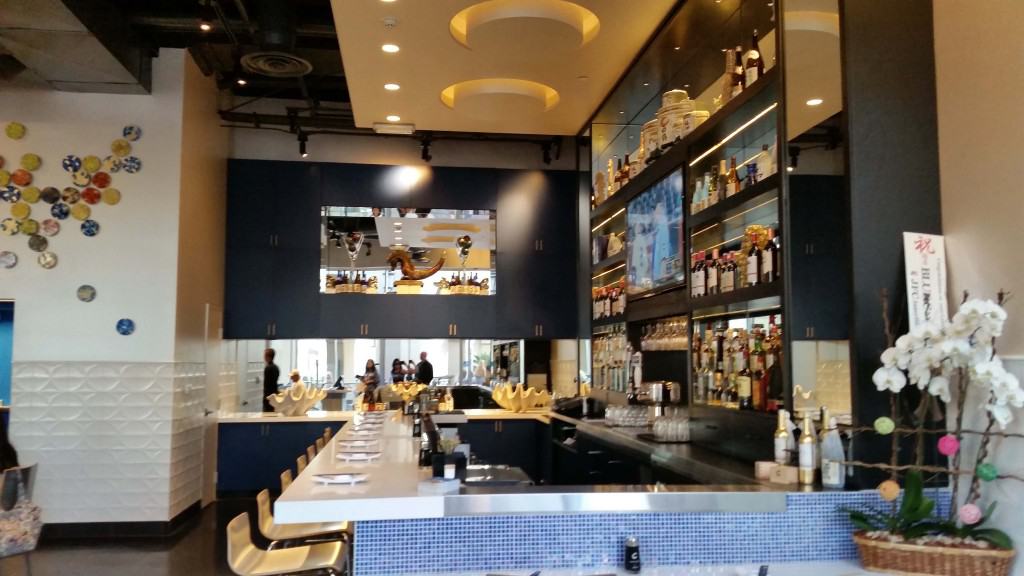 Sothy was the manager on shift when we arrived. The hostess was very friendly and quick to get Sothy, and we were seated quickly at a big table on the far side of the center island. Perfect view of the uber-big screen tv on the wall (in the shape of the front of a bus, no less) and the artists making the food. Our chef was Joe, and while I didn't get the names of the rest of the chefs, they were all fast and friendly; I take a lot of pictures and not a single frown anywhere. After speaking with Joe though, after our meal as they were getting ready to close, I can understand why. Good management and good policies makes for happy employees!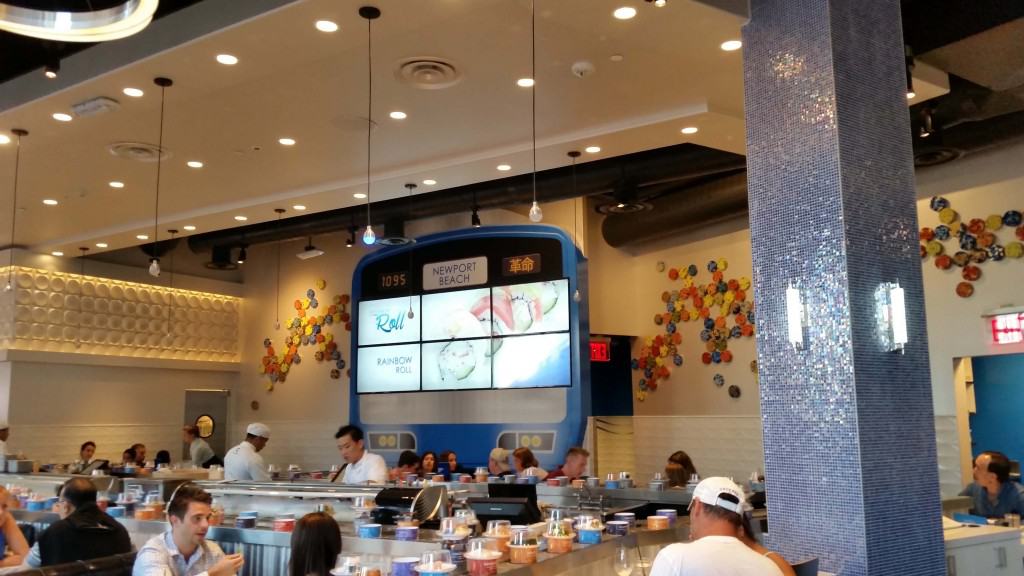 We were seated right between where the two chefs in the middle of where those two chefs are standing, at the table on the opposite side of the belt.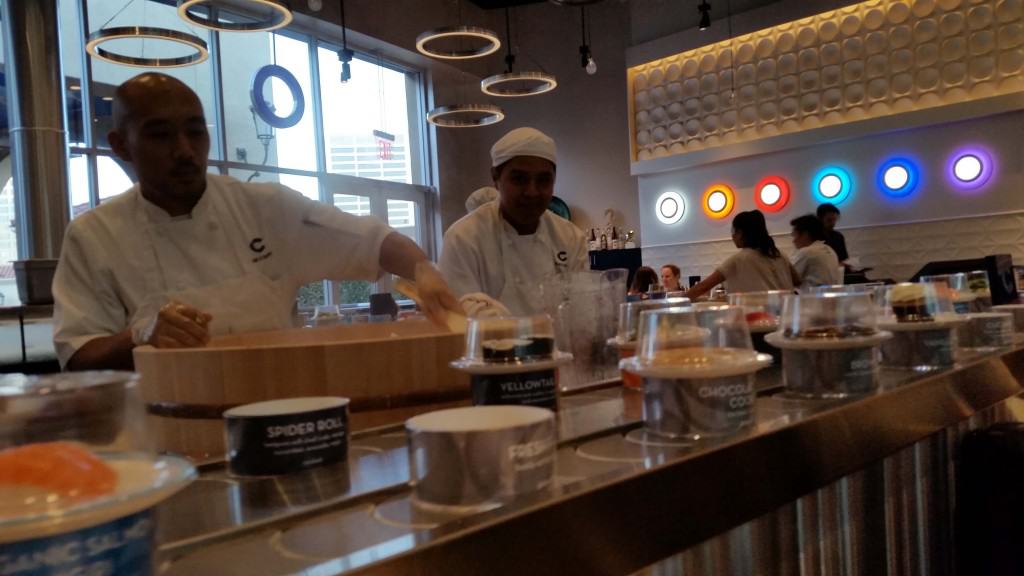 Onto the food though, right?
I will try to go in the order of what we received, though I may be off a bit here and there. The food just kept appearing!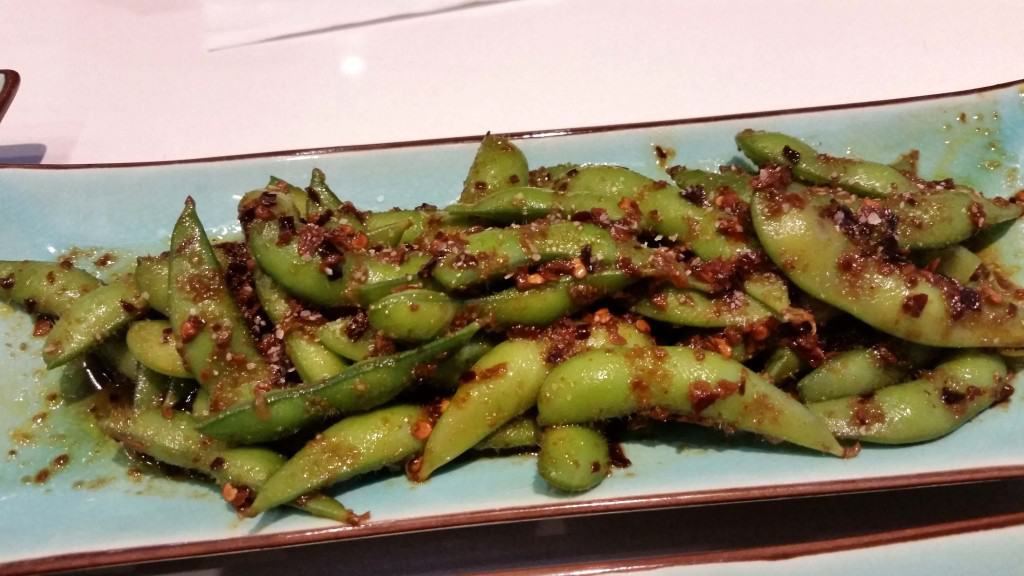 Edamame sauteed in light oil and chili flakes were so good! Usually I pile edamame in soy sauce with wasabi for a couple of minutes, but not necessary with these!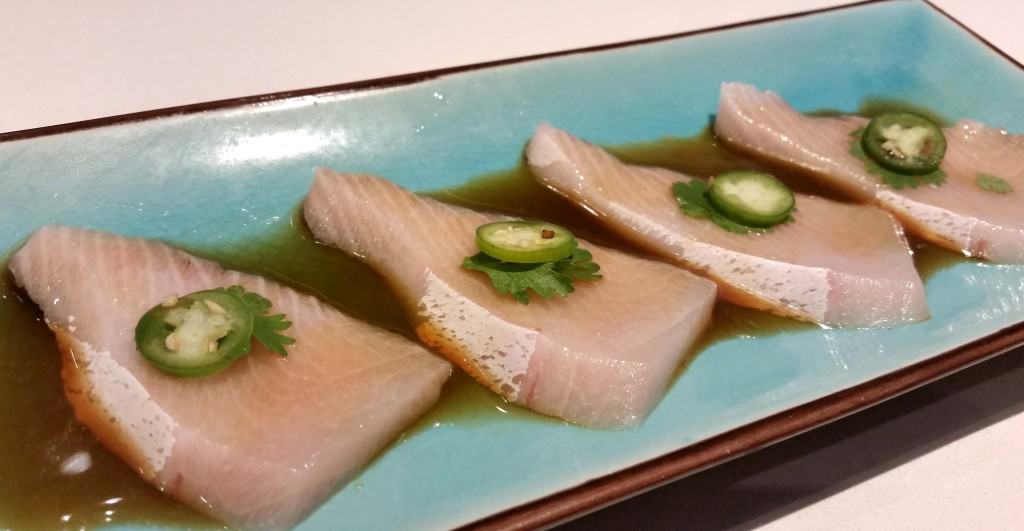 This is yellowtail with serrano chili. The chili was mild yet definitely spicy and the light sauce it sat in added the perfect touch. This yellowtail melted in our mouths.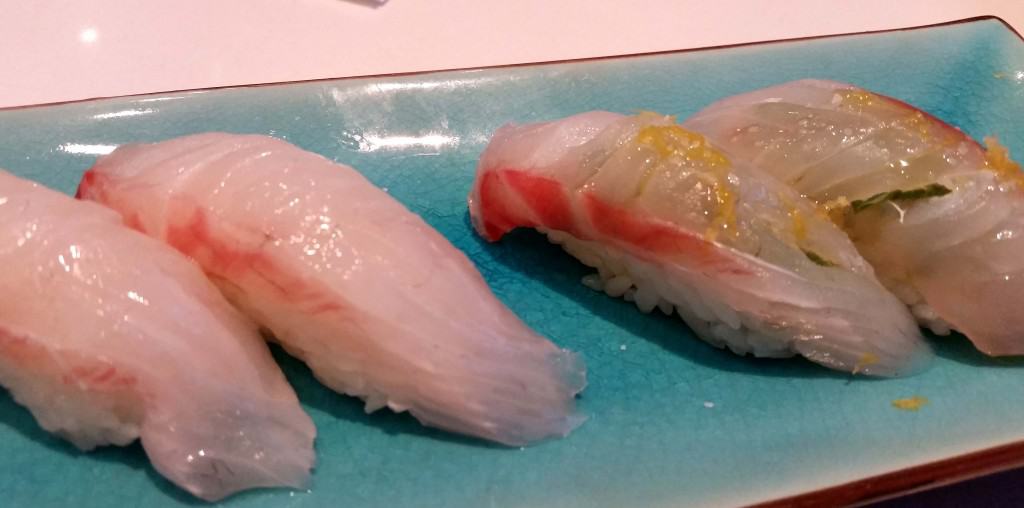 I missed what kind of fish this was in my scribbly notes, but the one on the right had a very light lemon oil spritzed on it. Both sat on the bed of rice and while I can't get them in my mouth whole, each bite was so delicious and flavorful.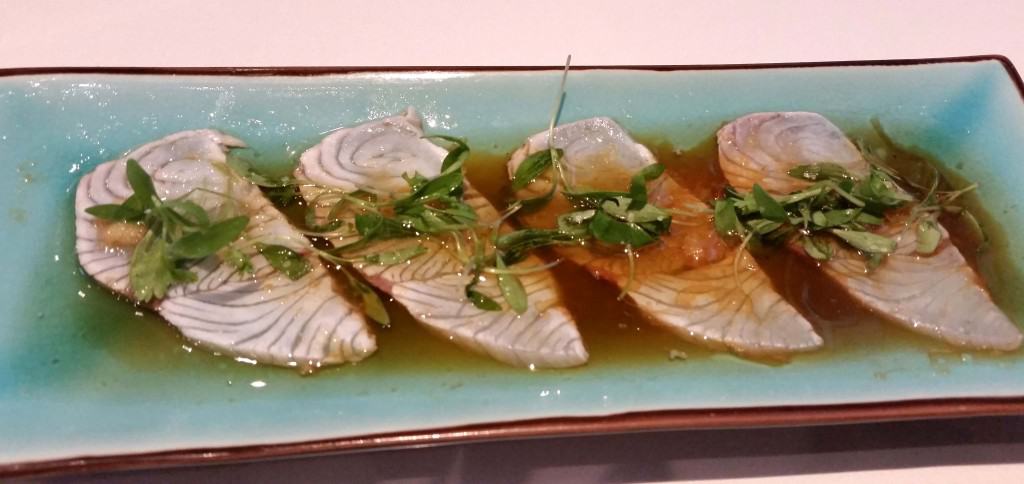 Kampachi with micro-cilantro/greens on top. Probably one of my favorites, this literally just melted in my mouth and those greens were the perfect touch.
What a set-up! We were never without new tastes and textures in front of us.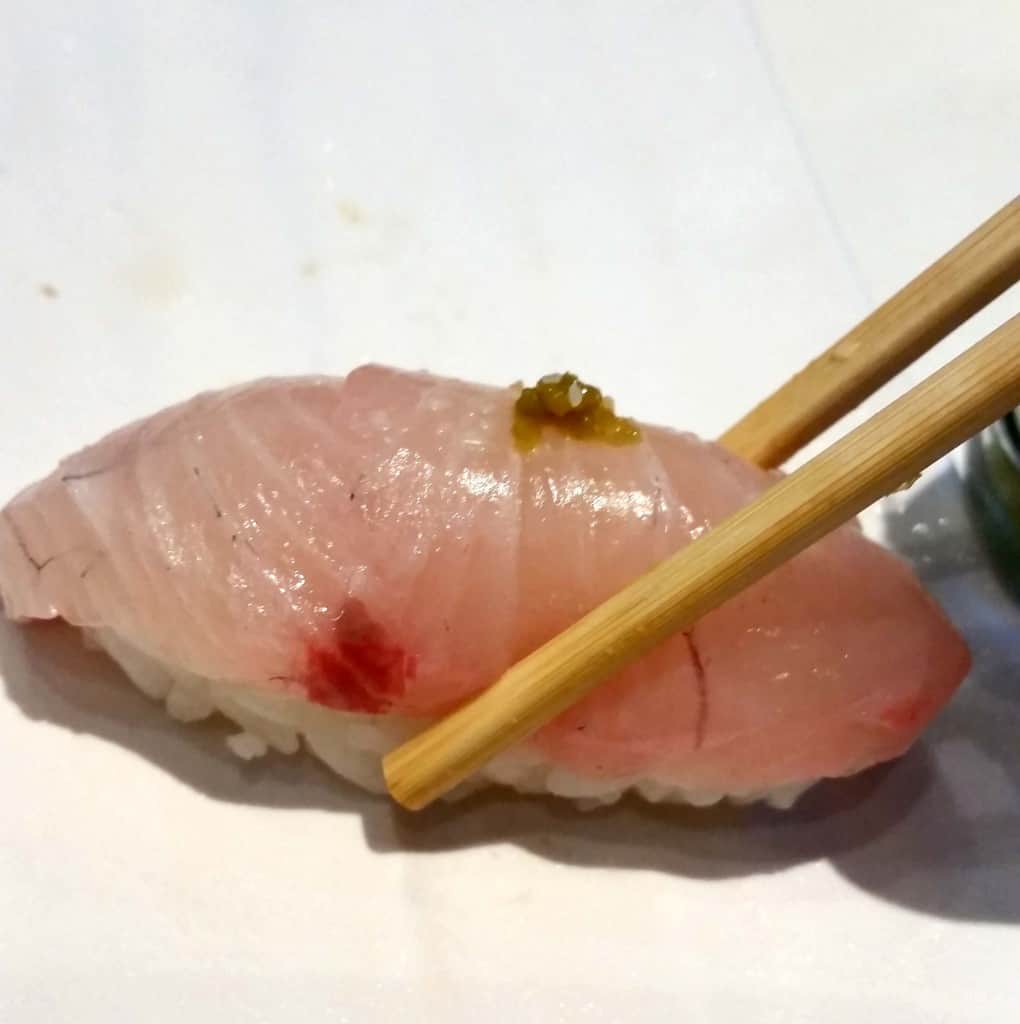 Amber Jack and misu juice with a tiny dab of kisame wasabi on top. So good! Aren't the colors gorgeous?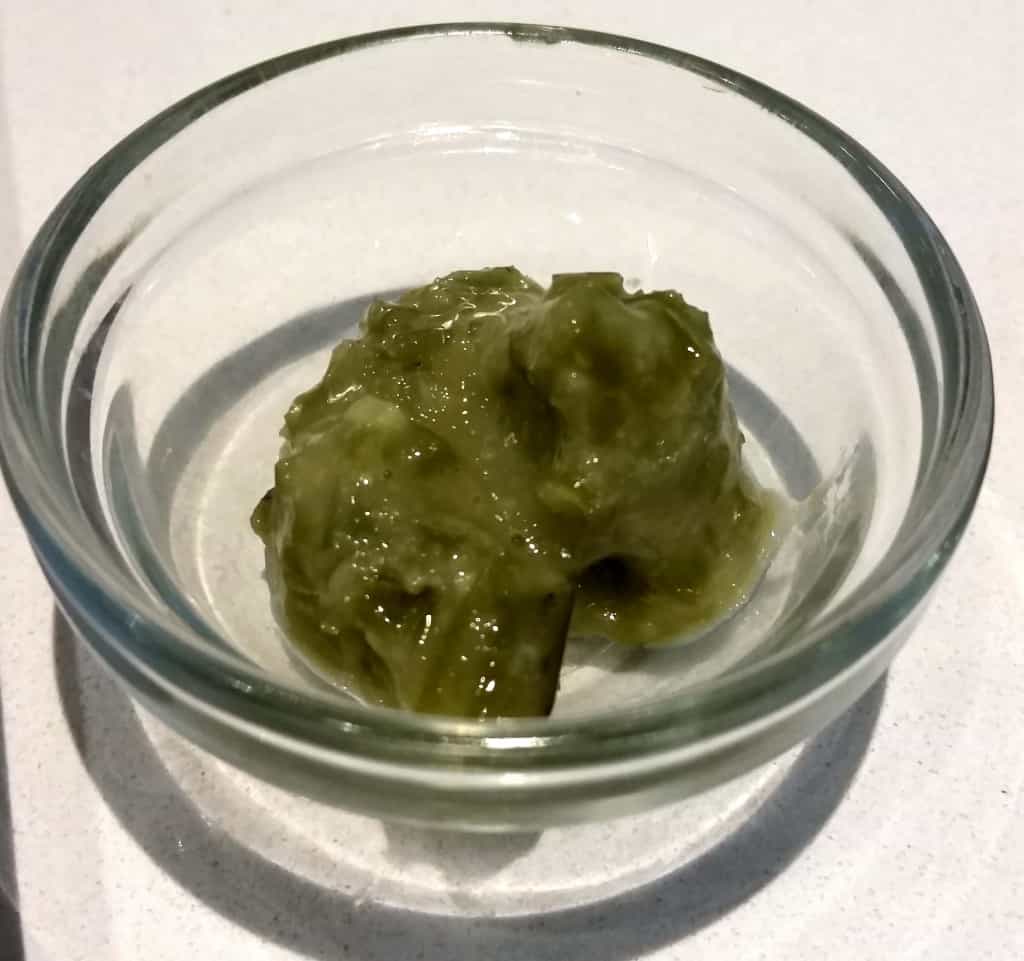 This is the kisame wasabi up close. It's made with more of the wasabi plant and some lemon juice so it's a little milder than regular wasabi, less grainy and the consistency reminded me of relish, except this is kicked up several notches from relish. I loved its flavor and wish I could buy this in the stores.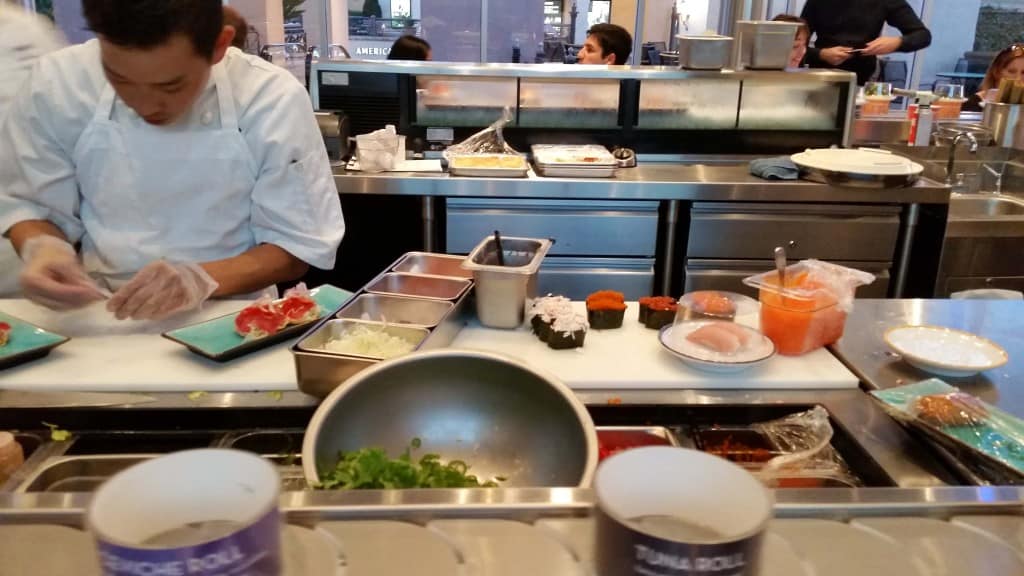 We got to see watch all the prep and fun from our seat; this is Joe making the food you see below.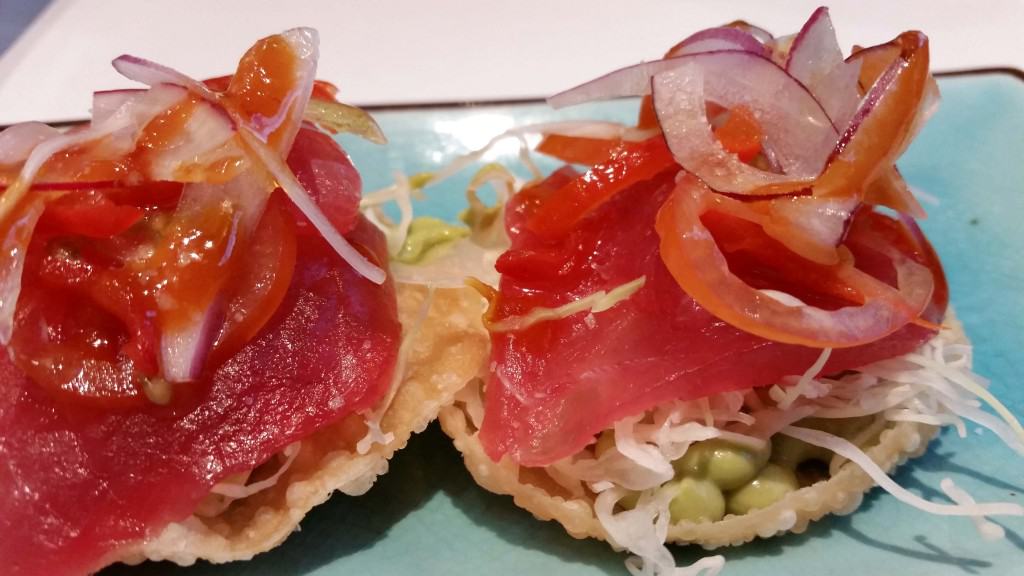 This is a pair of tuna tostadas, with thinly sliced tomatoes and red onions and edadame layered with a spritz of lime sauce and a touch of hot sauce. (And if you needed more hot sauce, it came in a little tiny squirt container stuck in a slice of lime — beautiful and useful!) This was such a pretty dish, with the colors and textures all so natural and pretty, like food was meant to taste without all the additives. I highly recommend you try this one!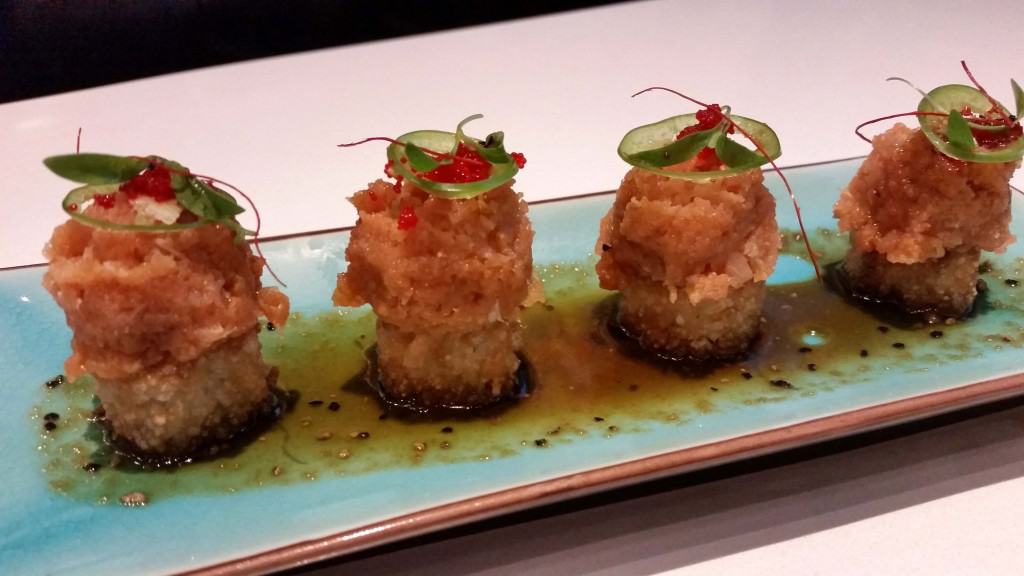 The Crispy Tuna Roll — yum. This is a tall bite but if you can get it all in your mouth at once, go for it! It's like art work, those colors on top and the assembly of ornamental yum on the top? Beautiful!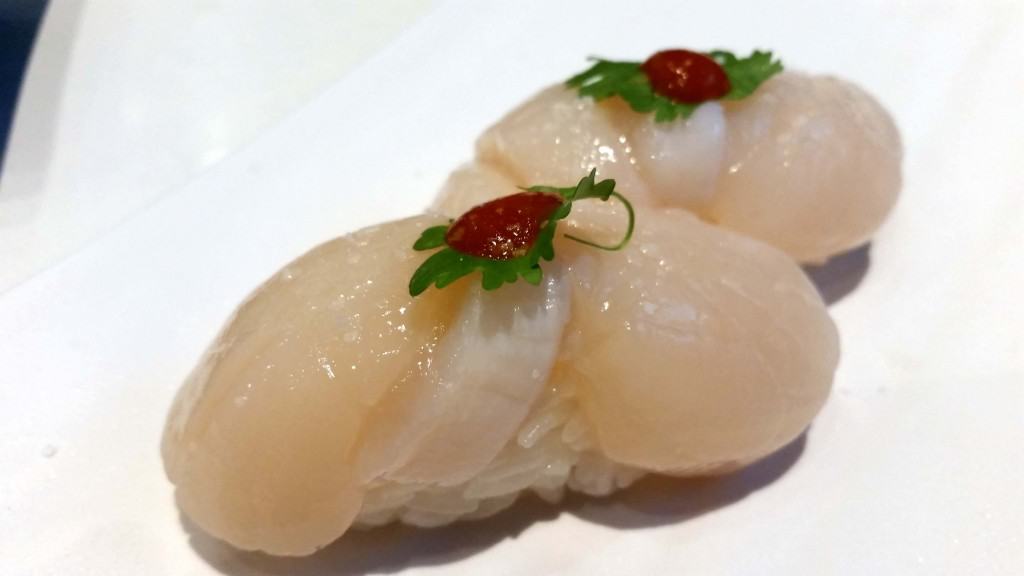 Scallops! (I always think of Gordon Ramsay when I hear that word.) I loved this, so mild, on top of rice and another bite that just falls apart on your tongue.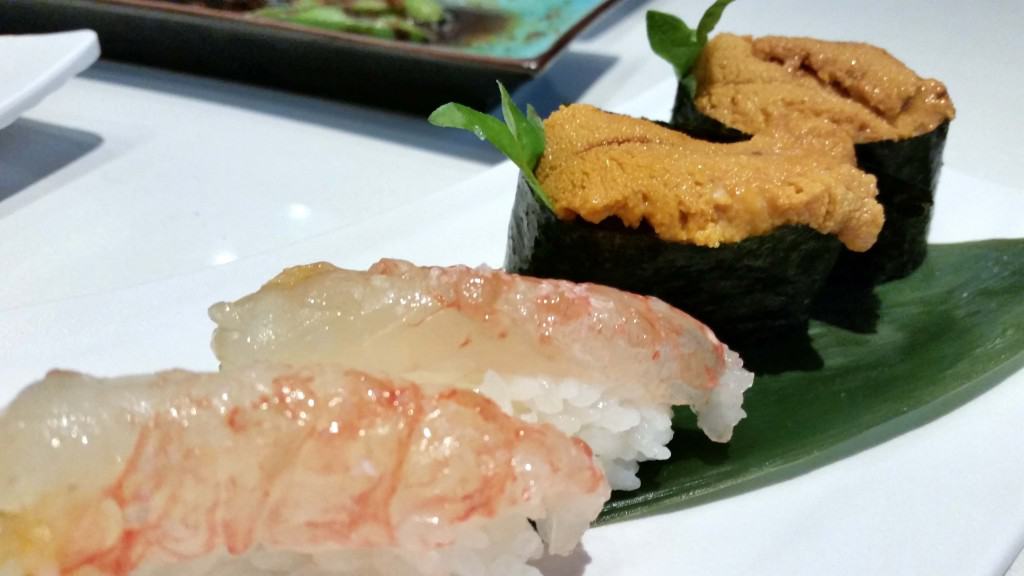 Shrimp on rice and uni in seaweed on rice. I like trying the different foods but uni is definitely for the more adventurous of tastes. (Isn't that color so pretty?)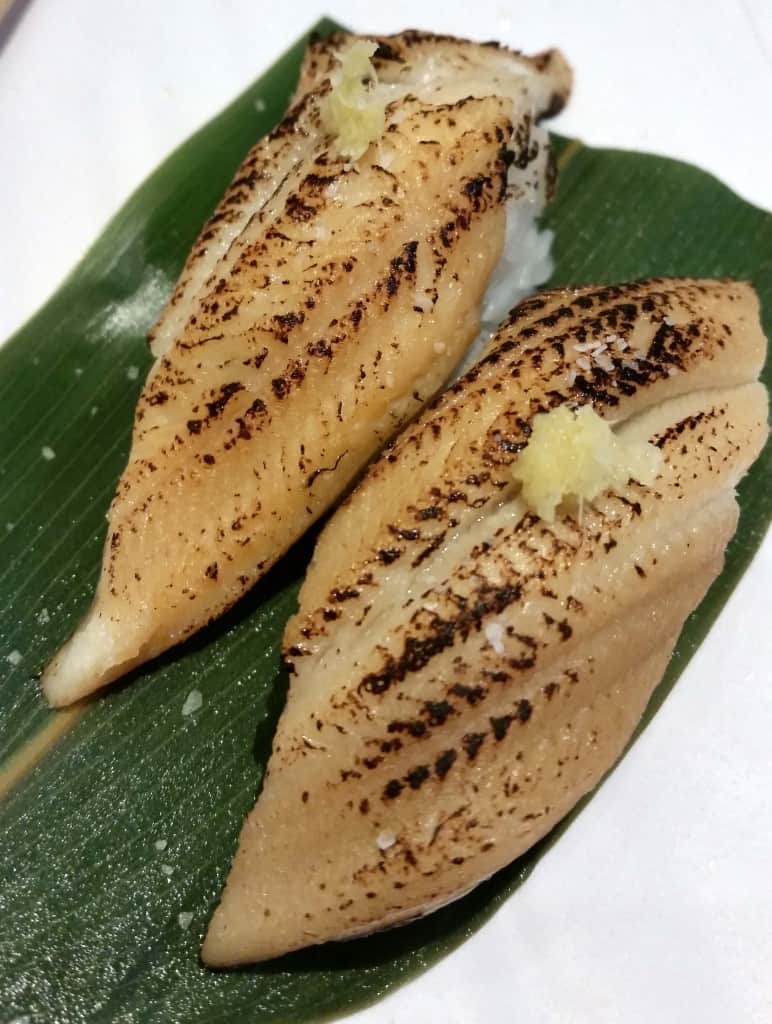 In place of unagi, on the endangered species list (eel), was this spectacular piece of fish, blackened on both sides and spritzed with fresh-squeezed orange juice. So good!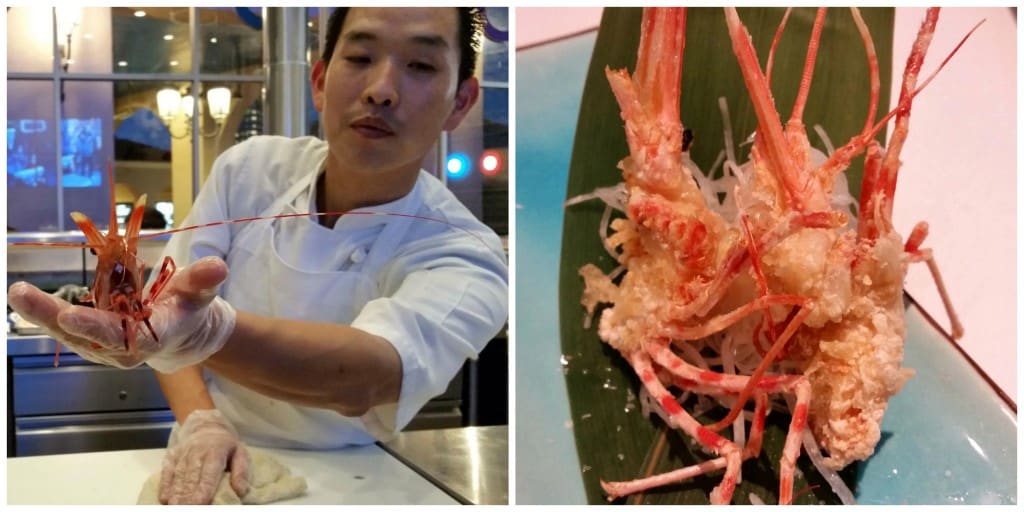 Yes, it was alive, and then it wasn't. In between, it jumped off Joe's hand and splashed me in the face! (Sorry, little one, you were tasty!)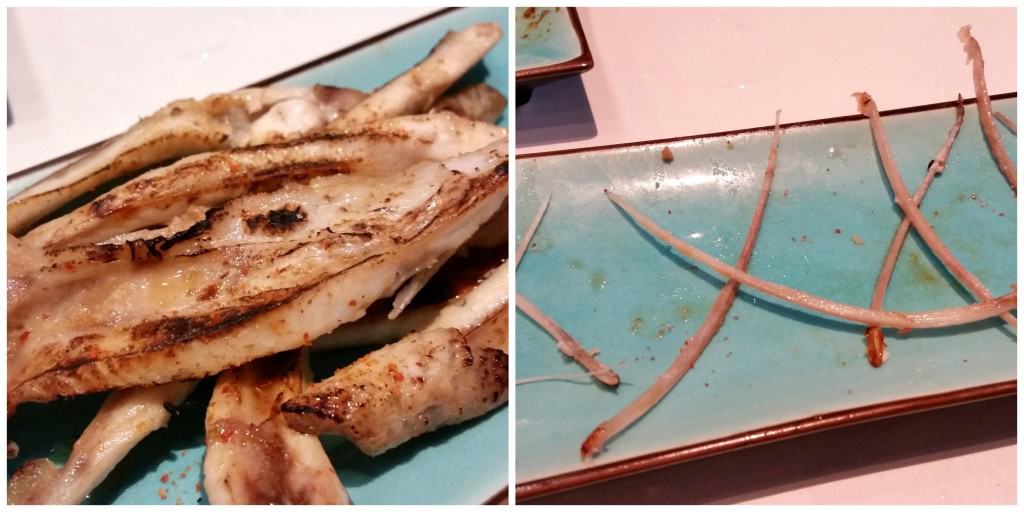 These were Joe's creation and such a good use of leftover fish that might have otherwise been wasted: yellowtail ribs! They fell off the bone in your mouth.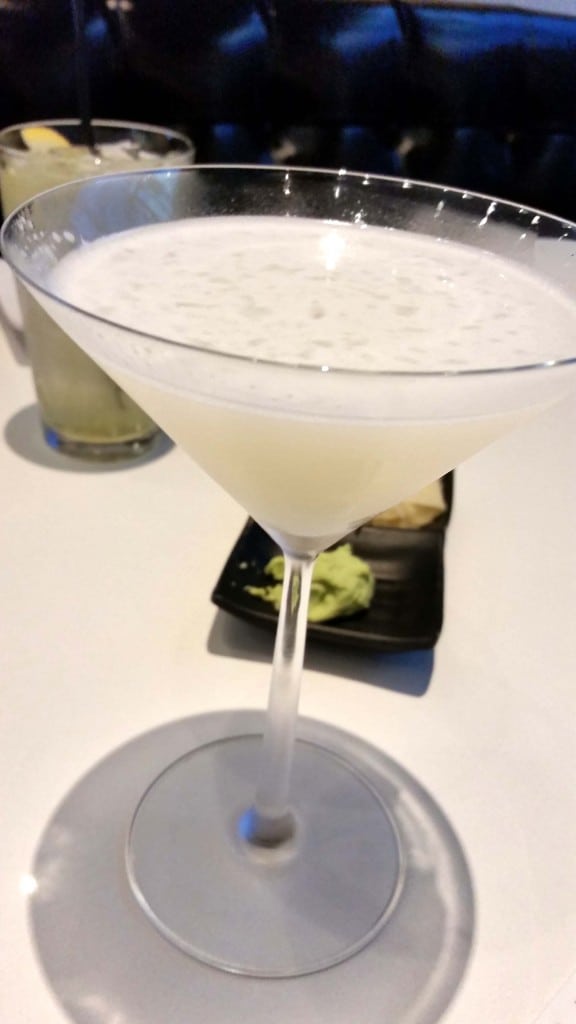 I love to try a restaurant's specialty cocktail or a cocktail that's unique to them, and this Lychee Sake Martini was unique because they used lychee liqueur instead of sake. It's creamy and has a very different color and consistency but the lychee sake flavor is unmistakable. I recommend it!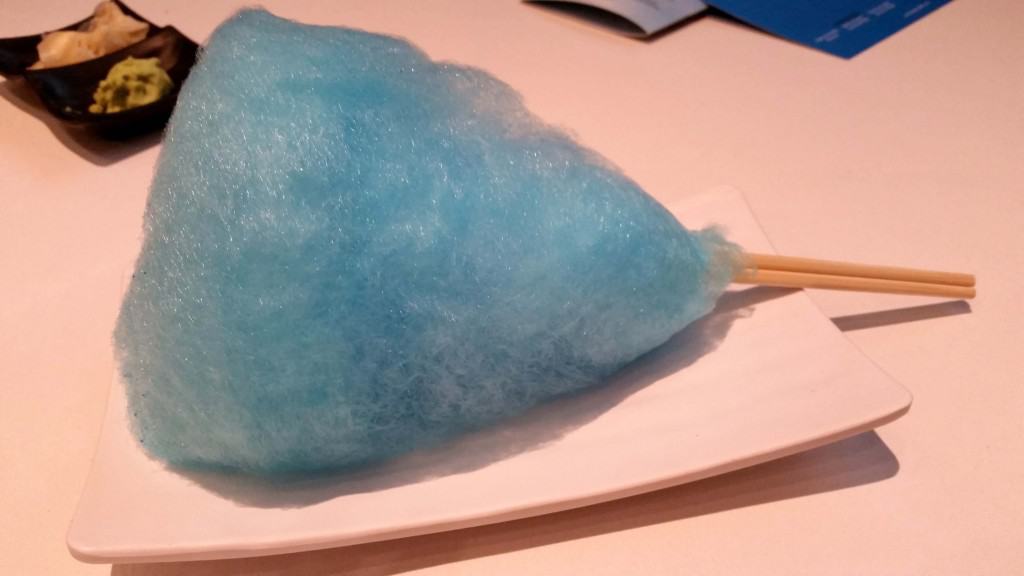 We were having a wonderful conversation with Joe when this was passed over the counter to us. Cotton candy! Isn't that the ideal lighthearted, fun dessert after a lot of delicious and more serious food? Yes! The camera doesn't do the color and sparkle justice.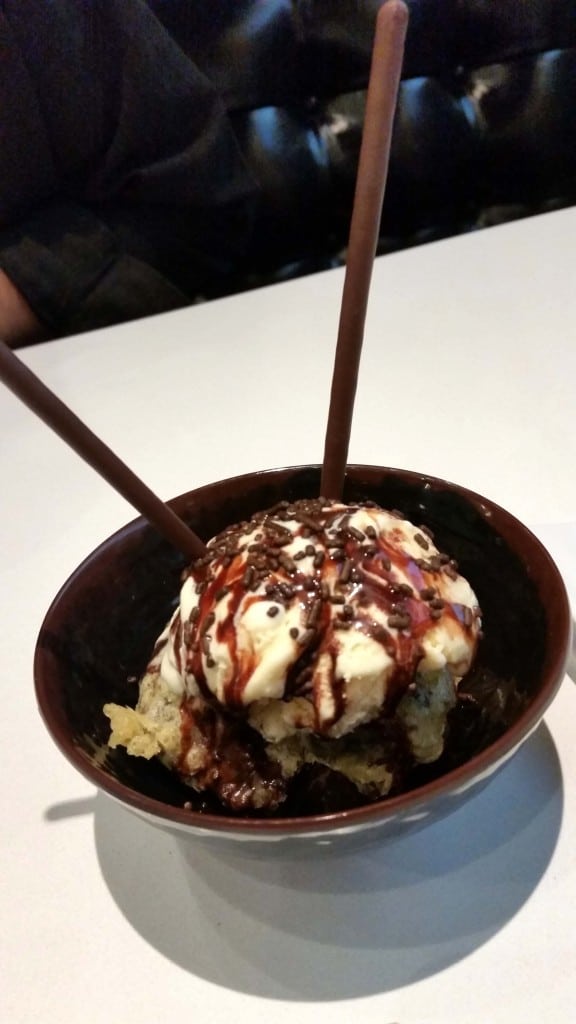 And the finale, deep-fried vanilla ice cream and brownie with pocky sticks! Too bad I had to share this! Fantastic ending to a wonderful meal with so many different tastes and textures and we learned a lot!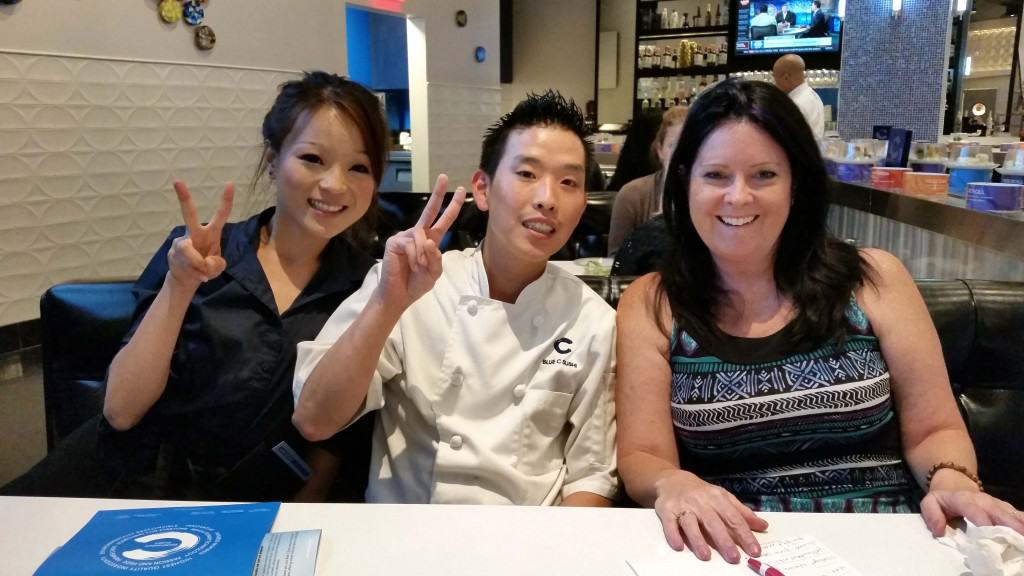 This is Joe, our sweet hostess (my apologies, I didn't write down her name!) and me — I'm laughing because we were having such a fun time! See my scribbly notes in front of me? Next time, I'll remember my tablet and business cards. (I ran out of here so quick last night, the drive to Blue C Sushi should only be about an hour but you never know what traffic will be like so we left right away to make it on time for our 8pm reservation.) Everyone was so kind, so friendly and so helpful! Our water and iced green tea didn't sit empty ever and our table was consistently cleaned of empty plates, which is good, as we ate a lot! You will find your appetite increases here, so be ready!
Thank you, Blue C Sushi, for such a fun night! We will be back with the kids!