It's winter here in Southern California, and by our standards, it's cold. This means it's soup weather, and it's also National Soup Month, so I created an easy potato turmeric soup recipe to keep you warm and make your kitchen smell amazing!
Thanks to Melissa's Produce, the sponsor of this post and the supplier of all the produce used in this recipe, I got to experiment with this recipe. There are a lot of easy potato recipes available, but I wanted to make something different. In our box of seasonal produce from Melissa's, we received two different kinds of small potatoes (Baby Dutch Yellow and Ruby Gold), baby purple brussels sprouts, fresh turmeric, several kinds of onions, tomatoes, lemons and more. (I also received some of my favorite things ever, Golden Berries. I'm using those in a smoothie — stay tuned for that simple recipe later!)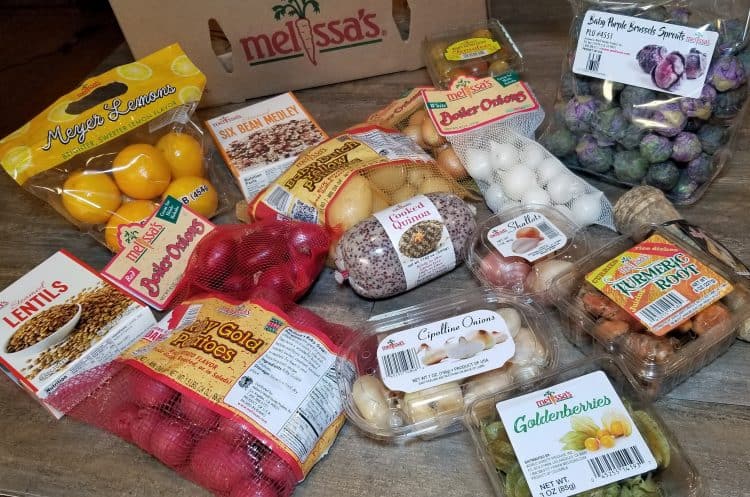 Baby potatoes are wonderful in many dishes, and they cook faster due to their size. They also don't require peeling and can be chopped with ease. My knife skills are sufficient but not pretty, so I'm all for a recipe that allows for a rough chop like this potato turmeric soup!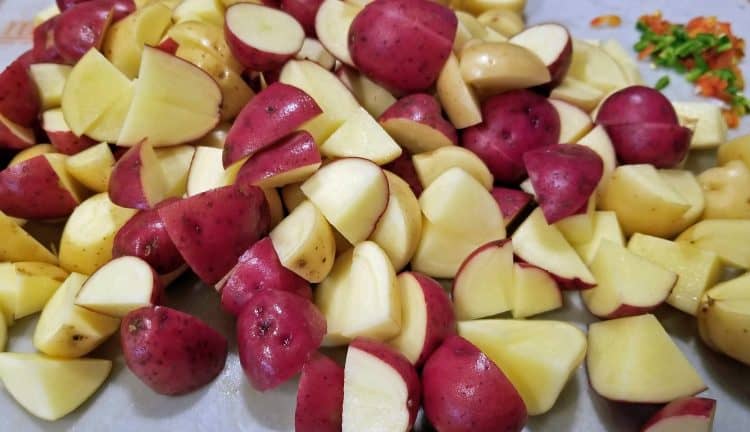 It's often said that we eat first with our eyes. I feel like that's true, and when produce is as vibrant purple as those brussels sprouts and as gorgeous red as the Ruby Gold potatoes, it's easy to envision a beautiful dish. Colors change during cooking, and the turmeric lends a gorgeous, deep orange to dishes, not to mention delicious flavor.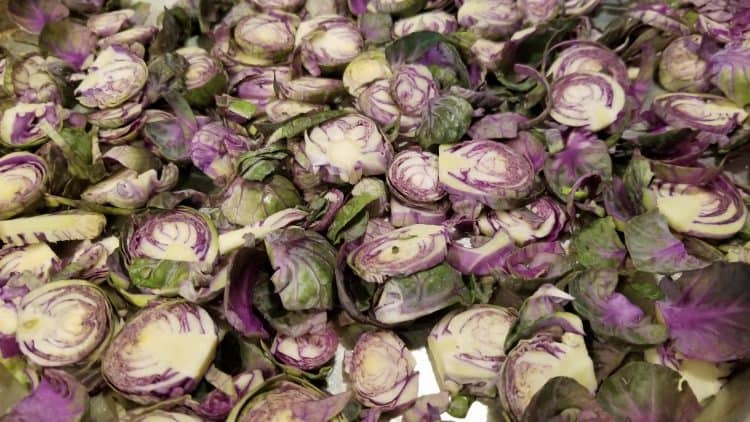 This soup comes together quickly, and uses a very simple cream base. While full-fat milk and some heavy cream aren't necessarily considered healthy, the benefits of all these produce items together IS healthy, and add in the turmeric, you've got a winning combination. Did you know that turmeric is known for being an anti-inflammatory and anti-oxidant? (It may also benefit depression symptoms and arthritis and has the potential to prevent heart disease. Pretty amazing, right?)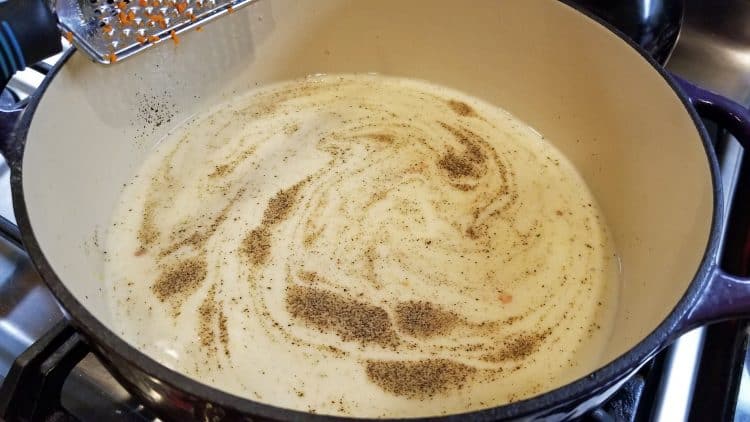 The recipe does call for a blender, but if you don't have access to one, it's not a deal breaker. It's pretty much a one-pot dish, other than the cookie sheet on which you'll be roasting the brussels sprouts and onions, making clean-up minimal.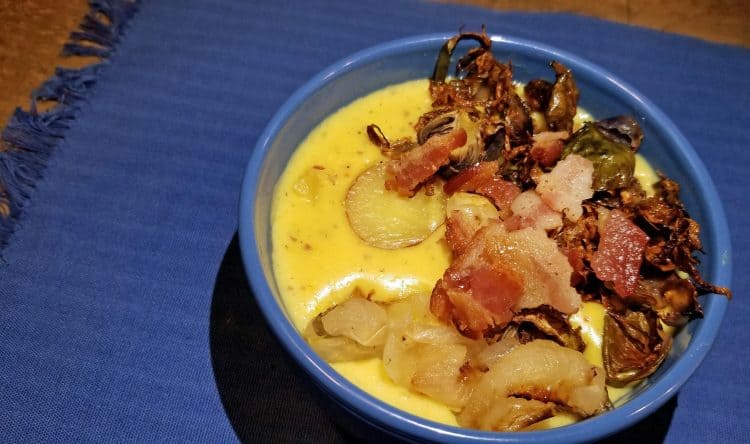 Potato Turmeric Soup with Bacon, Crispy Brussels Sprouts and Onion Topping
Ingredients
5-6

slices

uncooked bacon

6

tbsp

butter

1/2

cup

flour

2

pounds

mini/baby potatoes, halved or quartered

Keep them all 1/2" or smaller.

4

cups

milk

2

cups

low-sodium chicken broth

1/2

cup

heavy cream

1/2

cup

cream cheese, softened

Salt and pepper

1/2

pound

brussels sprouts, sliced thinly

whole cippolini onions, peeled

Can use another small onion if preferred.

1-2

small

mild jalapenos, chopped small
Instructions
Spray baking sheet with oil and place all brussels sprouts and onions on sheet. Drizzle with olive oil, salt and pepper.

Place baking sheet in oven to crisp and caramelize produce. Check every 10 minutes to ensure they don't burn, and shake/stir them up to ensure all portions get crispy and/or caramelized. (Mine took approximately 40 minutes.)

While brussels sprouts and onions are in the oven, begin on the rest of the soup.

Place bacon in the bottom of a cast iron Dutch oven. Fry until crispy. Set bacon aside, leaving drippings in pan.

Add all the butter to the hot pan and let it melt. Once melted fully, stir in jalapenos and then cover with flour. Using whisk, combine butter, drippings and flour and let simmer for 60 seconds, stirring constantly.

Pour in milk, chicken broth and heavy cream, separately, stirring throughout the additions. Season with salt and pepper.

After liquids are thoroughly combined with flour mixture, dump in potatoes. Bring to boil for 10-15 minutes until potatoes are soft enough to be poked with a fork.

Put half of the mixture into the blender. Puree for 30-45 seconds until it's mostly smooth. Pour back into pan on stove. (You can also use an immersion blender if you'd like.)

Shred fresh turmeric into soup, approximately 1 tbsp but eyeball to your preference.

Bring to simmer for another 10-15 minutes, until potatoes are fully cooked.

Add in cream cheese and stir thoroughly. Turn off heat.

Serve soup in bowl, sprinkling bacon, crispy brussels sprouts and onions on top.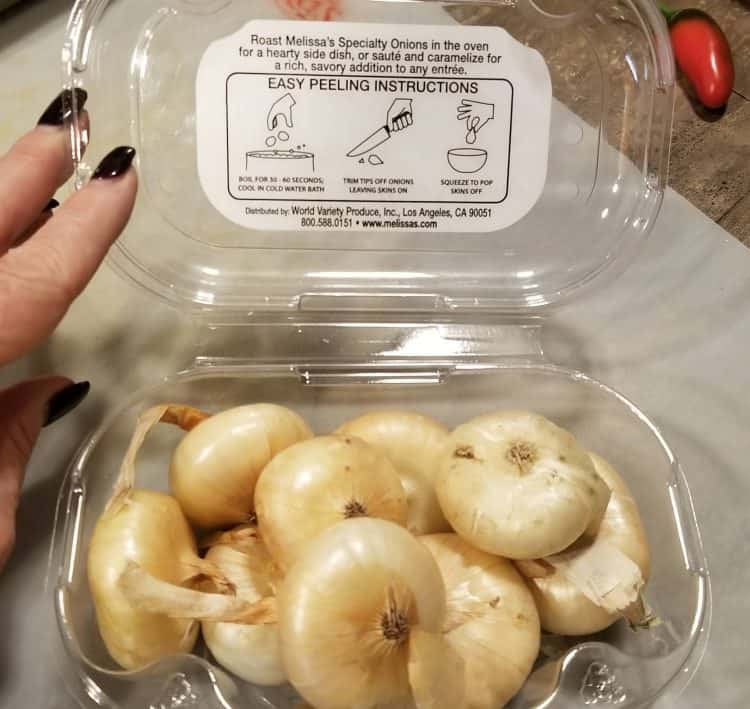 Here's a tip for the onions, which Melissa's Produce includes on the onion packaging. Boil them, skin and all, for 30-60 seconds. Blanch them by immediately placing them in ice cold water for a minute or two. Slice off the root end, then squeeze the tip on the other side; the entire onion will pop out whole and usable!
Do you need to peel turmeric? No! I did shave mine with a peeler to clean it up a little but it's totally unnecessary.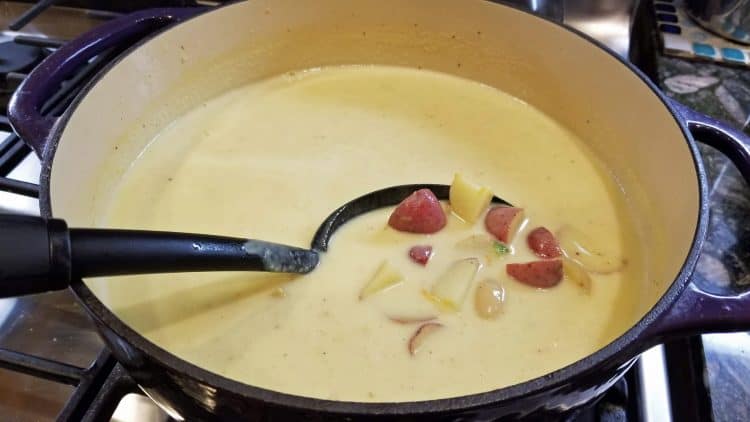 This potato turmeric soup is just as good the next day. In fact, it may thicken up a little bit. The flavor is still there, but you may want to retoast the brussels sprouts if you have any leftover. It's still good without the toppings, just in case you ran out!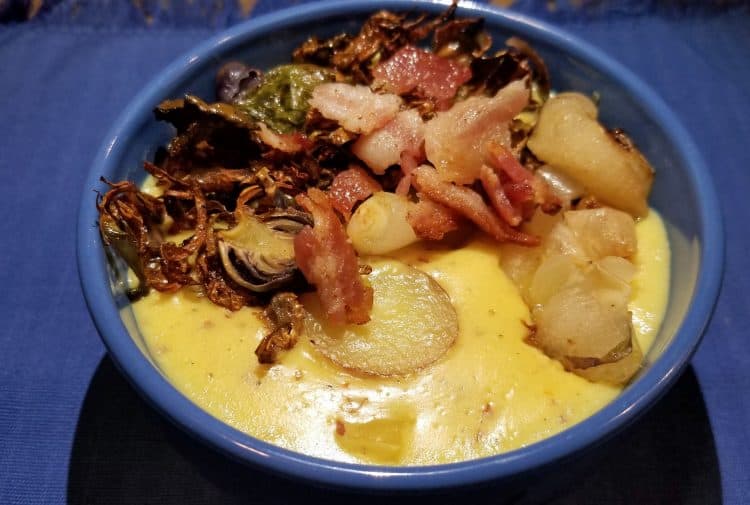 Visit Melissa's Produce online to learn more about their produce, see what other fun things they sell (like Hatch Chile Powder) and get recipes! I work with Melissa's a lot, along with some wonderful blogger friends, whose recipes I've listed below for more foodie inspiration!
Also, here's my last recipe post that I think you'll enjoy!