If you're a fan of Nintendo Switch games, or Nintendo video games in general, you've probably had your eye on a few new games that have hit the shelves these past few months. My personal favorite is the next addition to the Super Mario Bros. game adventures. I wrote this Super Mario Bros Wonder review to help you make the decision to buy the game from Nintendo direct today!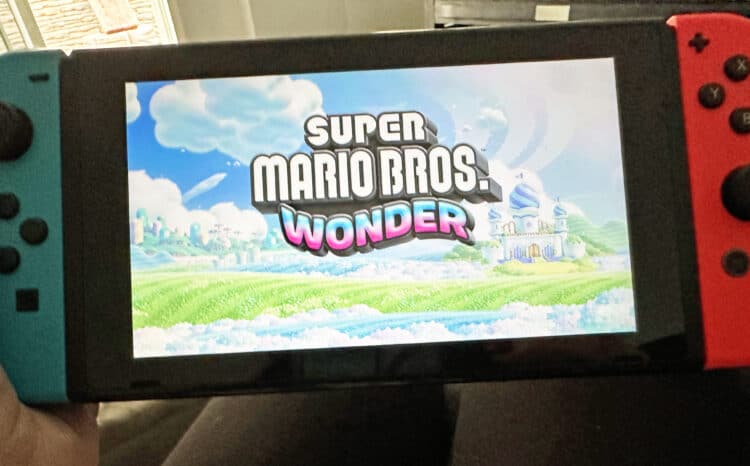 There's a villain, beautiful scenery, familiar characters and more, making Super Mario Bros Wonder gameplay a fun experience for everyone. First, a few facts about the game itself.
Super Mario Bros. Wonder is already for sale, available for $59.99 via digital download or a physical copy you can purchase directly from Nintendo.com. You can play alone, or with up to three others on one Nintendo Switch system. (You will each need a control.) You can also play against others online. It's rated for players of all ages and it became available to everyone on October 10, 2023.

Mario and his friends have been invited to visit the colorful Flower Kingdom, a short journey from Mushroom Kingdom. The problem is, when they arrived, King Bowser has suddenly evolved into a flying castle, bringing chaos and mayhem to the beautiful kingdom. It's now up to Mario and his friends to save the day — and you get to help.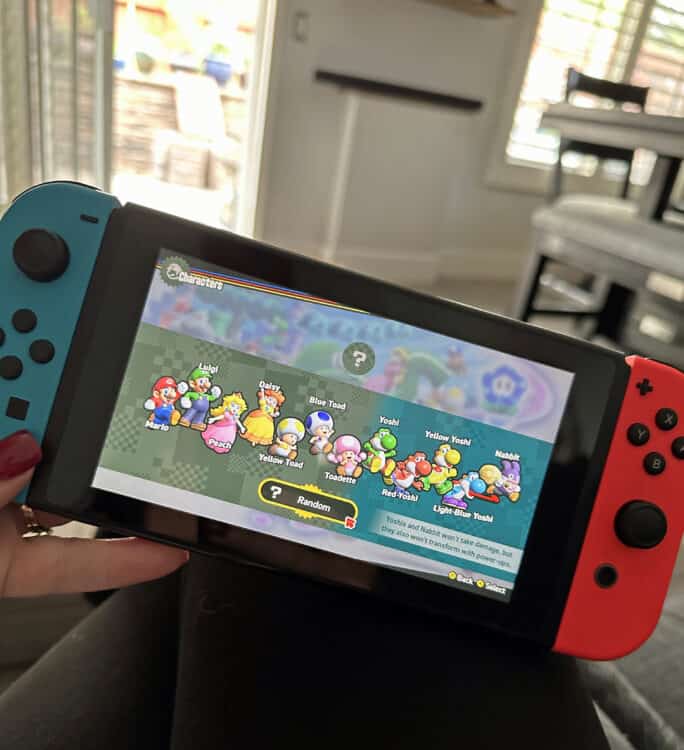 Start by choosing which character you want to play. My first go-round, I chose to be Daisy. She's fun, she can jump pretty high, and she's got a mean spin when you need it. There are six main characters to select from: Mario, Luigi, Peach, Daisy, Toads or Toadette. You can also choose Yoshi's or a Nabbit; these two options don't transform with power-ups, making them perfect for beginning Super Mario Bros players.
As you go along, you can climb up onto the tubes as you're used to with prior Super Mario Bros. games. Blow bubbles, drill into the ground, climb into the trees…and my personal favorite, you can transform into this adorable elephant!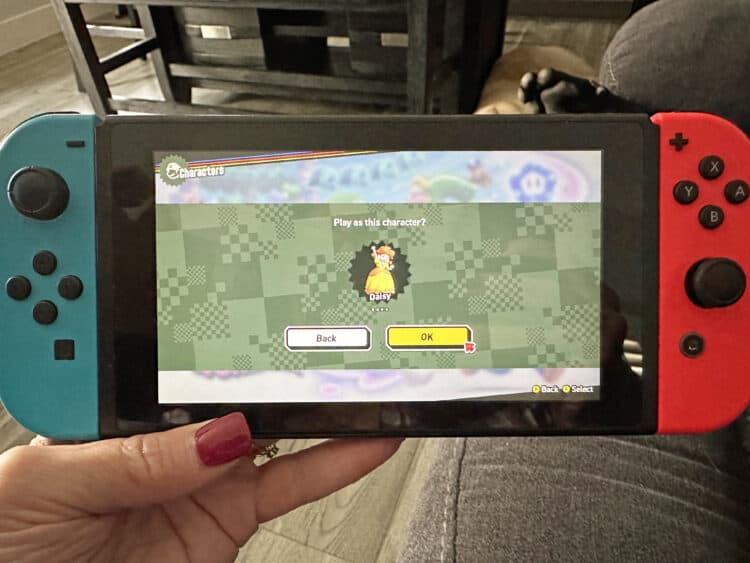 I'm not terribly far into the game story line yet, but here are a few fun things I've encountered!
The graphics are incredibly colorful and bright, making it a visually enticing experience.
Like some other Nintendo Switch games, you can feel the game as you play, with the haptics being pretty advanced. When King Bowser appears, the game literally shakes in your hand. This adds so much to your game play!
The story plays out when you first begin to play — and it's adorable. Just be sure you have a few minutes available to invest, as you can't fast-forward or skip through this part. Seeing King Bowser though for that first time is entirely worth it.
It's easy to get used to the navigation. Two buttons jump, but one makes the character spin or do one of its signature moves, you can crouch, and basically, you move around the screen as most other things. As someone who doesn't play a lot of RPGs, so I don't have the quick skill that my kids would have, this is SO appreciated. (I'm more of a Dreamlight Valley, Pokemon or Animal Crossing kind of person. Stay tuned to the site soon for a review of the new Detective Pikachu Returns game for the Nintendo Switch, too!)
The game environment changes frequently enough so that no one of any age range or interest level will get bored. There's always something new to do and challenges to try, and of course, you can collect a lot of badges, ramping up the competition factor!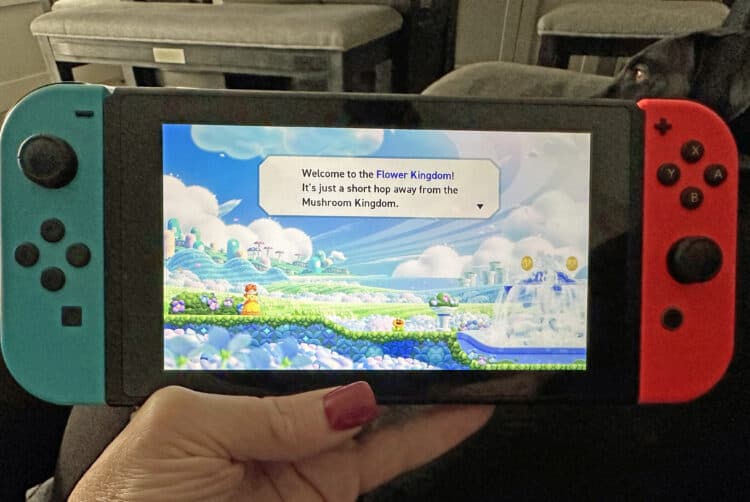 Now that the temps have finally dropped here in Southern California…at least for now, it's still early enough for Mother Nature to throw us a few 80-degree days, just to keep us on our toes…Super Mario Bros. Wonder is a great excuse to curl up on the couch with my favorite blanket, a hot cocoa (maybe even spiked) and settle in for some fun relaxing game time, courtesy of my Nintendo Switch. Visit the Nintendo.com site today to get more details on this — and other — games!