Where can you cast magic spells, drink butter beer, get attacked by a shark, stared at by a psycho man with a knife, take a selfie with Blue and escape zombies? You can do all of that and more in one place, Universal Studios! And very soon, you'll be able to experience the new Jurassic World Ride at Universal Studios Hollywood, too!
I could tell you more about it, but first, let me show you via the new marketing campaign, "It Just Got Real." (And what a fab job this does at getting you amped up!)
One of our favorite rides was always the original Jurassic Park ride. Floating lazily through the iconic gates, listening to that familiar song, we turned to look for the small dinosaurs through the fences…wait, there's a hole in that fence!
Chaos has taken over the park as the animals got out, and as we avoid getting sprayed and try to get out of the park before the t-rex gets out, we realize we may not make it. There's only one way out and it's a long drop down a waterfall.
Phew, we made it. But will we next time?
The new Jurassic World: The Ride picks up where the movie leaves off, as the t-rex escapes and the world becomes populated with the dinosaurs released rather than killed.
Here's a little more, directly from Universal Studios:

The aesthetics of "Jurassic World—The Ride" will be dramatically enhanced welcoming guests to a reimagined space reflective of the JURASSIC WORLD films. In addition, there will be a fresh new entry statement, stonework landscaping and a contemporary redesign of the iconic JURASSIC WORLD gates, illuminated with billowing flames.

Engaging and interactive queue-line videos featuring facts and information about the dinosaurs within the ride will set the tone for the expedition ahead, as guests learn more about these imposing prehistoric creatures that first roamed the earth more than 65 million years ago.

Once aboard specially designed rafts, guests will navigate the lush environs of dense vegetation, traversing new areas besieged with towering dinosaurs meandering at just an arm's length away from visitors. Encounters with such docile creatures as the Stegosaurus and Parasaurolophus will quickly turn awry as predatory Velociraptors and Dilophosaurus begin to wreak havoc, turning guests from spectators to prey. When the Tyrannosaurus rex begins to battle one of the attraction's new ferocious dinosaurs, the rafts will spill down a treacherous 84-foot waterfall as the sole means of escape.
Wait….. 84-foot waterfall??
Along with the new ride, you'll see that the Raptor Encounter is being renovated, and there will be a new Dino Play area, a fun and educational area for kids, or the kid in all of us.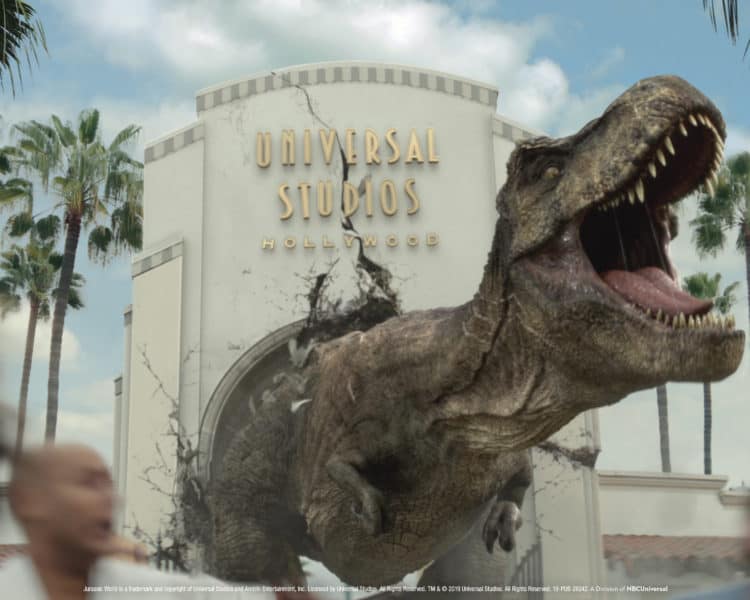 Learn more about buying tickets or an even better deal, a season pass, over at the Universal Studios Hollywood website. See you over in Jurassic World when it opens this summer!