Come on, admit it….the first thing you think of when you hear the words "Welcome to Jurassic Park!" is the music. Imagine being on a boat, slowly gliding through the water, hearing that song. The big gates open up and magically, you're transported to Jurassic Park. Dinosaurs everywhere, a feeling of having been taken to another era as you're surrounded by creatures you never thought you would see.
But then something goes wrong. The dinosaurs no longer appear to be so friendly. Equipment looks a little mangled. Then it really gets bad. Why is the t-rex gate destroyed?
That's a brief intro to the Jurassic Park ride at Universal Studios Hollywood. It's a favorite ride of mine and my son's, and we always head their early in our visits to the park. (And we tough it out — no ponchos for us! Don't tell my son, I kind of want one though…) The ride really does put you in the scene and no matter how much you remind yourself it's just a ride, it isn't just a ride.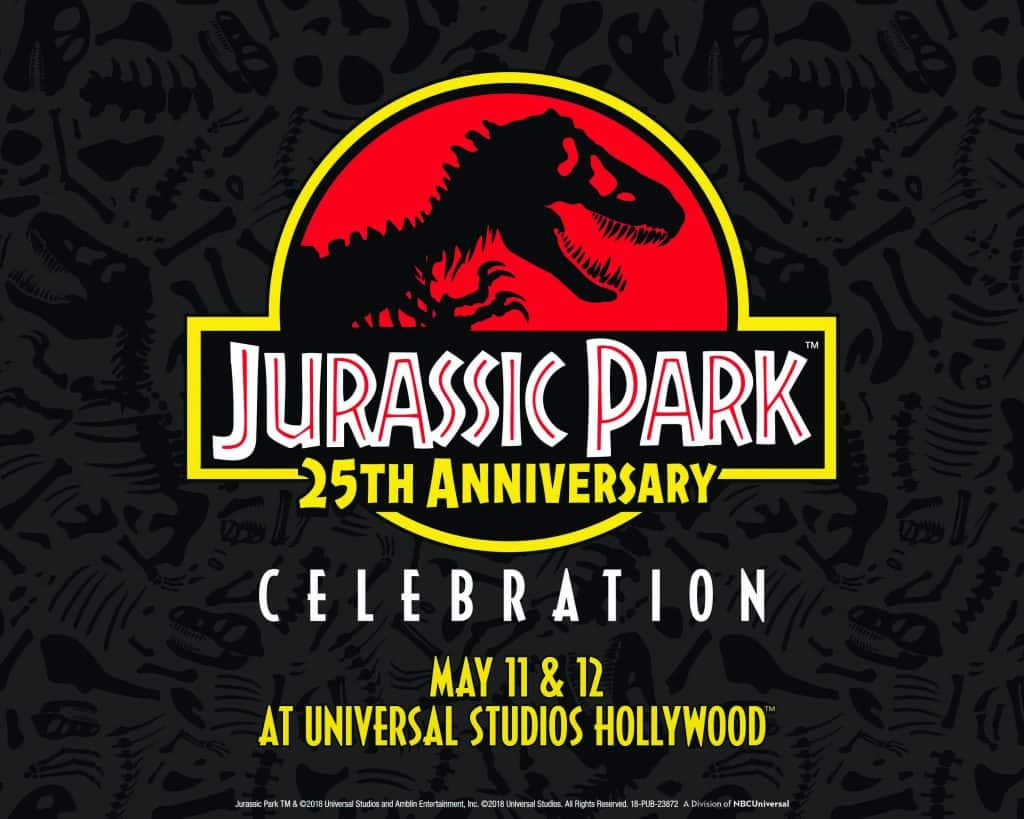 Because this year brings us the 25th anniversary of the original Jurassic Park movie, Universal Studios Hollywood and Amblin Entertainment have partnered to bring us all a special event. On May 11 and May 12 only, this separately ticketed event includes a screening of the movie at the Universal CityWalk new state-of-the-art Cinema, followed by exciting things in the Jurassic Park ride area in the park and after-hours access to the park.
"Guests will receive a special commemorative lanyard and unlimited access to all things Jurassic, from the acclaimed theme park ride, to original props, including the Gyrosphere as seen in the record-breaking Jurassic World, original dinosaur maquettes, costume displays and an interactive expo area.  Live entertainment, themed food and merchandise will also be available to complement the event."
For further information and to buy tickets, visit the Universal Studios Hollywood website. Buy your tickets quickly as they will sell out! And get your costume ready — you can dress up as your favorite character! <Puts together Ellie costume.>
Welcome to Jurassic Park!