Odysseo by Cavalia is a one of a kind experience, a beautiful combination of aerialists and horses, lighting and scenery changes and gorgeous music sung and played by performers high up in the air. You have to see it to believe it and it's far beyond anything I imagined when I was offered complimentary tickets in exchange for social media promotion. (The photos and opinions are all my own!)
Odysseo by Cavalia Irvine
Under the big white tent — which you can see for miles — where the 405 and 133 freeways meet down in Irvine, California, lies this ethereal world of fantasy and reality entwined. Once you enter, you forget you're even in a tent. It's far larger than we had expected and encompasses everything from warm areas to eat and chat and full restroom facilities. Keep reading all the way through for a discount promo code so you can save 10% on evening show ticket purchases in Irvine!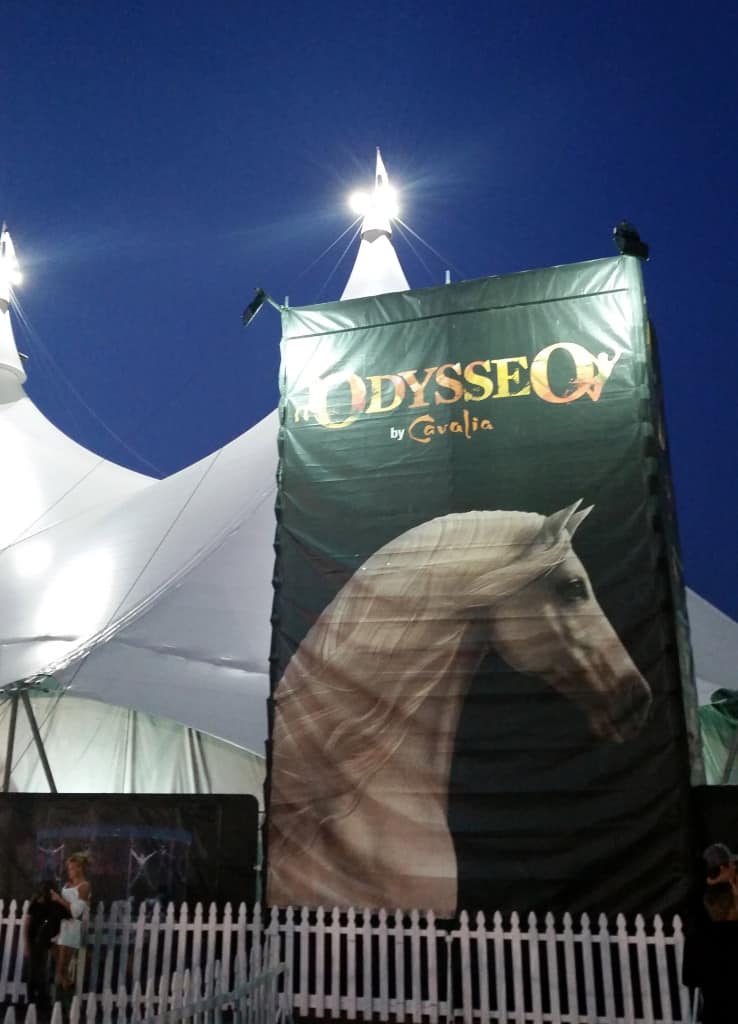 As VIP guests of Odysseo by Cavalia, we were greeted by a meal that was beyond expectations for something catered in a portable building. We ate everything from salmon to shrimp to beef with chimichurri sauce, poke, chicken, Mediterrean food like hummus, fresh fruit, salads (including a kale salad that was so fresh and covered with healthy yet delicious toppings) and so much more. Everyone can find something in this large buffet to fill them before the show starts. We sat at comfortable tables, near plush couches and arrangements for larger groups, after getting our photos taken on the red carpet immediately after entry, enjoying champagne and wine while going back for a second serving. If you're still hungry, you can grab popcorn before you enter the seating area. So many details made the entire evening perfect!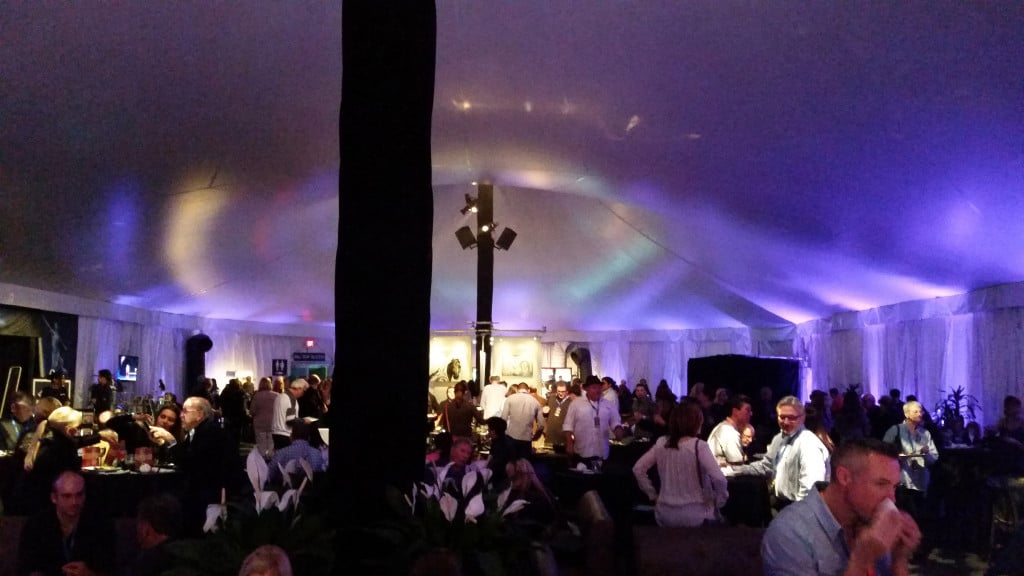 This dark-ish photo (no flash allowed inside the show, so as not to disrupt the horses) is only of part of the tent; it never got crowded, even when it was close to show time. And our food?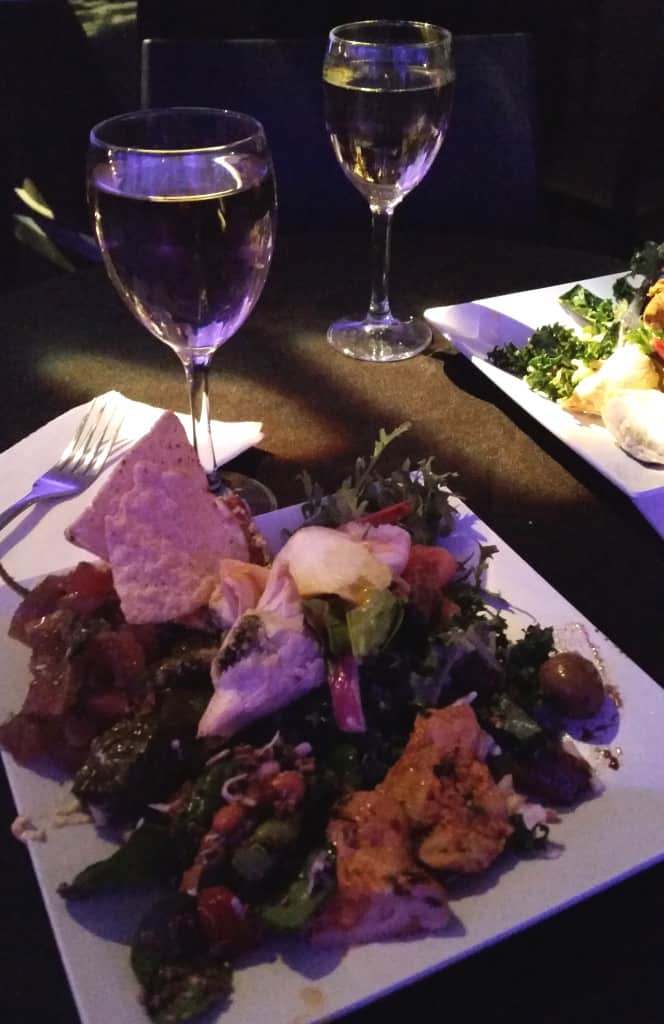 The Odysseo by Cavalia VIP package, which you can purchase at their website, includes this fantastic meal, select beverages from the bar, front row seats, intermission coffee and desserts, and pre- and post-show special access. We were also gifted a bound book of photographs about the show, its creators and cast. It's a very special souvenir to keep and re-read long after the show is over.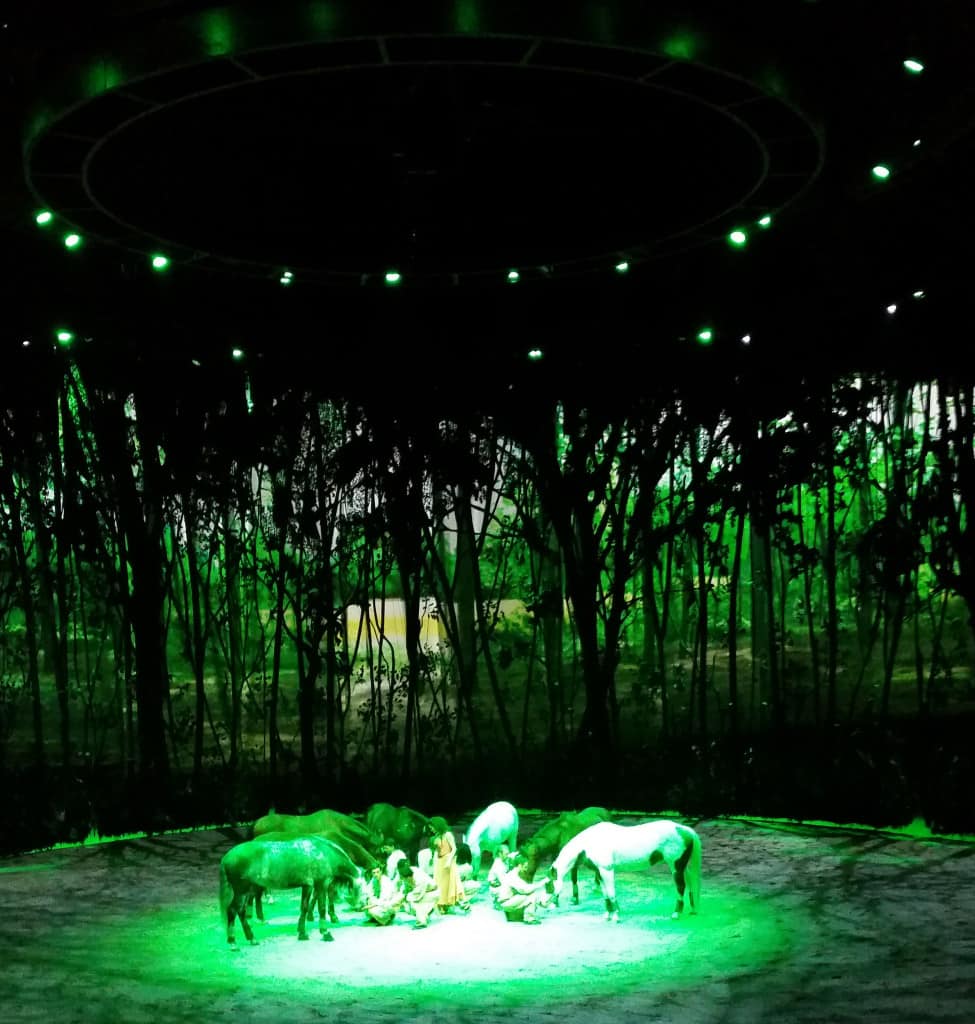 When the lights went down, the action starts immediately. As the lights shift, the scene changes in a way that's hard to explain. Trees come out of nowhere and horses appear to multiply. Music begins to waft from the left and right of the stage, and we didn't notice until close to intermission that it was sung and performed live. Watching the singer's gestures was so entertaining.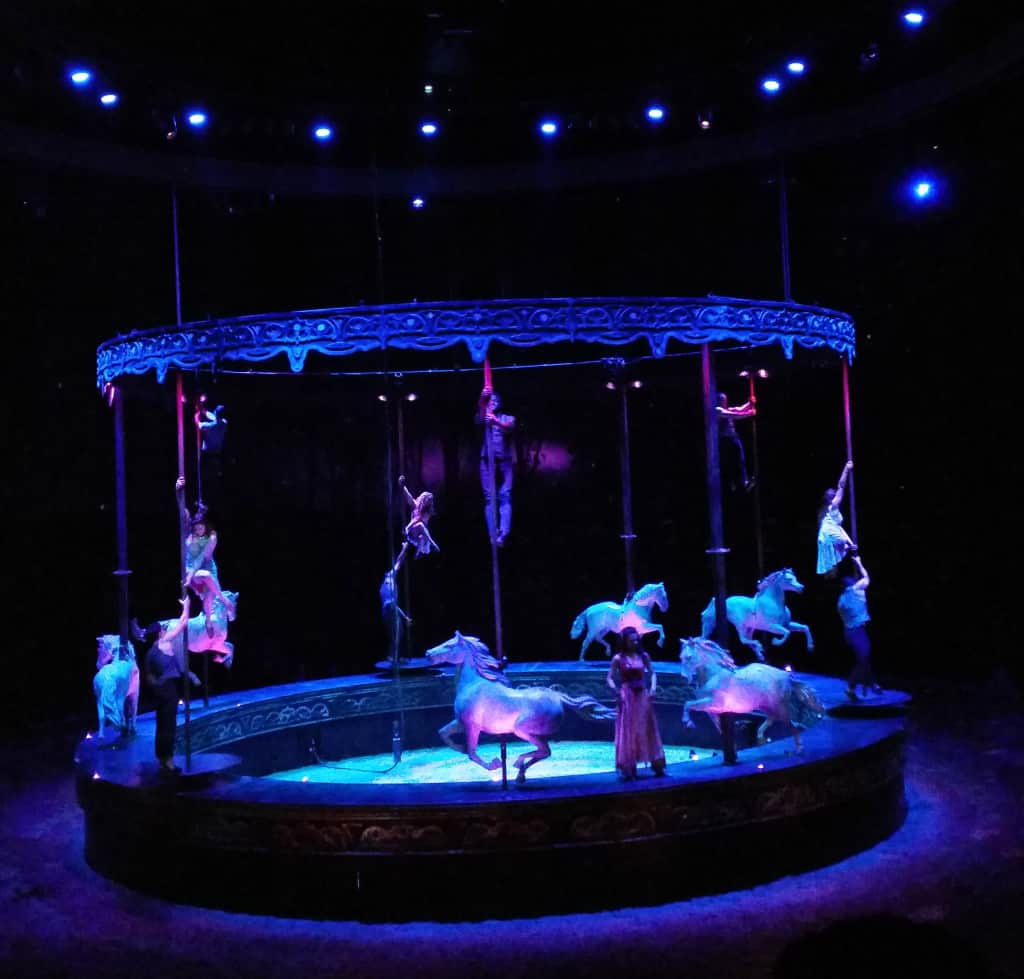 Throughout the course of the show, which is approximately two hours with intermission, the scenery changes from the carousel to the forest to hill to water-edged meadow. Trees appear and disappear and the riders come from all around the 'stage,' though it's not really so much a stage as a unique world that melds and morphs to match the activity. From aerialists suspended from big ropes and ribbons, to riders spinning around on speeding horses, each act is unique and will have you glued to your seat. (I honestly think I didn't see anyone have to get up in between acts. How often does that happen?) These guys were a blast to watch!
The action is constant and there is no down time. Appropriate for all ages, Odysseo by Cavalia will amaze and surprise and you'll even find yourself laughing from time to time as one horse acts out just a little.
One of my favorite scenes was a group of horses that, to me, were portrayed as wild yet not. They followed their leader around on cue, so free and beautiful, and one of them went a little rogue at one point; when he was pulled back into the fold, he was greeted by a treat and a pat on the head, it was so cute.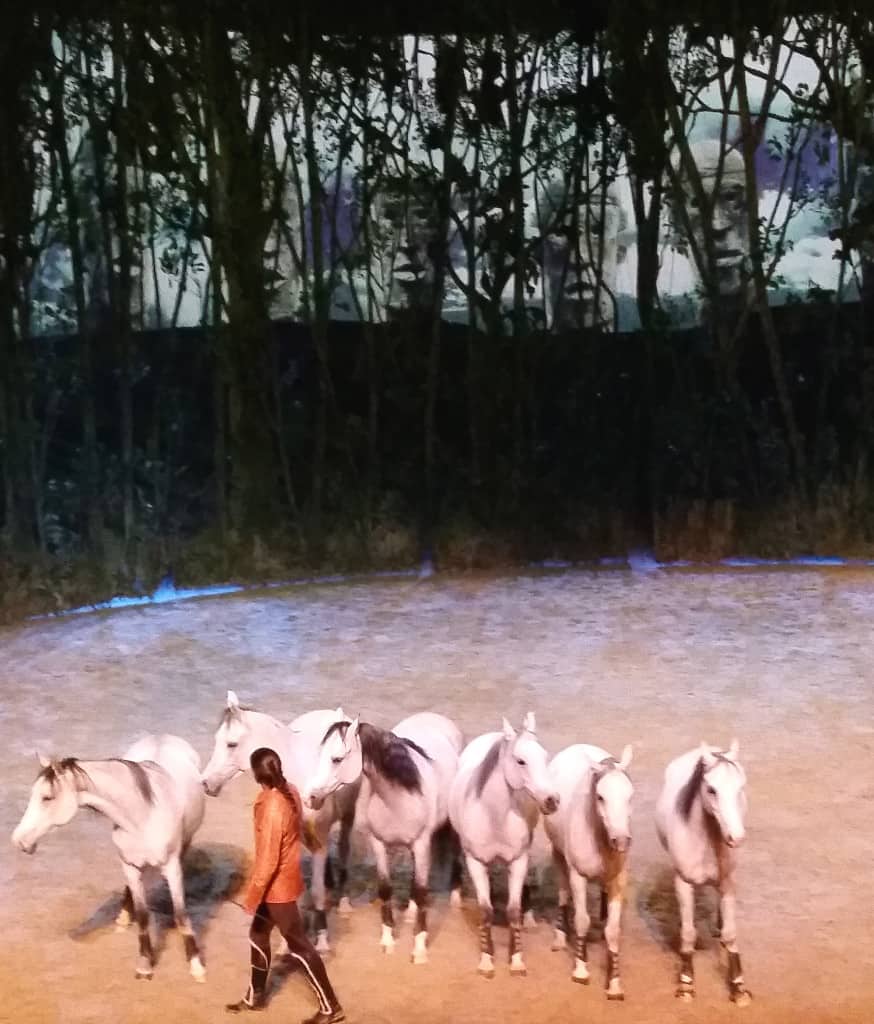 See the faces in the trees behind? So many details and things to see when you look around in every scene. I know if I saw it again, I'd find so many things I missed as there's so much to take in.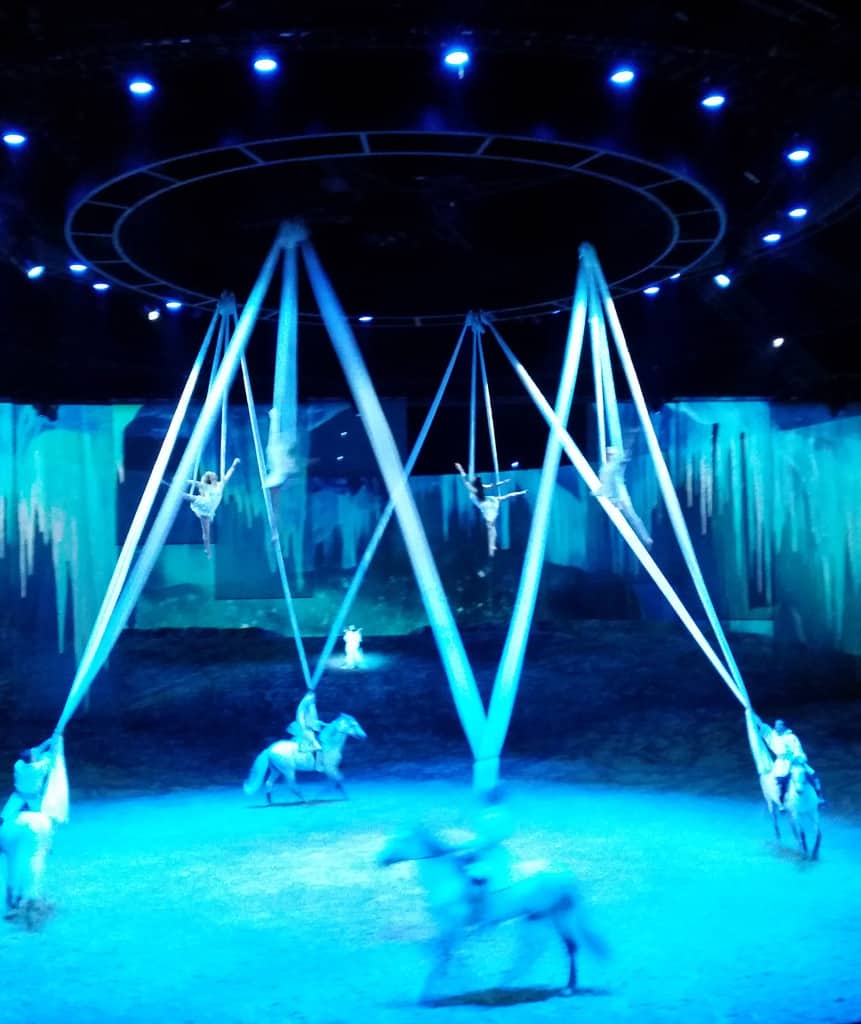 This blurry scene was breathtaking. The riders were helping suspend the twirling aerialists, and with the breathy and emotional music coming from above, it was all so surreal. The set designer and choreographers are beyond compare.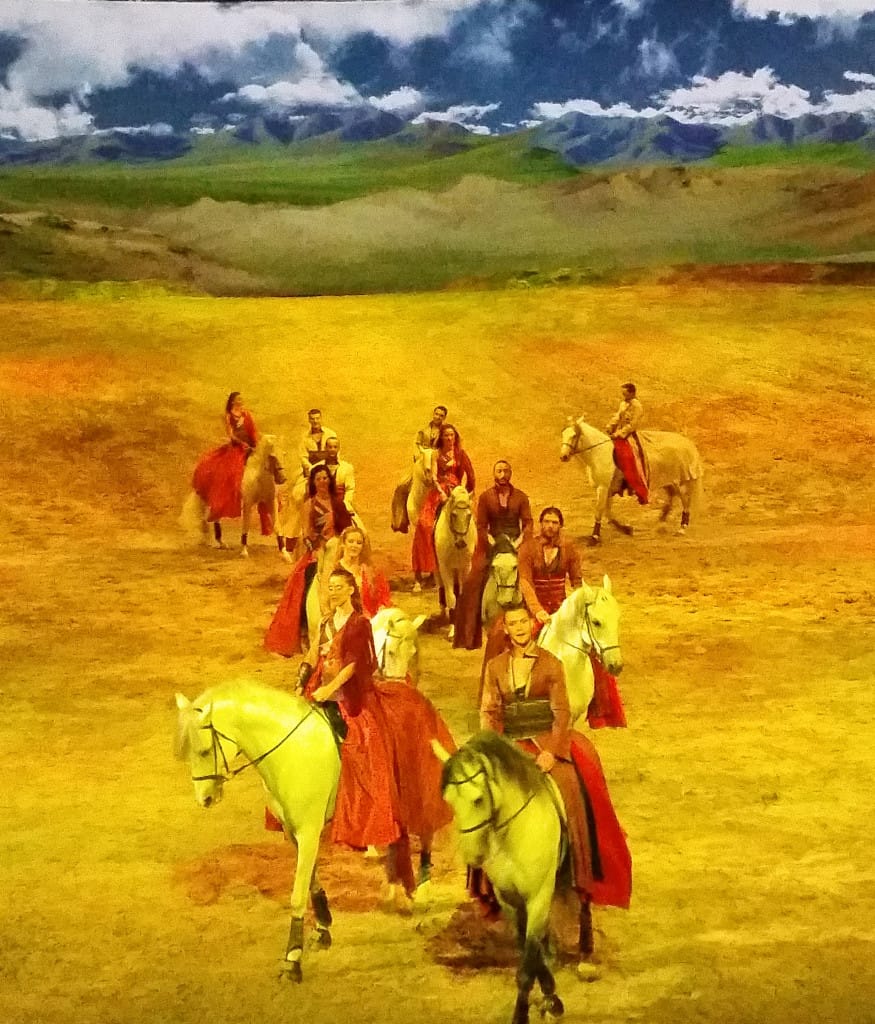 Isn't it amazing to think that all of these sets are the same place?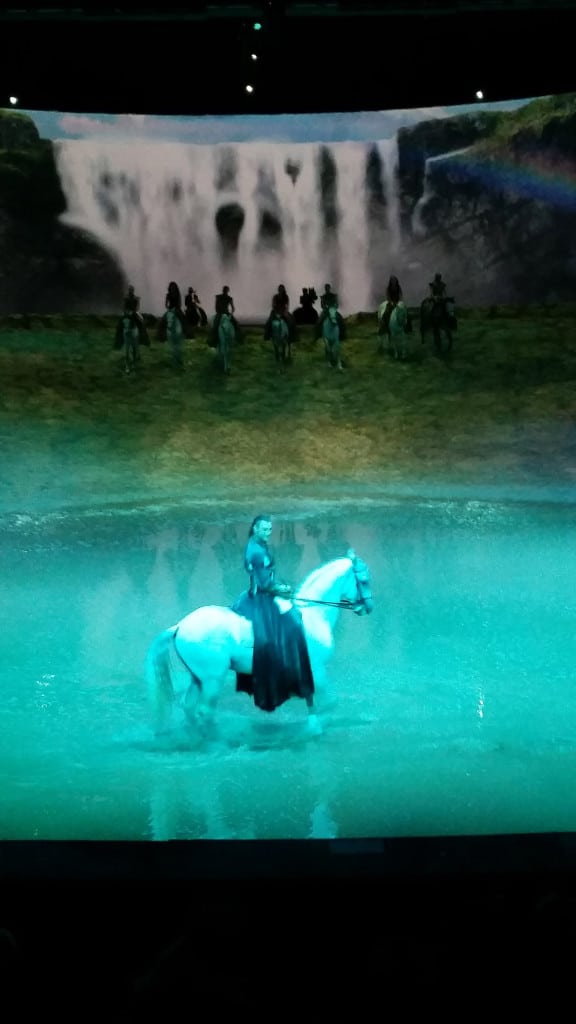 That water in the lower-half of the photo fills up quickly, and it still amazes me that a set that is transported across the country and taken apart at the end of the show is so technologically advanced, contains water without issue. The horses ran quickly through it, and while we weren't front row to confirm, I bet that they did get splashed a little. How fun, right?
After the show was over, we were allowed to see a couple horses and performers back by the stables. I got to take a photo with a horse! (I've always been a major Clydesdale fan and jumped at the chance to take a photo with one a few years back at a Daytona race, but this was a first with a show horse as beautiful as this one is.)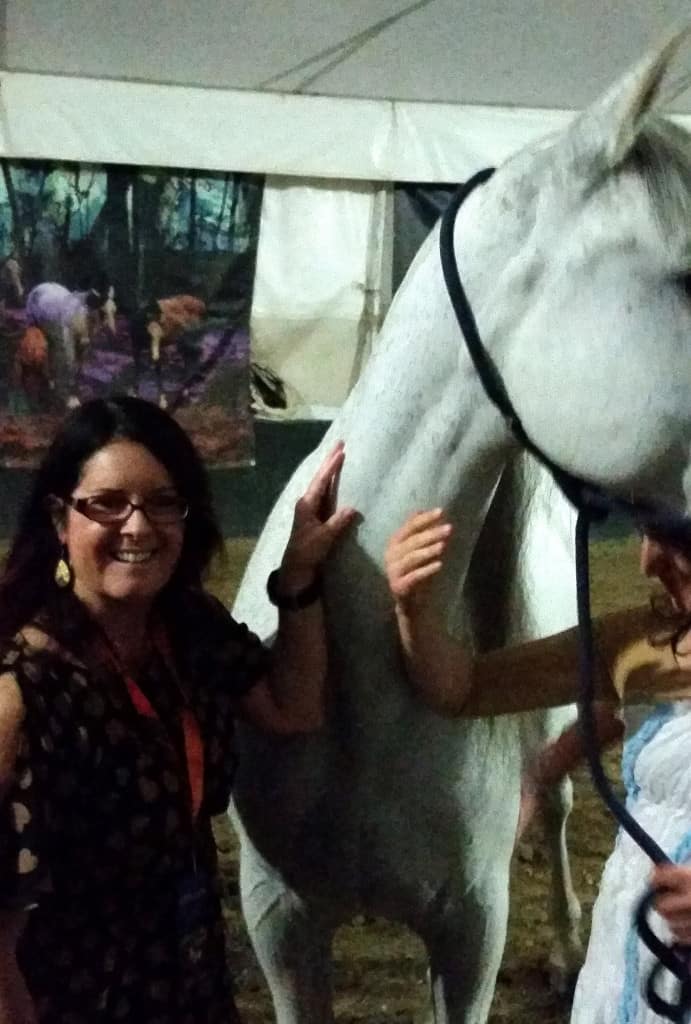 One of my favorite horses in the show was spotted — when touring the stables, I 'spotted' (ha, couldn't help myself) in the back of another stall with this handsome fellow.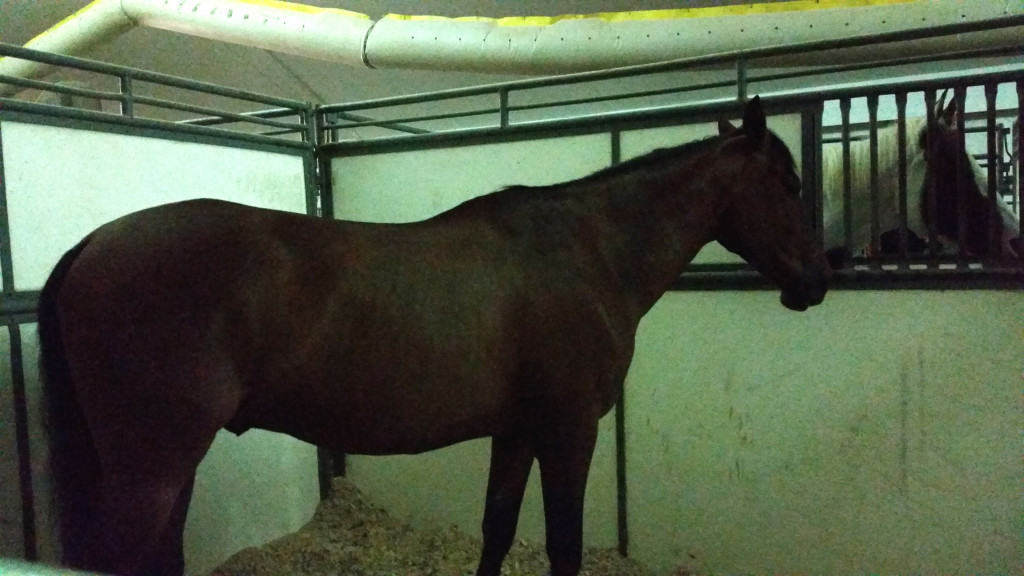 Interested in going to see Odysseo by Cavalia? Use promo code SocialOC when purchasing online and you'll get 10% off evening shows in Irvine! It's a show like no other and you will enjoy the entire evening, from start to finish! Cavalia Odysseo Irvine is an equestrian experience you'll remember forever.