Last week, I had the pleasure of attending a fun event on behalf of a new movie coming out on Netflix on September 13. With Tall Girl, Netflix brings teens a good message that we all should remember: life is about being comfortable with who we are, as we are, and embracing our differences as strengths, not weaknesses.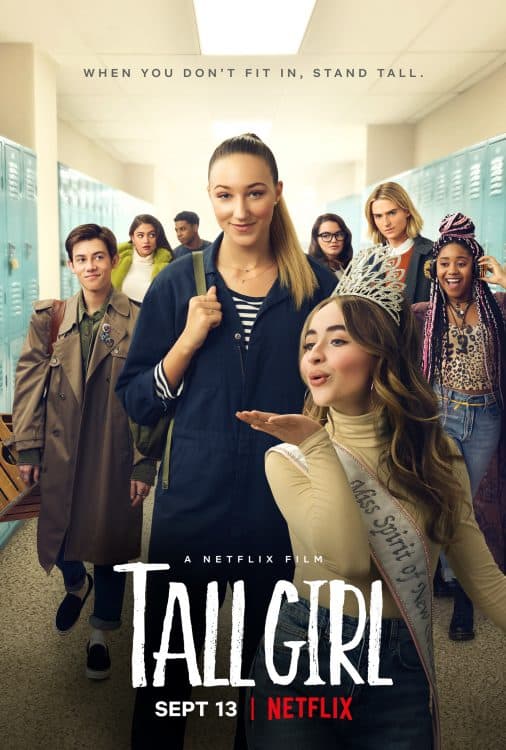 As a prerequisite to attend the event, we got to screen the movie in its entirety. I watched it later in the evening, alone, and while the movie is centered on a high school student, I really enjoyed it. It's lighthearted, the cast is well-chosen and the message is easy to read. (It's also a little like a newer version of Pretty in Pink, which is one of my favorite movies ever! Who doesn't remember Ducky? Tall Girl will give you a new memory every time you see a milk crate now.)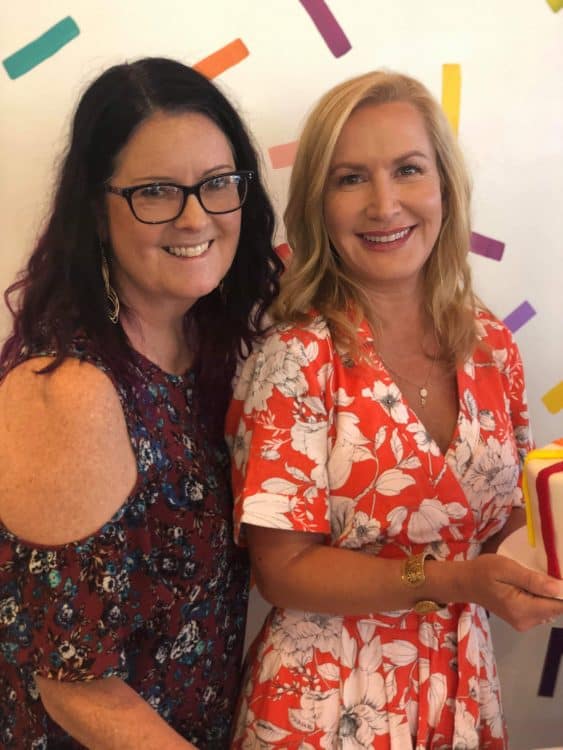 In Tall Girl, Netflix has assembled a strong cast which includes Angela Kinsey ("The Office" and much more) and Steve Zahn (the "Diary of a Wimpy Kid" series). They make a good pairing as the parents of "Jodi," the main character.
Jodi (Ava Michelle) has always been the tallest girl in school — and she's always hated it. After slouching her way through life for 16 years, being bullied by classmates, and being compared to her beauty queen sister Harper (Sabrina Carpenter), Jodi meets Stig (Luke Eisner), a seemingly perfect Swedish foreign exchange student who's even taller than she is. Jodi's new crush turns her world upside down and throws her into a surprising love triangle, but with the help of her two best friends (Griffin Gluck, Anjelika Washington) Jodi comes to realize that she's far more than her insecurities about her appearance have led her to believe. TALL GIRL, director Nzingha Stewart's first feature film, is a heartfelt and hilarious coming-of-age story about finding the confidence to stop slouching and stand tall.
This Tall Girl movie is a fun way to be reminded that we don't need to fix our external selves; instead, we need to work on standing up for ourselves and using what we were given, which is beautiful as is. We don't need to become someone we aren't nor accept less than what makes us happy. That's something we all could stand to focus on more, and to raise our children knowing.
As Jodi's dad, Steve Zahn comes off initially as loving yet misguided in his attempts to help his daughter feel normal, whatever that is. For her, it's a little different than what he sees, and his way of supporting her is helping her find a way to fit in. Problem is, she doesn't want to just fit in with other tall girls, but to be seen as more than just her height. When Jodi deals with difficulty from a young man, his anger towards how she is treated begins to show the depth of his parental love but my favorite scene in the whole movie takes place on a piano bench. The relationship between mother and daughter is important in Tall Girl, but the father and daughter bond is beautiful and a little surprising.]
I also loved how Jodi's sister defends her. Despite their vast differences — both physically and in personality — her sister has her back, sees her for way more than just being "that tall girl," and loves her for who she is even if they aren't the same.
Here's a sneak peek trailer to watch before you queue it up in Netflix!
Now back to the event. We were invited to Duff's Cake Mix in Los Angeles to decorate cakes with none other than Angela Kinsey, Jodi's mother in Tall Girl.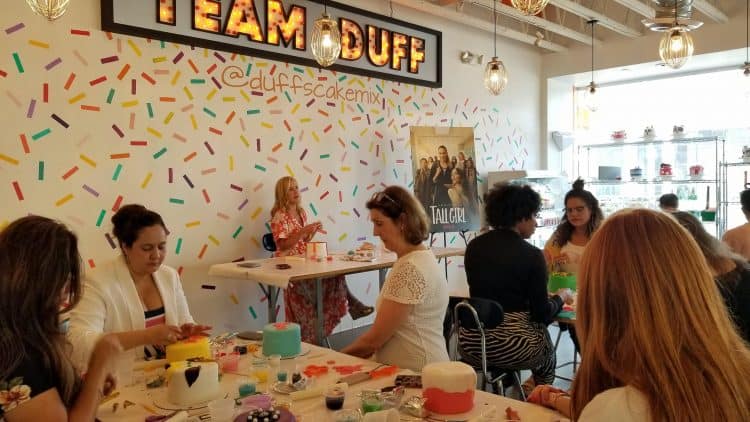 Angela's a wonderful woman — friendly, bubbly and so fun to listen to. She shared her enviable close relationship with her mother, and we got to talk at length about the YouTube channel she runs with her husband, Josh. (Check it out here!)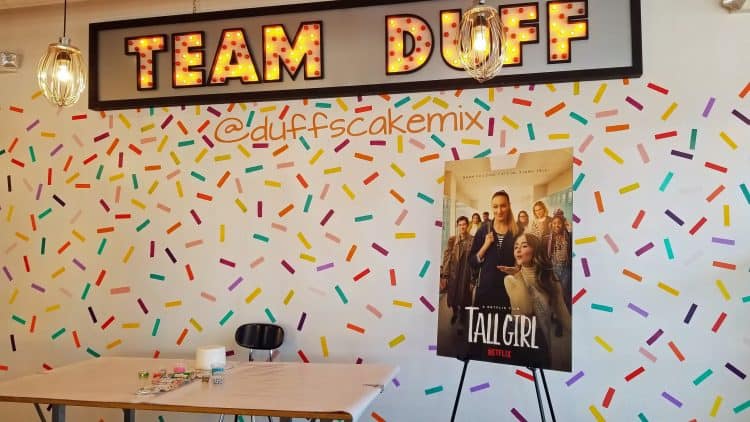 I shared a lot of the event live on my Instagram profile (which you can find over here at DangerousCupcakeLifestyle) with videos and photos, but to sum it up, Angela's a beautiful lady who was excited for the role of Jodi's mother and to take part in a movie with a message of self-love. And it doesn't get any better than that, right?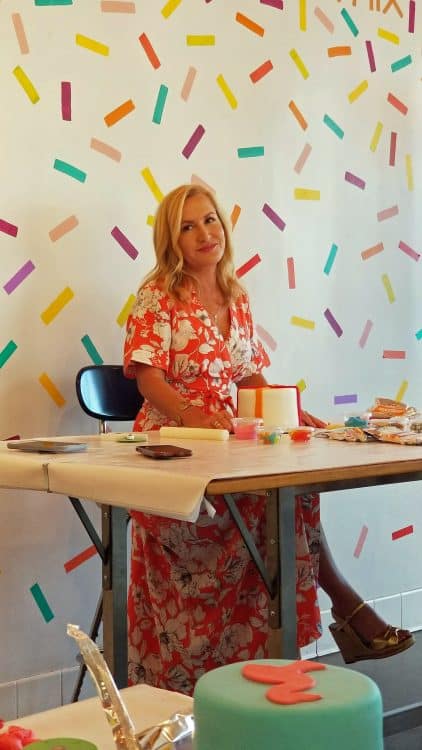 I used to decorate cakes and cupcakes. In fact, that's the origin of my blog name, Dangerous Cupcake. I stopped doing it years ago though. It's time-consuming and people don't always appreciate the time and effort which goes into quality decorating, but I still do it for friends and families. However, I haven't done a lot of work with fondant, or "edible canvas," so the chance to do one at such a renowned place was pretty cool. We were provided cakes and all the decorating tools necessary, along with a wide selection of candies, fondant, frostings, beads and more with which to decorate.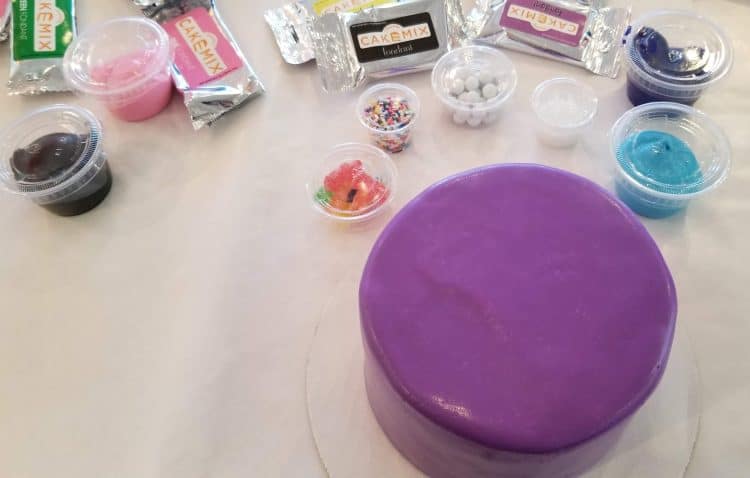 The idea in my head was to make a lacy-strewn, beaded piece of sugary perfection. Instead, after laughing with Angela and my fellow cake decorators, I reined in my expectations and ended up with this.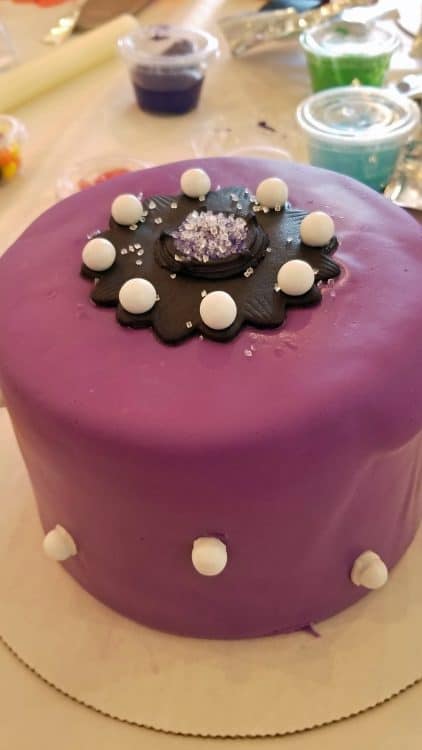 There were a lot of beautiful cakes turned out during the event. This Tall Girl one, created by my friend, Queen Bee Latina, was a favorite.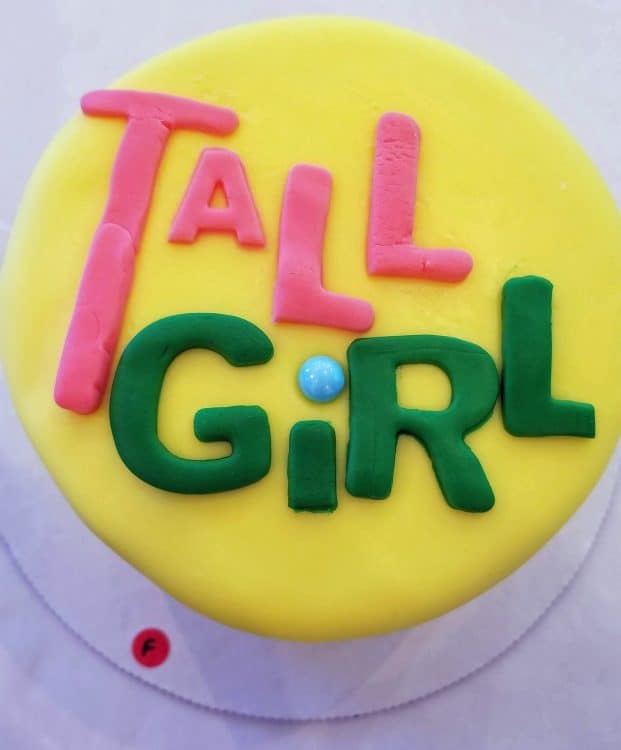 Mine wasn't nearly as elaborate as I'd hoped for initially but I was okay with it in the end. We enjoyed it that evening as a birthday cake dessert for my son-in-law-to-be!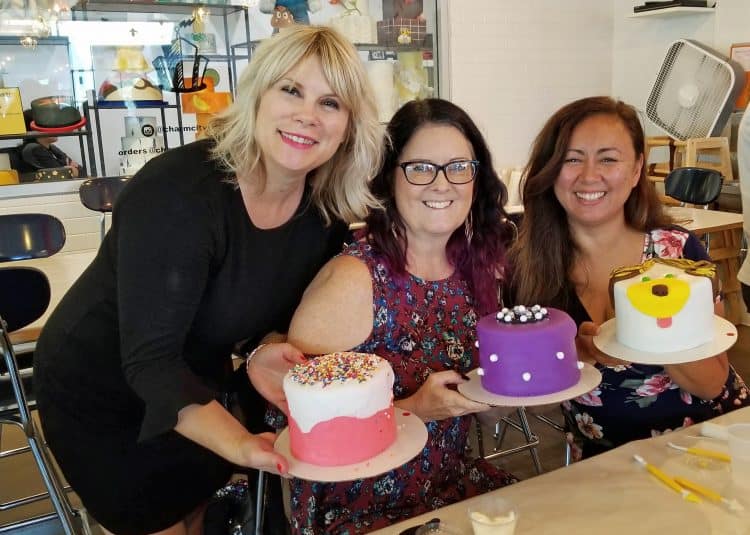 Thank you for Tall Girl, Netflix, and for the unique press event! It was a thrill to be at Duff's and to meet you, Angela!