Time for our first bit celebrity interview, which happens to be with Disney's Tomorrowland cast!
Driving around, windows down, in southern California on a sunny day is already a beautiful thing, but when your destination is a press junket in Beverly Hills for a new Disney film with George Clooney, it's pretty much perfect. I mean, George Clooney. Add in the rest of the amazing Tomorrowland cast and you've got a press event that's one of those opportunities that makes you realize how lucky you are to do what you do.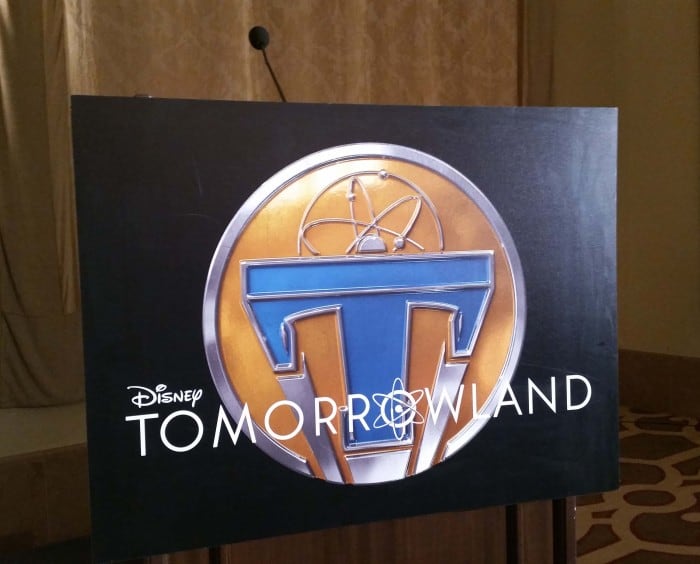 "What if there was a place, a secret place where nothing was impossible?"
That's the bare bones, general premise of the new Disney movie, Tomorrowland. Based on the future but interwined in our present and past, Tomorrowland takes you on a magical ride, something Disney writers and creators know all too well how to do.  I was able to attend the interview of the below list of participating cast members and writers and listen in on what inspired the movie and thoughts and experiences during the making of it.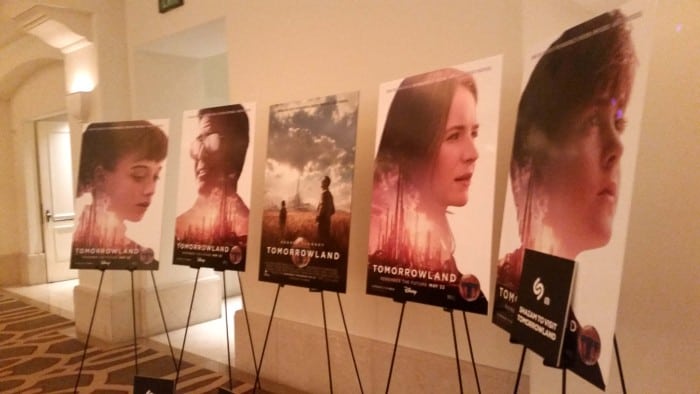 In attendance:
George Clooney ("Frank Walker")
Britt Robertson ("Casey Newton")
Tim McGraw ("Ed Newton")
Raffey Cassidy ("Athena")
Brad Bird (Director / Producer / Writer)
Damon Lindelof (Producer / Writer)
Jeff Jensen (Story By)
Tomorrowland — anyone who has visited a Disney park has seen it and knows it's a land of the future. Of high-tech imagery and imagination. It's been in existence since way back and holds a big place in Disney history. The movie about it started off as an idea based on a conversation Damon Lindelof, one of the producer/writers, had with Sean Bailey, the president of production at Disney, when discussing movies coming down the line and Sean asked Damon what he thought a Disney movie should be. Damon responded "…but I would go to see a movie about Tomorrowland" and it took off from there, with the addition of Brad Bird and Jeff Jensen to the creative mix to pull it all together.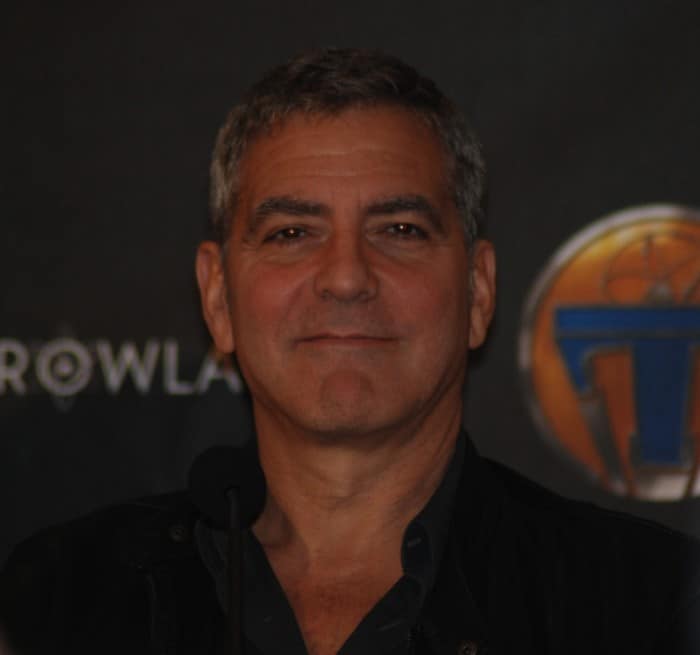 First, back up to the discussion of the Tomorrowland cast. George Clooney's smile can light up a room. He walks in and sits down, between Raffey Cassidy and Britt Robertson and seems so calm and ready to get grilled by a field of media. No fear. His laugh comes easy and his answers naturally. As big as his presence is, Tim Mcgraw is just as commanding but in an entirely different way. Almost pensive and seemingly still surprised by the attention he's receiving, Tim's much more quiet yet when he does get a chance to answer a question, just as clear and interesting to listen to as George. When he smiles, it's big and broad and his eyes sparkle. What a cast of leading men!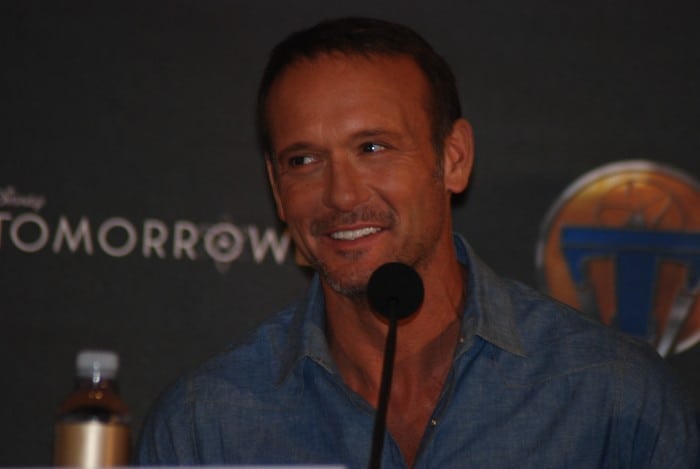 The ladies, however, are equally talented and well-casted. Raffey Cassidy, a young woman with a big future ahead of her, is beautiful and adorable at the same time.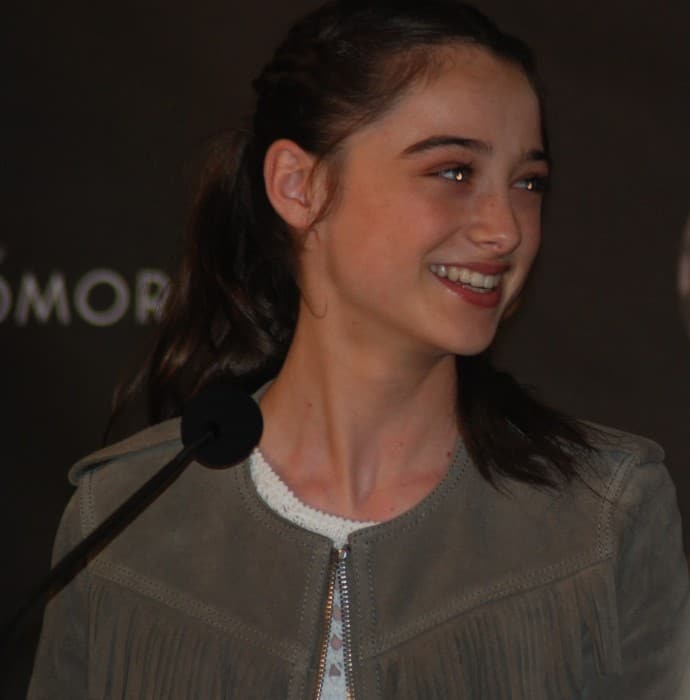 Britt Robertson was familiar to me instantly from her role in Under the Dome and her portrayal of Casey Newton is spot-on and the relationship between her and her onscreen father (McGraw) was almost apparent during the interview as the two had the chance to answer questions together.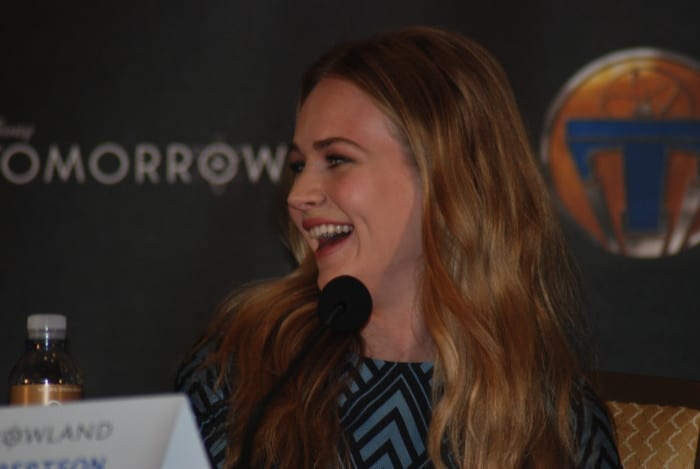 George shared the story of how he was pitched the role of genius inventor Frank Walker. When Brad Bird and Damon Lindelof arrived at his home to show him the script, Clooney quickly read the brief description of the role: 55-year-old has been, leading him to ask "Hang on a minute, what part am I reading for?"  Brad quickly interjects that the script said "genius," to which George replied "It said former genius, boy genius, who has gotten bitter in his old age. I just loved the idea of, you know, we live in a world right now where you turn on your television set and it's rough out there. And it's not fun. And it can really wear on you after a period of time. And we see generations now feeling as if it's sort of hopeless, in a way, and what I love about it is it sort of speaks to the idea that your future is not preordained and predestined, and that if you're involved, a single voice can make a difference and I believe in that. I happen to believe in it, and so I loved the theme or the idea that, you know, there's still so much that we can all do to make things better. And I liked it. I thought it was great."
Brad Bird
Damon Lindelof
George has a great sense of humor and clearly that, and his skill for rapping — which we were told was quite good but he wouldn't display — kept the cast going during rough moments, which happen even during the filming of a Disney movie.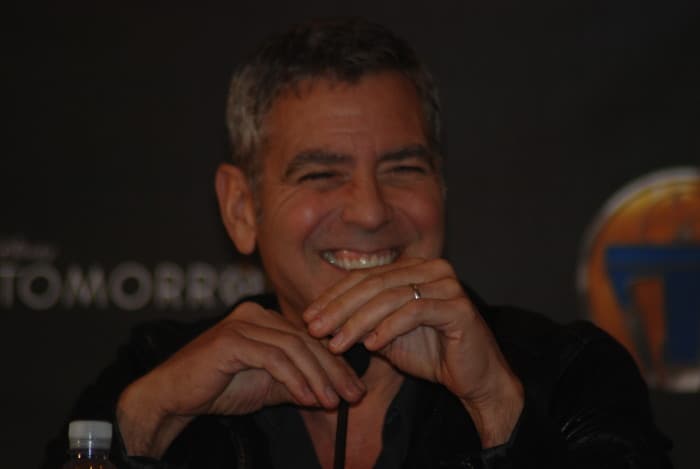 As often happens during press events, the conversation can change in a heartbeat, and this one was no exception. One member of the press even attempted to get George to share if he was hoping/planning to be a father one day, but much like the attempt to get him to rap, he didn't share specifics. He did share that if he could do anything to help others on a daily basis, it would be to help parts of the world that he'd like to see get attention.
Each cast member was asked that same question, with answers ranging from a humorous "softball" to Raffey's wish for less technology (to help us return to more face-to-face interaction) and Britt's attempts to cut back on water consumption. Tim McGraw has three daughters and he'd love to see their faces more, which made everyone laugh; as a parent, I totally understand that.
Someone asked me if I would call the movie science fiction. I thought about that a little bit, but I'd have to go with "no." It's typical Disney magic, where you are transported to a different type of universe, a different time, a different life. It's futuristic, not science fiction, because who knows what will be discovered in the universe in years to come. We're already at a place in time where things are so advanced that what was considered science fiction fifty years ago is now reality.
When you see Tomorrowland, more of that will make sense. When you've got a cast this open and talented, great stories get told and you are taken along on a journey that goes all too quick. Walt Disney would be proud. Tomorrowland opens on May 22, so check back that morning for my review! Until then, enjoy my pictures and this brief video. Once you see the movie, let me know what you think!