As a mom of four kids, it's no surprise that Harry Potter is a popular fixture in our home. The books, the movies, the gear…we have it all. Confession time though: I never read the books! I have seen the movies though, and I am solidly Team Ravenclaw. If you have ever done one of those tests to figure out which house you belong to, the new Harry Potter: Hogwarts Tournament of Houses is right down your alley!
The four-part event hosted by Helen Mirren kicks off with the epic house battle between the brave Gryffindors and loyal Hufflepuffs at 8:00 p.m. on TBS and Cartoon Network beginning on November 28 – you don't want to miss it!
After you watch it, be sure to show your house pride and root for your Hogwarts house on social using #HPTournamentofHouses. What house are you?
Here's a trailer for this fun new head-to-head trivia match.
If you're a true Potterhead, you're going to want to make a few snacks, get your bevs ready, and find that comfy seat in front of the screen so you can yell out your answers into the void…because you know you will, right? This series was created in honor of the 20th anniversary of Harry Potter, and will reveal who really knows their Potter trivia…and on the show, one person will end up being crowned with the title of House Cup champion.
I have to admit, I will not do very good at this….but we will be watching. Helen Mirren is a gorgeous badass in every role and she's the perfect fit for this role as emcee.
I was at Target yesterday — maybe not my smartest move to visit during Thanksgiving week, but it couldn't be helped — and they have a large assortment of fun Harry Potter gear, including pillows, blankets and other things that you can add to your viewing space for premiere night of Tournament of Houses.
Also, thank you to Warner Bros. for this fun goodie box!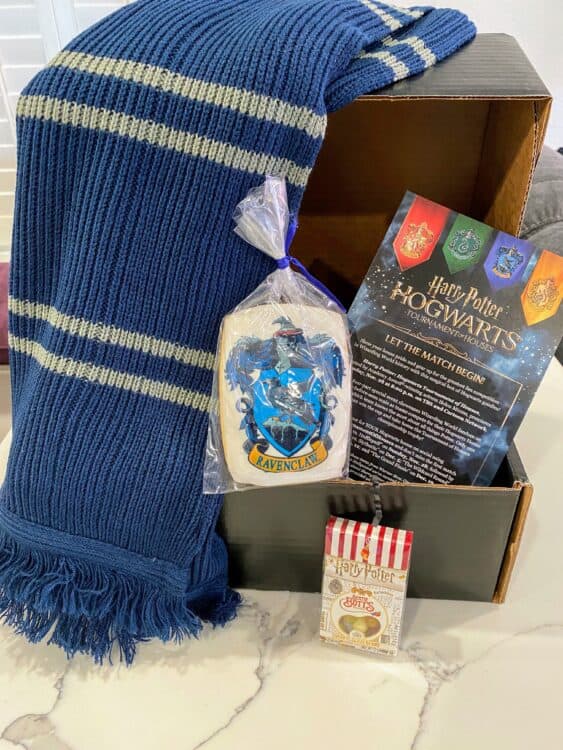 It's so much fun to open surprises you get in the mail, and this one had my kids fighting over who was going to get it! Spoiler: I won. Mom won.
I'll be sporting this Team Ravenclaw scarf when we visit Universal Studios Hollywood next week, just in time for Christmas at Hogwarts. Watch and let me know what you think..and don't forget to share pictures of your watch party with #HPTournamentofHouses on social! I'll be looking!