If you're a Marvel comic fan, you've heard the story of Venom. Starring Tom Hardy, Columbia pictures, a Sony company, has done a fabulous job of bringing us all the story of Eddie Brock, a host to an alien symbiote. Eddie, going through the lowest point in his life after a job loss and the loss of his fiancee, experiences a transformation that has to be seen to be believed. Not all superheroes look like it, and this story of Venom's fight against evil is full of special effects and scenes that will leave you leaning back in your seat. (It's also not for the feint of heart or small children, as it's rated PG-13.)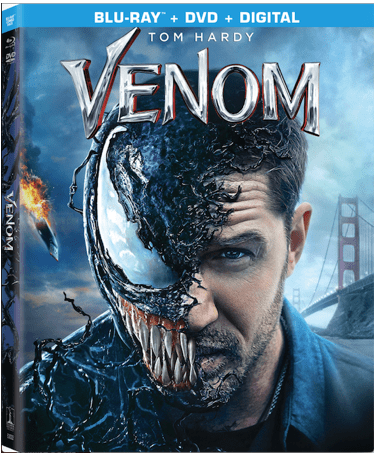 Venom came out in theaters on October 5 and is now coming out on 4K Ultra HD™ Combo Pack, Blu-ray™ Combo Pack and DVD on December 18. In honor of the big day, I'm hosting a giveaway where you can enter for a chance to win a hard copy of Venom along with a Venom t-shirt, size small. (I'm also getting a complimentary set! The opinions here are my own.)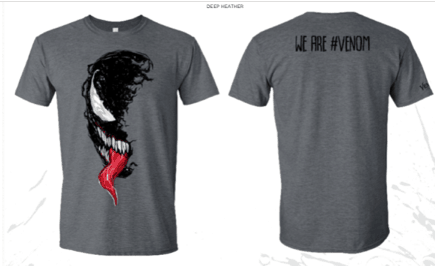 Bonus Materials Include:
Venom Mode: When selecting this mode the film will engage informative pop-ups throughout the film to provide insight on the movie's relationship to the comics, and to reveal hidden references that even a seasoned Venom-fan may have missed!
Deleted & Extended Scenes: These deleted and extended scenes will give fans even more of the Venom action they loved in theaters!

Ride to Hospital – Eddie and Venom take a ride to the hospital.
Car Alarm – Let's just say that Venom is not fond of car alarms.
San Quentin – Extended post-credits scene at San Quentin.

From Symbiote to Screen: A mini documentary about the history of Venom in comics and his journey to the big screen. Interviews with Avi Arad, Matt Tolmach, Ruben Fleischer, Oliver Scholl, and Director and Comic Fanboy Kevin Smith.
The Lethal Protector in Action: Go behind the scenes with the production crew and learn the secrets behind the awesome Motorcycle stunts, wire stunts, and drones.
Venom Vision: A look at how Ruben Fleischer came to the project, gathered his team, and made Venom a reality. Utilizes interviews from cast, crew, and producers as well as Fleischer himself.
Designing Venom: Designing and creating Venom meant a huge challenge for VFX artists; follow the amazing journey.
Symbiote Secrets: Blink and you may have missed it! Enjoy the hidden references throughout the film.
8 Select Scenes Pre-Vis sequences: See the progression of the visual effects, storyboards and fight chorography compared to the finished film.
"Venom" by Eminem – Music Video
"Sunflower" by Post Malone, Swae Lee (From Spider-Man: Into the Spider-Verse)
Spider-Man: Into the Spider-Verse Sneak Peek: Meanwhile in another universe…
4K Ultra HD™ Includes:
Feature film presented with Dolby Vision high dynamic range and Dolby Atmos sound
Also includes the film and special features on the included high-def Blu-ray
If you'd like to enter my giveaway for a chance to win, use the widget below. Usual rules apply: no purchase is necessary and void where prohibited by law. Winner must be at least 18 years of age and reside in the United States. Winner must respond within 48 hours of email notification with shipping address; prize fulfilled via public relations for Venom/Columbia/Sony. If winner does not reply in time, winner forfeits the prize and a new winner will be drawn.
If you haven't seen the movie trailer yet, here you go — let me know what you think! (And good luck if you enter the giveaway!)