Star Wars fans, are you ready?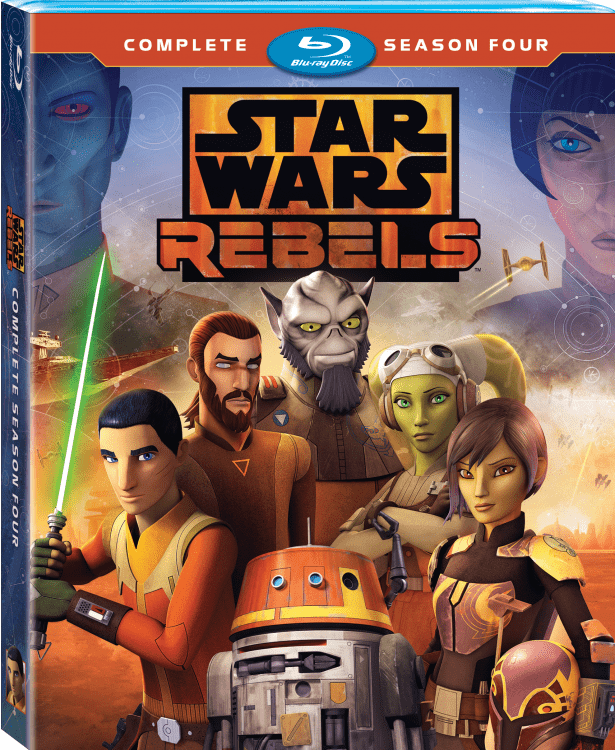 Star Wars Rebels: The Complete Fourth Season is available on Blu-ray as of July 31st! With with compelling characters, harrowing conflicts and astounding space battles. Old friends are reunited and new alliances are forged as Star Wars Rebels builds to an epic conclusion, drawing connections to the entire Star Wars saga.
The season four voice cast includes Taylor Gray as Ezra, Vanessa Marshall as Hera, Freddie Prinze, Jr. as Kanan, Tiya Sircar as Sabine, Steve Blum as Zeb, Dee Bradley Baker as Rex, Mary Elizabeth McGlynn as Pryce, David Oyelowo as Kallus and Lars Mikkelsen as Thrawn. The run-time of the entire collection is 353 minutes, so Star Wars fans, you're going to have a lot of fun watching this season and getting back into the latest of this series.
We started watching last week, as we were given a free copy in order to share about it with you AND provide one lucky winner their own copy, too! (All opinions here are my own though!) We enjoyed the show, and admittedly had to catch up a bit but hey, it's Star Wars, you can't not enjoy, right? The animation is spot-on and the story lines keep you watching. If you have Star Wars fans in your household, this is a good addition to your Star Wars collection.
Want to win a copy of your own? Keep reading for your chance to enter and win!
As always, the Blu-Ray has some bonus extras available — check out this list for more information:
 Blu-ray:
Featuring Dave Filoni (Executive Producer)
As paths come together, we explore the journey of the Ghost crew with some of the talented people who brought them to life.
Executive Producer Dave Filoni shares insights into the Force and its importance across the Star Wars saga.
Kevin Kiner: The Rebel Symphony
Go behind the scenes with composer Kevin Kiner to discover what inspired some of the most iconic music in the series.
Go behind the scenes with the cast and crew in 8 entertaining and information-packed episode recaps!
DVD:
Go behind the scenes with the cast and crew in 8 entertaining and information-packed episode recaps!
Star Wars Rebel giveaway rules: winner must be 18 and reside in the United States. One per household. No purchase necessary. Prize will be fulfilled by PR company, not by Dangerous Cupcake Lifestyle or team. Winner has 48 hours to respond with physical mailing address and name; if no response is received, prize is forfeited and a new winner will be drawn.
Thanks for reading, and let me know what you think! (And don't forget to enter the giveaway in one or more ways for your chance to win!)