Have you seen Disney Pixar's Cars 3 yet?  Lightning McQueen is back with another rousing story of inspiration and fun, with the addition of Cruz Ramirez and her story of a sidelined dream. A lot of us have dreams we sideline, including the dream of travel, but Disney Pixar and Dole want to help one lucky family make their dream a reality! They are giving away an ultimate family road trip!
There's a lot more to the partnership than just a contest though! They have created a multi-year healthy living initiative aimed at helping parents encourage their families to make healthier eating choices, especially during the upcoming summer and family vacation season. Families can now purchase DOLE Bananas, Pineapples, Salads and Vegetables adorned with characters from Disney Pixar's "Cars 3" to create delicious, nutritious Dole recipes inspired by the Disney film.
I even came up with a recipe that we had the week the Cars 3 movie premiered: Tow Mater Pasta Salad! I had fun using tomatoes as wheels and wheel-shaped pasta, along with black olives like tire debris. As a NASCAR fan, this one was fun to put together and it may make an appearance at a future race party!

The contest is easy to enter, and the entry form can be found here. **CONTEST IS OVER.** Upload one photo you think epitomizes the healthy, ultimate family road trip. Share a photo of a meal that inspires a road trip vision, your own past epic road trip photo, or a destination that you think would be your choice for a dream vacation. If you are the selected winner, you could end up there! (Disney/sponsor will approve the personalized trip.) Have a caption for your photo and you're all set! Even if you don't win the ultimate family road trip, you still have a chance to win one of the 20 prize packages of a backpack and accessories.
I'm also hosting a sweepstakes here on my own site, to help one lucky Dangerous Cupcake Lifestyle visitor to win a Fuel Up With Dole package. Here's a picture of my Fuel Up With Dole package that I received in exchange for sharing the sweepstakes with you.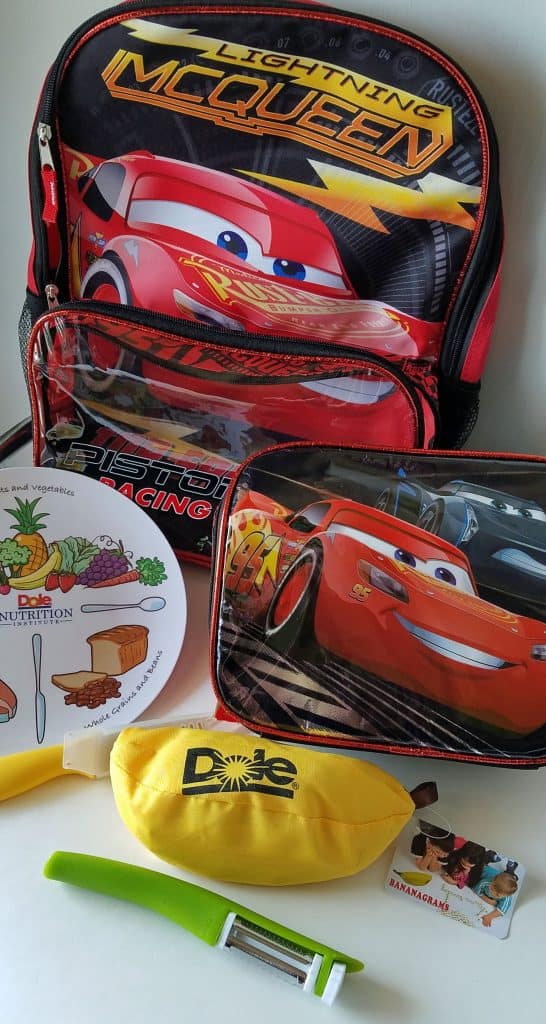 Cars 3 © 2016 Disney/Pixar
Isn't it cute? The backpack has a clear smaller front pocket that holds a full-sized insulated soft lunch box/bag, and the peeler has a dialer allowing you to choose one of three different options. The banana grams game is a fun spontaneous family activity, but no one wants to play with me because word games are on of the few games I'm actually good at! (I don't win a lot of games otherwise!)
Prize Pack Includes:
Cars 3 Backpack
Dole Nutritional Institute Portion Plate
Dole Bananagrams Game
Dole Fruit and Vegetable Vouchers
*Official Prize Pack Sweepstakes Rules: By entering this sweepstakes, you are agreeing to the rules. Enter below for a chance to win the Fuel Up with Dole prize pack. No purchase necessary, one entry per person. A few rules apply: this sweepstakes is void where prohibited by law, the randomly chosen winner must be at least 18 years of age and the winner must reside in the United States. Runs from START DATE to END DATE (1 WEEK LATER). Winner will be notified by email and will have 48 hours to respond; if winner does not respond within 48 hours, a new winner will be selected. Prize pack will be shipped directly to winner from Dole, not Dangerous Cupcake Lifestyle. 
**Fuel Up with Dole Ultimate Family Road Trip Contest Official Rules: Contest is open to legal residents over 18 years of age in the U.S. and Canada between May 25 and July 19. No purchase necessary to enter or win. Void where prohibited. Entrants may not use Disney/Pixar IP. The entrants who submit the best photo and caption will be eligible to win one of 21 road-trip themed prizes. Limit one entry per household/individual/email address/family. The overall winner, as determined by a panel of judges at Dole, will create a personalized 10-day road trip for four people to any destination in the U.S. or Canada.
**For the complete Fuel Up with Dole Ultimate Family Road Trip Contest Rules visit www.doleliving.com/en/rules.
What kinds of things do you make with Dole products?