CHOCWalk 2019 at Disney is in the books and as a first-timer, I say right now, still a little behind on my sleep after a 3am awakening to get to Disney on time, I can't wait until next year's event!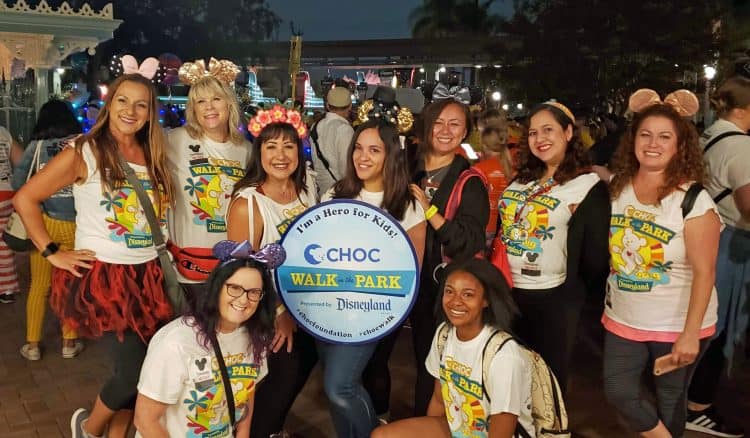 I went into this year's CHOCWalk a total newb, covering it as media. I didn't know what any of it would be like, other than I was wearing a cool t-shirt, that I would be hanging with some awesome ladies, and that I would be in my happy place. (And no, I don't mean a shoe store.) I parked at the new Pixar Pals parking structure off of Ball Road, trekked up to the main gate with a lot of other really happy people…which made me think that clearly, others had stopped for coffee…and signed in at the media table. Let the fun begin!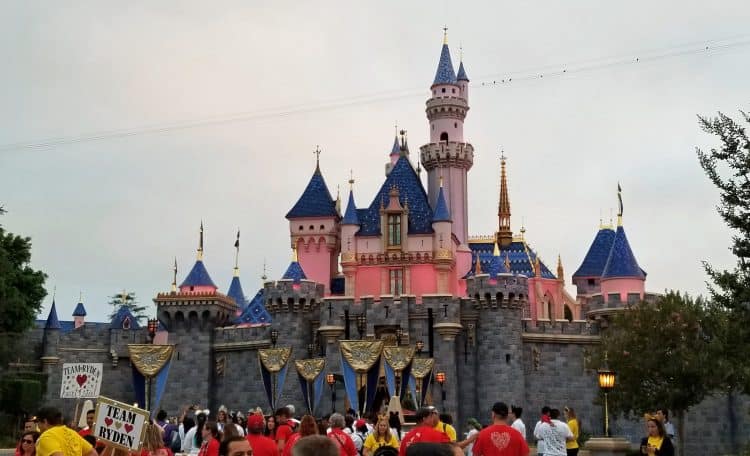 As a total Disney fanatic, just being at the parks is a dream. I love the feeling you get when you walk through Downtown Disney, the signage and the music. Even in the early morning hours of o-dark thirty, aka 515am, it was beautiful. Shortly after check-in, we headed up Main Street towards the press area by the start of the walk. Looming off in the distance, beautiful though muted by shadows, was Sleeping Beauty's Castle. And one very, very energetic master of ceremonies getting us pumped up for the day. (He also clearly had more coffee than me.)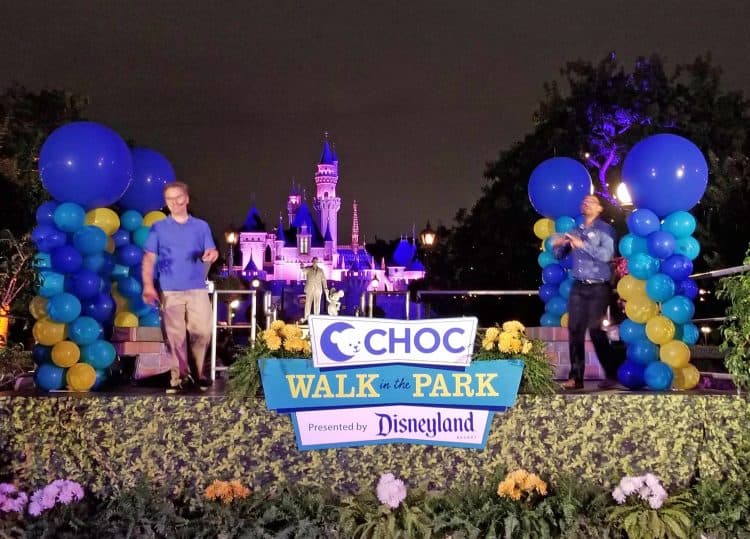 For the next 45 minutes, we danced, we sang along to Journey music and we waved our hands in the air while taking silly selfies. Before we knew it, the President of Disneyland, Josh D'Amoro, and Kim Cripe of CHOC were there to get the walk started.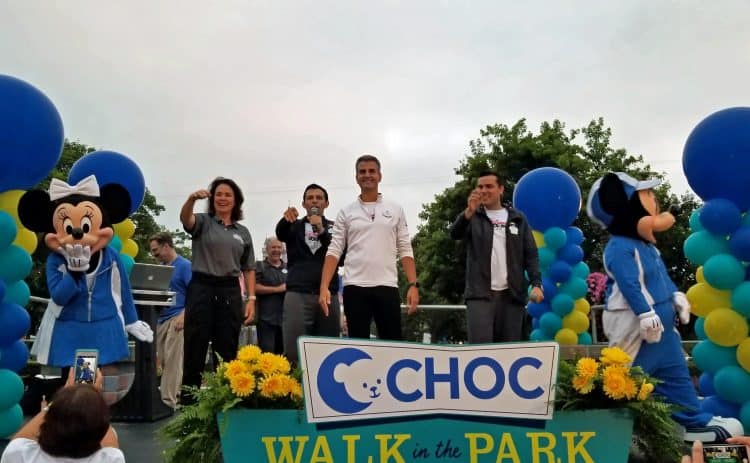 They introduced us to the ambassador family, a truly touching moment. There's no way you will get through one of these events without getting teary once or many times. The stories of the families will touch your heart. The t-shirts and signs in honor of loved ones lost or those still fighting….children of all ages, from infant on up…it's sobering to know that while we all face our challenges, these kids are facing the worst, and CHOC is there to help them.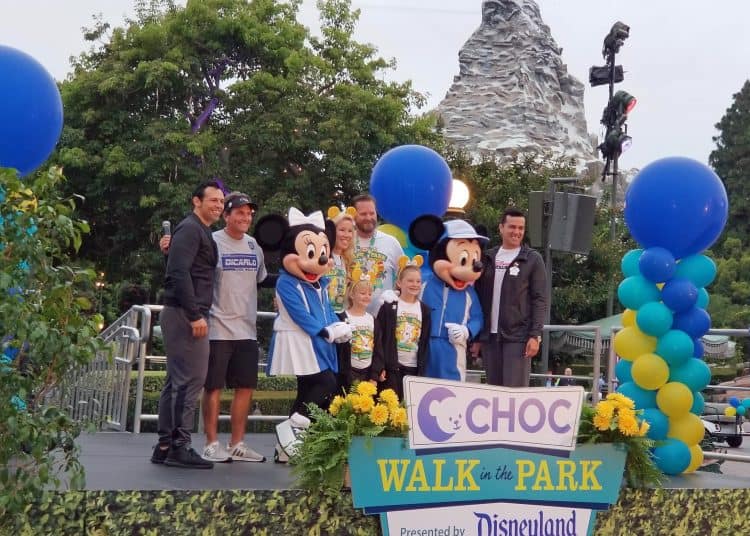 Little Ella, the eight-year-old cancer survivor, is this year's ambassador. She and her super sister and parents gave a brief speech, and all I could think was "wow." There was no way I'd have gotten through that without losing it numerous times on stage, but her parents thanked CHOC and everyone for their fundraising. Ella has been cancer-free for two years and her team, Brave Boyle, was out in full force. Many yellow t-shirts emblazed with their name and logo were at the starting line, raring to go, along with other teams, such as Justin's Helpers. Awe, just awe.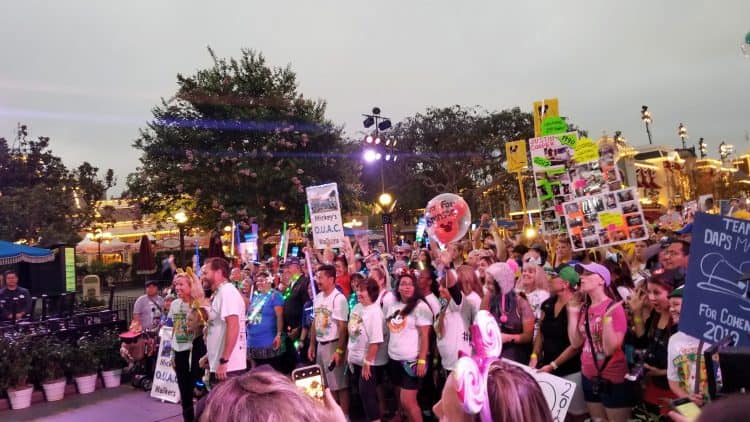 This year's walk had over 14,000 people walking. As of the time I'm writing this, they've raised over $2,101,000 and there is still time to donate. Find out more about donation online here. Last year they raised $2.9 million, and we know we can beat that this year! Funds go towards things like the new Thompson Autism Center (coming soon), a calming sensory room, millions of dollars towards medical care of the children, and more.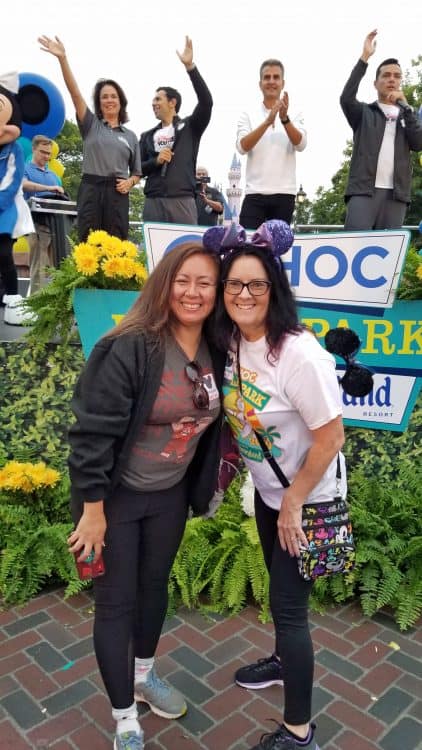 The route took us through both Disneyland and Disney's California Adventure. Once we got through Adventureland, we ran into a multitude of character photo opportunities. We stopped for quite a few, but other times, we took pics from afar and kept going.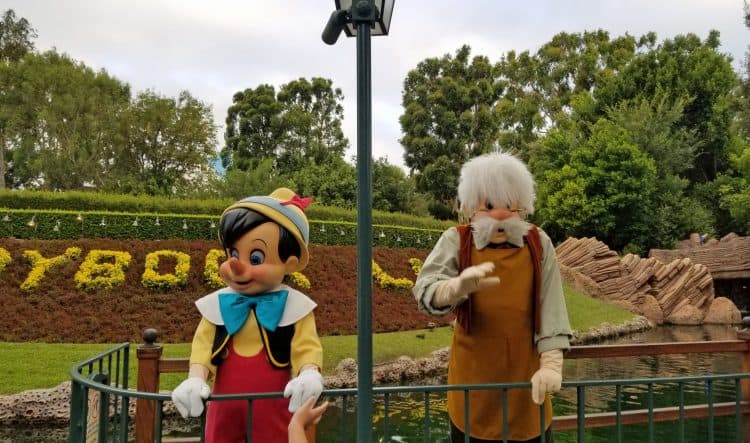 We passed some of my favorite places, but none more favorite than Disney California Adventure's Hollywood Studios area and Pixar Pier.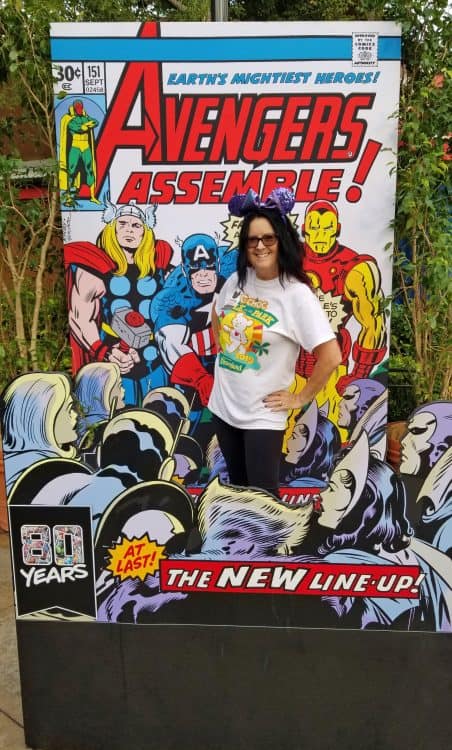 When we walked by the Avengers area, Thor was headed towards a break but he took a moment to pose for a photo and say hello. Day made. Again.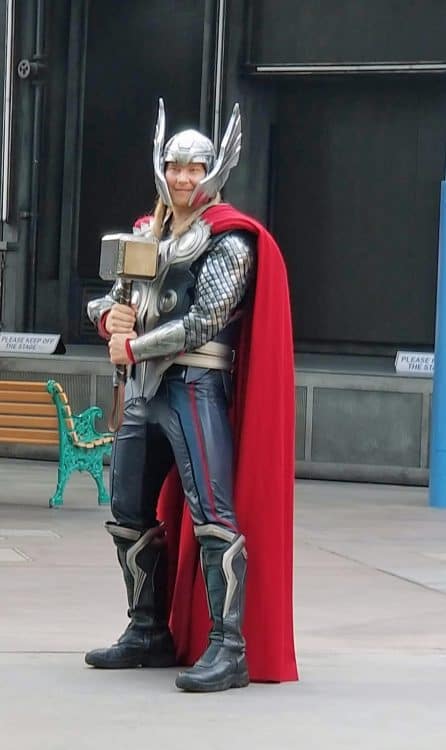 We stopped several times by Midway Mania, as the new Inside Out Whirlwind of Emotion ride is up and running.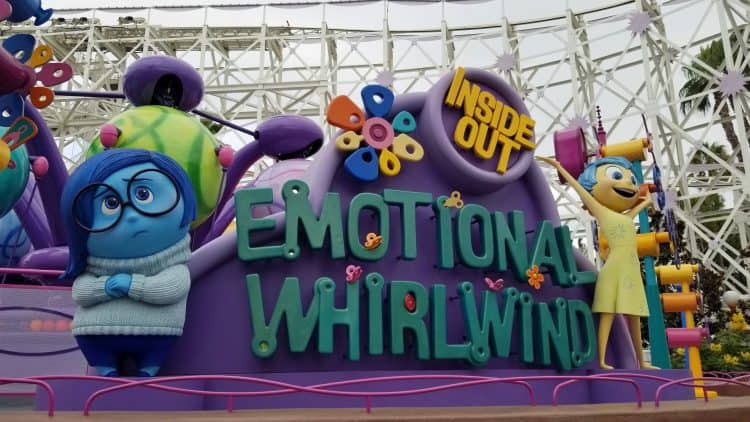 We also had to say hello to Buzz, of course. We just missed Bo Peep!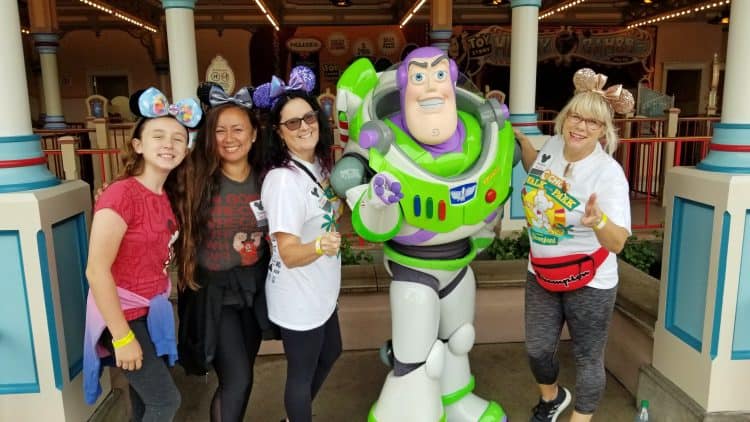 All too soon, CHOCWalk 2019 at Disney was over. We were excited to have taken part and we truly had such a good time. Being able to participate was an honor, as I got to spend my day walking and sharing on social media. It was really incredible and more than inspirational. We came home with a new perspective …. and we stopped for coffee on our way out!
Thank you, CHOCWalk 2019, for all you do for the kids and their families. Years ago, we had a referral to an autism specialist and program at Children's Hospital of Orange County (CHOC) and we went for one visit, but it turned out to be too far of a drive for the little guy from the Inland Empire area. I'm so excited to know they're going to be able to help even more families dealing with an autism diagnosis. Please consider contributing to that and all their other amazing causes!