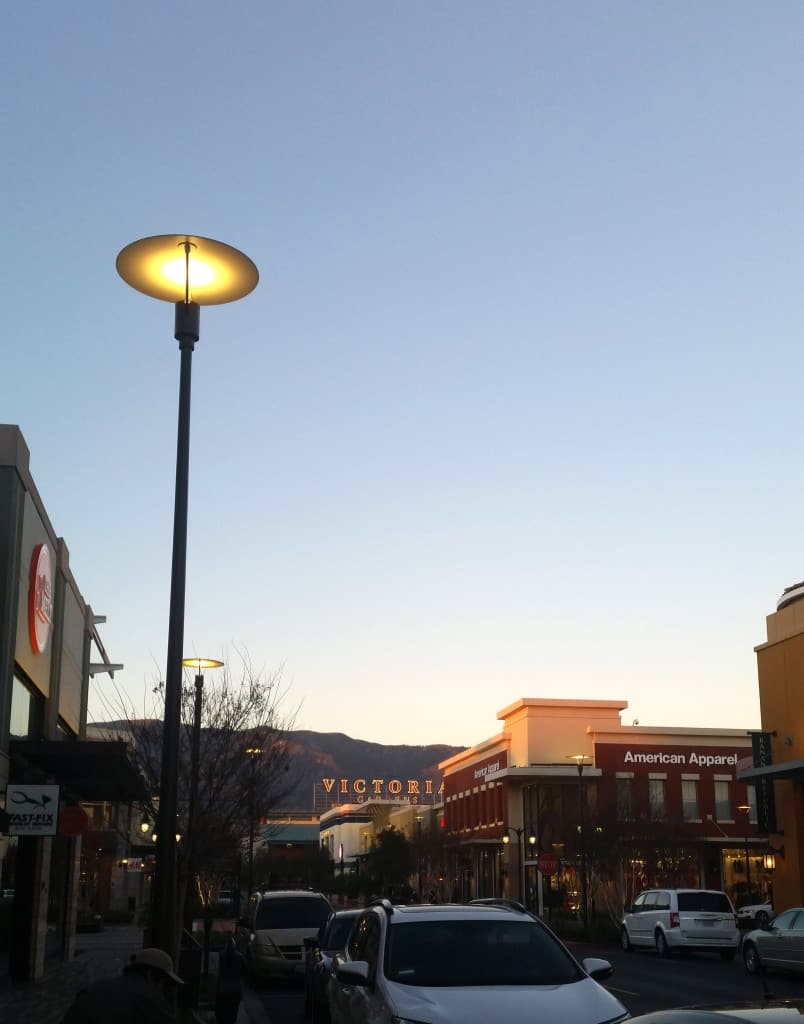 Moms are busy. We're incredible multi-taskers who are typically busy from early in the morning — frequently before anyone else is up — and up much later than the last tiny person hits the hay. Add in that many of us have partial or full-time employment and up goes the stress. It can be hard to find time to grab a cup of coffee some days, and whether we have one or ten kids, we usually have to put ourselves last. Kids make it worth it — most of the time, right? — but we still need some down time. Time to relax. Time to complete a thought. Time to live at our own pace, even for just a few hours, so when I was asked to head down to Victoria Gardens so I could share my ultimate Valentine's Day gift suggestions, I did not hesitate. (I was compensated for this post but the photos, opinions and words are all my own.)
Not even for a second.
First, I love Victoria Gardens. It's about five minutes from my house and the place you'll most often find me when I say I need to go shopping. (Or when I say "I need to go shopping" but really mean "I need some peace and quiet." Shhhh. Don't tell on me.)
Second, who wouldn't want to do the work of putting together an ultimate Valentine's Day gift package?? I know, it's tough, but someone's gotta do it.
Third, moms sometimes need a kick in the pants to get out and pamper themselves. They need to be reminded to recharge and spend time on a splurge or two. Wandering Victoria Gardens for the day gave me time to do just that. I had — imagine this — time to relax. Time to finish a thought. A LOT of thoughts. I went into Victoria's Secret and looked at ladies' undergarments without hearing the "ewww, mommmm, no." I wandered the outdoor shopping center without being dragged in to look at the latest skateboard gear. I even walked right by the video games!
Victoria Gardens, located between Base Line and Foothill Boulevard (off of Day Creek) just west of the 15 freeway, has over 170 shops and restaurants, in addition to an AMC 12. Their Guest Services offers gift cards, strollers, wheelchairs, postage stamps and lottery tickets, as well as shopping center maps. (I have been going to VG since they opened but those maps are still handy to have on hand since they're frequently getting new additions, like Blaze Pizza and The Melt.) There's a lot of parking surrounding the center, but by the large public library, you'll find a parking structure.
While I shopped child-free this time, it's a perfect place to shop with your kids and/or your family. The Choo Choo Monga Express is a fun trackless train, which my two younger kids and I rode many, many times. There is also a Garden Trolley to help you get from end to end, free of charge. Depending on the time of year, there are different events taking place, like crafts for the kids, bands, holiday-themed events and Santa!  The last couple of years, Santa has been taking photos inside the Dreamworks Shrek's Adventure to Santa, a huge gingerbread house surrounded by all-things-Shrek. There is also a Farmer's Market every Friday from 10am – 2pm, where I like to go to pick up some organic produce and see what other cool crafty items are sold.
With all this in mind, I knew I'd have no problem putting together the ultimate of shopping trips to Victoria Gardens. I wanted to be pampered, relaxed and not having a kids' cell phone shoved in my face to watch the latest silly YouTube video. What mom doesn't dream of this??
I headed first to Fashion Nail & Spa and signed up for the Royal Spa Pedi. There was no wait so I sat right down. Bliss. From the massage chair to the foot rub to the paraffin treatment and nail polish, I loved every minute of it. Every quiet, peaceful minute. (Judge Judy was on TV, but even she didn't disrupt my moment.)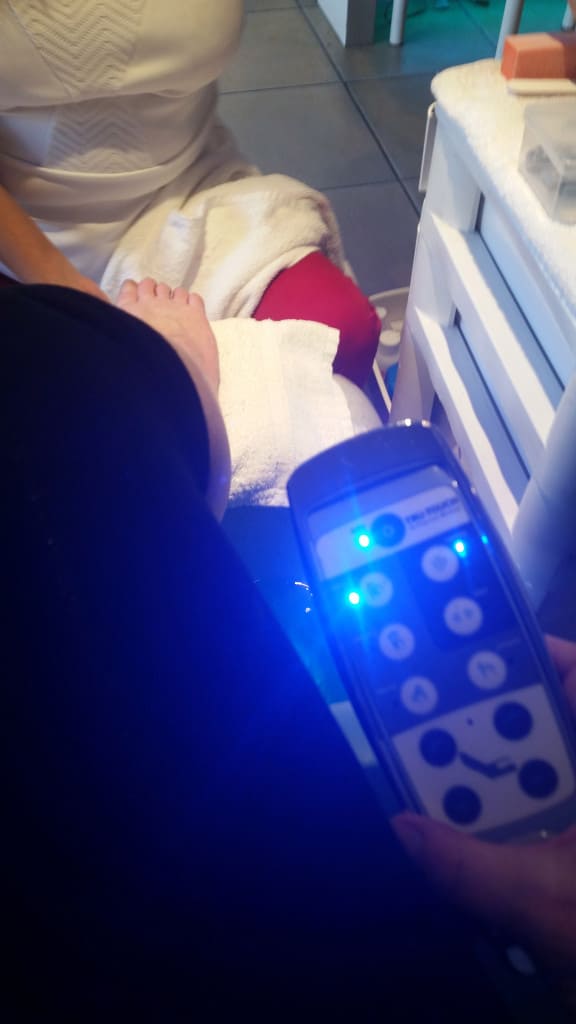 I want that massage chair in my house. That control never left my hand. I'm pretty sure I'd get a lot more work done if I sat in that chair while rolling our marketing strategies and SEO tactics. And of course, I'm sporting purple toenails! That means I need new sexy shoes, of course.
Valentine's Day so often means chocolate, flowers, jewelry…that's all cool, but shoes are the way to my heart. A pair of these babies will put a smile on my face and of course, up the feminine and romance factor that is Valentine's Day.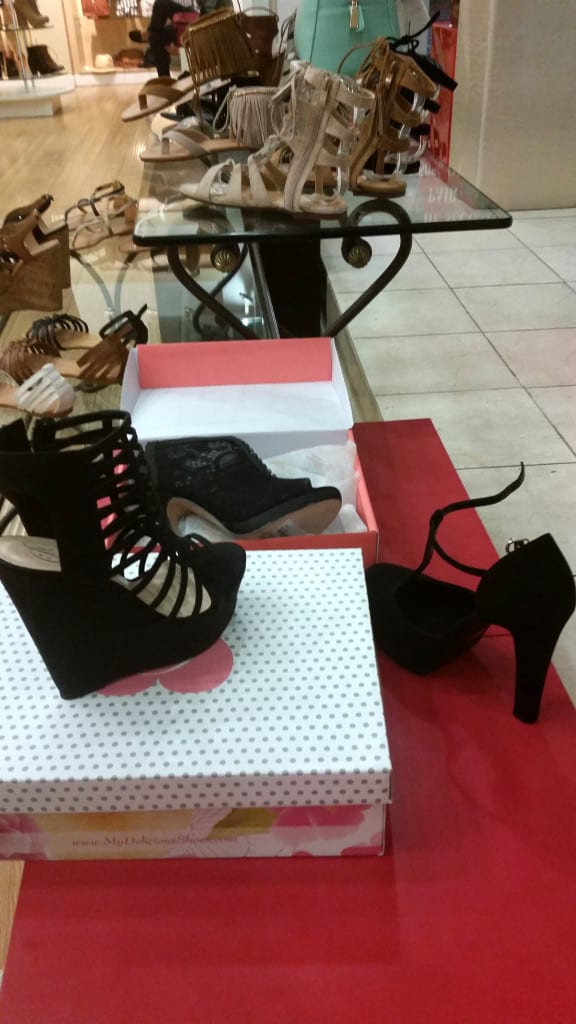 Which one do you think I got? Thanks, Reflection Shoes, for giving me so many choices!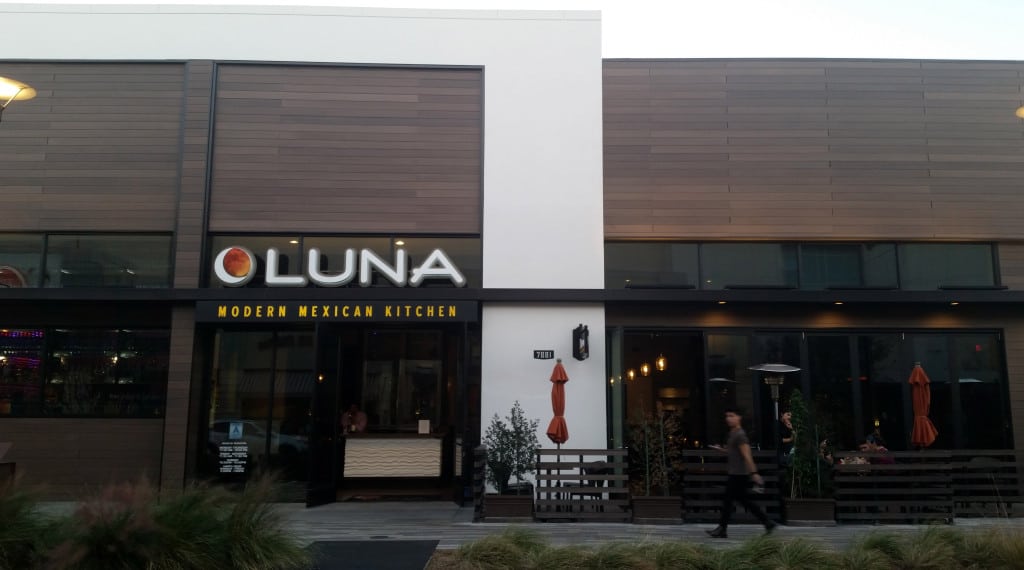 Time for dinner at Luna Modern Mexican Kitchen — relatively new to Victoria Gardens — a dinner where I didn't have to sit at a monstrous table where I could barely hear the husband. I ordered a classy glass of wine and devoured some chips and salsa, while I decided what to order next. You get pretty hungry when you can look at the menu and consider all the things. I decided on these beautiful spinach sopes, oozing with cotija cheese and a mild pico de gallo on top. So good..and I got to eat them all! They have a killer affordable Happy Hour menu with wine, beer and cocktail deals to match, and the atmosphere was perfect for the "pamper me, it's Valentine's" feel I was going for.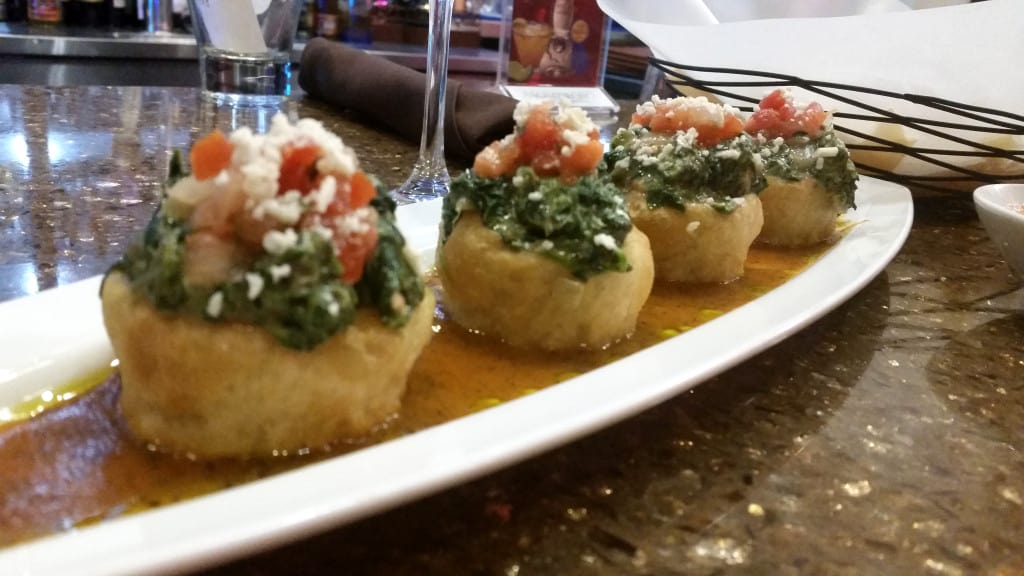 Next up? Bath and Body Works. It's the store I drag the husband to every time we visit, even if I just drop in to peruse the latest sales. All the pretty, smelly things! They carry my favorite lip balm by Bigelow and I always stock up on my favorite scent, Sensual Amber, but their new for Spring fragrances, like Limoncello and Iced Pear Margarita, were tempting.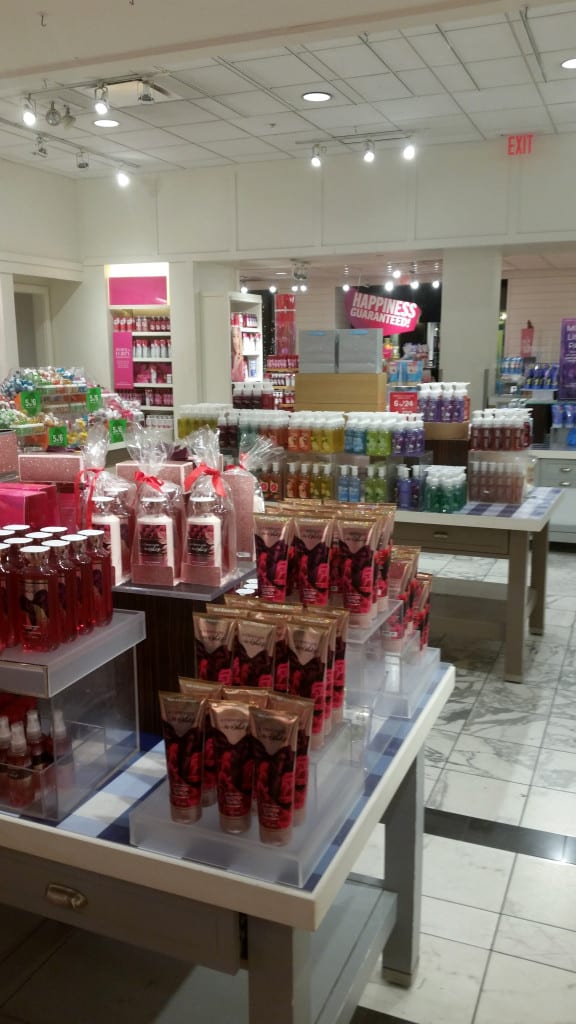 In keeping with the whole pampering plan, I headed over to Ziba Beauty Center, known for their ancient beauty techniques.  I've gotten Henna tattoos there before, but this time, I wanted to get my eyebrows threaded again. For only $14, you can get your eyebrows under control — shaped and trimmed in under 10 minutes. Easy, tear-free and one more way to lay back in a comfy chair and let someone else take care of you.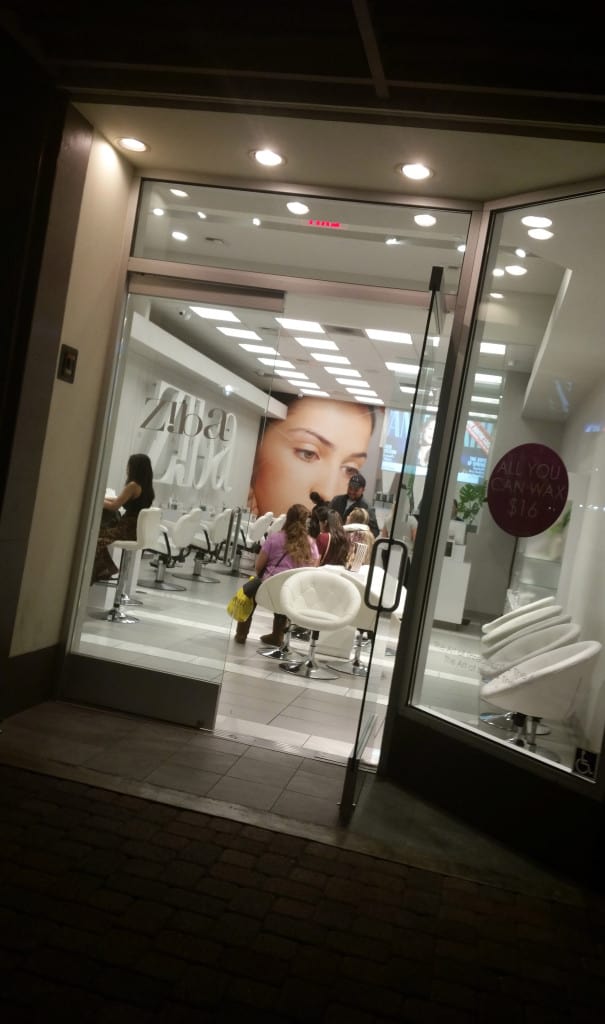 I'm a huge coffee and tea fan, so Teavana's like a magnet. The samples at the door and the smells of the tea they're brewing at the bar in the back lure you in to buy some tea to carry on the relaxing and pampering feelings at home. The feel of my hand around a warm mug of tea always makes me breathe a little more slowly. I walked out with an iced Youthberry Wild Orange Blossom drink — perfectly sweet and rejuvenating, for all that walking I was doing and all… and a Teavana Contour Tea Tumbler. It's insulated, big enough to hold enough tea to get me through a few chapters of a good book, and the strainer comes out of the tumbler to sit in its own storage lid while you enjoy your hot drink mess-free. (And without having to get up to dump out the leaves.) And the fact that I was able to get it in a brilliantly bright dark purple was even better.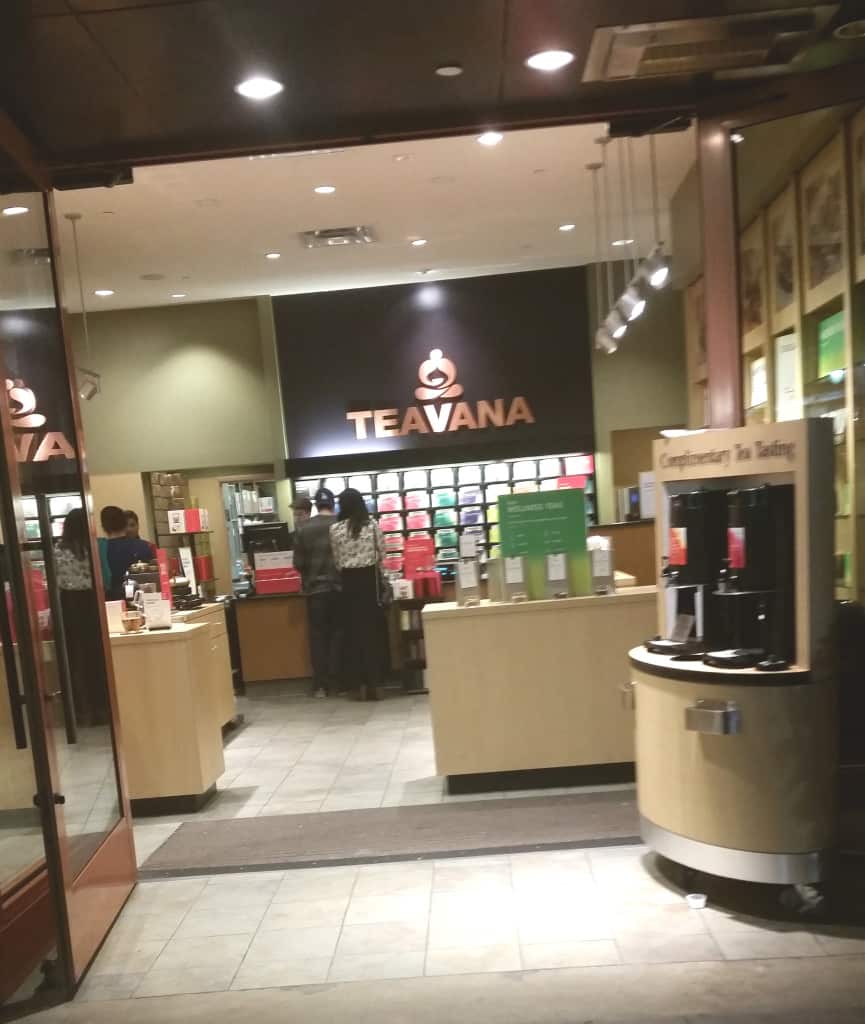 To cap off the day, after having run into a few more shops to browse (like that Victoria's Secret pop-in I mentioned), I decided it was time to sit down for a couple of hours and enjoy another showing of The Finest Hours at the AMC Theater. No kids playing at the soda machine to make the perfect mix while you stand and remind them to hurry up so we can go get some good seats. (Seating a group of our size isn't always easy; just something to keep in mind if you decide to have a lot of kids like we did. Consider that my parenting advice for the evening.) No having to repeatedly say "No candy. No candy. No candy." And I could buy it for me. Just for me!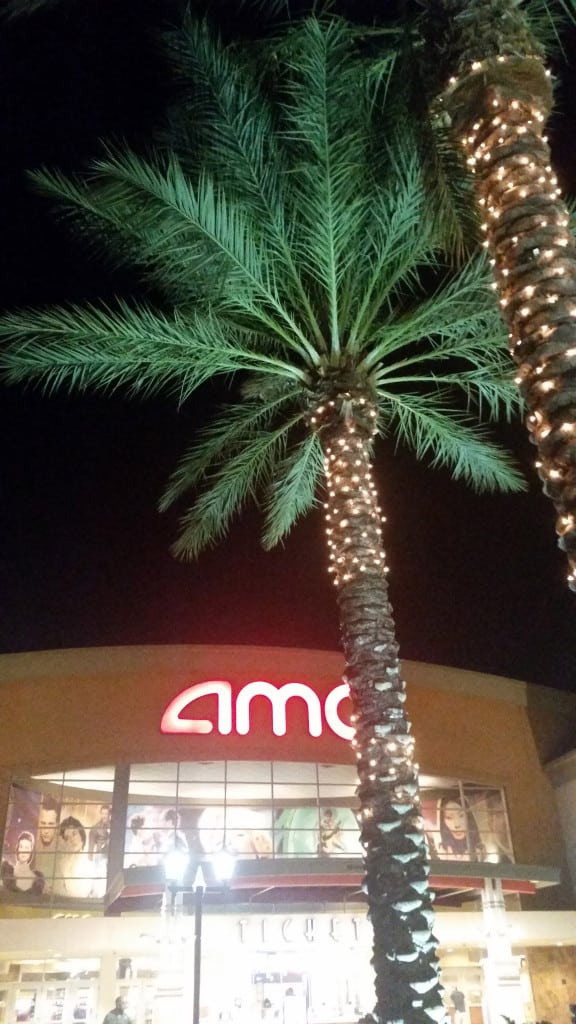 The popcorn was also just for me. No having to make the kiddo carry an extra cardboard box so he doesn't pollute my big bucket of buttery goodness with any extra flavorings. No sharing anything! How often does this happen in a mom's life? And color me even happier when I remembered that AMC has a small bar so you can purchase an adult beverage should your heart desires. And mine just might have.
Victoria Gardens is a beautiful place to shop, and not just for the many sales.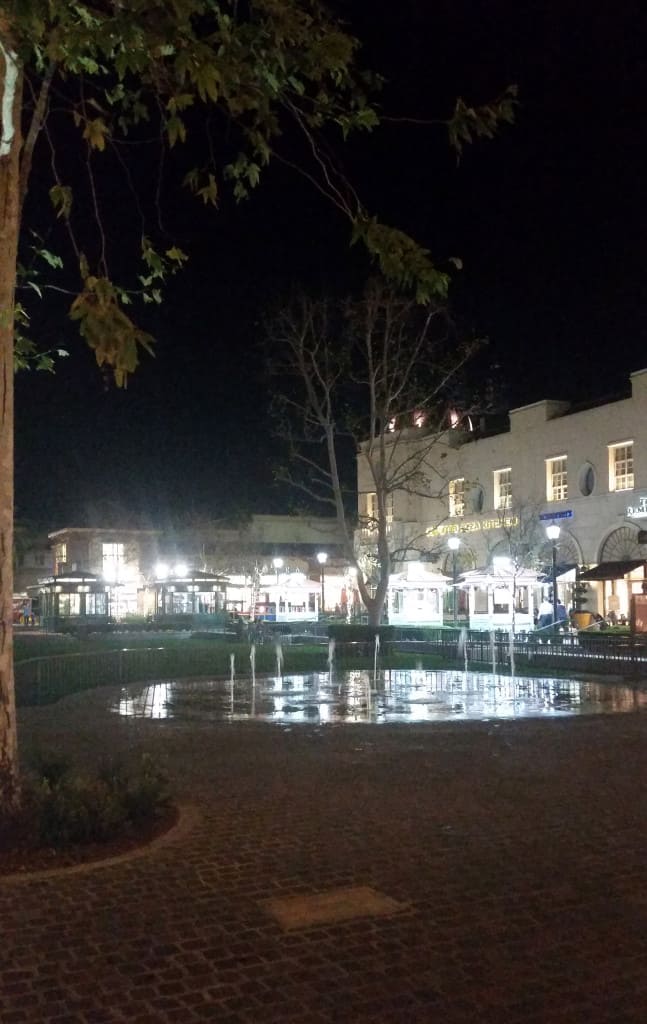 I have good memories of my youngest enjoying that splash pad on hot summer days! It was empty this late at night but that made it even more picturesque.
At the end of my evening, heading back to my car, I was thinking about how I'd had the perfect day. Going home is always the perfect way to end my day, and I happily did that, relaxed, pedicured, groomed, full of popcorn and carrying my treats so I could continue my pampering at home at a later time. Valentine's day doesn't need to be glitter and sparkle. It can be about whatever you want it to be, whether that's a day spent enjoying your own company and doing whatever your heart desires, treating yourself to things you don't normally get to do, or a family night out at California Pizza Kitchen or a couples' dinner and a movie night. If you're looking for an ultimate Valentine's Day, check out Victoria Gardens and do whichever option you choose in a beautiful setting. Park once, shop and wander all day.
Want a chance to win a $100 Victoria Gardens gift card? Upload a photo of you and your sweetheart in front of the frame located next to Guest Services to Instagram, tag @VictoriaGardens, #LoveShareWinVG and #victoriously. (And Follow Victoria Gardens on Instagram here.) Good luck!

Happy Valentine's Day!