If you ask any of my kids what one big memory they have of growing up in our house, all four will say parties and celebrations. We celebrate everything — end of the school year, National Margarita Day, anniversaries of move-in dates, you name it. We had Mardi Gras decor bought in January and a Cinco de Mayo menu started in March, so when Imusa USA asked if I'd be interested in trying out some of their equipment and sharing our party on the blog, I didn't hesitate at all. (This means that I did receive complimentary kitchen gear from Imusa USA, shown below, but the thoughts and photos are my own.)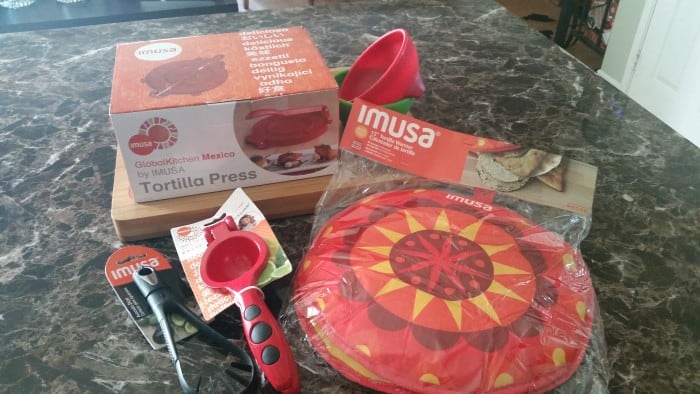 Cinco de Mayo has been a big day in our house for years. We love Mexican food, and due to long-standing friends and family relationships, I'm pretty good at making it fairly authentically. I buy tissue paper so we can make paper flowers, get out the place mats and table covers from Mexico, wash out all the margarita glasses and plan out each food item well in advance to make sure I have all the ingredients.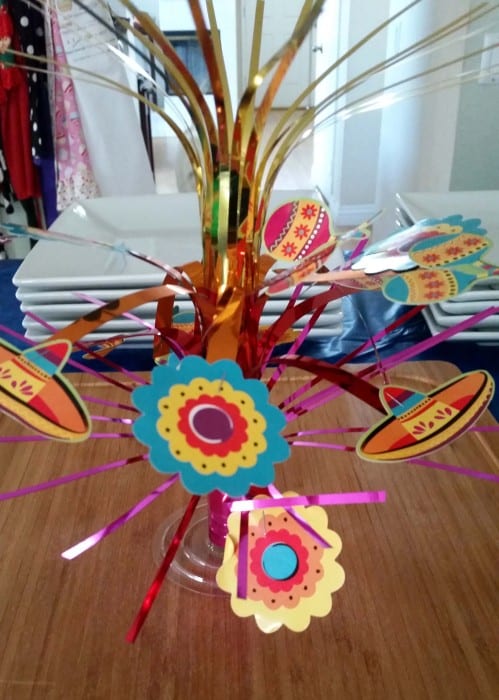 I even get out this cheesy centerpiece!
This year, things are extremely busy — to the point where the husband suggested I run over to the local Cardenas and buy some amazing food already pre-seasoned, and while I truthfully considered it, that is a trend I don't want to start. (I love to buy the food, don't get me wrong, but there's something about making it myself on Cinco de Mayo.) No getting lazy here!
It was the first Cinco de Mayo in six years where we had all the kids around, along with their significant others, and we invited friends, too, so it was a pretty big group. The more, the merrier! I put out all the decor, cranked up the music on the Stingray salsa channel (closest I could find, as their holiday channel was on a Bryan Adams spree, most definitely not holiday music) and busted out the margarita gear. Priorities.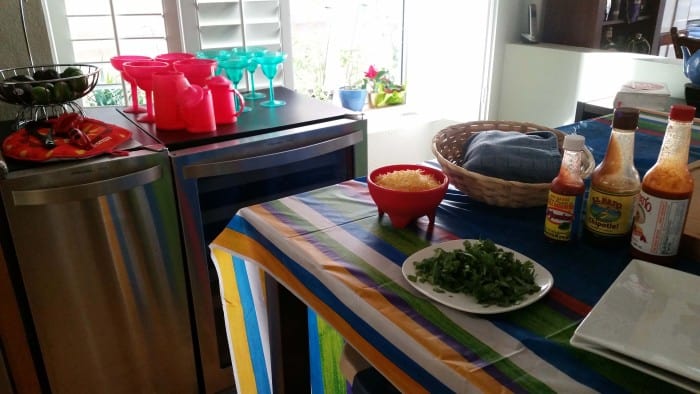 Using the Imusa USA tortilla press, I knocked out 30 homemade corn tortillas for the first time in probably 5-6 years. The press made it so easy — I'd never owned one before, I'd rolled them by hand but the press took away all that extra work and gave me uniform tortillas. There is a trick to using the plastic wrap to make sure it covers the plates, but it's easy and I only replaced the plastic once between the two batches of tortillas.

The menu was pretty impressive! Between all of us, we had chips and salsas (no Mexican-themed party is complete without them), a tequila-laced watermelon cut into chunks, drizzled with fresh lime juice, and I made a manchego cheese dip, recipe below. Add to that the guacamole, bacon-wrapped cheese-filled jalapenos, a huge tray of carnitas, my adobo chicken, all the condiments to jazz up our tacos, and the tortillas, along with a big pile of refried beans and Spanish rice, both homemade. We had two desserts: cream-cheese stuffed churro bars, and deep-fried ice cream with chocolate syrup. Sounds like a lot of food, right?
We ate almost all of it.
The guacamole was hand-made, and if you don't have one of those handy avocado cutters, you're doing it wrong. Slice open the avocado. Slide in that avocado cutting tool and out comes the seed and flesh. One swipe and you're onto mashing them for the guac. The tortilla steamer is also another must-have. I've had one for years, and it gets used frequently, but it's small. I wanted a big one for Cinco de Mayo, one that could hold a lot of tortillas and had a larger diameter. Imusa's steamer was ideal — about 45 seconds in the microwave and I had tortillas at the perfect temperature for use without ripping. And it kept them warm on the table during dinner, with the added bonus of it storing easily in my drawer, as opposed to one of those styrofoam containers that is a space hog.
We also enjoyed blended margaritas, horchata and agua fresca.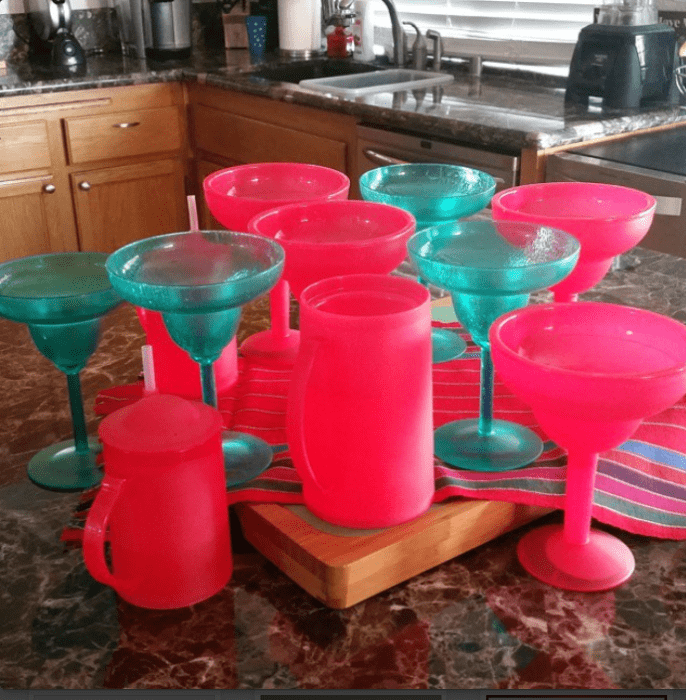 I made sure everyone had their own glass, even the teen and younger kids.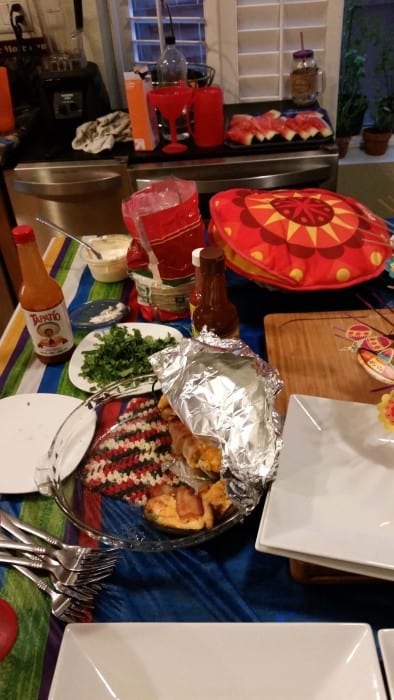 What a meal!
If you're looking for simple but tasty Mexican food, you can't go wrong with an adobo style of chicken. It's basically a mixture of spices, and then I add it to a cooked (roasted or boiled) and shredded chicken. Here's my recipe, which is probably like that of many others but everyone asks for it and I can't break tradition!
       Adobo Chicken
1 tbsp salt
1 tbsp cumin
2 tbsp chili powder, according to taste
1 tbsp oregano
1 tbsp garlic
1 tsp red pepper flakes, ground up if you'd like them to be more hidden or fit through the shaker
1 whole chicken
1-2 cups chicken stock
Cook the chicken — you can do this via a rotisserie, oven roaster or boil it in hot water. (I prefer the hot water route as it gives me additional chicken stock; after the chicken is cooked, I shred it and put all the leftover pieces back into the cooking water and re-boil another hour or so, until it cooks down and is golden. Chicken stock!) Let it cool when it is done.
Mix the dry ingredients together and put in a shaker or small bowl.
Shred the chicken and put it into a big pot or frying pan. Pour in the adobo seasoning to taste. Start slowly so you don't overpower your tastebuds. It's pretty potent! Then pour in 1 cup of chicken stock to start. Pan fry until the flavors all combine, but not so much that you overcook the chicken. It's basically warming it back up, as it was cool enough to be shredded.
There you have it! Very simple. We put it on the homemade tortillas with a squeeze of lime juice (with the Imusa lime juicer, which was sturdy, fit into my hand easily without being too bulky and the rubber pieces make it more ergonomical and comfortable than others I've used), some typical condiments like pico de gallo, radishes, cheese, sour cream, cilantro, etc. We often double-up the tortillas so they don't rip, and keep them in the steamer until they are used so they stay pliable yet warm.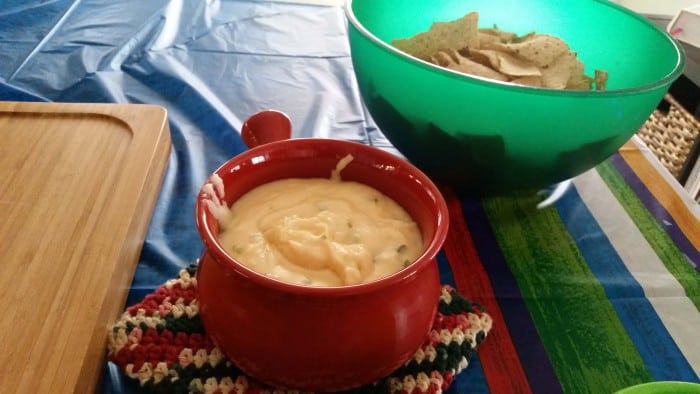 Manchego Cheese Dip
1 10 oz. package of manchego cheese, shredded
1 cup white wine
1 tbsp lemon or lime juice
2 tbsp corn starch
1-2 chopped jalapenos (optional)
Heat the white wine and juice in a pot on the stove. While that is heating, mix the cheese and corn starch in a boil.
When the wine mixture comes to a boil, pour in the cheese mixture, slowly. Stir constantly. When it's done, add in the chopped jalapenos and pour into a bowl to enjoy!
The food turned out fantastic! Here are a couple of plates of tacos to make you hungry inspire you to make.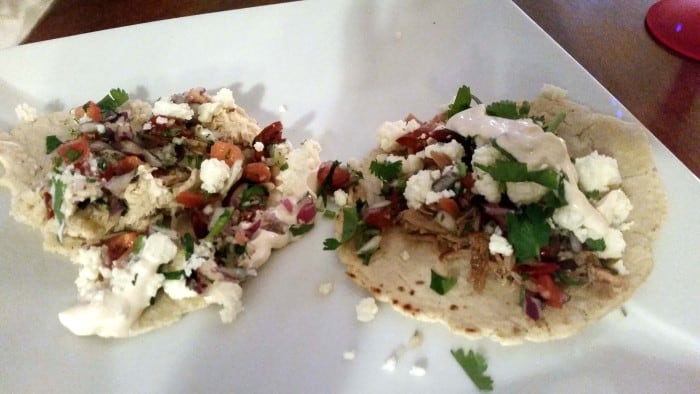 Colorful and partially eaten already by the time I got to the plate!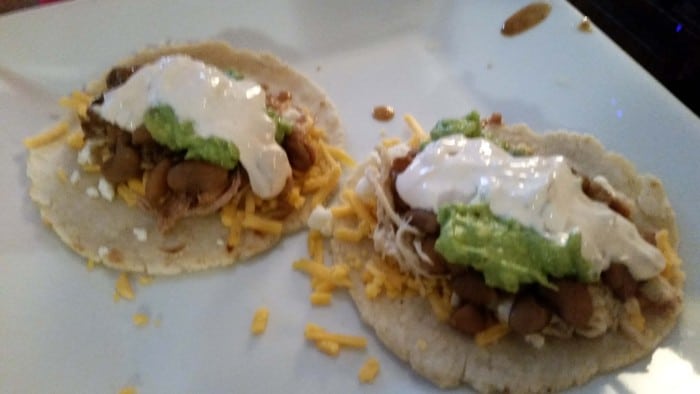 A little blurry, but you get the idea. That was on purpose so you don't get too hungry…..
For more information on the Imusa gear I shared above, check out their website, including recipes!