Have you heard of the Seven Seas Craft Beer & Food Festival? Held at Sea World San Diego, this is the third year of the festival and offers another choice for some new San Diego fun.  Combining the best of both worlds — family entertainment and foodie Heaven — the festival highlights 58 amazing foods and an array of beverages based on flavors from the around the world. Grab your passport and let's explore!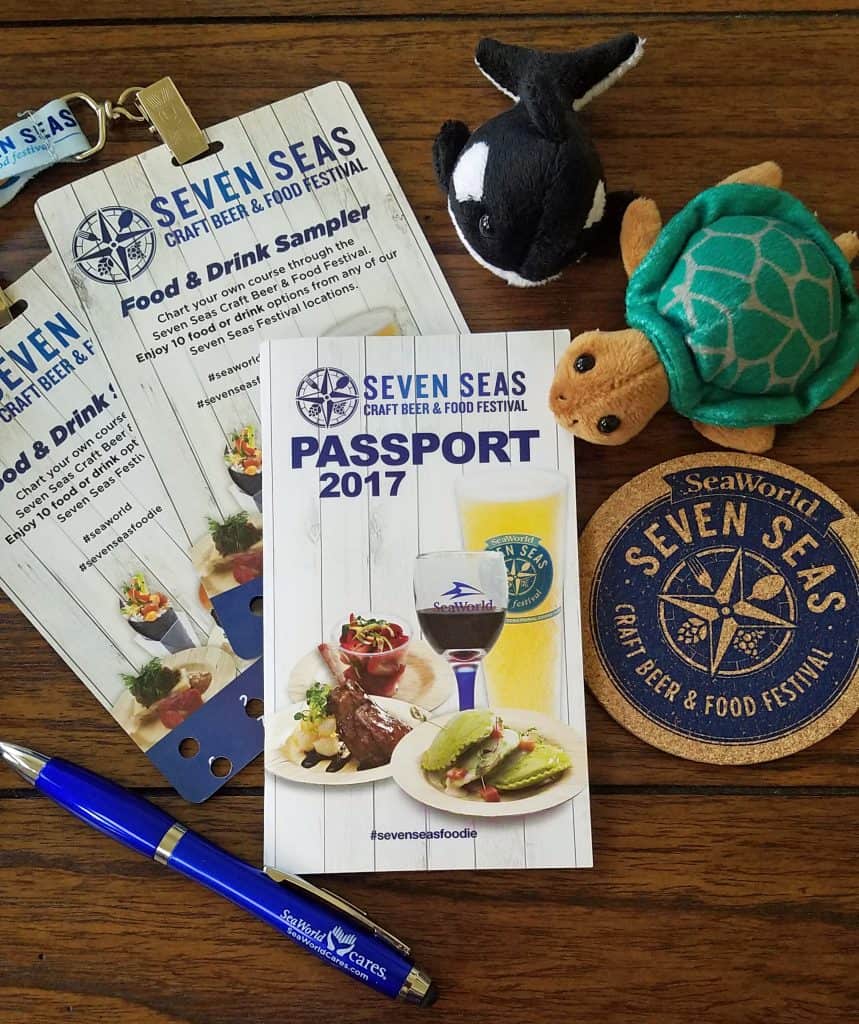 The festival occurs every weekend throughout the month of April. We attended courtesy of Sea World, but the photos below are all my own. Scattered throughout the park, you'll find the various flavors amongst the related decor and music. One minute, you're enjoying deep fried escargot in France; the next, you're having ravioli in Tuscany.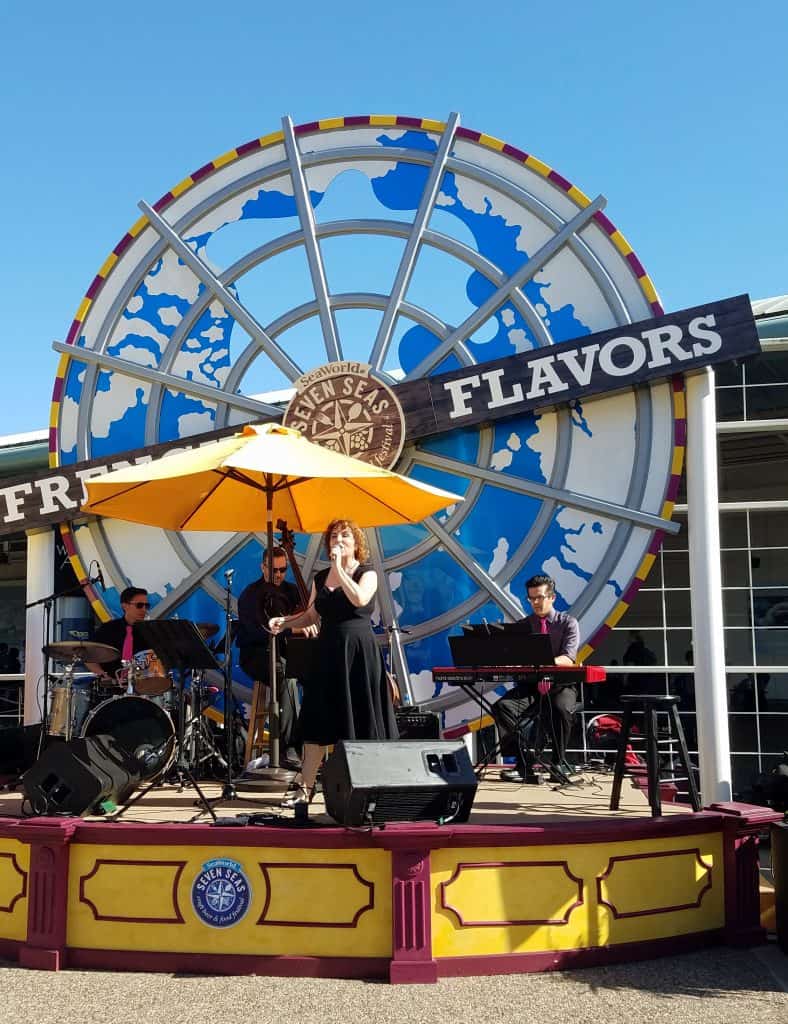 In addition to various bands in the So Cal Flavors area, and sweet French melodies in France, head over to the Polynesian Flavors Stage to watch the traditional dances from Hawaii, Tahiti, New Zealand, Samoa and more. If you can stay into the night, you won't want to miss the Polynesian Fire dancing, "igniting twice at night" on the stage.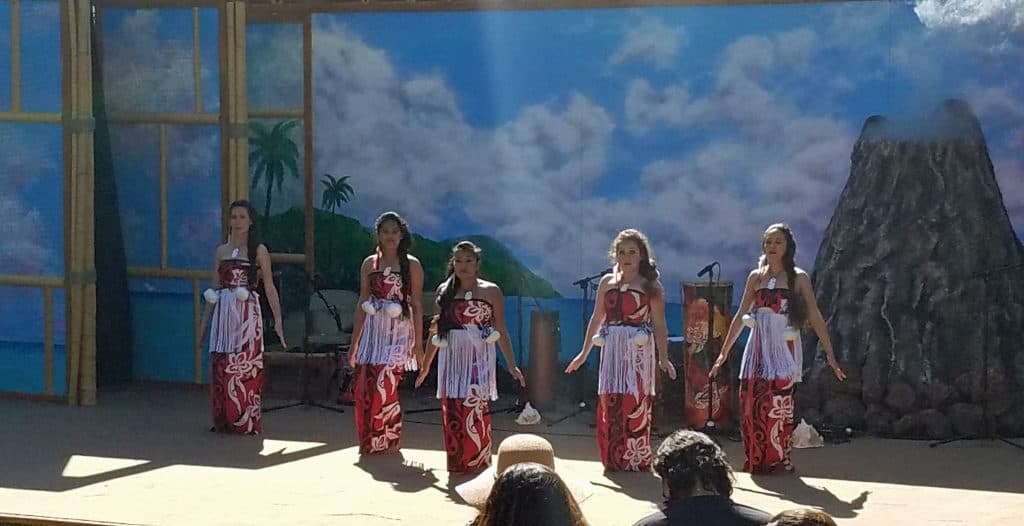 Already known for pushing the boundaries of traditional flavors, Sea World and Aquatica San Diego's Executive Chef Axel Dirolf has created an amazing menu that not only provides unique flavors, but makes them even a bit edgier. "It's all about flavors and finding the balance between bold flavors and unique food," says Chef Axel. We had the distinct pleasure of being able to take a tour 'around the world,' or around the park, with Chef. What a personality! His love for food and the art of creating it for guests, enhancing their enjoyment of a visit to Sea World, is apparent from the minute you meet him.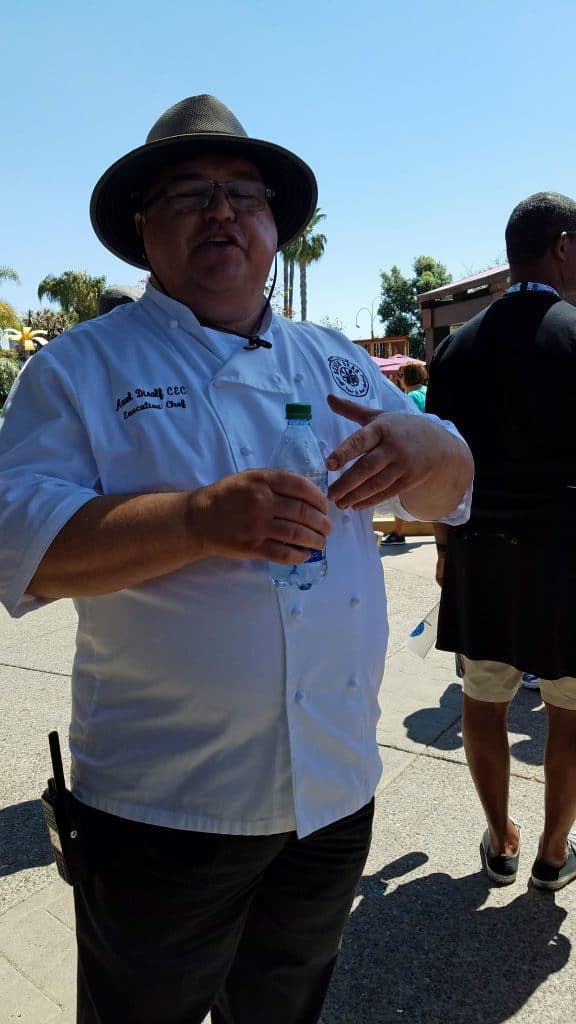 When you arrive at the park, you'll see the SoCal Flavors & Stage, the closest flavor area to the entrance. Pick up your passport and purchase your Food & Drink Sampler there, or at other places around the park, and start your food exploration journey!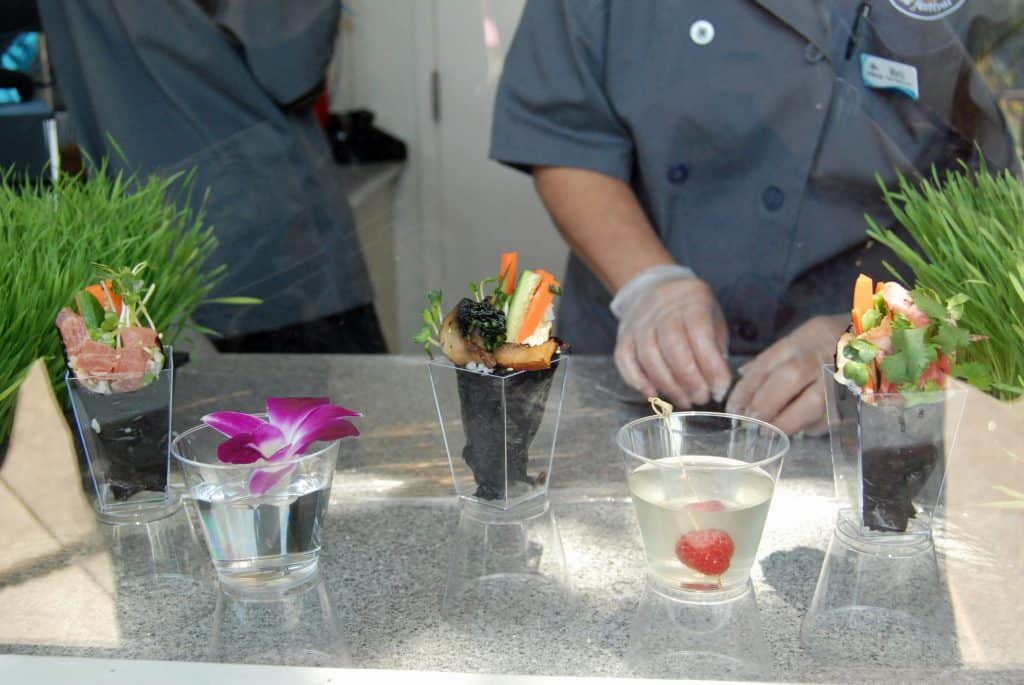 Made in front of a window for our viewing pleasure, this sushi and sake booth is a must-visit even if you just watch them prepare the food. Located in the SoCal Flavors area, by the Bacon Flavors and not far from the Pretzel Flavors, the booth offers a Spicy Tuna roll, Wagyu Beef Sashimi, Crunchy Kale & Portobello, Fruity Lychee Sake and Rich Unfiltered Sake. I tried the tuna and the vegetarian roll and could have easily ordered two more, sat down and enjoyed them slowly with a sake, smiling the whole time.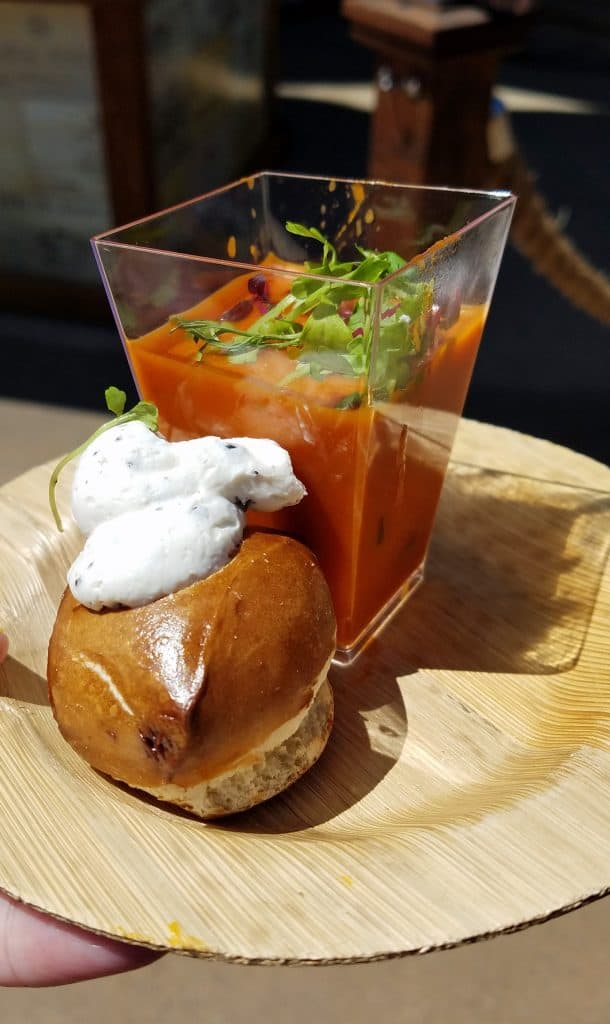 The Organic Tomato Soup with a Truffle Pretzel Bite was one of my favorites….as in favorite tomato soup ever. Just a little bit of texture, the soup is still smooth and perfectly seasoned. That pretzel bite was fluffy and light, and the pair is more filling than it looks.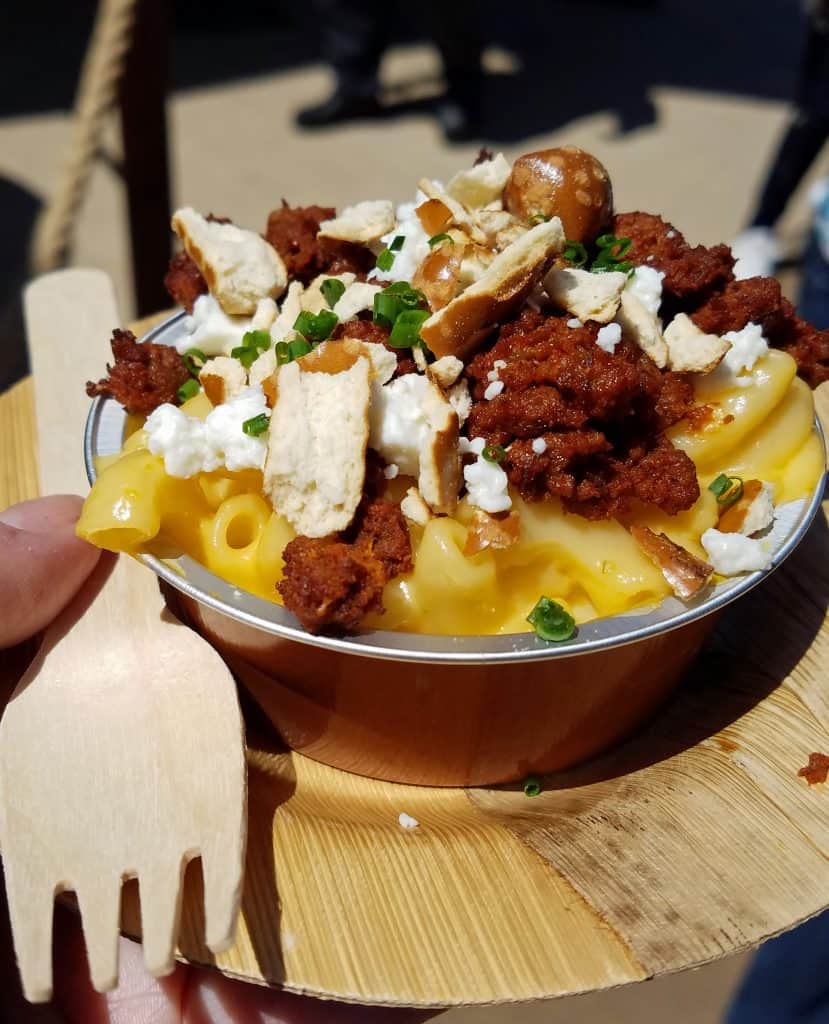 Yet I made room for this, the Pretzel Mac & Cheese, made with chorizo and panela cheese, to elevate an already delicious crowd-pleasing dish into something else. The small bits of crumbled pretzels gives it some crunch, and it's so rich yet just what you'd want with a comfort food like mac and cheese.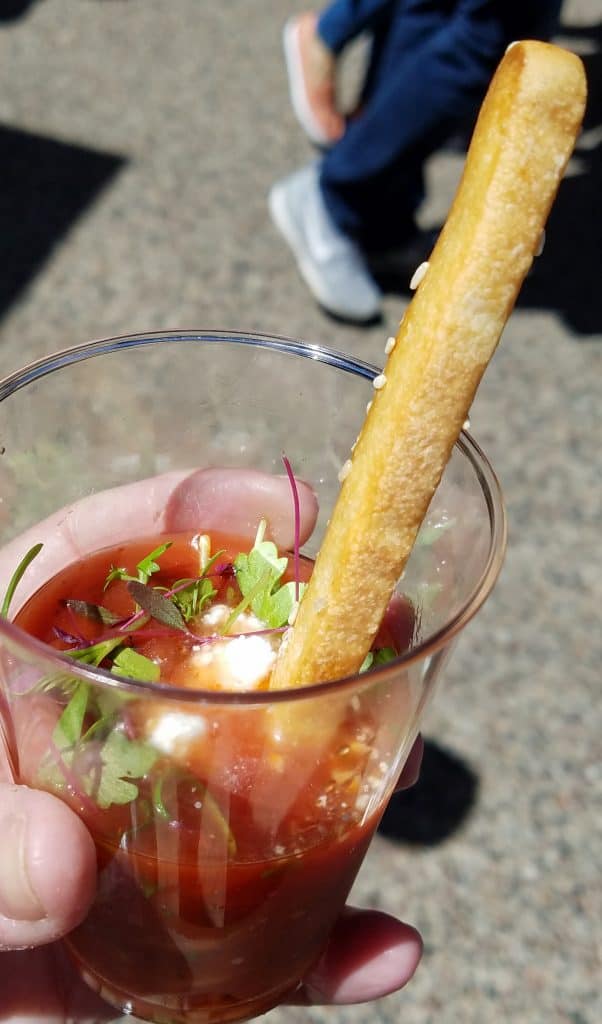 Over in Mediterranean Flavors area was the husband's favorite dish of the day, the Spiced Tomato Gazpacho. Served with queso fresco and a crispy breadstick, this gazpacho was refreshing, light and a good dish to in-between other richer flavors. The husband is now a gazpacho fan and I'm afraid no other will live up to Chef Axel's version.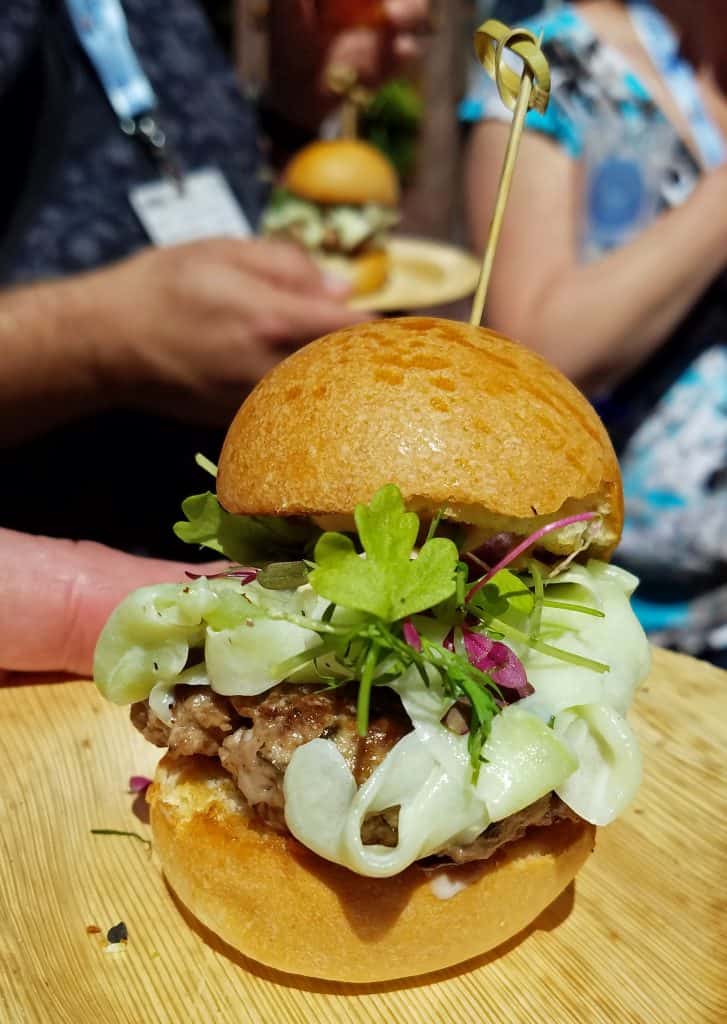 One of the most popular items every year is the Grilled Lamb Slider. Topped with shaved cucumber mint yogurt, it's one of Chef's recommended dishes. One bite in and you know why. Like most of the dishes we tried that day, it's colorful and presented beautifully. All the food was so easy to photograph. The only problem was delaying eating long enough to take shots!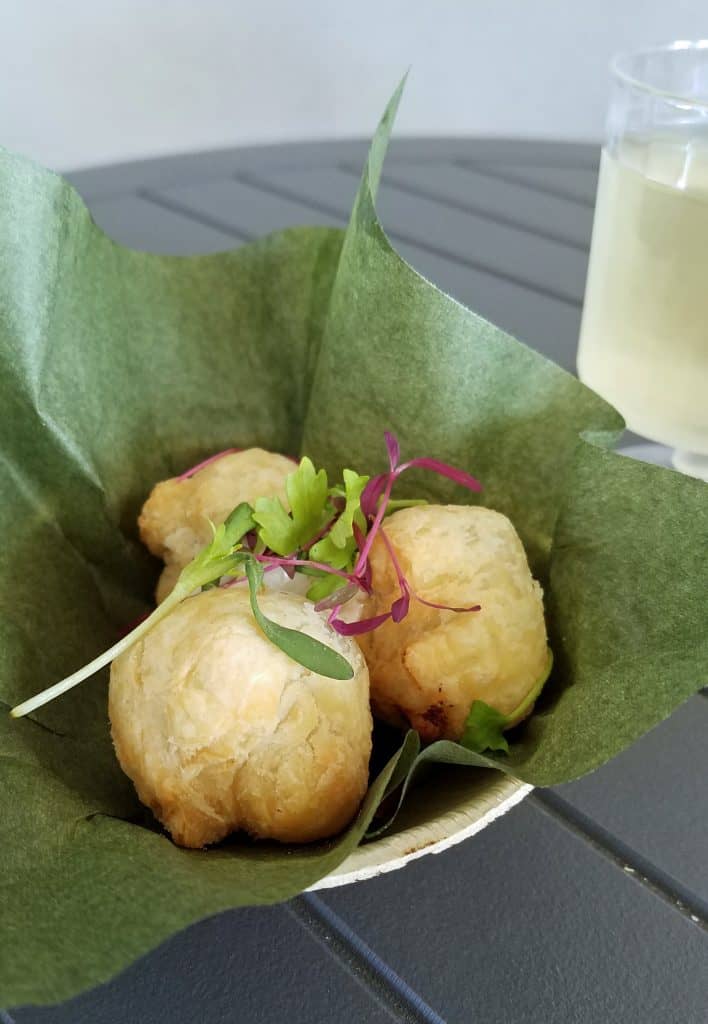 One of my favorite dishes of the whole day were the Escargot Maison, made in puff pastry and served a light Garlic Herb Aioli. If you've never tried escargot, this dish is a good place to start. Someone asked me what it tasted like, and while I think she expected me to say "Tastes like chicken," it doesn't. If anything, it's rather like a mushroom as far as consistency. If you didn't know it was an escargot, you wouldn't be able to guess it. Lightly salted, these were easy to eat and delicious. Give yourself a few minutes if you order these as they, like everything, are made fresh for you but due to the style of preparation, they take a couple of extra minutes. Grab a glass of wine at the booth next door while you wait, you won't be sorry!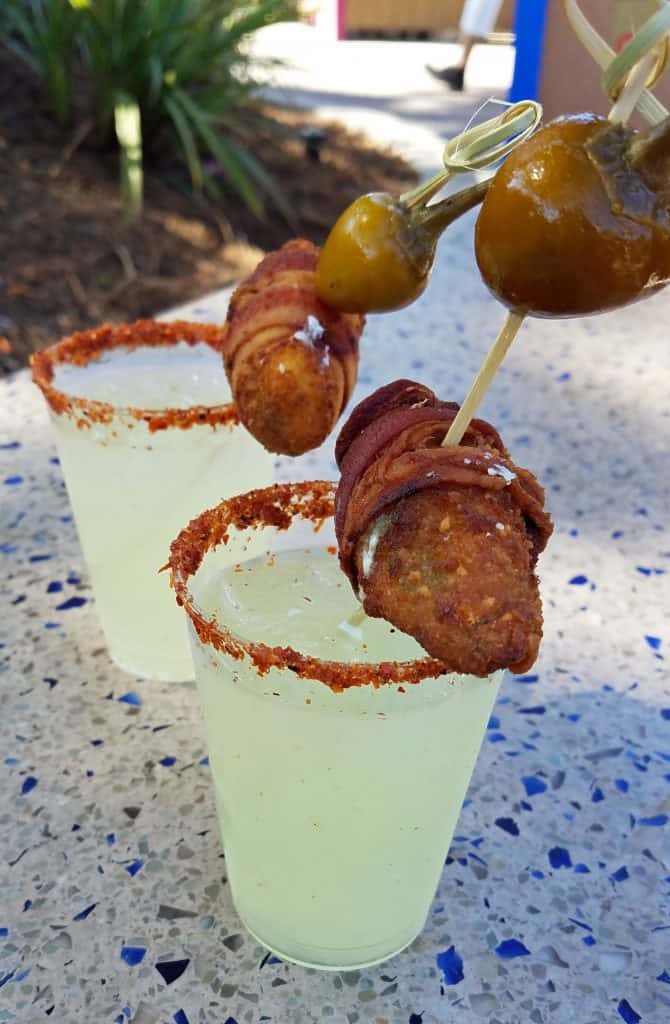 As for the drinks, there are so many to choose from, it's really hard to decide. We went for the Bacon Margarita, topped with a Jalapeno Cheese Popper, Tomato Pepper and a Tajin-lined rim. Enjoyed while sitting and listening to the music at the SoCal Flavors stage, it was a decadent drink for some lazy time well spent in the shade.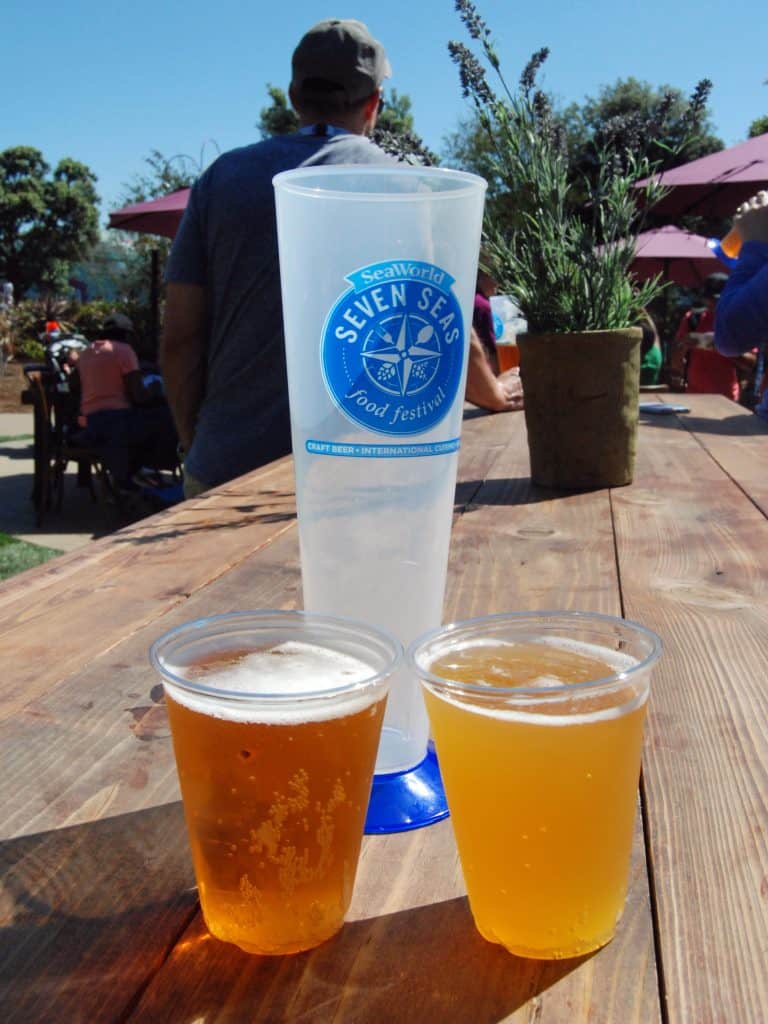 Speaking of lazy time, we spent a little here and there enjoying some of the many craft beer offerings around the park. The Green Flash Brewing Co. truck was probably my favorite, with the citrus-y beer on the above right. Buy one of the souvenir glasses and use it to get refills throughout the day.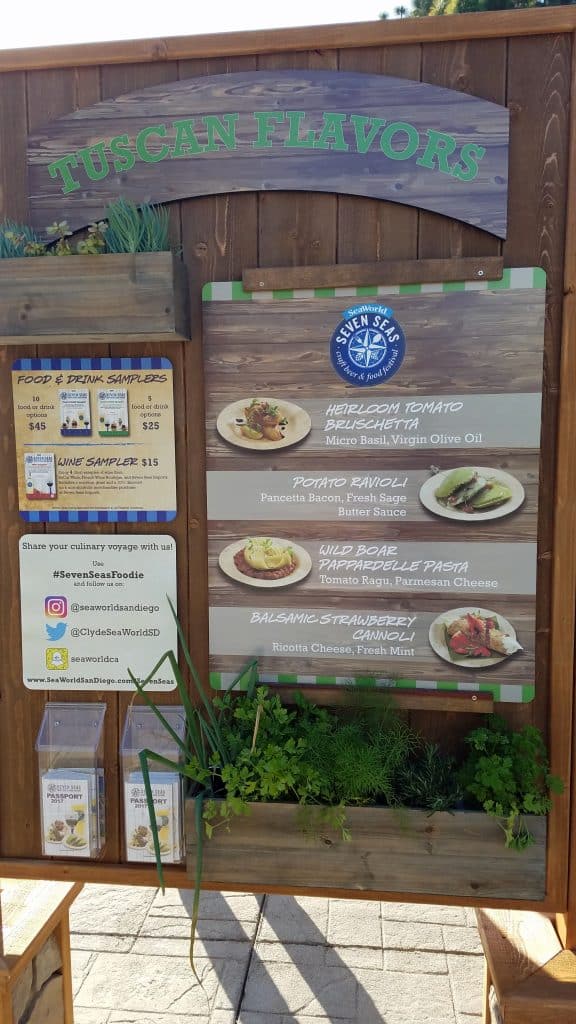 Dessert…always a favorite, and when we saw the cannoli in our passport, we went to Tuscany. Straight to Tuscany. You'll find signs like the above around the park helping you to see what is available in each area. When you see one of those signs, you're close to fantastic food, so keep your eye out. You can also grab a passport if you've not already found one. (You don't need to start at the front of the park if you change your mind partially into your visit; you can buy your sampler cards at many locations.)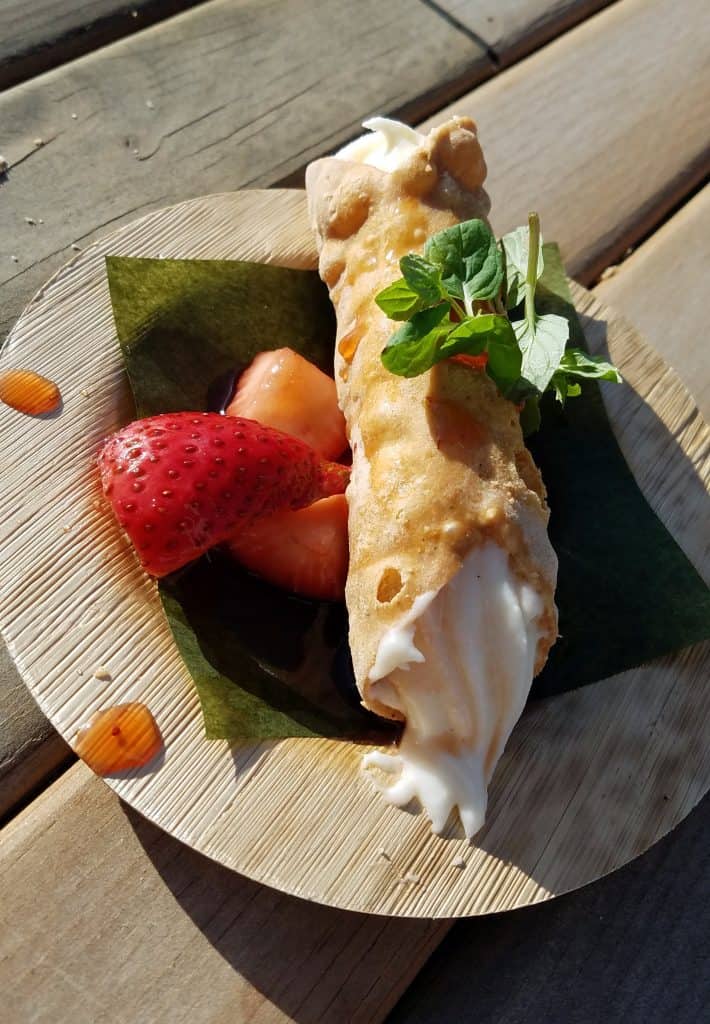 Back to the cannoli. Priorities. The Balsamic Strawberry Cannoli is filled with fresh ricotta cheese and covered with some fresh mint, served on top of a balsamic reduction. We split the cannoli — it's plenty big enough for two if you've been eating all day like we were — and dipped each bite into the reduction. Wow. That's all I have to say. This is a dessert you need to try.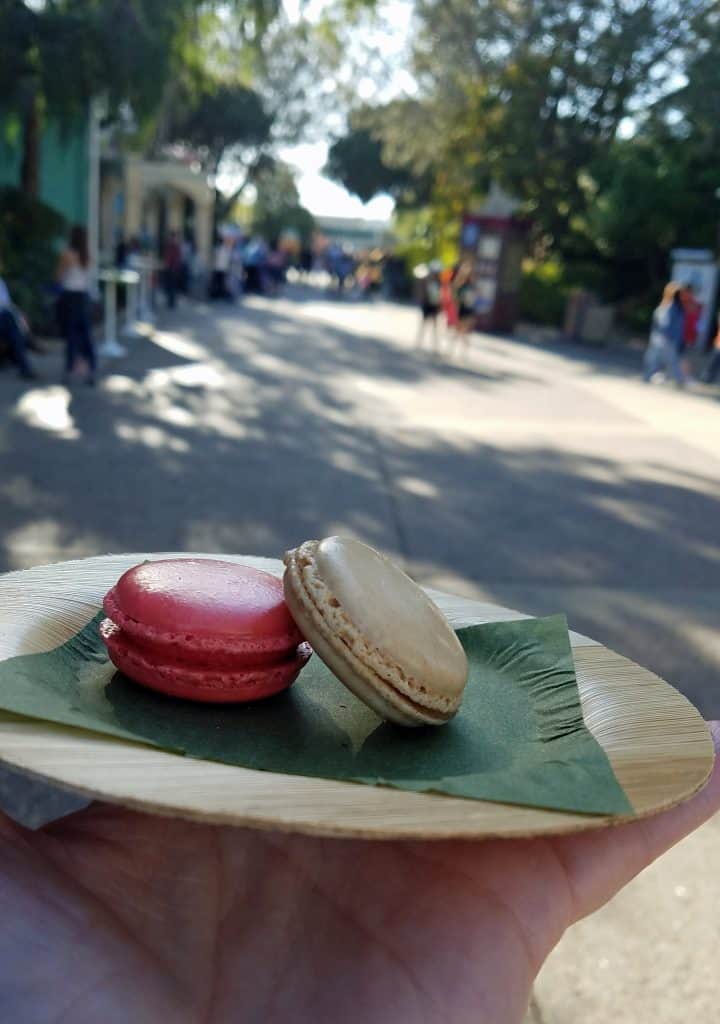 Then there were these macarons. Raspberry Vanilla and Sea Salt Caramel, the macarons are light, just a perfect crunch and the filling is airy and flavorful. We may or may not have gotten a few servings of these. (Servings on all the food through the park runs $5-6, so the sampler cards do save money if you plan on trying more than a couple of food or drink items throughout the day.) The recyclable bamboo plates are used in many of the areas and fit in well with Sea World's goal of helping towards a safer, self-sustaining planet.
There's a lot more food and beverage choices than I was able to share with you here in this post…a lot more than I could eat, sadly. It was a wonderful day of strolling (walking off the calories) in both sun and shade, indulging in many treats and still taking in some animal exhibits and shows. No day at Sea World is complete for us without a visit to the Wild Arctic and the dolphin pools. (Did you know dolphins can get kidney stones, too? Given my recent health experience, the conversation with one of the dolphin trainers was fascinating. More on that in a later blog post!)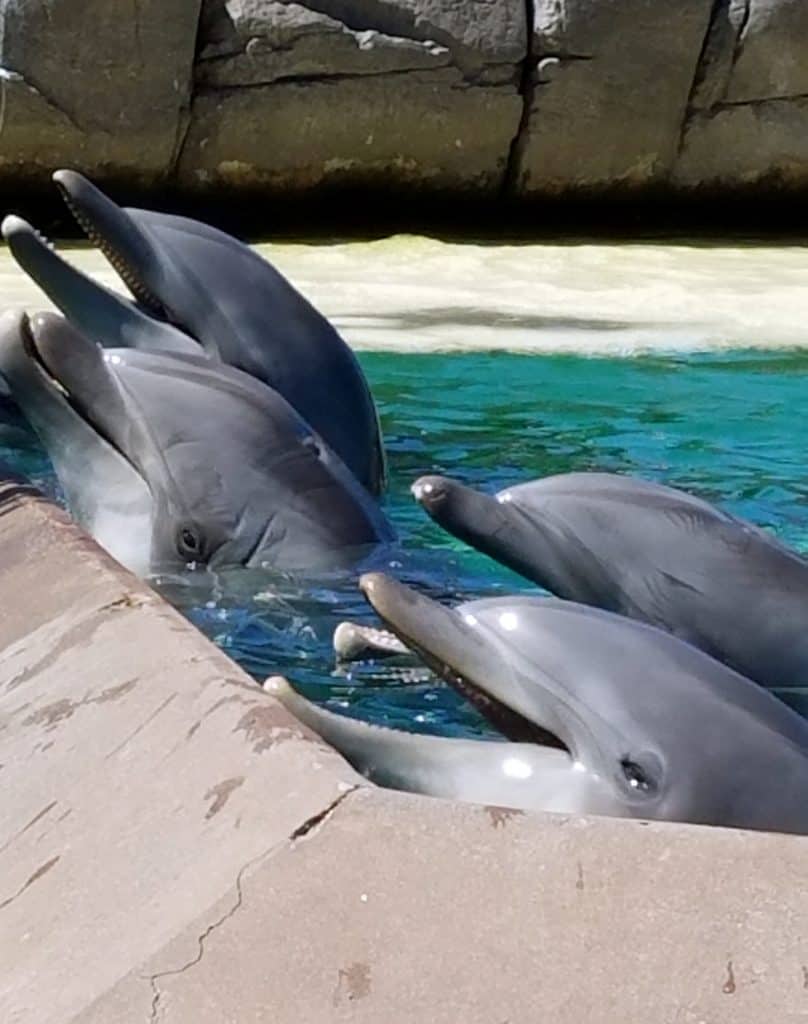 Thank you, Sea World, for such a good day! We love coming to Sea World and hope that this post will enlighten others to the Seven Seas Craft Beer & Food Festival. It's so much more than I thought it would be and feel like I missed out not having come before! I can't wait for next year's and to see what Chef Axel comes up with. Head over to their website and see their latest deals to save you money on your visit and for new San Diego fun. The festival is only available throughout April on Saturdays and Sundays; you do not need any special admission ticket for the festival. Try the cannoli!