September is Family Meals Month at Smart and Final, and to help make that a little easier, I'm sharing some great tips from Patricia Bannan (RD) along with a recipe for a plant-based, or vegan macaroni and cheese!
What exactly is Family Meals Month? It's a nationwide event designed to support and encourage families to cook and eat together, enjoying more meals together that are cooked at home using ingredients purchased at their local grocery stores.
Research has shown that kids that eat with their families do better in school and suffer less from low esteem. They also have less violence and substance abuse problems. And then there's the whole social and health benefits to shopping and eating together.
I do a lot of our in-person food shopping at Smart and Final. They have a wide variety of produce, and because I have a couple of carnivores here at home (okay, three…I am the only person who could happily be vegetarian almost 24/7) I have to hit up their well-stocked meat department, too. Add in the fact I can pick out a few select bottles of wine, some snacks for the teen and paper goods, it's a one-stop shop.
With quarantine making it difficult to go out and eat, especially if you want to sit inside away from the smoky air and hot temps, cooking at home is becoming even more important. We want to help keep local food businesses open but cost is a factor, so shopping for affordable food that we can fancy up in our own kitchen needs to be easily attainable. The husband is an essential worker, as is one of my sons, so there are always at least two of us eating lunch at home, if not three. Our meal plans have to include at least two entrees a day. Family Meals Month feels like a year-round thing, right?
Print out this Creamy Butternut Squash Vegan Macaroni and Cheese recipe and add it to your weekly menu. It's an unusual take on a family favorite, with less fat and none of the dairy that lactose-intolerant people have to avoid. It's also using cashews in a way you may never have tried ! (And I'll be honest: I do not like cashews normally, but when you don't know they're in there, it's a whole different ball game!)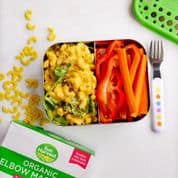 Creamy Butternut Squash Vegan Macaroni and Cheese
2 tablespoons Sun Harvest extra-virgin olive oil
3 large garlic cloves, minced
½ large yellow onion, diced
1/3 cup First Street unsalted cashews
1½ cups cooked butternut squash, cubed
1½ cups First Street unsweetened almond milk
1 teaspoon Sun Harvest yellow mustard
½ cup nutritional yeast
5 teaspoons low-sodium soy sauce or tamari
2 teaspoons First Street onion powder
1 teaspoon First Street sea salt
1 teaspoon First Street black pepper
1 pound Sun Harvest dry elbow macaroni
6 cups First Street frozen spinach or Sun Harvest fresh spinach
Vegan Mac and Cheese Topping
2 tablespoons Sun Harvest extra-virgin olive oil
1 cup First Street panko bread crumbs
¼ teaspoon First Street sea salt
¼ teaspoon freshly ground black pepper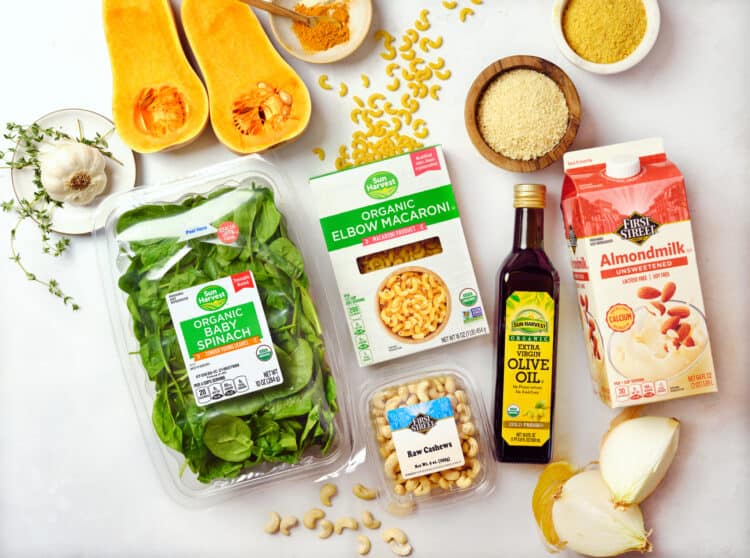 Let me know if you give this recipe a try, and I'm always interested in hearing more about other vegetarian recipes that are popular with your family. I think we're going to be cooking at home more often for the long run and I appreciate collecting recipes. My dream kitchen is in the works, with a literal 100% remodel hopefully being done by the end of October, so even when restaurants are open, I may want to stay home and cook a lot!