Last week, my daughters and I attended the Victoria Gardens Fall Fashion Event in Rancho Cucamonga, California. Entitled Passport to Fall, it went from 6pm – 8pm, and the first batch of people who signed in for their passport (which led us around the mall with directions for each involved shop) received free gold totes. (We scored and got them, and we only arrived in line at 5:50pm!) Once we received our passport, we walked from shop to shop, wandering, looking at merchandise, trying out samples, and when at all possible, meeting the shop staff and any fashion blogger that might be helping host. By the end of the night, we'd received a lot of samples, quite a few coupons and found shops we didn't even know about that are now on our regular "must visit" list.
As we were walking around, deciding where to go and when, and re-learning our way around a mall that was our home-away-from-h0me before we moved to the South in 2010, we were taking pictures for the Instagram event corresponding to the evening. The quest was to take pictures of the evening and put them on Instagram with the hashtag #pftt. Too easy! So many things to take pictures of, as you can see below…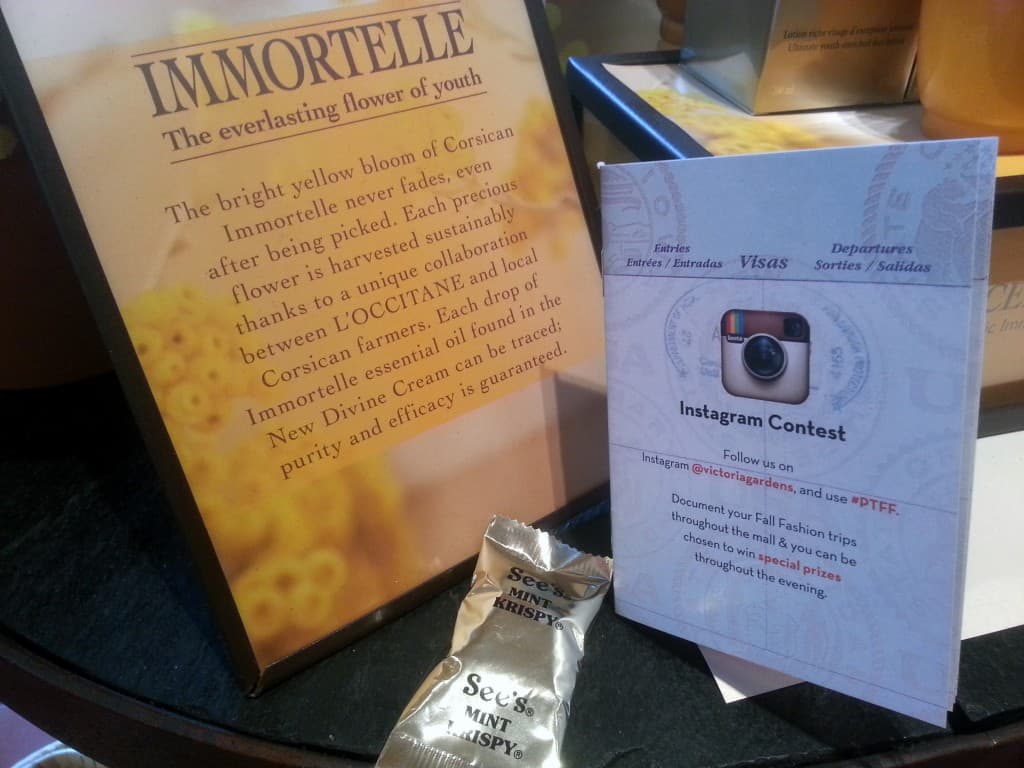 That's my passport on the right, posing with an item from L'Occitane and a fantastic mint chocolate from See's Candy. I'd never been into L'Occitane before, and I've been missing out! We were supplied skincare samples focused on our specific skin type, and of course, the candy. And everyone there was so nice!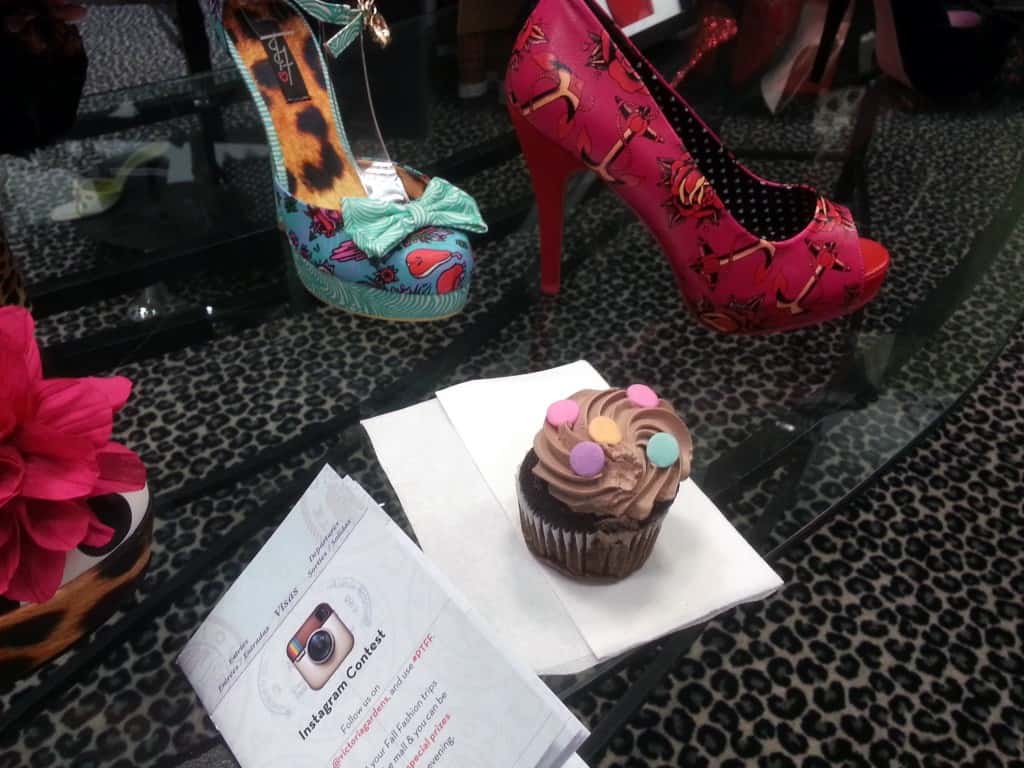 This photo…lo-lo-love it! The patterns around the store, Sassy Fashion … the theme, the decor, the selection. Ahhhh, I could have totally wandered. Shoes were affordable and funky, my perfect requirements for a shoe store, and the Hot Dog on a Stick people were there giving out samples. Alas, I couldn't eat the hot dog (darn beef intolerance) but I did win a spin of the wheel and got a free lemonade for my next visit, and the cupcake…ahhh, the cupcake. I'm picky with cupcakes — you tend to be that way when you bake them on your own usually — and these were moist, chocolaty and not overly sweet. (Shhh, I ate the whole thing!)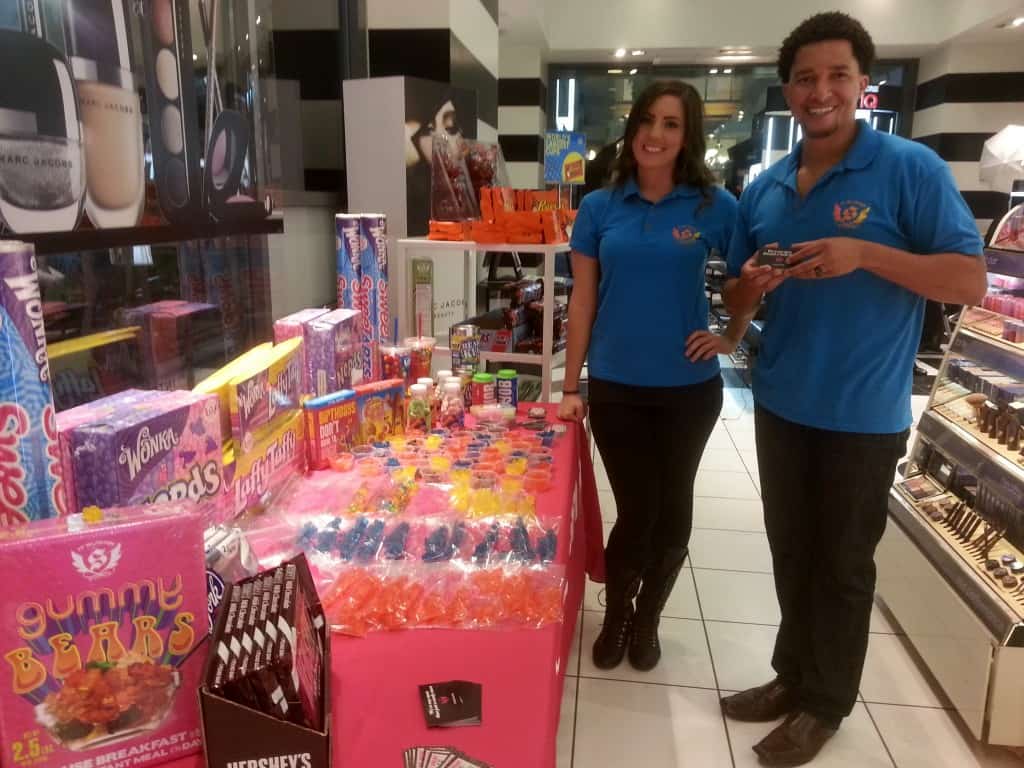 Okay, words won't do this booth (inside the Sephora) justice. It's Sugar. Yum.  I left with a baggy of mini gummy bears and a coupon for my next visit…and a promise that I would bring my little guy back. My younger daughter chose the last chocolate-covered gummy bears. Who knew? They were SO good. I may have to go back and get some…I mean, go back and take my kids there…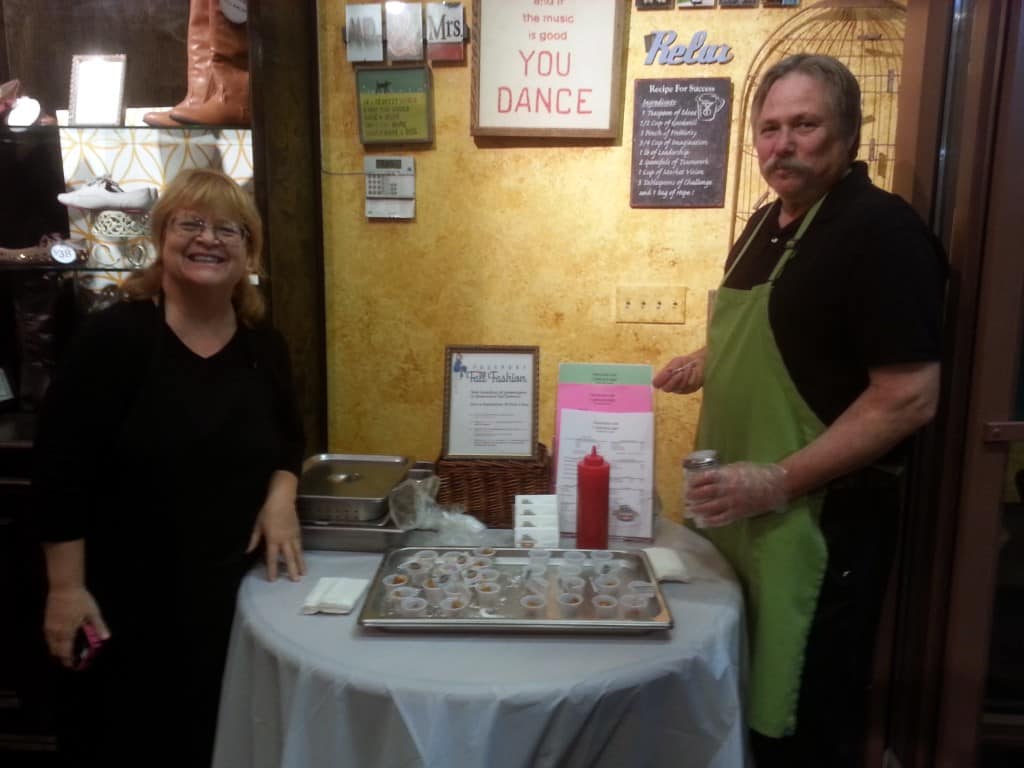 Looking to try a new food and new restaurant on-the-quick? Manilaville should fit the bill! (See what I did there?) They are new to the Gardens and offer up Filipino food that will open you up to something you may never have tried. (And they agreed to pose for me, like the staff from It's Sugar. That screams cool right there.)
We unfortunately didn't get a picture of every place we visited — and this blog piece would have been wayyyy too long — but Francesca's hosted Manilaville and also offered a drawing for a $50 set of jewelry. Guess who won?? I know, right?? I got the call on Saturday morning and I'm uber-excited! I'm going in tomorrow to choose my prize and I will be sure to get a good picture to share then.
And to add to the excitement, both my younger daughter and I won Instagram prizes — $10 gift certificates for the Gardens! Woohoo!
It was a good evening all around, capped off by a visit to Islamorada Fish Company at the Bass Pro across the street, where we enjoyed appetizers and beverages and laughed about some of the encounters of the evening, from the seranade my older daughter got to the strange security situation my younger daughter witnessed to the older guy that tried to chat me up. You can just call us three Charlie's Angels! 😉   (You won't be the first though, that honor belongs to the guy selling makeup on the green.)
Oh, yeah, we went to Target after for more jeans for the little dude. Everyone wins! Thanks for the invite to the Victoria Gardens fashion event!