Ahoy, mateys! Or should I say "aarrrrrrrrrr!"
Last weekend, my family and I had the pleasure of visiting the 5:30pm showing of the Pirate's Dinner Adventure in Buena Park, California, courtesy of Pirate's and USFamily Guide. We were provided four complimentary tickets but the pictures and opinions below are completely my own. (And I took over 100 pictures!)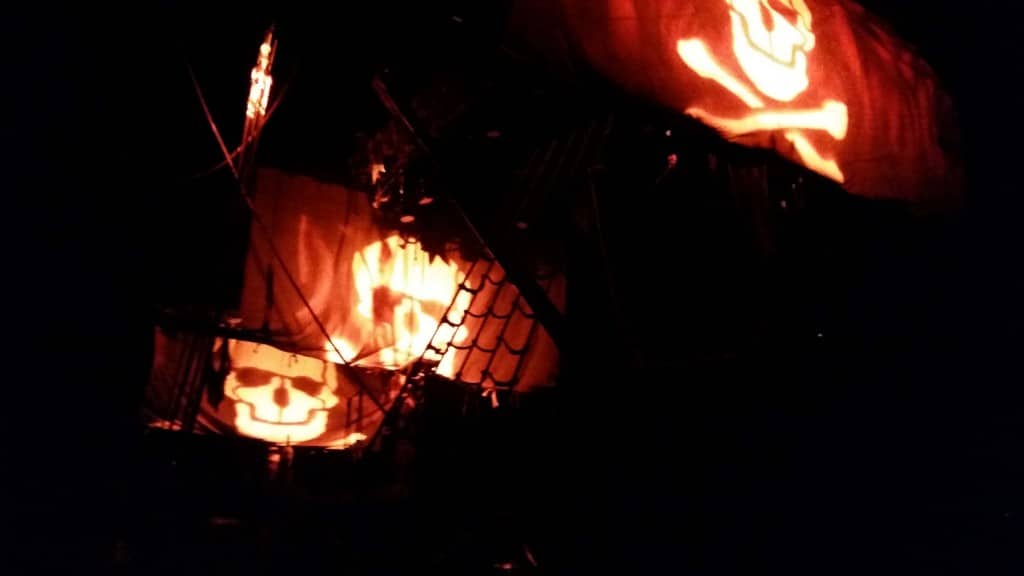 I've passed Pirate's Dinner Adventure for years and had never been before. Living that close to it, no real excuse! Once this was set up, we planned on arriving early to enjoy every part of it to the fullest extent. The line for the tickets/will call opened two hours pre-showtime. That meant we were there at 3:30. So worth it though! The line moved quickly, which was good as it was hot out, and we were escorted through to the picture area. Once we got inside, we immediately sat at a table near the main beverage area where the pirates are introduced later and the groups are gathered. (When you get your tickets, you are assigned a color and a table number; you have to hold onto that ticket because you follow the pirate that's the same color as your ticket.) We were given purple, which rocks, because not only is it my favorite color but the purple pirate, Saxon, is a bit different. No hints, you have to go to see why!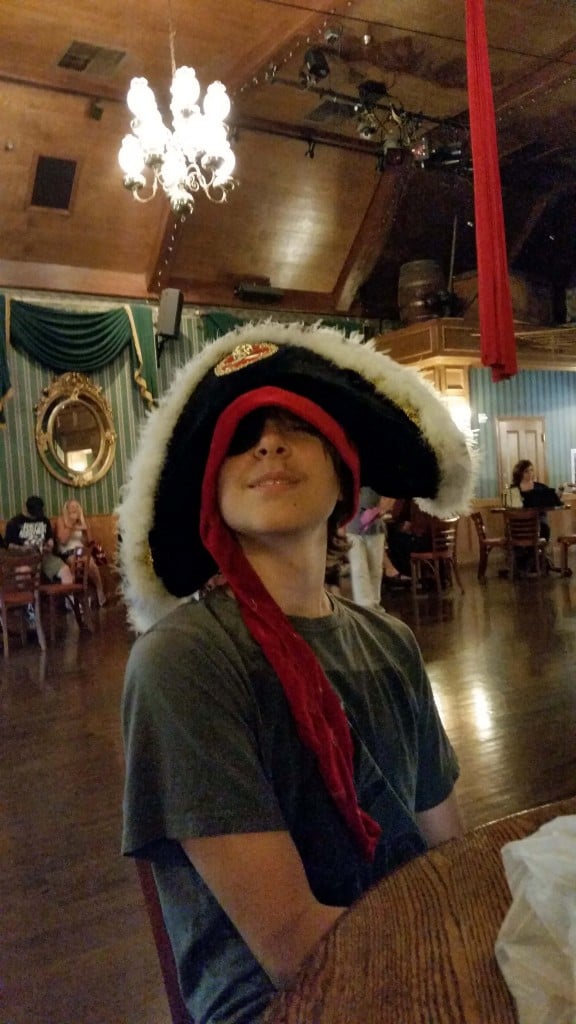 We sat at the table, enjoying a pirate beverage (with a refillable souvenir glass) and appetizers that were being passed around. My little dude loved the cheese sticks! Of course, we hit up the gift shop right away; little dude had a specific pirate hat in mind and the staff was so good about letting him try it on and answering his questions. We were excited to find out that if you buy that hat, for $5 LESS, you can buy a package that includes a sword and a gun that makes noises, too, as well as an eye patch. Score! They also walk through matching you with your photo so you can purchase it. We did, we're easy like that. It's a great family photo! (And we loved that we were all wearing dark shades, too funny.)
The pirate introduction started about 30 minutes prior to showtime, and we were laughing along as they engaged the crowd that had gathered. (Tables go fast, so grab one quickly if you want it! There are more benches along the wall.) After being led by Saxon to our section, the staff quickly took our drink orders and we settled in to watch the show. I took a quick restroom break and came back to a beaming 19-year-old daughter — she'd been chosen as the Cannonmaster for our section! Throughout the whole show, various audience members are chosen to participate and it's so fun to watch! From children to adults, so much interaction.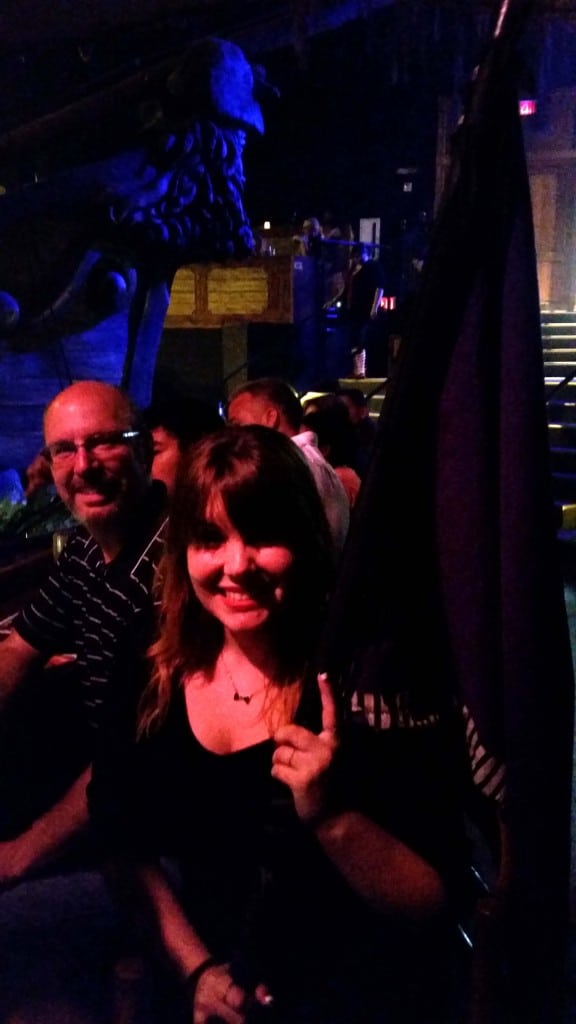 The show was amazing. From music to singing to dancing and even acrobatics, to explosions to gunfire to water — it has it all! The pirate story is fun to watch unfold and the way they talk to the audience makes everyone feel involved and a part of the action. During it all, you're eating a three-course meal of salad or soup, chicken or beef plate, and a brownie sundae. Drinks, too! The kids had soda while we had water along with our refilled souvenir glasses. (The refill's at a big discount.)

The show stays at a fast pace the whole time, and my daughter stood and waved our purple flag proudly. And when she got to go down and play the sandbag game with Saxon? We won! It was fun to watch and cheer….and jeer, as everyone boos the other teams' pirates. What a blast!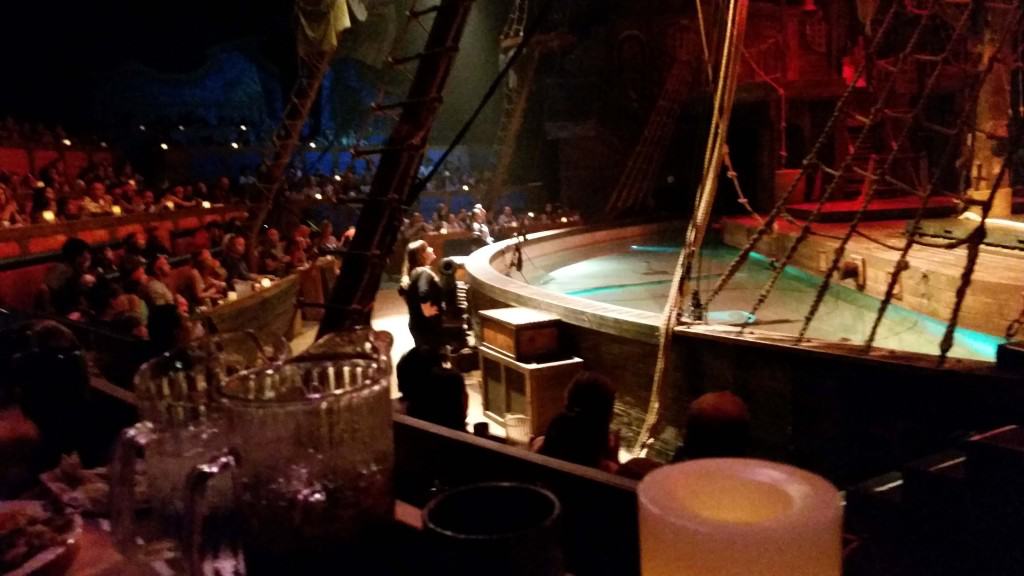 There isn't a bad seat in the house and everyone will have fun. There are some loud noises, so keep that in mind if you have younger children with you. I don't have a bad word to say about the whole show and experience and would definitely go back again. (But bring cash, you'll want souvenirs, extra drinks, photos, etc.)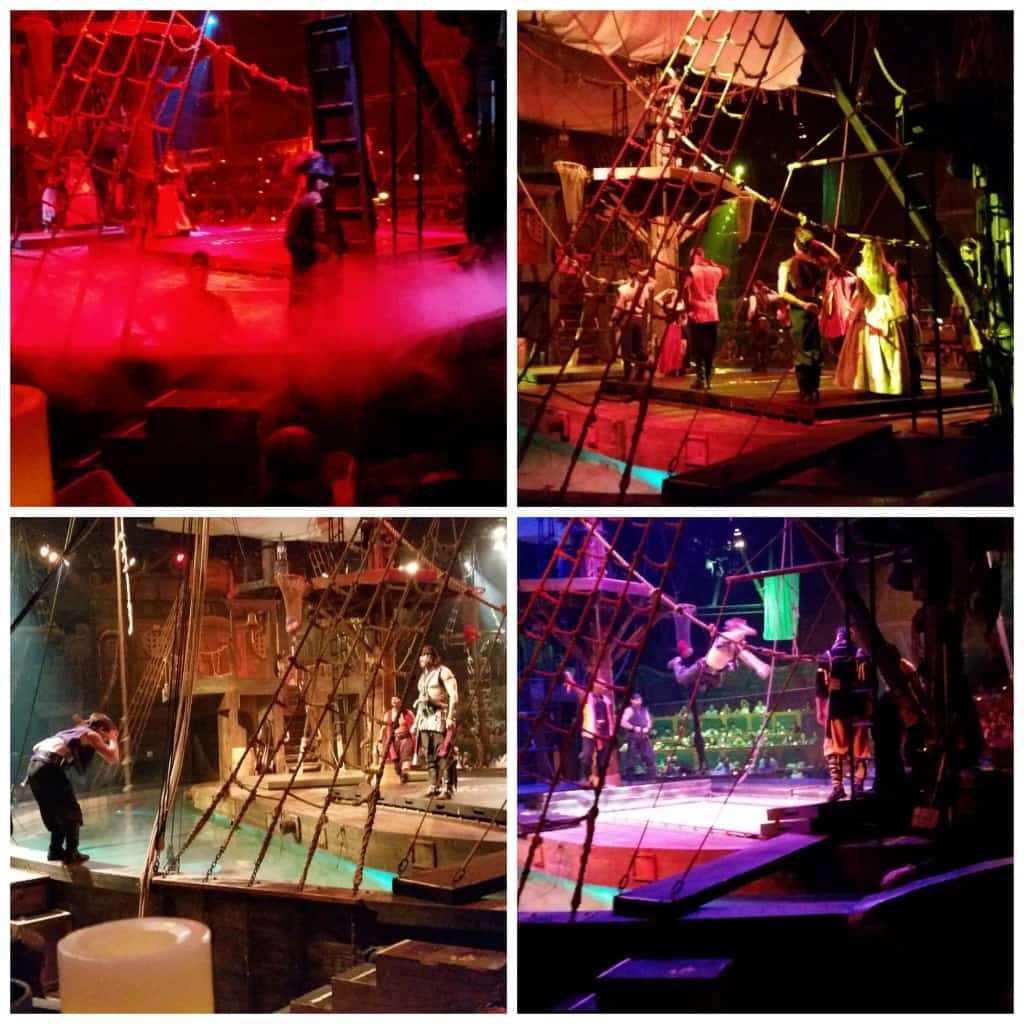 I won't share any spoilers about who wins anything or what happens, but special effects and a lot of choreography make for some great sword fights and suspense, so take your camera. It was a perfect family fun evening!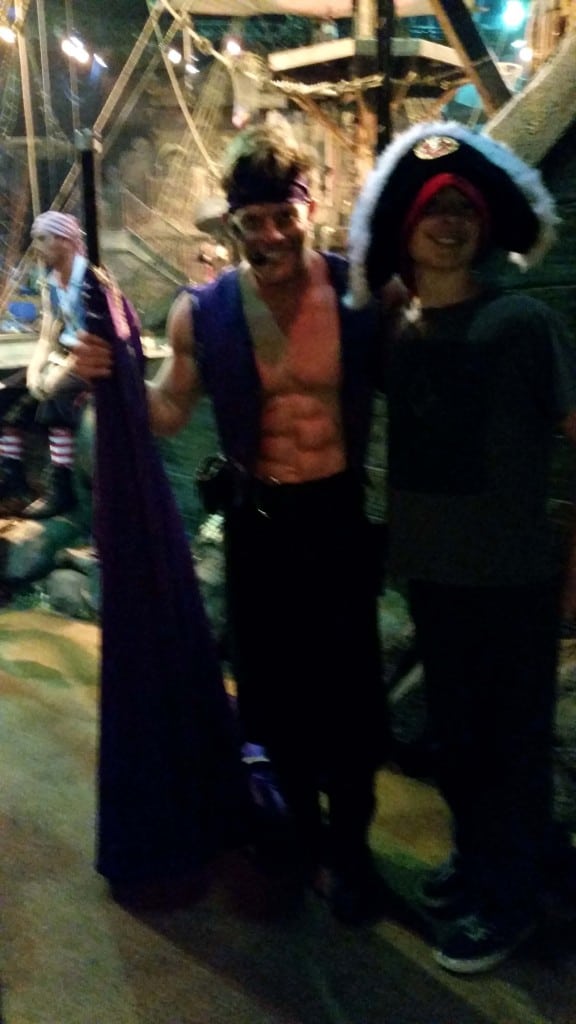 Saxon and Little Dude! (Pardon the blur, I am using the new Galaxy S5 without flash, due to safety regulations, and I need to get the hang of it.)
Want a discount? Here's a really nice coupon!
$25 off Adult and $15 off Child admission
$25 off Adult and $15 off Child admission over the phone and mention code "USFAM" at time of purchase.
Reservations required. Tax and applicable fees are additional. Gratuity not included. Not valid with any other promotions or discounts. For general seating only, upgrade seating available at additional cost. Not valid for prior purchases. Valid through 12/31/2014. Subject to availability.