A couple of months ago, I shared our first indoor skydiving experience at iFly Ontario with you. Last night, we went back again, attending an evening focused on how iFly can help you host corporate retreats or other events. In a world where everyone wants to host something unique, I think you'd come out on top with a holiday party or corporate team building event that allows your guests to fly, right?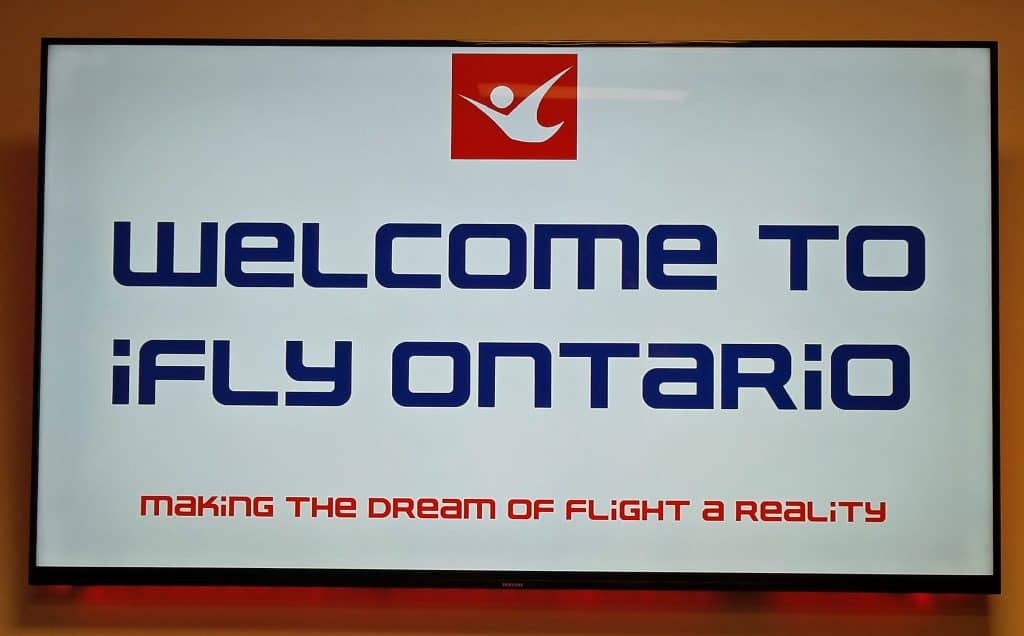 First, thank you to iFly Ontario for inviting us to attend the party! Our complimentary flight and food was fun, and as always, it's great to meet new people!
iFly Ontario is one of several iFly facilities throughout the United States. It opened in early 2016 and currently has one large wind tunnel capable of allowing groups of people to consistently fly all day long. The Ontario location is large, including its flight training room, a party room more oriented towards parties and kids (though it's perfectly fine for guests of all ages, thanks to the digital screen and mural), free lockers to hold all your gear while you fly, a corporate meeting room and a small shop where you can buy cool branded items of clothing like shirts and hats.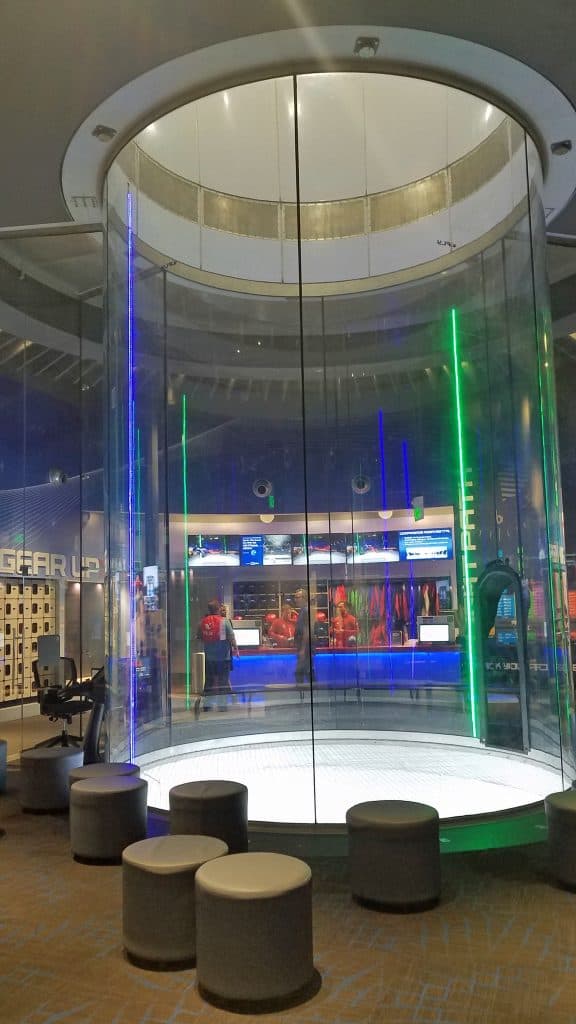 When we attended last night, we were able to skip the flight training class because we've flown in the last couple of months. The class is important if you've never flown before though, so it's required. It fills you in on the necessary position to maintain while flying as well as the four hand signals your instructor may use with you. You are in a superman position, but your arms are bent a little and your legs will separate once you hit the air. Chin up, arms out in front and hands in a flat-ish position, fingers together. While you're flying, if you need guidance, your instructor will always be within arms reach, if not holding the 'handle,' so to speak, on your suit. (Every guest is completely geared up for flight, in a flight suit, helmet and goggles; if you wear glasses, you will be provided a special set of goggles to go over your glasses. I didn't wear my glasses on my first flight and I was bummed as I couldn't see as clearly. This time I left them on. Rings and earrings should stay in your locker, and wear close-toed shoes or you'll have to borrow some sneakers from the location.) Here's a video of my first session of the evening.
Flying was an amazing experience as always. We went up twice, like the last time. On your first experience, you're likely to spend the entire 1-2 minutes (which feels a lot longer) at a lower height as you get acclimated. For an additional $9.95, you can go up to the high level. I've shared videos below of me at the lower level and at the high level. Too bad you can't hear me — I was wooooohooooo'ing the entire second session where I went up high. Such a rush! Here's a short clip!
iFly offers STEM classes, birthday parties for kids and a special abilities evening, so even those with physical disabilities can get up in the air. On Friday nights, iFly Ontario offers a kids' class from 7:00pm to 9:15pm. Everyone must complete a waiver before they are allowed to fly, so don't drop kids off. You'll need to complete the waiver online prior to arrival or you can do it via the screens inside the lobby. Once you've flown one time, your information remains in the system so signing in is speedy.
All of your activities are filmed, so smile for the camera! (If you have friends/co-workers with you, they can film/photograph you from the outside of the tunnel — not all of the pictures are as flattering as my flapping cheeks below though. If you can't laugh at yourself….right?)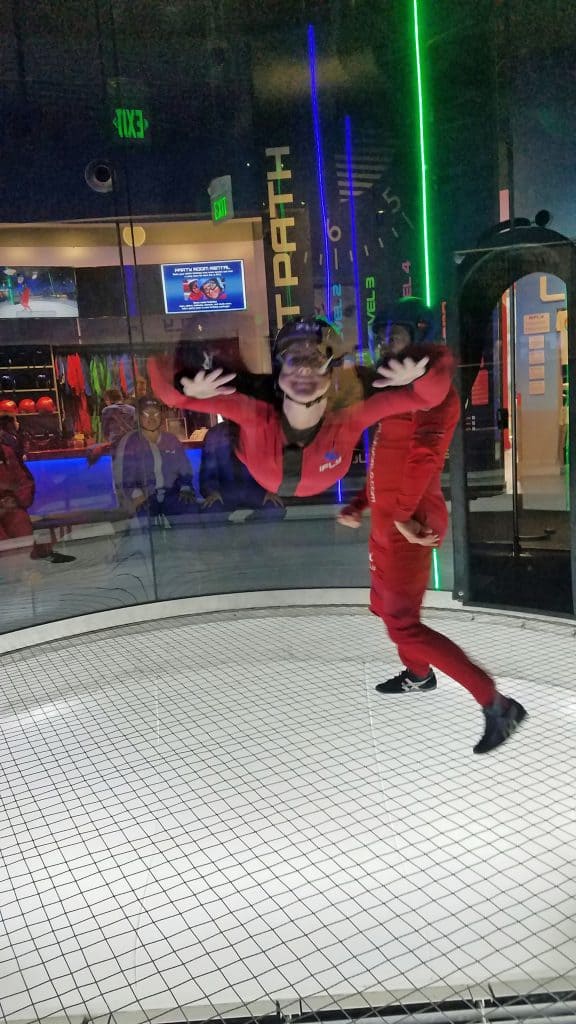 We were treated to dinner last night after flying. The corporate room is spacious, seats quite a few people and there was plenty of room for food storage as well as presentation materials. There is also a large digital screen should you need to cast your slides. Invite your employees or team to come eat, take a flight lesson and then fly for 2-4 minutes. Packages can be purchased for your whole group, including the room, or if you want to buy flight packages without the party/meeting room, there are many options to save you money, as not all flights have to be used the same time if you buy individual packages. It's great because it allows you to drop in when you're able, and one of the best parts about repeated flying is the ability to continue to improve and learn new skills. Last night, my instructor showed me how to control my movements more with my hands, so I was able to spin without any help! Trust me, that may not sound like a lot, but when you're in the wind, you get caught up in the moment and while it's not difficult at all to stay still, you don't want to just jump in and expect to do flips.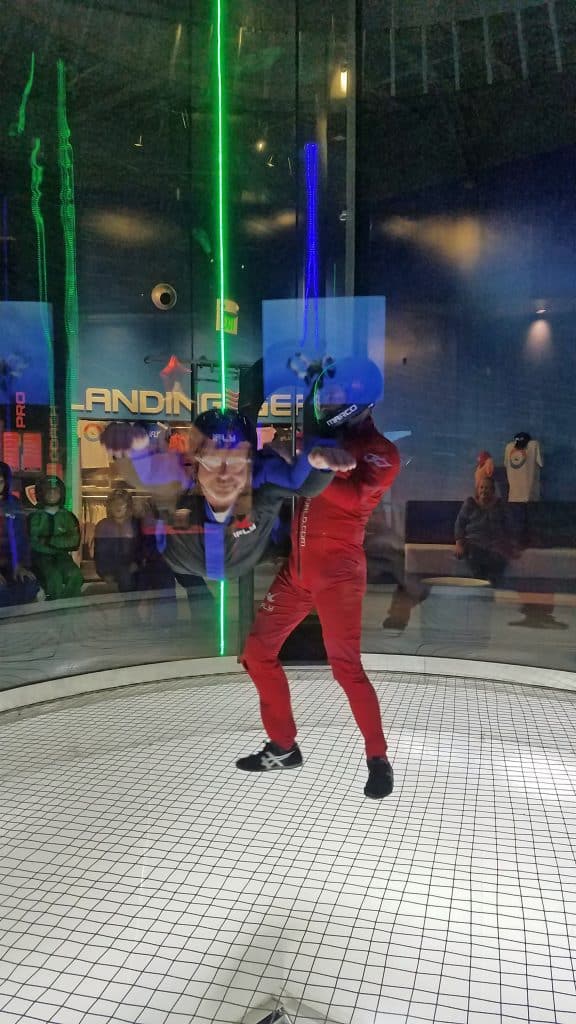 But wow, do those instructors do a lot of flips and make it look easy. I could watch them do tricks for hours!
Check out iFly Ontario, or your local iFly. You can find more on their locations here. Before you plan where to host corporate retreats, consider an indoor skydiving experience like no other at iFly!