A couple of weeks ago, two of my blogger friends and I traveled to Las Vegas to attend ConnectHER 17, a social media and blogging conference that I was fortunate to attend three years in a row. Thanks to Mitsubishi, who provided the vehicle on a press loan for us, we took the trip up the 15 freeway in style in the new 2017 Mitsubishi Outlander.
We left at 4:15 on a Friday morning, packing up the SUV with enough stuff to probably last us a week. Suitcases, random clothes, three laptop cases, three purses, two pillows, three snack bags and a huge cooler, we got it all into the Outlander with plenty of space to spare. It seats five people — with legroom and ample space for each person to sit — and that trunk is deep. (When we arrived at the hotel, I'm pretty sure the valet counted bags and looked at us wondering WHY IS THERE SO MUCH STUFF??)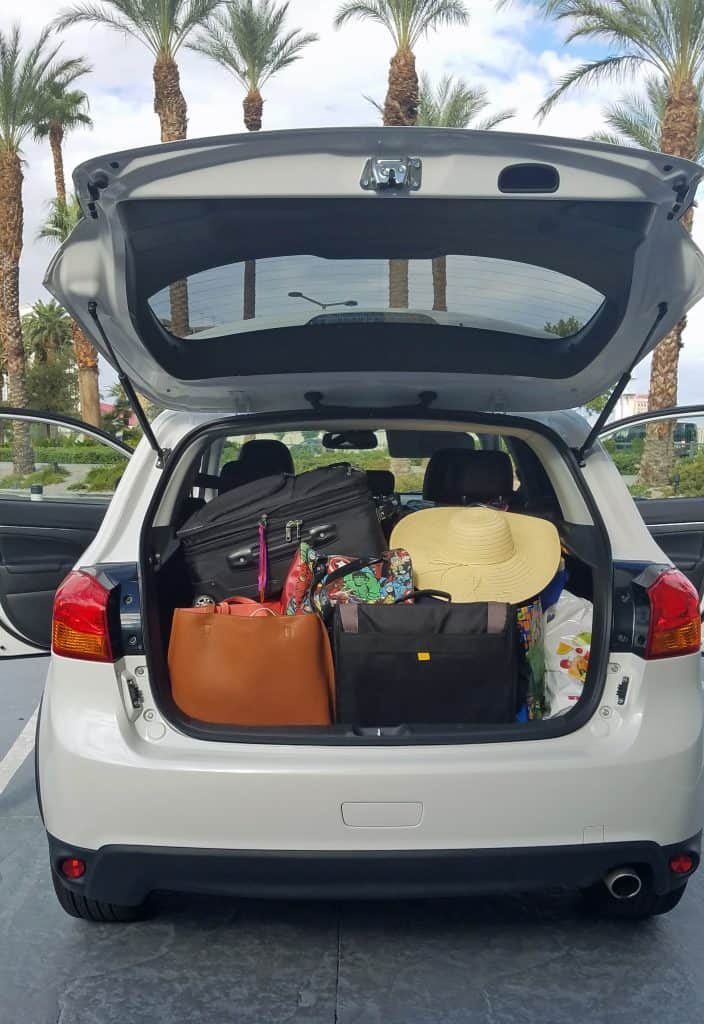 The trip to Vegas went smooth. The car handled well and was economical on gas, at 22 mpg city and 27 highway. The seat warmers in both front seats were nice to have on at o-dark-thirty in the morning, because we still had the a/c on the whole trip. It was a hot weekend in SoCal and even hotter up in Vegas. The digital dashboard was easy to see in the dark as well as the bright sun. (Check out that 110 temperature outside of the car.)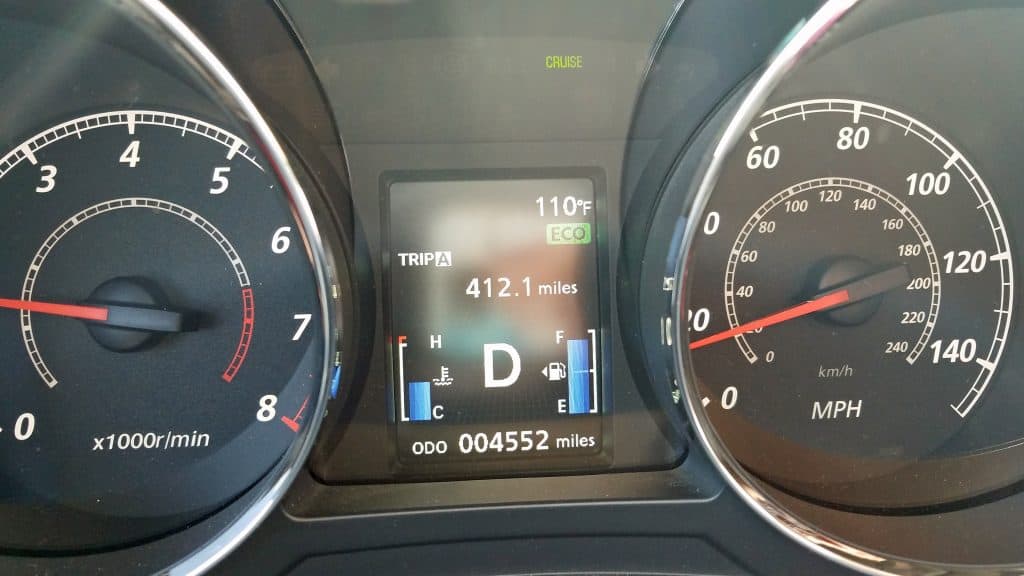 Yes, 110….and 10 seconds before, it had been 111 but I couldn't take the photo as I was driving so by the time I was able to say OhMyHeat, someone please take a picture of that, it had dropped a degree.
The interior of the Outlander is comfortable and spacious. It's drive-and-go, with nothing that you need to pull out a manual to study. The gear shift is easily within reach of your right arm, as are the Digital HD stereo and air conditioning controls. For added convenience, there are controls on the steering wheel to adjust volume, set the cruise controls and answer the phone you can connect via Bluetooth. The stereo is Sirius-enabled so you'll be able to enjoy a wider selection of music and/or talk radio wherever you drive. The touch display is part of an AM/FM/CD/MP3 audio system with five speakers and FUSE hands-free Link System with Bluetooth. With a back-up camera system, the large display is really appreciated so you can park with ease. (I live on a small cul-de-sac where parents park daily to drop off and pick up their kids from school. Having a back-up camera to prevent little ones running behind you on the sloping driveway is a huge plus.)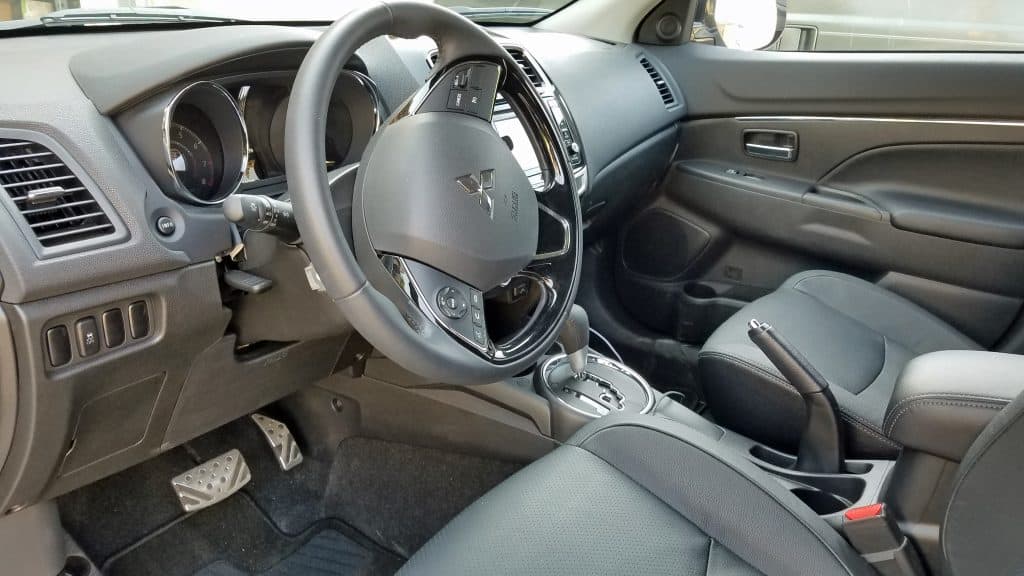 For a road trip with so much stuff to store, little things like extra water bottle holders in the doors are a big help, since we all had our own coffee. One added thing I didn't expect was the sporty gas and brake pedals. Those types of pedals are usually reserved for higher-end sports car models, but I prefer these as they keep it easy to have traction on your feet even if you're wearing flip-flops.  The back-seat also has a drink holder in the middle seat, which you can hide if you need that space for a passenger. Power windows and door locks add to the convenience options, as were the extra charging ports for our many phones and devices.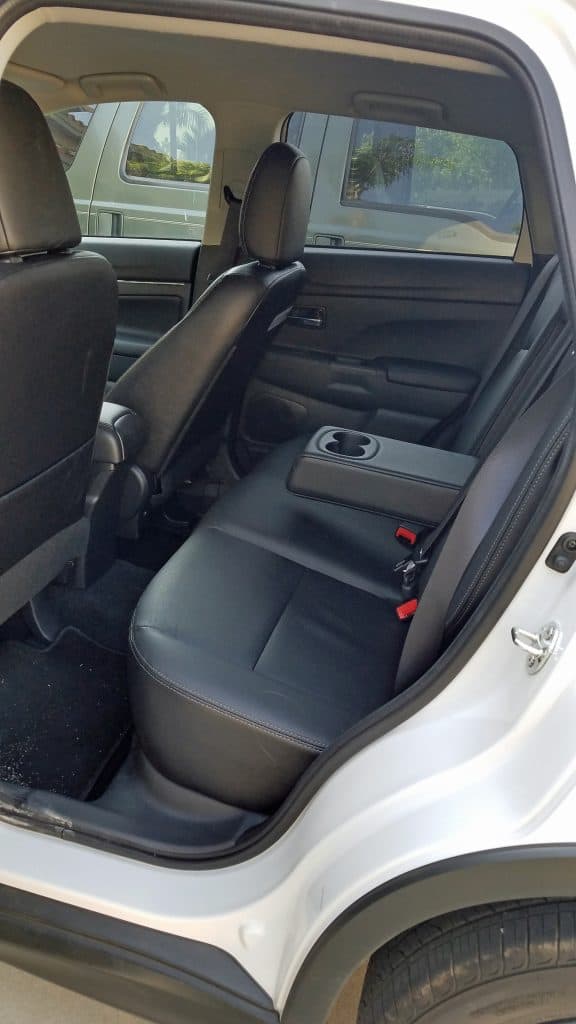 As we got closer to Vegas, the sun started to come up and we made a quick pit stop in Baker. It was still not very bright out, but I had to capture the car below this gorgeous sky while picking up <more> coffee.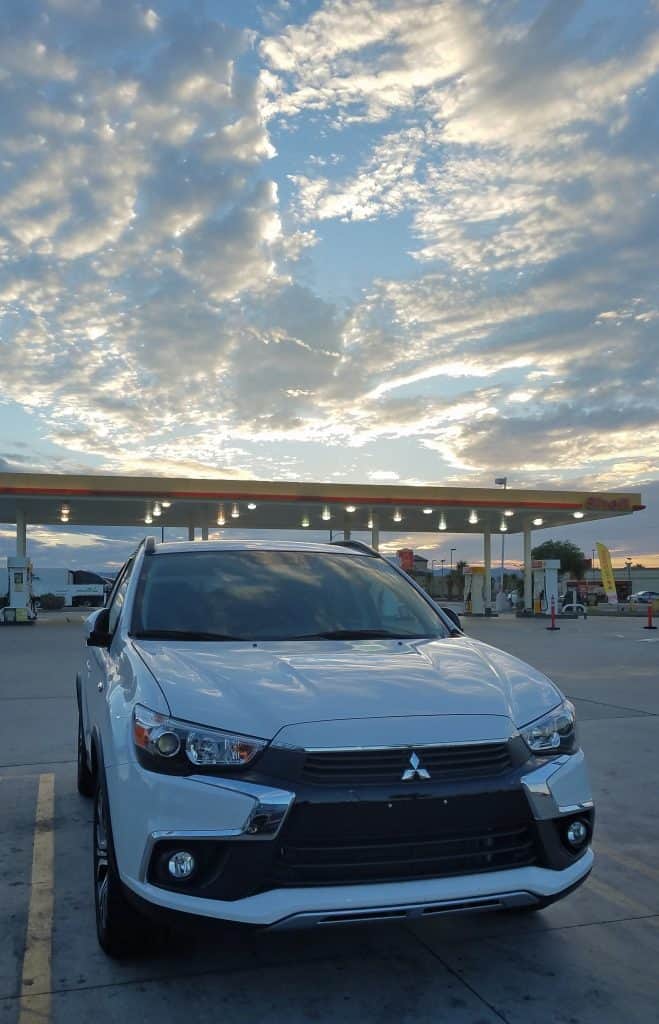 Did I mention the new 2017 Mitsubishi Outlander is AWD? We tested that out when we took a slight detour on the way home from Las Vegas, stopping to see the Seven Magic Mountains just a little south of the city.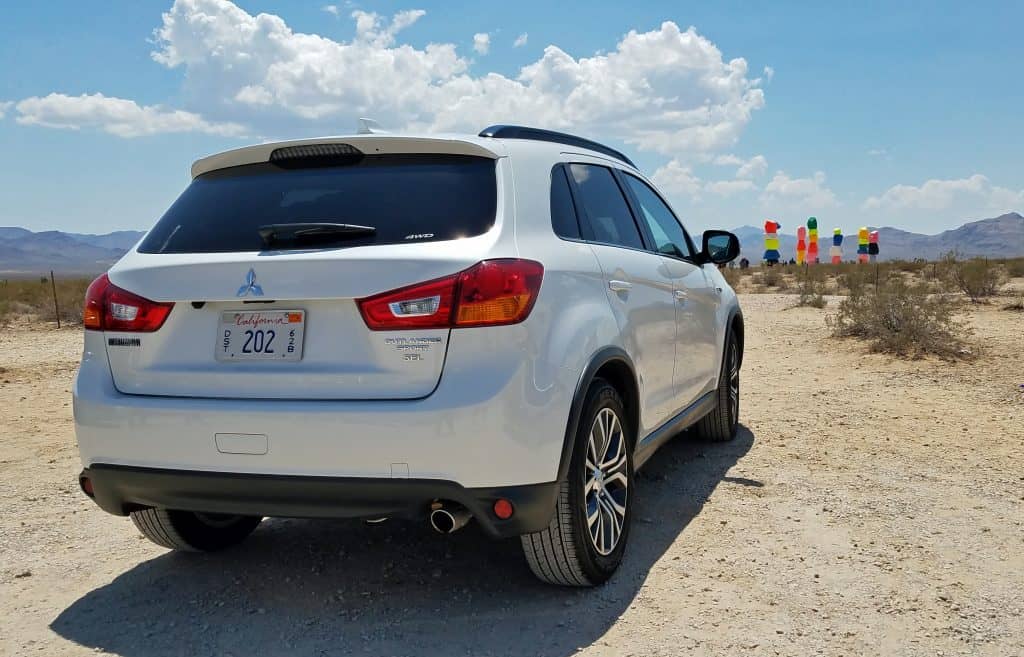 If you've never been, it really is just seven painted columns of rocks, but it's a pretty sight in the middle of the desert. You don't park on pavement, and there are some really hilly roads outside of some private property. I don't drive AWD on a daily basis so this was something I don't have a lot of experience with.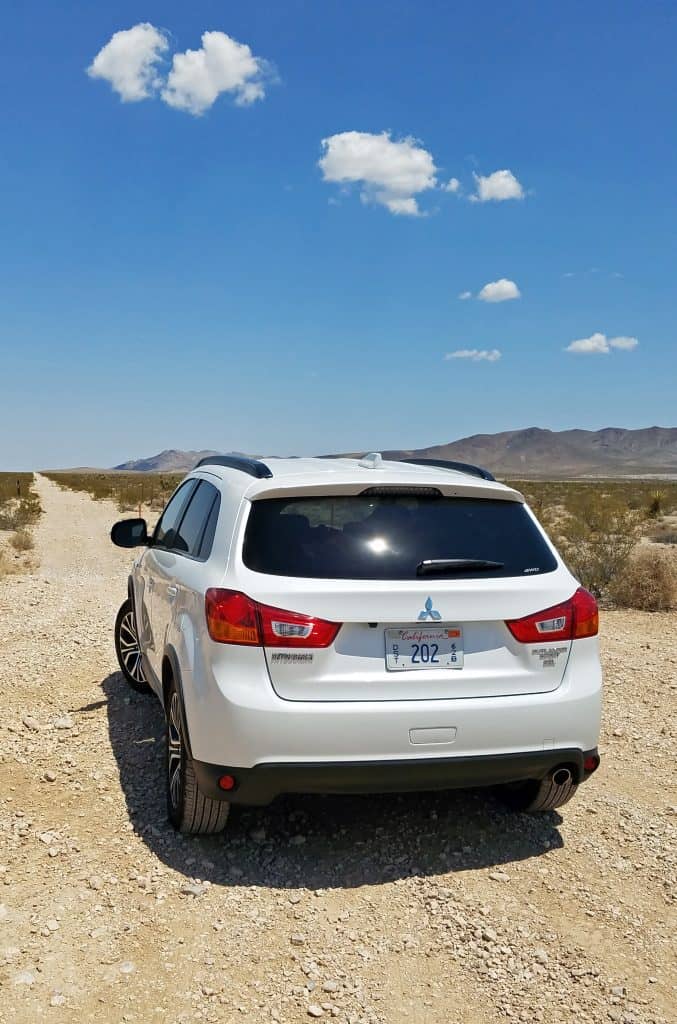 The AWD option really did give us the feeling of more control on those rollercoaster-ish dirty roads parallel to the main road. When you do pull back out onto the paved road, the AWD helps you hug the road more with less chance to spit rocks and/or slide when you gas it to safely pull into traffic. Doesn't she look pretty out here amongst the cactus and brush? That's shiny Diamond White Pearl paint with a black interior.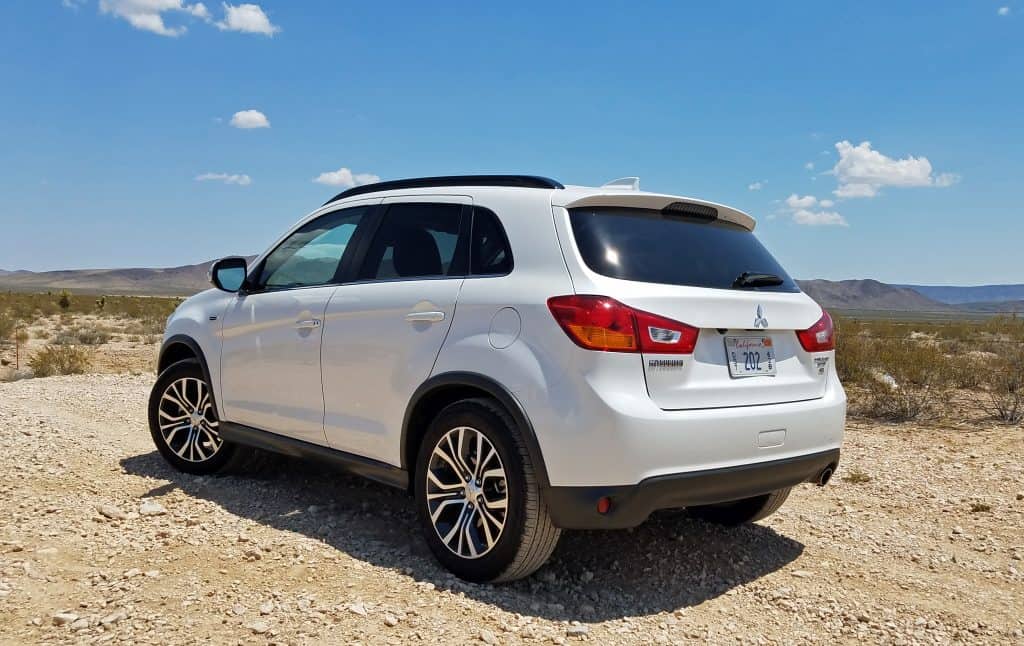 There are a lot of perks to the Outlander Sport 2.4 SEL AWD. It's a four-cylinder but it's punchy and has power climbing the hills. I'm not a slow-lane kind of driver, and this vehicle had the ability to keep pace with everyone else in the fast line while going up the 15 through the Cajon Pass. Halogen headlights with the auto on/off option (something I'm used to on my current car, so I'm thankful to have it on this since I'm not used to turning them on/off) provided clear and safe lighting. It also has fog lights, but we didn't have occasion to use them. One fun thing I'd never had before on any vehicle are the motorized mirrors. When you park and turn off the cars, the mirrors automatically turn into the car to minimize the possibility of anyone, or another vehicle, bumping them. Turn the car on and they rotate outwards to the position you had them in prior.
There are a lot of safety systems on board the Outlander Sport, such as anti-lock brakes with Electronic Brakeforce Distribution, active stability control, traction control logic, a tire pressure monitoring system that will display to the driver if a tire is losing air, and along with regular expected airbags, an additional driver's knee airbag. If you're driving with a child, there are tethers for child car seats, child safety rear door locks and the anti-theft system includes an engine immobilizer.  Our model had a total MSRP of $26,590.00, making it a feasible purchase for a young and growing family, offering bells and whistles without breaking the bank.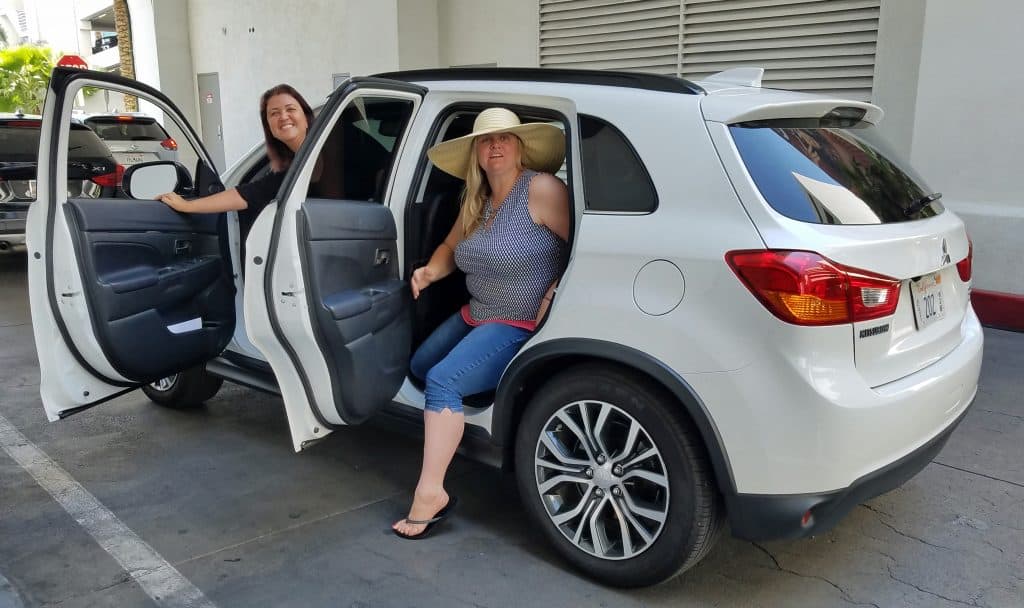 I also took the vehicle on a few errands around town, putting it through its paces as a vehicle for a busy SoCal mom. I drove on packed California freeways on my way into Anaheim for a meet-and-greet with Mike Trout hosted by BodyArmor, parked in a very tight and crowded lot for a media tasting one night, and easily loaded up my groceries at Sprouts.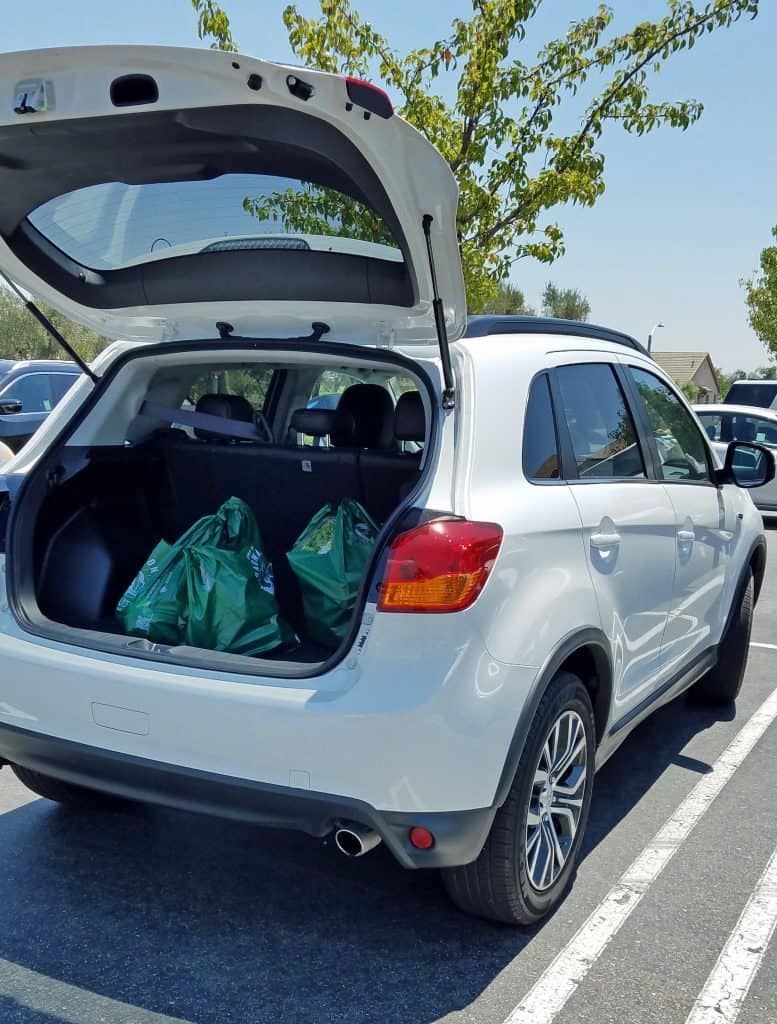 If you want to learn more about the vehicle, visit the Mitsubishi website. The 2017 Outlander received a top award from IIHS for being a top safety pick. Its safety configuration, driver and passenger comfort and power, conveniences and looks make it worth your consideration if you're in the market for a crossover SUV that handles like a car but gives you the feel and space of an SUV.
Thank you again, Mitsubishi, for allowing me to test drive the Outlander! We made a lot of memories exploring around Las Vegas!
It's time for a road trip, right?