If you're a regular visitor to the Victoria Gardens outdoor shopping mall in Rancho Cucamonga, you've seen the progress of the H & M  remodeling that's been taking place. Located on the northwest corner of South Main Street and Monet Ave., you can't miss the new building. The H & M Victoria Gardens is two stories of fashion, now open for all your shopping fun and fashion needs!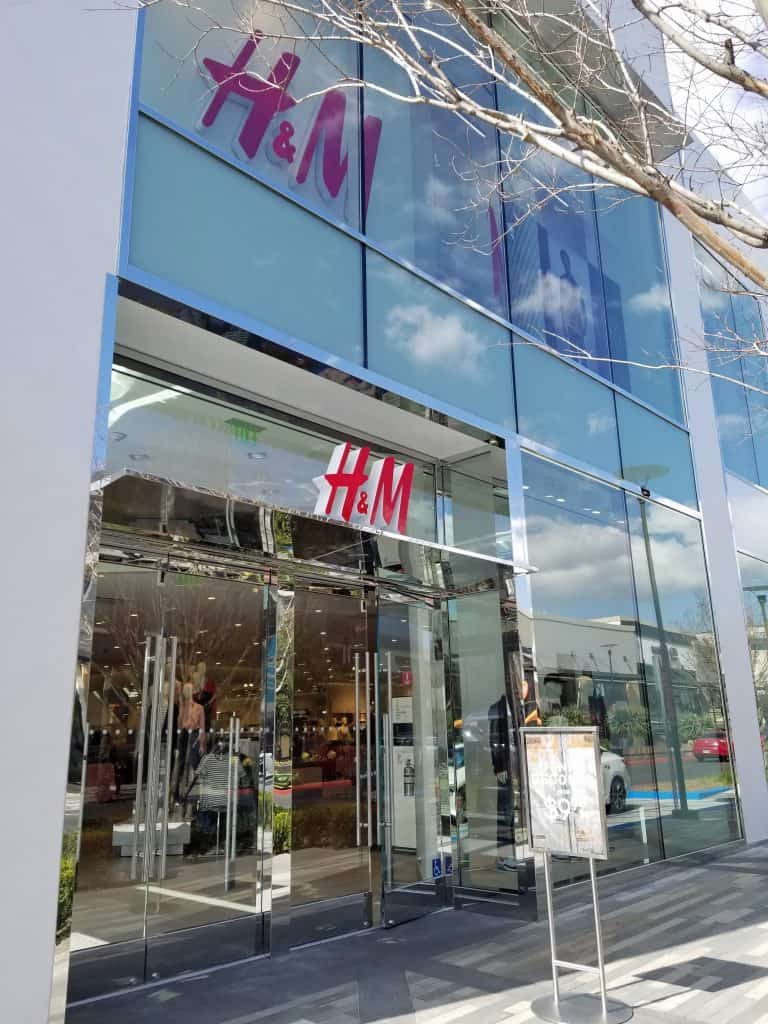 H & M's new store has a modernized layout with bright lighting, plenty of space to wander all the areas and large dressing rooms on each floor. While the downstairs is primarily focused on female fashion, the upstairs is all about the men and kids in your life, all the way down to the accessories they may need. (This post is sponsored by H & M, meaning I was compensated by way of shopping for sharing this post with you, but the photos and opinions are all my own.)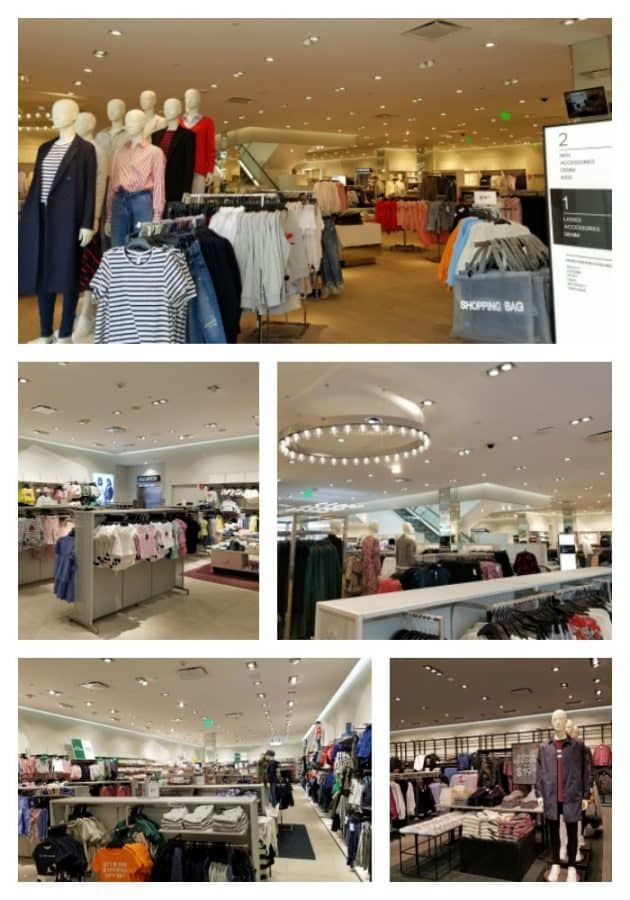 When you enter the store, the changes are immediately obvious. It's huge. Work-wear, dresses for more formal events, casual attire from sweats to flannels, basics to classics, the newly remodeled H & M Victoria Gardens has it all. And did I mention the shoes? Located by the accessories in the back corner of the ground floor, near the checkout counter, there's a wall of shoes.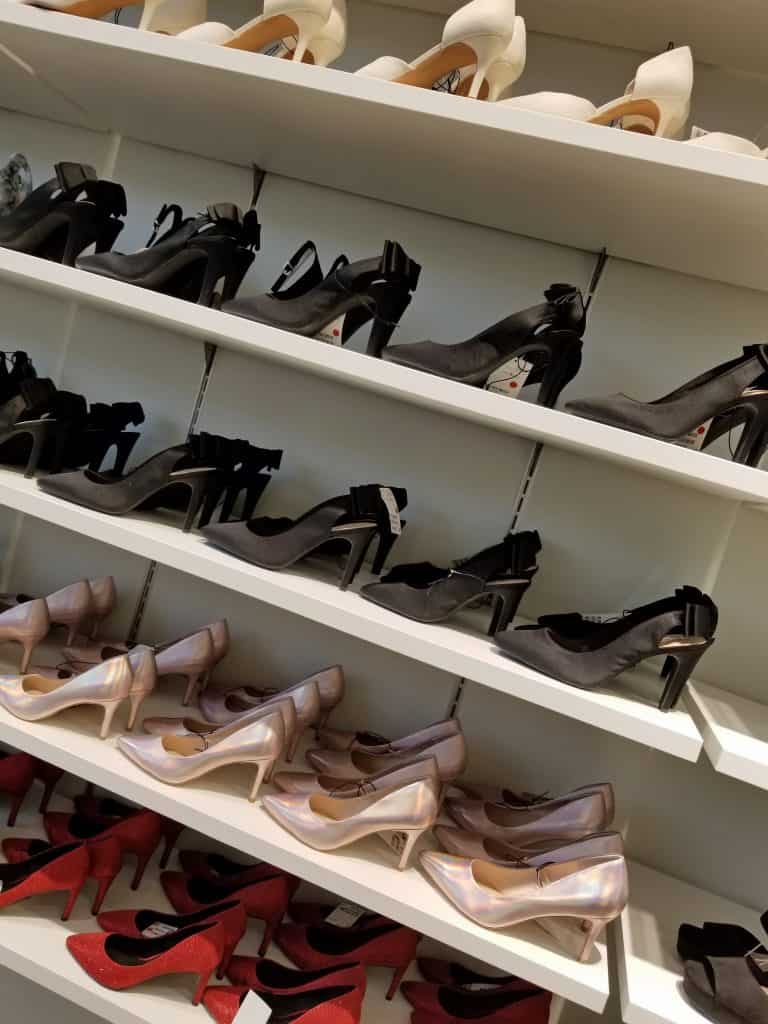 All the pretty shoes! My name is Donna and I have a shoe problem. I may…or may not…have over 125 pairs in my closet currently. And after my H & M shopping trip? Over 126. Those pink holographic babies went home with me.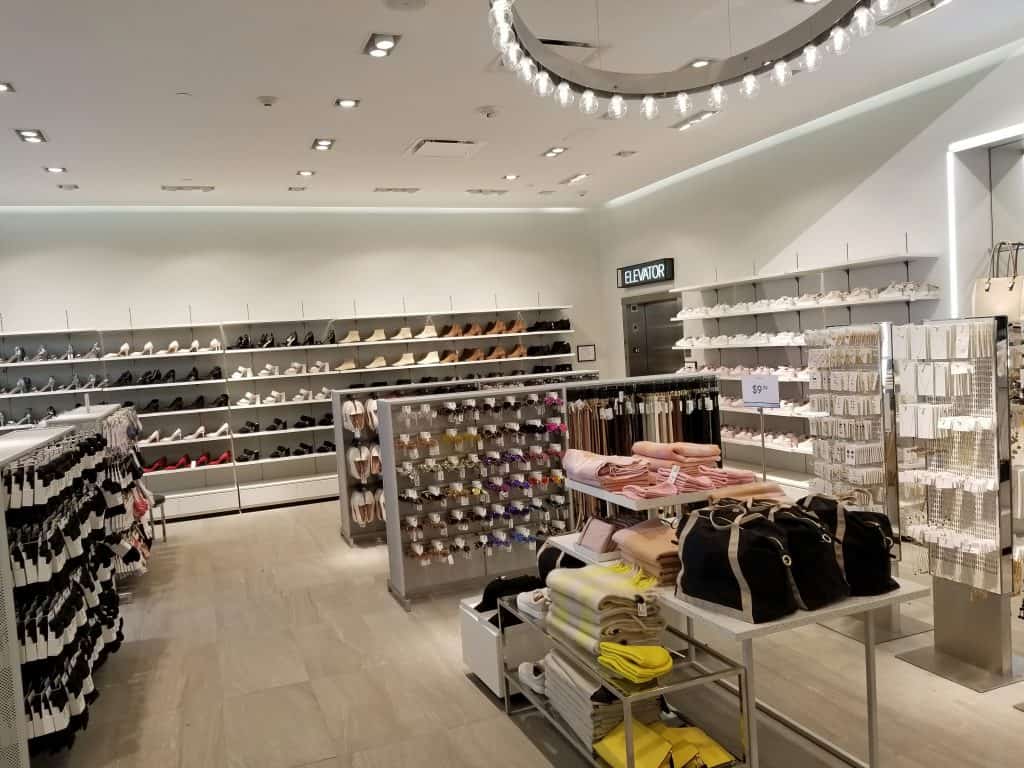 So many cute scarves, beanies and shawls perfect for the weather this time of year. SoCal is having an unusually cold February and I could use one of all of those. The black and white patterned one below will be around my neck tomorrow when I head out to a media event in Burbank….with those purple tassel earrings to the right. Aren't they adorable? If you like fun shades, the selection of aviators includes just about every color you could want.

I wandered around and around, picking out a bunch of things to try on before I headed into the dressing room for round one. (You're allowed seven items in the dressing room at a time. They do offer changing room service so if you have more than seven, they'll help you swap out so you don't have to get dressed in-between and they'll also look for items in other sizes and hold onto your excess items. Be sure to grab a shopping bag when you walk in the door!) This purple dress called to me and is perfect for an event I have next month!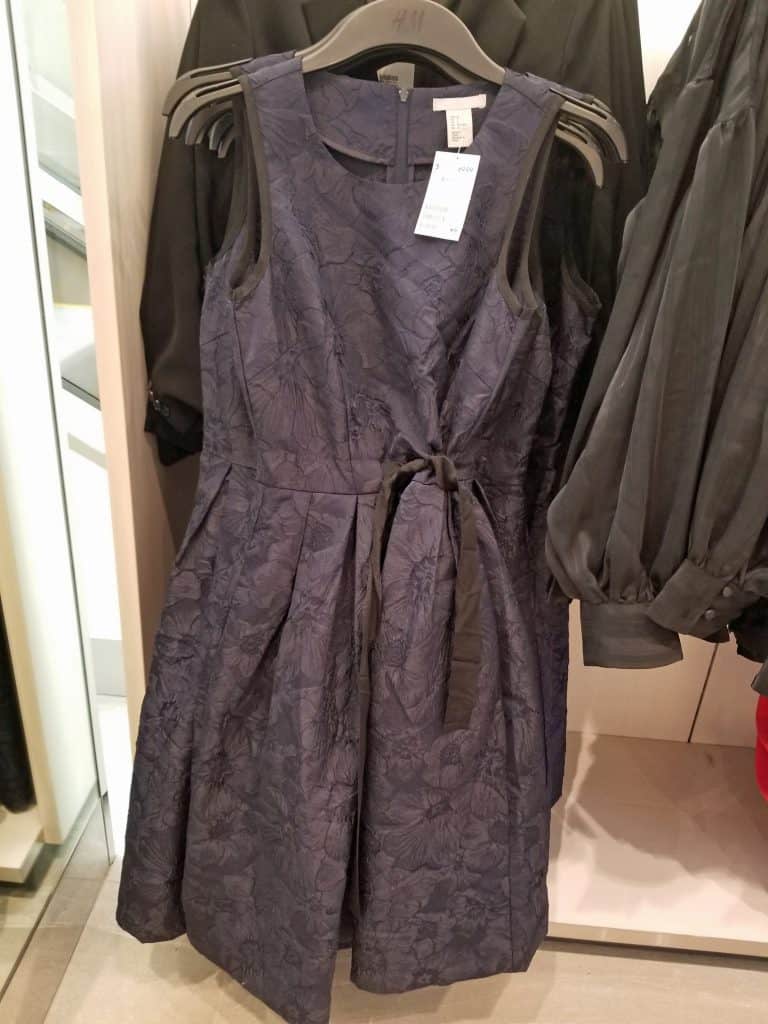 I am currently on a dress kick. (And shoes, but that's nothing new.) I found quite a few I wanted, and now that the floral pattern is trendy, the decision on which ones to buy was really tough. This dress below was at the top of my list, because it would take me from a client meeting to an errand to happy hour….which would also be at Victoria Gardens, because some of our favorite hot spots at there, too!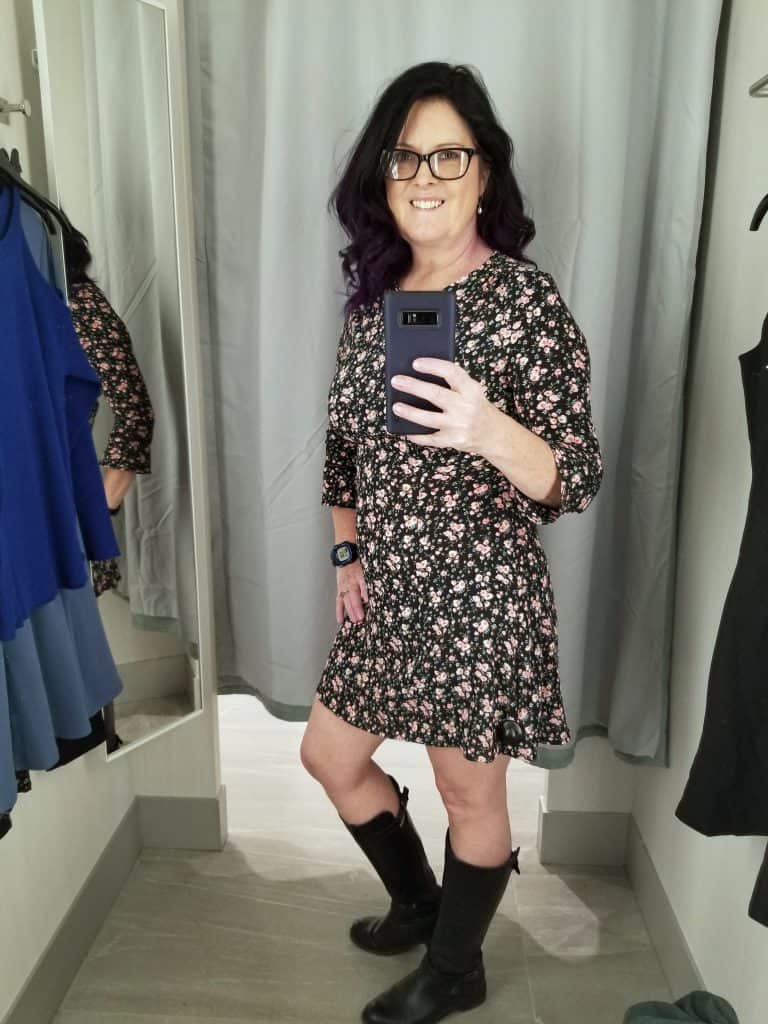 I don't know many women that like dressing rooms or taking photos in them, but I was impressed with the H & M dressing rooms. Mirrors were in just the right spots and lighting was perfect, not pointing out my flaws or highlighting the wrinkles your face makes when something doesn't fit and you refuse to go up another size.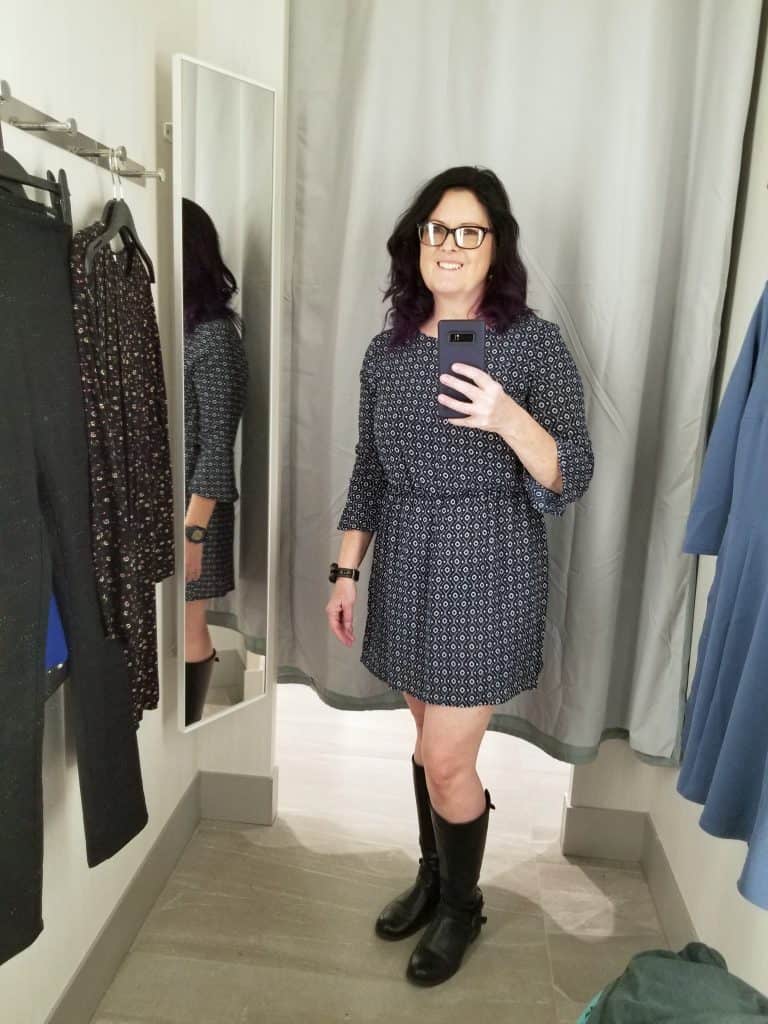 Isn't that dress cute, too? (And the one hanging on the wall to the left was part of my shopping haul, too. I've got the cutest brown boots and pink and gold earrings to wear with it.) I also had my eye on this one, but I figure after already putting three in my bag, I needed to move on to some shirts. One big plus about H & M is that their store arrangement allows for fashion hints for people who are fashion-challenged. Need a bag or a pair of shoes for that dress? They're hanging right there to help you simplify.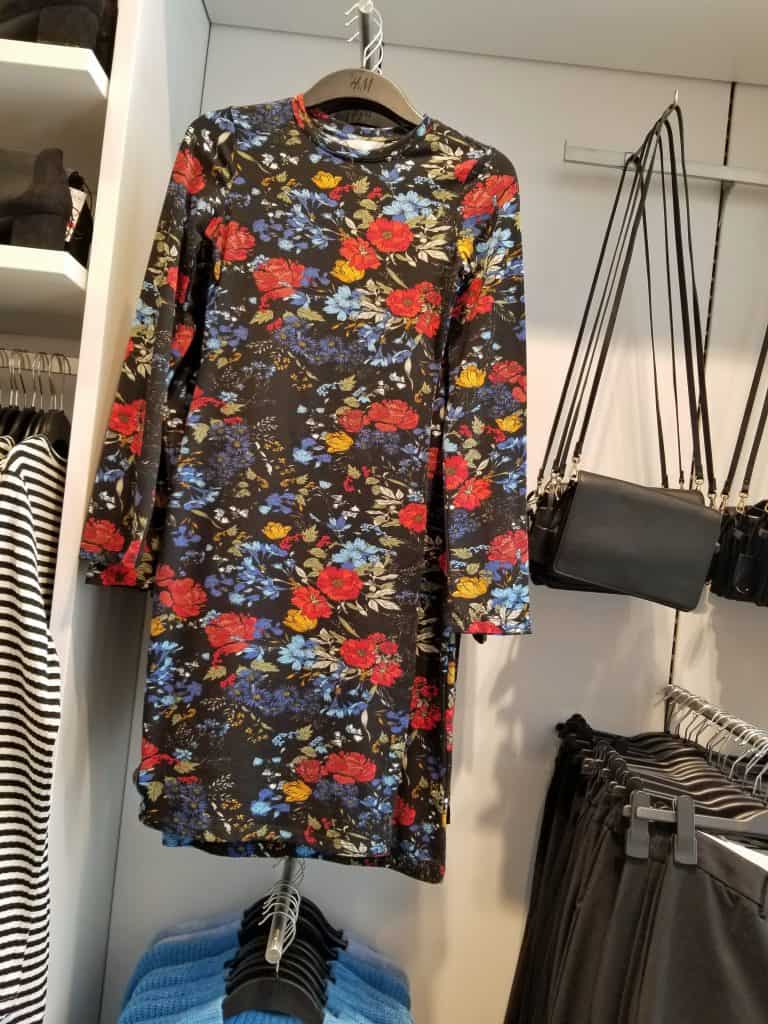 There are also mannequins scattered throughout, offering up fashion inspiration but not so many that you feel like you're being watched or that you've lost shopping space.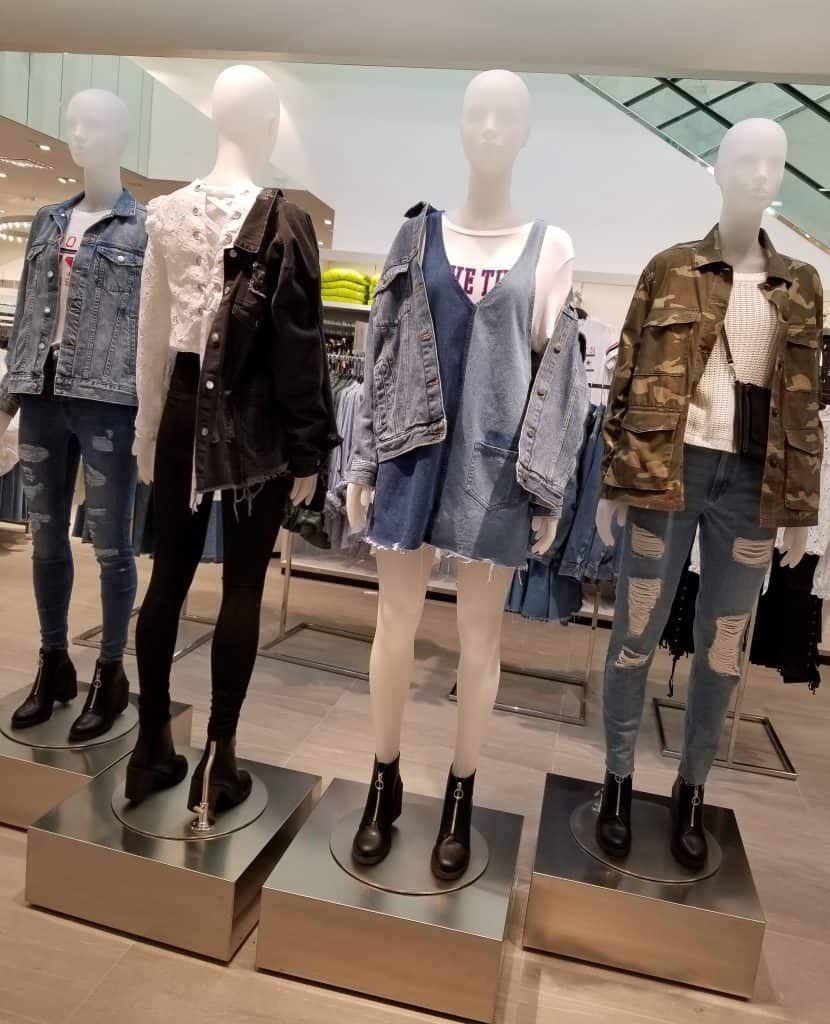 I almost bought one of this fatigue-patterned jackets. Then I remembered I just bought another jacket last week and I've maxed my hallway coat closet space allotment. This green statement jacket below though almost made me make some changes to the husband's space so I could fit it in. Can't you just picture all the ways you could wear this?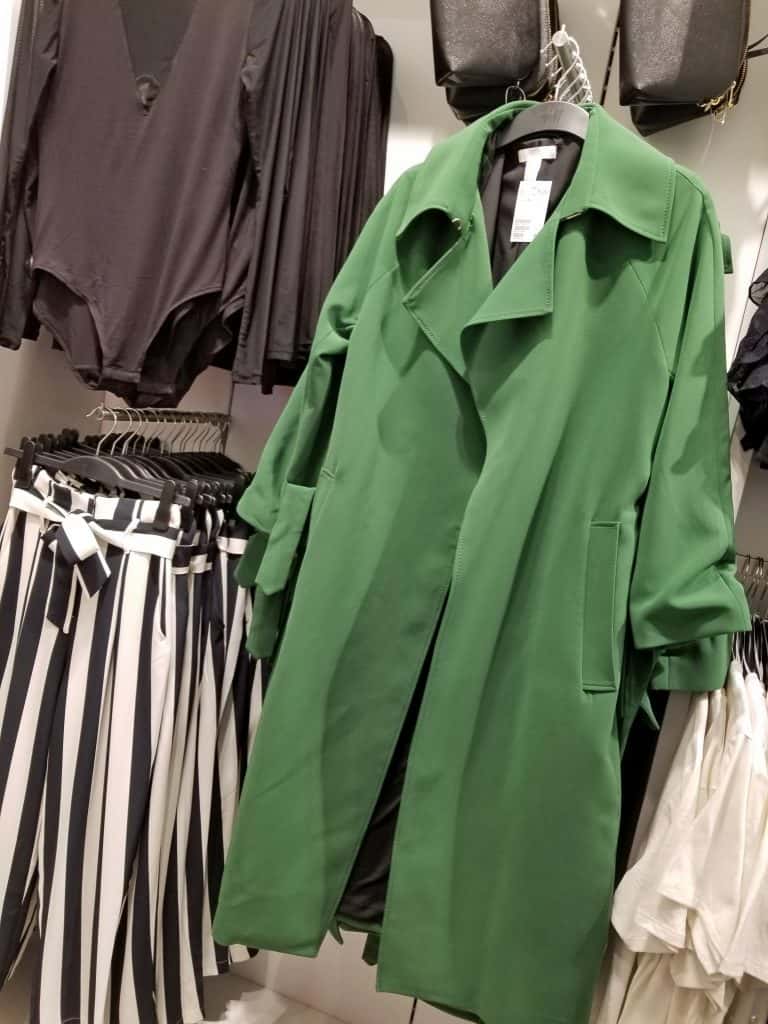 I love to buy a lot of basic pieces — plain colored t-shirts, hoodies, black pants, those things that put together an outfit minus the piece that makes it all stand out. Basics start for under $10, including simple form-fitting dresses, leggings, camis, and simple tees. I bought a few of those tees and black pants, and this blouse caught my eye.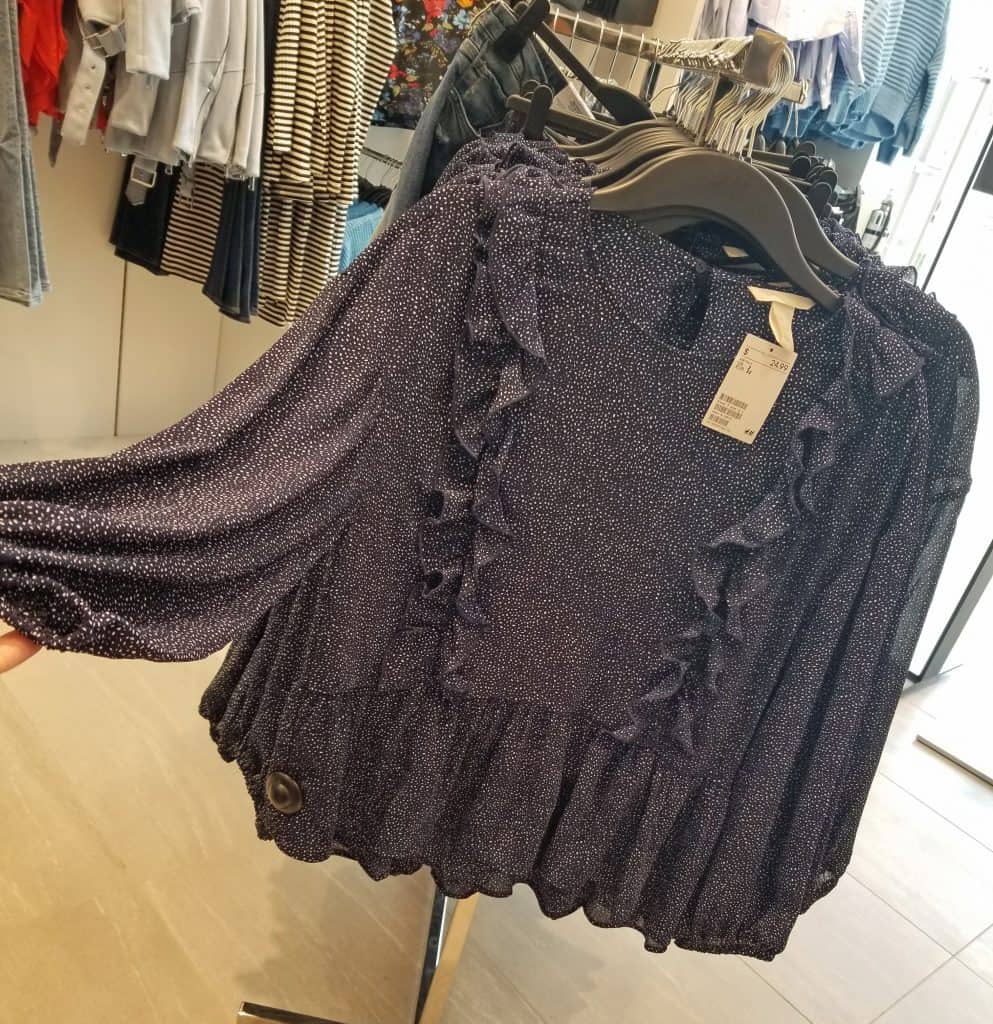 See the price tag? Only $24.99! (And those three dresses I mentioned I bought? Two were $19.99 and one was $24.99. For quality dresses! I love that I was able to put together and buy several outfits and not break the bank.)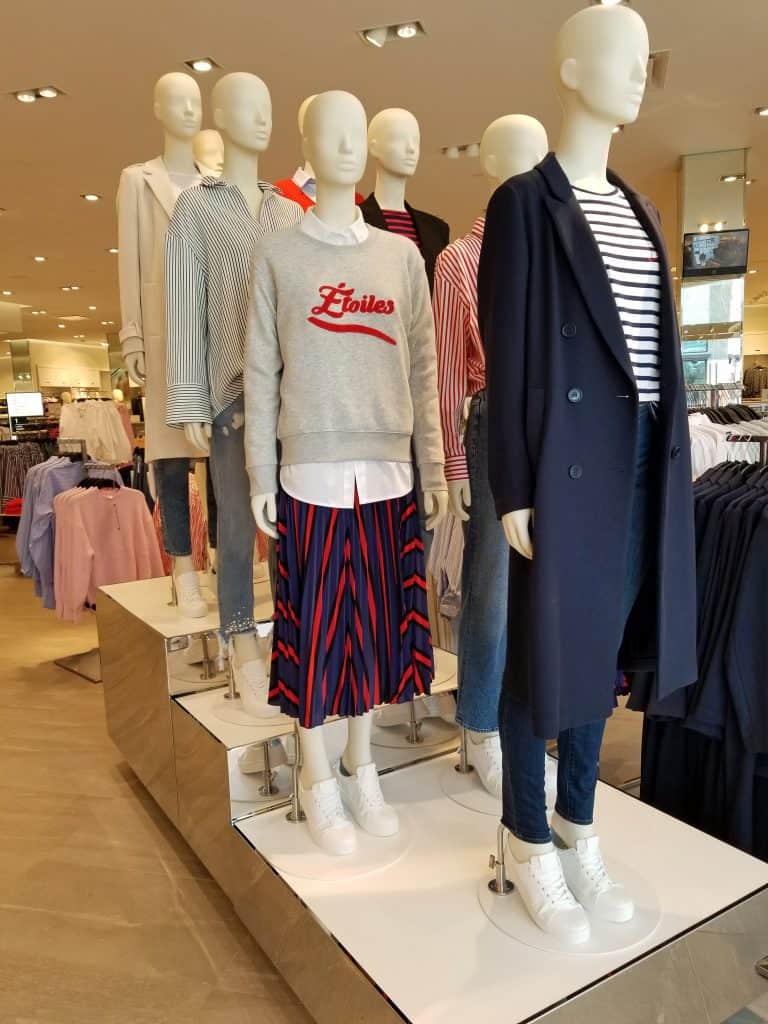 Stripes and the nautical look are in as well, and you'll be able to find the look in all sorts of pieces at H & M. I'm not big into horizontal stripes but I saw a lot of women carrying them around the store. I did love that skirt above! I tried on a blue sweater with the open shoulders that would look so cute with it.
If you need to buy clothes for little ones, you'll probably get carried away. I'll be coming back for some birthday gifts in a few more months, as I know the cutest little girl that would love that green silky jacket with the pink flower. And that "Let's be kind to each other…" shirt — does that come in an adult size?

H & M is now fully re-opened and ready for you to come in and shop. The hours are listed here on the Victoria Gardens website. Keep an eye out for sales, and the inventory of course changes seasonally, so I plan on stopping in pretty frequently. I'm at Victoria Gardens pretty much every week, picking up a poke bowl or a latte, searching for shoe sales or getting in my steps while I check out the latest styles and buy a lot of things that weren't on my shopping list.
So many good prices, I bet you'll be doing the same when you visit H & M Victoria Gardens. Whatever is coming up on your calendar, you can find new clothes for it all, and like me, you'll undoubtedly have a hard time choosing which ones to buy. And also like me, you'll just have to head back again soon to buy the ones you put back. (There's a patterned pair of black pants and pink sweater that I may need to go buy.) I've shown you my dressing room photos, I want to hear about your shopping expedition next!